Online Shopping might be the in thing today, but it can never replace the real shopping experience. Yes! shopping malls can be a hassle sometimes. But if you're a compulsive buyer, then you understand there's nothing better than spending your day at the mall.
There's a ton of things to do and see in a mall. From skating rinks to bowling alleys, clothing stores to jewelry shops, restaurants to cinemas, shopping malls have something for everyone.
That said, if you're new to Connecticut and looking for the best malls, you've come to the right place.
Connecticut is a beautiful state that boasts a variety of shopping centers, offering residents and visitors alike an exceptional shopping experience.
At these outlets, you can find huge discounts on high-end watches, branded shoes, designer clothes, and more. But that's just the tip of the iceberg! You can also enjoy an amazing dining experience and entertainment.
Whether you're looking for a cool entertainment spot, a place to hang out with friends, or a one-stop-shop for everything you need, these top 10 malls in Connecticut got you covered.
So, if you're in the area, ensure you visit one of these breathtaking shopping spots.
Best Shopping Malls in Connecticut
1. Westfarms Shopping Mall
Location: 1500 New Britain Ave, West Hartford, CT 06110, United States
Opening Hours: Daily, 10.00 am- 8.00 pm
No. of Stores: 160
Established in 1974, Westfarms Shopping Mall isn't just a shopping center: it's a premium destination in central Connecticut. By numbers, there are 160 brand-name retail stores and restaurants, many unique to the area like Apple, Coach, California Pizza Kitchen, etc.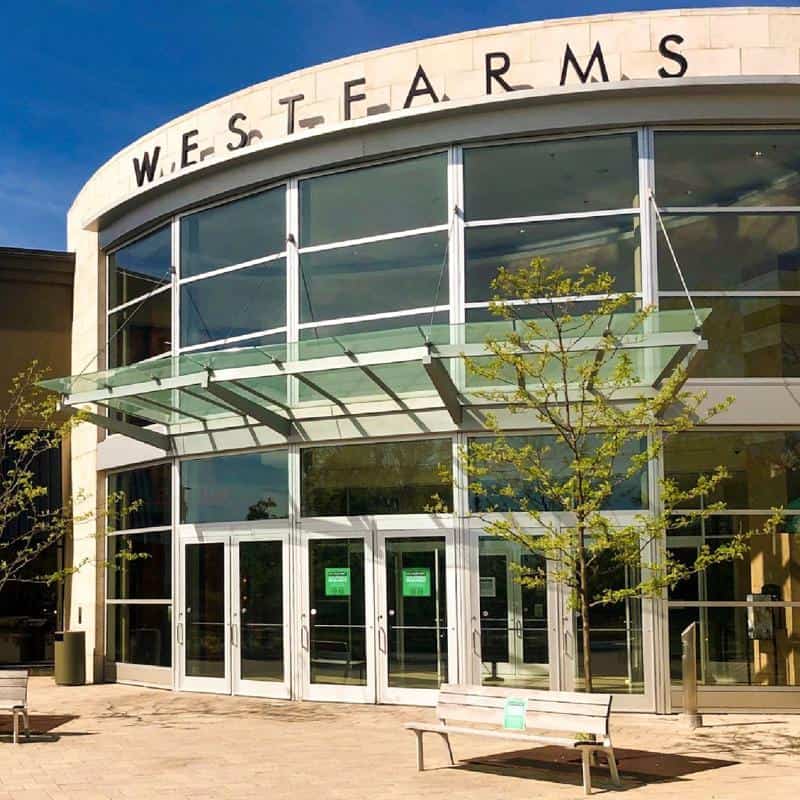 Westfarms is among the largest indoor shopping mall in Connecticut. Visitors and residents can enjoy a plethora of things, such as shopping, dining, and entertainment. Thanks to the endless list of available options, you will find something you like.
If you're shopping for clothes, shoes, and accessories, you can stop by stores that sell budget-friendly, comfy, day-to-day clothes like American Eagle Outfitters. Alternatively, you can visit high-end stores like Louis Vuitton and Tiffany & Co. Other top apparel and jewelry brands within the mall, include:
| | | | |
| --- | --- | --- | --- |
| Anthropologie | Banana Republic | Jewel Place | Vans |
| Brighton | GAP | Macy's | Tory Burch |
| Coach | H&M | Untuckit | Kate Spade New York |
Your visit to Westfarms won't be over without checking out some of the dining options. If you love high-end Asian cuisine, P.F CHANG's CHINA BISTRO food will leave you begging for more. California Pizza Kitchen is another great spot if you want to sit down, relax, and enjoy a good meal. Other food outlets worth visiting include:
Starbucks
Dunkin's Donuts
The Green Teahouse
Auntie Anne's
Taco Bell
Texas De Brazil
Besides stylish stores and cafes, the mall has humble parking spaces, Wi-Fi, and Wheelchairs (on a first-come, first-serve basis). Also, the mall staff members are kind, helpful, and friendly.
2. Danbury Fair Mall
Location: 7 Backus Avenue, Danbury Connecticut 06810
Opening Hours: 10:00 am to 9:00 pm
No. of Stores: 180 +
Danbury Fair Mall is perhaps the largest fashion destination in England. It's the perfect shopping mall for individuals who wish to save money on apparel.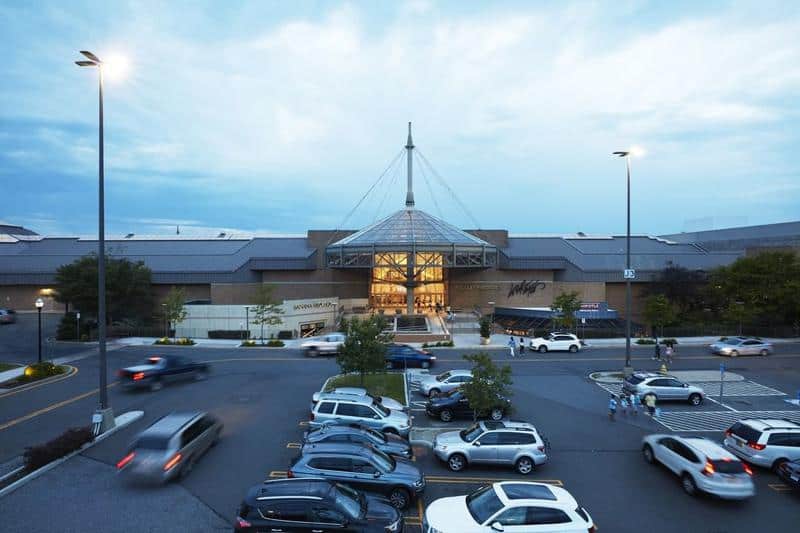 Located in the heart of Southwest Connecticut, its presents shopaholics with endless options of both familiar and unique specialty stores. At these shopping spots, you'll find fun things you didn't even know you needed.
It boasts an interesting collection of retail shops, dining areas, and entertainment. Additionally, you can enjoy great deals and offers at the various shops in the mall. Learn about Danbury offers and sales for this coming holiday on their official website.
Just like Westfarms, this Mall is home to great brands like Macy's, Pottery Barn, Apple, Lululemon, just to mention a few. For clothing, shoes, and jewelry, make an effort to stop by the following stores:
| | | | |
| --- | --- | --- | --- |
| Clarks | Abercrombie & Fitch | Macy's | Victoria's Secret |
| Lord & Taylor | Aerie | Old Navy | VANS |
| Lush | GAP/ GAP KIDS | Anthropologie | Loft |
Entertainment stores: Spencer's
To boost your energy levels before hitting the stores, visit top restaurants, including:
Papa-T
Chick Fil- A
Chipotle
Starbucks
Papa Tea
Asian Kitchen
Danbury Family Dinner
3. Connecticut Post Mall
Location: 1201 Boston Post Rd, Milford, CT, 06460
Opening Hours: Mon to Sat (10:00 am – 8:00 pm), Sun (11:00 am: 6:00 pm)
No. of Stores: 150+
At the heart of New Haven County lies this rather interesting super-regional shopping center. Originally known as Westfield, Connecticut Post Mall is the largest shopping mall in Connecticut.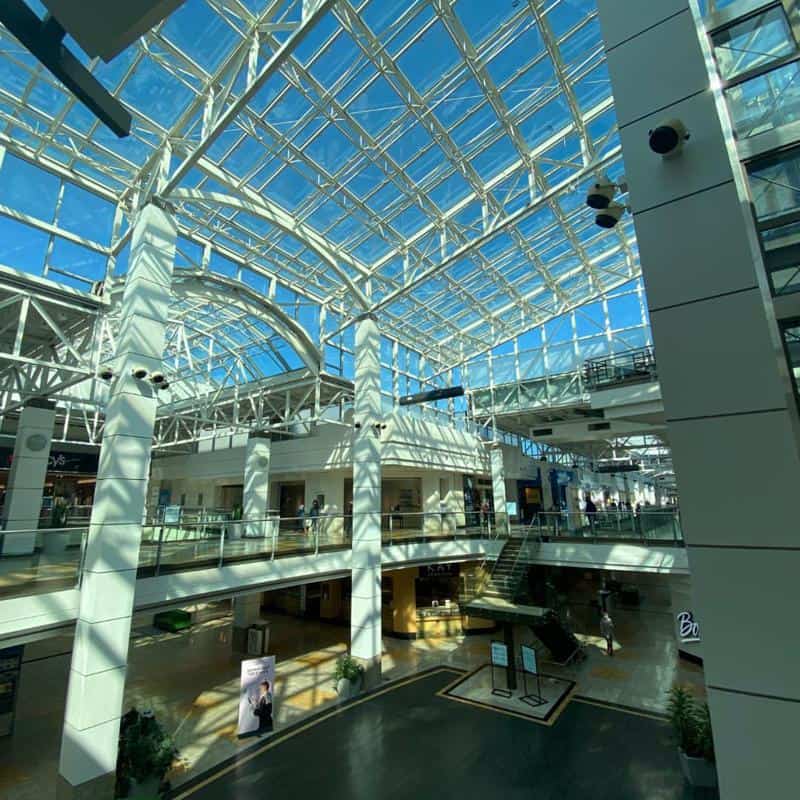 Featuring a unique interior design, this mall is home to over 150 specialty stores, including popular brands in beauty, fashion, entertainment, and dining.
Ever since the shopping center opened its doors in 1980, it has been a shopper's paradise, offering everything you can think of. So, whether you're hunting for something unique or just a place to hang out with your friend, Connecticut Post Mall is your destination.
Popular brands hosted in the mall include:
| | | | |
| --- | --- | --- | --- |
| Adidas | Aeropostale | Microsoft | Kay Outlet |
| Clarks | Luxe Lingerie | Nike | PUMA |
| Zales | H&M | Skechers | Timberland |
| Jordan | Naruto | Torrid | ALDO |
The only downside is the food court is located on the upper side of the mall. Despite that, the food court features a wide variety of restaurants like Buffalo Wild Wings that serve mouthwatering meals.
What's even better, there's enough parking space and breastfeeding is allowed. And if you want to kill some time with friends, catch a movie at the theater.
Connecticut Post Mall is truly a must-visit destination.
4. Clinton Crossing Premium Outlets
Location: 20 Killingworth Turnpike, Clinton, CT 06413, USA
Opening Hours: Mon-Sat (10:00 am to 9:00 pm), Sun (10:00 am to 6:00 pm)
No. of Stores: 70+
Anyone visiting Connecticut is sure to conjure up images of Clinton Crossing Premium Outlet. It might not be the largest shopping space in the city, but it's a beauty. Sitting along the Connecticut Shoreline, this department store has an impressive collection of designer labels brands.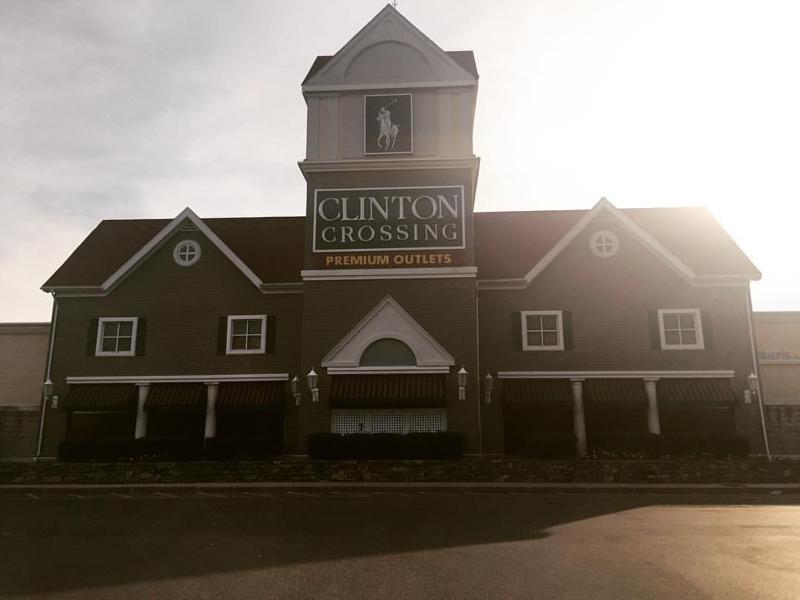 The mall directory includes renowned brands, such as:
| | | |
| --- | --- | --- |
| Adidas | Brooks Brothers | Hanes |
| Ann Taylor | Calvin Klein | Vineyards Vines |
| Armani | Cole Haan | Zumiez |
| J. Crew Factory | Kate Spade New York | Dooney & Bourke |
On top of the countless racks and shelves, you will find all types of luxury fashion items for you, your family, and your home. If that's not enough! You get to enjoy mind-blowing discounts and deals on your favorite brand-name stores. For example, this holiday shoppers can take advantage of offers, such as:
70% off on trending kicks/shoes
70% off Coach Outlet apparel and accessories
20% off everything black Friday deal on All Scotch & Soda products
Clinton Crossing is also renowned for its impressive food truck court. Enjoy a wide variety of Local Gourmet Food Trucks at the Food Truck Park after a busy day shopping at the center.
While this shopping center boasts over 70 designer and brand-name outlets, it is truly unique for its ambiance. You will enjoy the fresh air while walking through the sidewalk's path connecting to various excellent stores at the shopping center. So, on your next trip to Connecticut, be sure to stop by Clinton Crossing Premium Outlets.
5. The Promenade Shops at Evergreen Walk
Location: 501 Evergreen Way Suite 503 South Windsor, CT 06074
Opening Hours: Mon to Sat (10:00 am–9:00 pm), Sun (11:00 am–6:00 pm)
No. of Stores: 60+
The Promenade Shops at Evergreen Walk is the most visited shopping center in South Windsor. It houses over 60 highly coveted stores and restaurants in a charming open-air setting.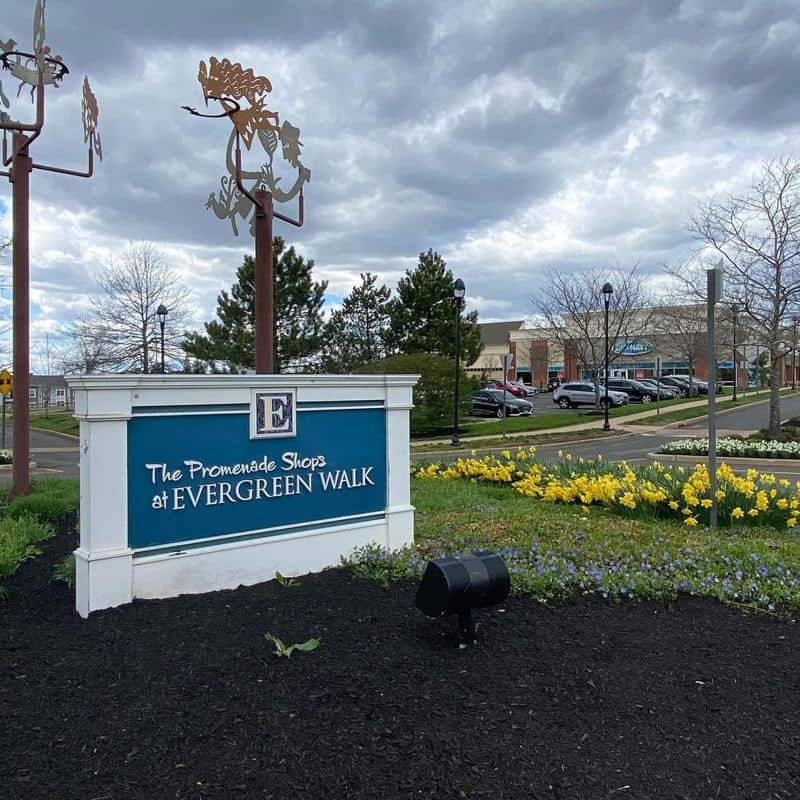 Whatever you purchase from this place will please you, whether it's shoes, food, apparel, accessories, house products, or technology. It might not feature a lot of specialty stores like Westfarms Shopping Mall or Danbury Fair Mall, but it's hone to national brand names, including:
Anthropologie
Williams-Sonoma
Loft at Evergreen
Apple
L Bean
The open nature of the shopping center makes it a go-to destination for hanging out with friends or just strolling and listening to music. Thanks to the store-front parking along the Evergreen Way, accessing your favorite stores and restaurants is easier.
It's pet-friendly, meaning visitors can shop with their pooch anytime. There's also enough place at the Evergreen Walk Park for families to relax and enjoy the fresh outdoor air.
6. Westfield Trumbull Mall
Location: 5065 Main St Trumbull, CT 06611
Opening Hours: Mon to Thur (11:00 am – 8:00 pm), Fri to Sat (10:00 am–9:00 pm), Sun (11:00am–6:00pm)
No. of Stores: 104
In case you find yourself in Trumbull, Connecticut, and you want to shop for something, look no further than Westfield Trumbull Mall.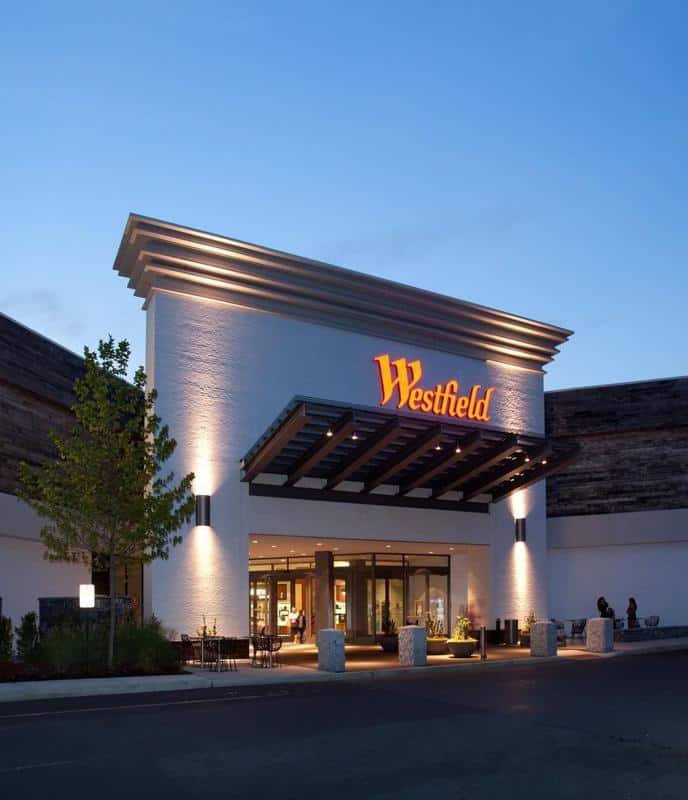 At Westfield Trumbull Mall, you'll find all your favorite brands of apparel, shoes, and accessories. There is a lot of merchandise to select from at affordable prices. Furthermore, most of the shops like Macy's and Target offer customers amazing deals on their products. So, be sure to check them out.
Check into the different spas at Westfield Trumbull for the best health and beauty services as well as products.
Outlet stores present here include:
| | | | |
| --- | --- | --- | --- |
| Apple | Gamestop | Hallmark | Torrid |
| Target | Cohen's Fashion Optical | Victoria's Secret | Kat Jewelers |
| J.C Penny | Macy's | Forever 21 | Verizon Wireless |
While taking a break from all the shopping, you can enjoy a snack or lunch at the various restaurants and eateries in the mall, such as:
MacDonald's
Dunkin Donuts
Starbucks
Ten Asian Bistro
Sarku Japan
Taco Bell
In terms of entertainment, Spencer's, Target, and Wow Entertainment got you covered. Discover everything you want at this amazing shopping destination.
7. The Shoppes at Farmington Valley
Location: 110 Albany Turnpike, CT 06019,
Opening Hours: Mon to Sat (10:00 am–8:00pm), Sun (10:00 am–6:00pm)
No. of Stores: 45+
The Shoppes at Farmington Valley is a beautifully designed open-air shopping center located at the foot of the Lichfield Hilly, Albany Turnpike. It includes a lovely collection of over 45 specialty shops and exclusive eateries.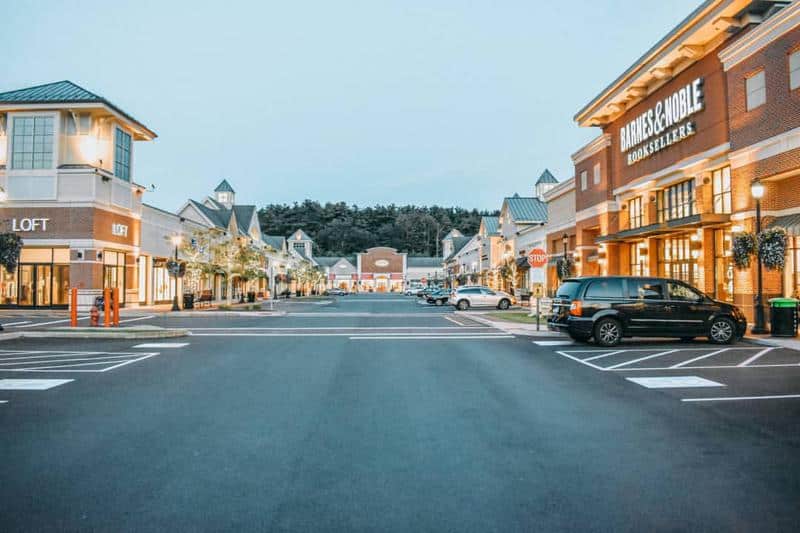 If you're after upscale shopping, casual entertainment, or lively dining in Connecticut, be sure to visit The Shoppes at Farmington Valley mall. Here you will get to unwind while exploring amazing deals on shoes, apparel, and jewelry for you and your family.
Popular shopping outlets in the center include:
| | | |
| --- | --- | --- |
| Ben & Olive A Little | Barnes & Noble | Francesca's |
| AG Designs | Brighton Collectables | Harvey and Lewis |
| American Eagle Outfitters | Claire's | Kohl's |
What's even unique, the mall hosts various events to promote healthy leaving every Sunday. Instructors from various fitness business areas work together to offer training to visitors and residents for free.
8. Blue Back Square
Location: 65 Memorial Rd, West Hartford, CT 06107-2434
Opening Hours: Mon to Sat (11:00 am–7:00 pm), Sun (12:00 pm–6:00 pm)
No of Stores: 30
Are you searching for an exclusive shopping, delightful dining, and entertainment destination? Then check out Blue Back Square.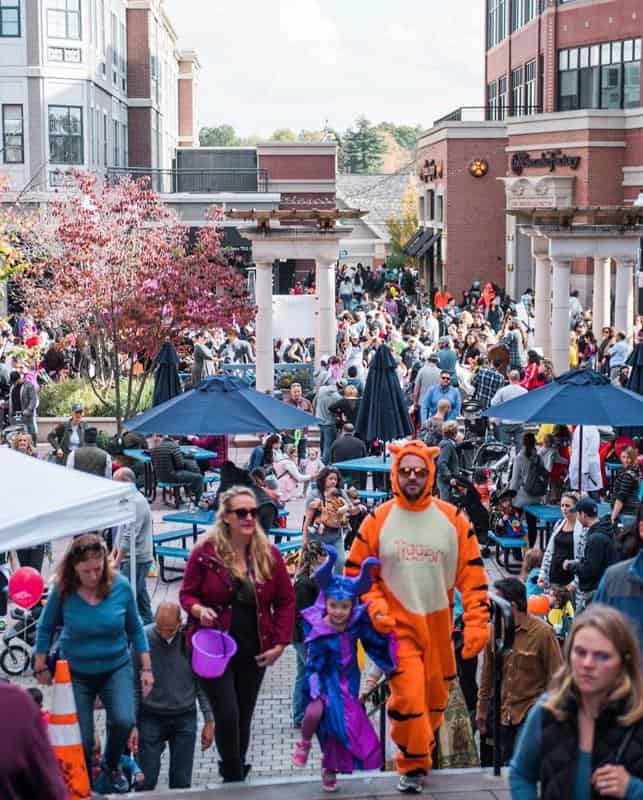 Centrally located in the Center of Everything: West Hartford, the Blue-Black Square is a shopper's dream center. The mall is a great example of New Urbanism since it blends retail and residential space.
It's a utopia with several familiar and unique retail stores, including:
| | | |
| --- | --- | --- |
| Casper | Barnes & Noble | Pure Barre |
| West Elm | T-Mobile | Crate & Barrel |
| Rizzuto's | Trollbeads | Tempur-Pedic |
The shopping mall is also a convenient spot for food lovers because of its great collection of restaurants, such as:
The Cheesecake factory
World of Beer
Fleming's Prime Steakhouse
Vinted Wine Bar & Kitchen
Muse Paintbar & Eatery
If you're in West Hartford, catch the best of movies with your family or friends at Cinepolis in Blue Back Square.
9. Stamford Town Center
Location: 100 Greyrock Place, Stamford, Connecticut, CT 06901
Opening Hours: Mon to Sat (10:00 am to 8:00 pm), Sun (11:00 am – 6:00 pm)
No of Stores: 98+
The Stamford Town Center is more than just an urban shopping mall, it's an entertainment destination and landmark to the beloved residents of Downtown Stamford.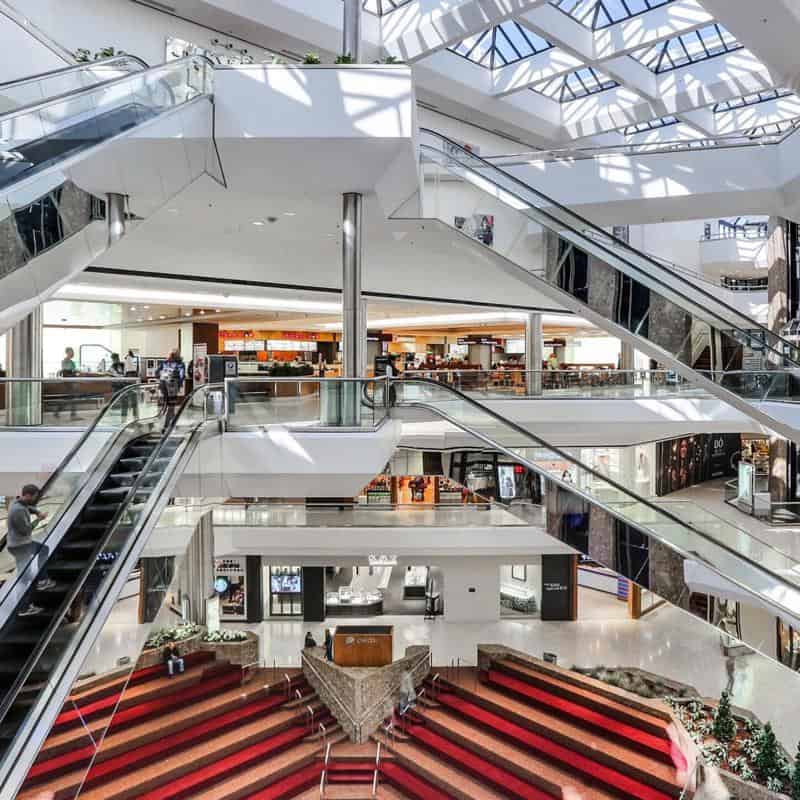 Opened in 1982, Stamford Town Center is the eighth largest mall in Connecticut. It boasts over 98 shopping and dining options, and it's a one-stop shop for many residents and visitors. At the mall, you'll find everything from apparel to jewelry, accessories to technology, food to entertainment.
Featured Stores at the center, include.
| | | | |
| --- | --- | --- | --- |
| Aeropostale | Banana Republic | T-Mobile | Claire's |
| Macy's | Lids | Johnston & Murphy | Digital Habitat |
| Perfumania | Victoria's Secret | Vans | Foot Locker |
The Stamford Town Center mall holds dozens of free performances and events annually, including the Breast Cancer Awareness Fashion show among others.
You'll also enjoy humble parking spaces, sales and discounts, and a wide array of cuisine from top-class restaurants.
10. Woodbury Common Premium Outlets
Location: 498 Red Apple CT, Central Valley, NY 10917, United States
Opening Hours: Mon to Wed (11:00 am–8:00 pm), Thur to Sun (10:00 am -9:00 pm)
No. of Stores: 250+
One hour North of New York City lies the greatest shopping and dining destination: Woodbury Common Premium Outlets. The mall showcases the largest collection of the most prestigious designer retail stores in the world, including:
| | | | |
| --- | --- | --- | --- |
| Nike | Michael Kors | Bottega | DKNY |
| Celine | Veneta | Tory Burch | Old Navy |
| Armani | Balenciaga | Calvin Klein | Lacoste |
Besides that, shoppers get to enjoy 25% to 65% off on products from popular brands like Coach, Polo Ralph Lauren, The North Face, and others.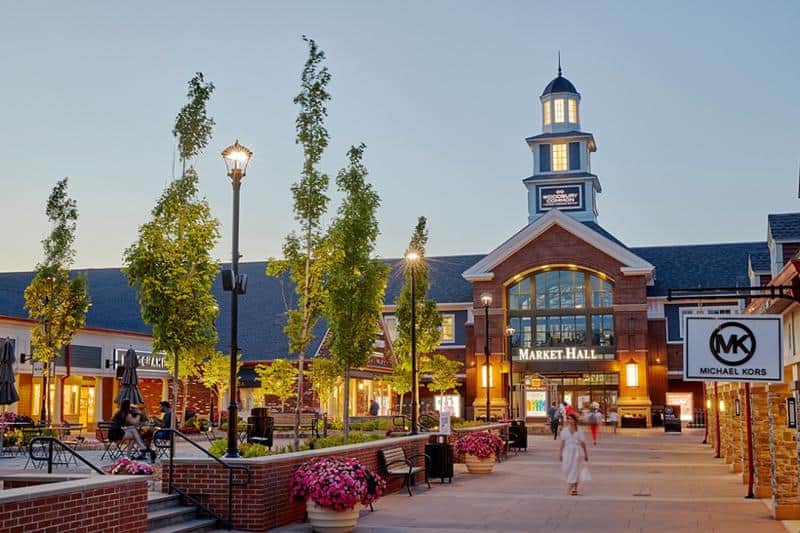 For a taste of amazing grab-and-go snacks and drinks, Starbucks and Tony & Benny's will meet your needs. In terms of dining, you'll be spoilt for choice because of the endless list of dining options. Popular restaurants in the mall include:
Fat East Asian Fire
Eat'N Park
Gong Cha
Longhorn Steakhouse
Madisons Restaurant & Bar
While shopping, use the free Wi-Fi or take some time off at Cinemark Movie or Caribbean Cinemas. Truthfully, it doesn't get better than this shopping center in Connecticut.
Also Read:
Conclusion
Whether you like to shop, dine or spend money on experiences, these shopping malls will meet your insatiable desires. Remember to take advantage of deals and discounts to save money, and don't forget to have fun.
That marks the end of our guide. We hope you enjoyed going through it. If you get the chance to visit Connecticut, pay a visit to these shopping malls over there too.