Every day is a good day to go shopping in Massachusetts. The state features unique shopping districts and marketplaces. Along the streets of the state, you'll find shopping an enjoyable experience.
Outlets are among the top shopping destinations in Massachusetts. Not only do they offer convenience and accessibility but also great deals and discounts year-round.
They boast stores for every budget. You'll also find everything you need under one roof, from trendy clothes to makeups, home décor to electronics, fragrances to shoes, etc.
Should you desire to drink or eat while shopping, you can enjoy several food offerings ranging from snack bars to food courts and take-out spots to sit-down restaurants.
That said, here's our top recommendation of the best outlets to shop in Massachusetts.
Let's dive in!
The Top 3 Outlets in Massachusetts
1. Lee Premium Outlets
Address: 17 Premium Outlets Boulevard, Lee, MA, 01238
Opening Hours: Mon to Wed (10:00 am–8:00 pm), Thur to Sat (10:00 am–8:00 pm), Sun (10:00 am–6:00 pm)
No. of Stores: 58
Let's kick start our guide with Lee Premium Outlets, located in Western Massachusetts, forty minutes west of Springfield. This shopping center is built to mirror an outdoor, old-fashion New England.
It's one of the best bargain-hunting destinations in Massachusetts. And it features stunning mountain views, lakes, and small-town New England charm.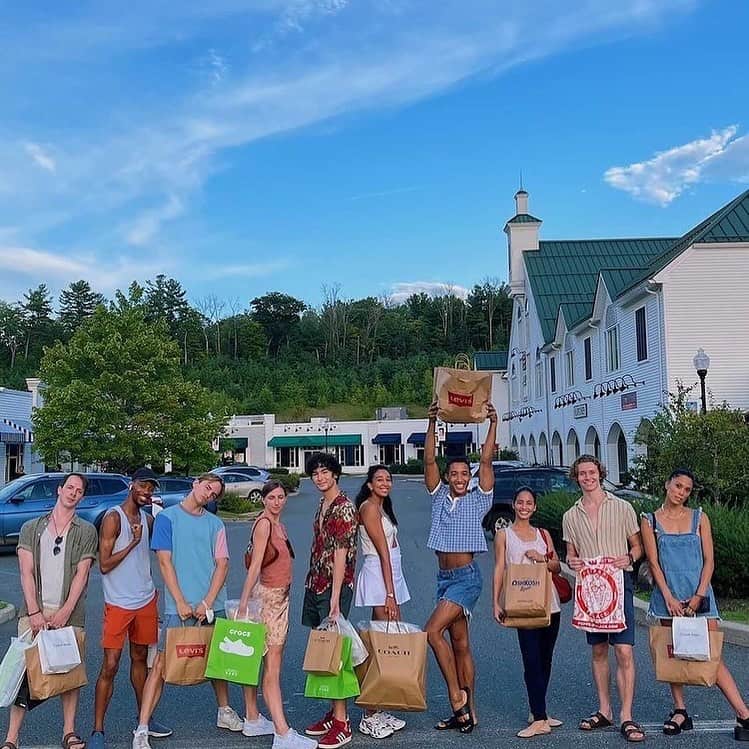 With 58 stores, the outlet sells almost everything. At the shopping destination, you stand a chance of going with discounted designer clothes (for men, women, and children), accessories, shoes, etc.
The shopping center includes:
| | | | |
| --- | --- | --- | --- |
| Loft | Ann Taylor | Calvin Klein | Clarks |
| Gap (Factory and Kids) | J. Crew | Banana Republic | Claire's |
| Aeropostale | Coach | Champions | Kate Spade New York |
| Chico's outlet | Cole Haan | Hanes Brands | Kay Jewelers |
| Levi's | Brooks Brothers | Under Armour | Tommy Hilfiger |
Many visitors and residents of Massachusetts flock to this outdoor shopping plaza to enjoy deals and discounts on high-end brands. Before visiting the outlet, check out deals and discounts on Lee's official website to take advantage off. They update the coupons daily. Every day you have a chance of saving 25% to 65%. And if you sign up for the VIP shopper program, you will qualify for more discounts, rewards, and much more.
But that's not the only reason! Some individuals visit the Simon Properties-owned center for a good dining experience. There are several food vendors scattered around the center. After shopping at the destination, stop at Orientate to eat or pick something delicious as you head home. Other restaurants worth visiting include:
Berkshire Burrito
New England Wraps
Pizza Bar
Subway
However, the COVID-19 pandemic took a toll on this outlet. Some brand stores like Nike and other closed their doors. At the moment, there are several vacancies at the center. Despite that, you'll still have a great shopping experience.
So, when you are around the rolling hills of Berkshires, Massachusetts, stop by Lee Premium Outlets.
2. Wrentham Village Premium Outlet
Address: One Premium Outlets Boulevard, Wrentham, MA 02093
Opening Hours: Mon to Wed (11:00 am–8:00 pm), Thur to Sat (10:00 am–9:00 pm), Sun (10:00 am–6:00 pm)
No. of Stores: 154
Just like Lee Premium Outlets, Wrentham Village Premium Outlets is owned by Simon's Properties. Designed with bargain hunters in mind, it's the biggest discount outlet mall in Southern New England.
With over 100 stores, you can score great deals on home décor, apparel, shoes, jewelry, etc. That's true, especially when it comes to seasonal holiday sales. Standard discounts often range between 25% to 79%. But around major holidays like Memorial Day, discounts and sales are huge. What's even better, all apparels are free from sales tax. So, if you're visiting Massachusetts, shop at this center to save some money.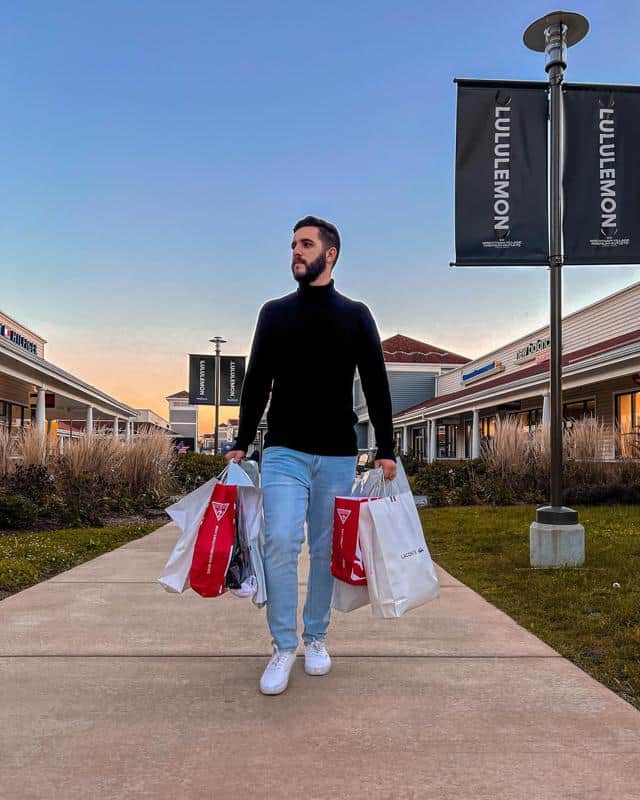 It's easy to spend the whole day at the outlet due to impressive discounts and affordable premium goods at the stores. As a fact, some shopaholics even spend two days enjoying what the shop got to offer.
Wrentham Village Premium Outlets truly has everything to meet your needs, from luxurious stores to family-friendly apparel retails. The popular brand stores in the outlet mall include:
| | | | |
| --- | --- | --- | --- |
| Armani | Lucky Brand | Rebook | Calvin Klein |
| Kate Spade | Nike | Burberry | Clarins |
| Adidas | Brooks Brothers | America Eagle | Crocs |
| Aeropostale | Armani | Boss Hugo Boss | Burberry |
| Famous Footwear | Francesca's | Gucci | J. Crew |
Besides apparel, the shopping destination boasts several retailers selling housewares and food items. At Wrentham Village, the Food Court is at one corner and features dozens of options. Alternatively, pick something special from Tavern in the Square or Uno Pizzeria & Grill. Other dining options include:
Auntie Anne's Pretzels
Cracker Barrel
Dunkin Donuts
Increadbowl Food Truck
Ruby Tuesday
Tavern in the Square
Uno Pizzeria & Grill
The only downside is, during busy days like the holiday, it's hard to navigate around because it gets too crowded. Also, some customers complained that the complex lacked a variety of food courts.
That said, you can join Wrentham Village Premium Outlets VIP Shopper Club to get access to their VIP Coupon Book and over 80 exclusive offers.
3. Assembly Row
Address: 355 Artisan Way Somerville, MA 02145
Opening Hours: Mon to Thur (10:00 am–8:00 pm), Fri to Sat (10:00 am–9:00 pm), Sun (11:00 am–6:00 pm)
No. of Stores: 40+
Do you have a few errands to run in Boston? Consider heading over to Assembly Row. It is a modern-age outdoor outlet shopping center that offers buyers the best of everything from shopping to entertainment under one roof.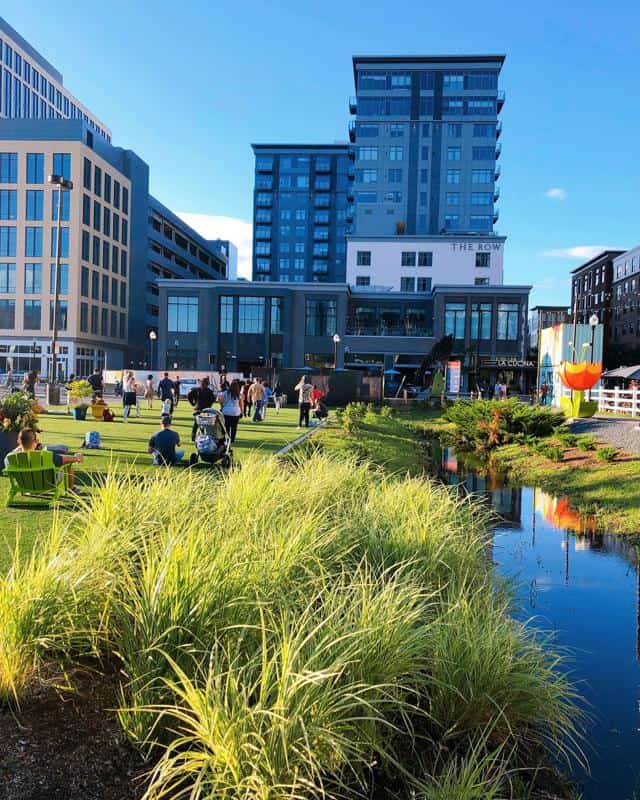 At this shopping destination, you'll experience a lifestyle concept like no other. This is because it's home to a vibrant mix of chain stores, local vendors, spas, restaurants, cafes, and entertainment spots. Basically, it's a one-stop shop for you and your family.
Popular stores here include:
| | | | |
| --- | --- | --- | --- |
| J. Crew | Nike Factory Store | Sephora | Queenia |
| Carter's | Brooks Brothers | Steve Madden | The Puma Store |
| Loft | Addidas | Reebok | Levi's |
| Warby Parker | Tillys | Puma | Banana Republic |
| Clarks | Polo Ralph Lauren | Samsonite | Sun Glass Hut |
Furthermore, this outdoor shopping mall also offers amazing savings. Shoppers get to enjoy discounts ranging between 30% to 70% on their favorite products, especially during major holidays.
Assembly Row shines when it comes to dining and entertainment. Dining options include family-friendly options like Traders Joe's and inviting choices for parents who wish to spend some time alone like Earl's and River Bar. You can also check the following restaurants:
Legal C-bar
Reflections At The Row Hotel
Papagayo
Sweetgreen
Tato Ramen
20 Greek
Shake Shack
Squeeze Juice Company
As for entertainment, you, your friends, or your family will love Lego Land discovery. Alternatively, you can find something to watch at the 12-screen on-site AMC Theater. Muse Paintbar and Lucky Strike Social are also worth checking out.
Besides that, you'll enjoy free parking in the garages at Assembly Row. Also, lots of events take place here, like Matty's Turkey Toss and Ice Sculpture Stroll.
If you visit Assembly Row during fall, chances are you will see dozens of Swans on the Mystic River neighboring the complex.
Secrets To Shopping at Outlet Malls
If you're driving to an outlet mall for shopping, chances are you wish to save as much money as possible while shopping. Make the most out of your trip to an outlet mall with the help of these expert secrets.
Get Information on Coupons
If you're not planning to frequent the outlet mall, there's no need to sign up for their email list. There's a probability you already have a ton of junk mail and don't want to be on a mall's mailing list year-round.
The best way to approach this is to sign up for their newsletter a few weeks earlier before visiting the mall to discover deals that will meet your needs. Also, it's wise to visit the mall's official website of the additional sales and discount coupons.
Alternatively, you can take the direct approach and sign up for notifications with the outlet arm of your favored store. As a result, you'll receive texts for an additional 20% or 25% off your purchase, as long as you are part of their VIP club.
If you don't have enough time to prepare for your shopping trip, stop by the customer service desk and pick up available coupons before entering your favorite store.
Read The Tags
Some brands tend to come up with a separate line of clothing or shoes that shoppers for outlet store. Most times, customers complain that the products are of low quality and don't last long.
Before shopping at an outlet mall, do a quick Google search for your favorite brand to see if it has a specialty tag. Also, see what other buyers say about the item. But that should not prevent you from purchasing these products.
To make the most out of your shopping, purchase trendy pieces that won't be popular next season. This way, you won't care so much about their lifespan.
Check the price tags to make sure the discount on the product is worth it. For instance, if the offer is "buy two shorts, get two free", calculate the total price and divide by the number of shorts to see if you get to save some money.
Plan Your Visit
It goes without saying, it's crucial to plan your shopping trip to beat crowds, especially during holidays. Heading out early means you'll secure a parking space at the mall, and you won't have to bump into people while shopping.
Most outlets tend to start their weekly deals on Wednesday. Going early here will mean beating the weekend crowds and getting the same deals.
Try to maximize your savings during major holidays like Black Friday. You will find huge savings at the most expensive stores at the mall, so visit them first.
Although it's wise to arrive early, there's nothing wrong with arriving late. You can still enjoy great discounts even if you miss out on major holiday savings. Arriving late allows you to avoid the crowd and still enjoying some good bargains on products.
Take Advantage of Sales
Shopping at the best outlets in Massachusetts is fun since the prices of most items are already discounted. But this doesn't mean you shouldn't be on the lookout for sales.
Traditional sale weekends are the ideal time to score great deals at these shopping destinations because that's the time stores do big markdowns. It's worth battling the crowds to save as much money as possible.
Although most sales will get posted on the mall's official website, some might not. So, we recommend you stop by the clearance desk which products are discounted further. It's not a surprise to see the best deals on out-of-season products.
Take Advantage of Rewards
Most stores at outlet malls honor rewards and points systems from their flagship shop credit cards. This means you can enjoy additional savings.
However, don't just open a credit card to gain those points. Opening and closing many accounts can harm your credit score. The same applies to inquiring about a new card.
Because of that, we recommend you only apply for a credit card to a store that you frequent and will most probably visit severally in the coming years.
Watch The Return Policy
Last but not least, review the return policy. Usually, shops within outlet malls exist to move items. That's why they usually have a strict return policy. Furthermore, most regular stores don't accept returns from outlet locations.
Therefore, it makes sense to check the return policy before you purchase any product. This is true, especially if you're only a visitor in Massachusetts and not willing to drive back for a refund, even if offered. To prevent this issue, ensure you try everything on before making any purchase.
Bottom Line
Whether you're a resident or a visitor, you will benefit from hidden savings in the 3 best-shopping outlets in Massachusetts. That's true, especially if you're shopping for clothes. Massachusetts imposes no sales tax on clothing items.
You will enjoy the best shopping experience and bargain out there at the mentioned shopping outlets. So, if you're visiting Massachusetts for the first time, consider stopping by one of these outlets. But before visiting these malls, keep the listed tips in mind to make the most out of your shopping.