Ventless portable air conditioners are more effective in regions with a maximum relative humidity of 60% or less. These cooling machines are well suited for dry regions with low humidity since they do not function like standard air conditioners.
You may have been told that ventless air conditioners do not work or that they are a waste of money. However, this is not the case since it is easy to mistake the use cases for these devices. Most regions in the United States have an average relative humidity above 45% in both morning and afternoon.
We will look at how ventless portable air conditioners work and how they differ from conventional air conditioners. We will also take a look at the best regions to use the ventless devices outdoors or indoors. The best ventless portable air conditioners list will detail a couple of devices that are suitable for various usages, so stick around and find out.
What Are Ventless Portable Air Conditioners?
Ventless portable air conditioners are also called evaporative or swamp air coolers. The evaporative coolers have lower cooling performance than standard air conditioners because they do not use the same processes to cool air.
Ventless air conditioners/Evaporative coolers are devices that cool air without using a vent or exhaust hose. Instead, ventless ACs work by taking in the warm air in a room/environment and passing it through water or ice. The warm air evaporates the water or ice, which turns into cooler air blown into the room/environment.
The evaporated water is responsible for the cooling effect since it is cooler and more humid than the warm air from the room. This is different from how conventional air conditioners work.
Regular ACs work by taking in warm air from a room, venting it outside, and then pulling fresh cool air from outside to replace the now evacuated warm air. Regular ACs use refrigerants to perform this heat exchange process.
The process starts with the refrigerant liquid, which picks up warm air in the room. Once this happens, the refrigerant turns into gas through evaporation. It is then pushed out into an outdoor-placed coil through a hose. This is done with the help of a compressor.
A fan then pulls cool air from outside to cool the refrigerant back to liquid form. This stage ensures the refrigerant passes the warm air to the outside while turning back to liquid form. The refrigerant liquid is then pushed back into the indoor unit to absorb more warm air and take it outside. The cycle repeats, causing a cooling effect since the warm air in the room is being evacuated outside.
Ventless air conditioners are not technically air conditioners. The name is used as a marketing term since the devices perform a similar cooling effect as regular ACs. In technicality, a device cannot be referred to as an air conditioner if it does not 'vent' the warm air in a room to the outside environment.
Evaporative coolers have lower cooling performance since their functions depend on the level of humidity in the atmosphere. If the humidity is high, the evaporated water will only add more moisture to the room, causing a less intense cooling effect.
However, these swamp coolers are more energy efficient (usually 100 to 200W maximum) and require little maintenance than traditional ACs.
What You Need to Consider
Now that you know what ventless air conditioners are, what are the few things you need to look out for when purchasing a portable ventless AC? Here are a few considerations:
1. The runtime
Evaporative coolers rely on ice and water to provide a cooling effect. This means that the water tanks in the devices will eventually run out and require you to fill them up. Different swamp coolers offer different runtimes, with some running out of water in just 3 hours and others can last 8 hours. Choose one with the longest runtime to avoid any disruption.
However, if you want to use it outdoors, you may opt to hook the tank to a hose so that the water is always filled automatically.
2. Region of residency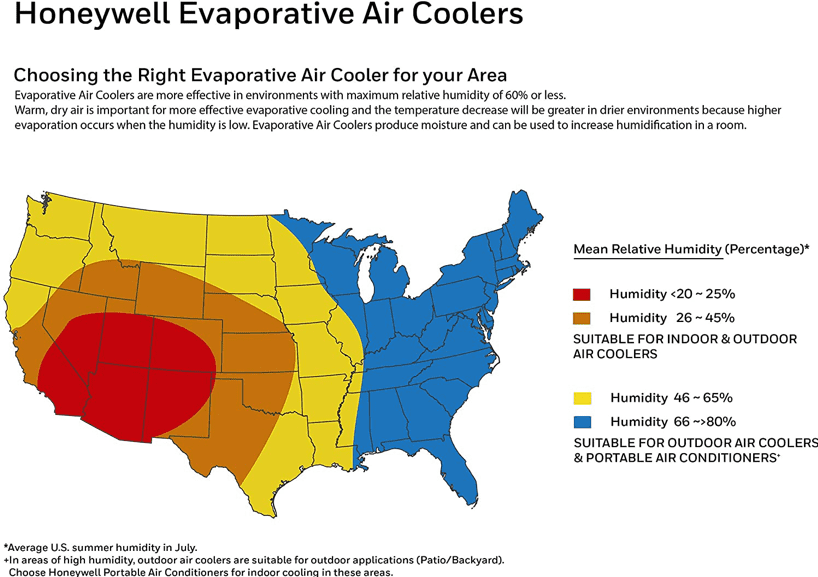 Different regions have different humidity levels. This will be a huge factor, especially if you are planning on using the swamp cooler outside. Higher humidity levels mean that you will need a more powerful air cooler or that the air cooler may not have an effective cooling effect. Here is a Honeywell Evaporative Air Cooler map that shows different humidity levels across the United States for reference:
3. Ice tanks
Evaporative coolers use ice or water or a combination of both to give a cooling effect. Ice has a lower temperature than water which makes it more efficient at cooling a given room. Ice based evaporative coolers are more powerful, but they are also more expensive.
4. Airflow
The cooling capacity for ventless portable air conditioners is based on the amount of airflow. Units with higher airflow capacities are better at cooling. The airflow is usually rated in terms of cubic feet per minute (CFM). Pay attention to this number to ensure you get the most powerful air cooler you can get.
5. Operation noise levels
Portable air conditioners are known to be noisy since they are housed indoors, unlike permanent ACs. Ventless ACs are no exception. During an AC's operation, Tolerable noise levels should be less than 60 dB and ideally below 50 dB for a quieter system.
Best Ventless Portable Air Conditioner: Quick Summary
Top 7 Ventless Portable Air conditioner
1. Hassaire MC37M Portable Evaporative Cooler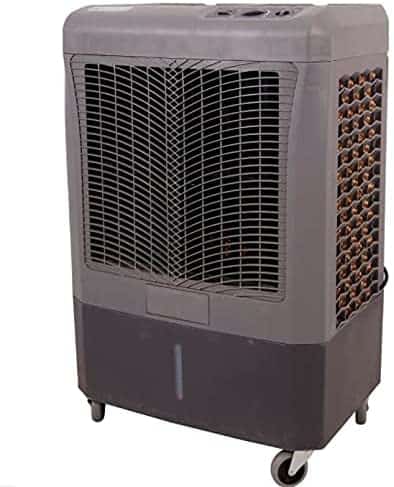 Features:
3100 CFM
Cools up to 950 square feet
250 Watts
Product dimensions: 37 by 17 by 24 inches
3 modes of operation/fan speeds: High, Low, Medium
High-density cooling pads
Operation noise level: 59 dB
Water reservoir capacity: 10.3 gallons
Hose hookup is available
The Hassaire MC37M evaporative cooler makes it to the top of our list due to its cooling power. At 3100 CFM, the unit is the most powerful ventless portable air conditioner in the market today. It is capable of cooling both indoor and outdoor areas with maximum coverage of 950 square feet.
The unit is compact in small size and small weight (40 pounds) and easily portable for camping and cookouts. You have a huge 10.3-gallon tank that gives you up to 4 hours of self-containing cooling. The runtime is low but does not worry; there is an included garden hose hook-up with a float valve if you want a continuous water fill.
Its unique features include a cub holder for resting your drinks and a special palm grill design that is synonymous with high-end swamp coolers.
Pros:
Has the highest airflow rating in the market
Maximum noise level is 59dB
The coverage area is sufficient for indoor and outdoor use
Cons:
Lacks an ice compartment
Has a low runtime
2. Honeywell C060PM Evaporative Air Cooler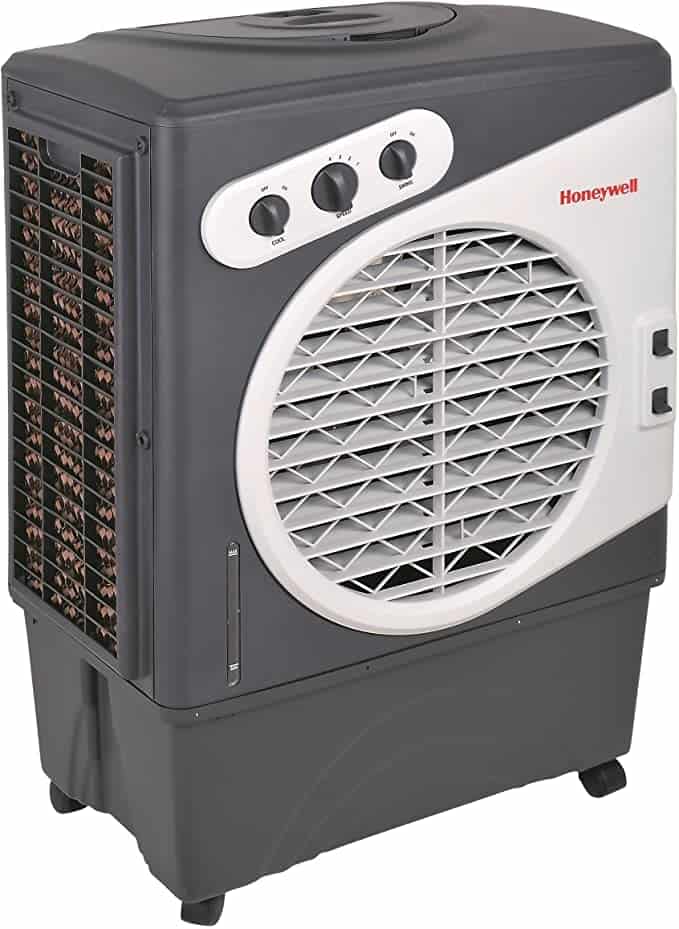 Features:
1540 CFM
Cools up to 850 square feet
123 Watts
Product dimensions: 27.6 by 18.3 by 40 inches
3 modes of operation/fan speeds: High, Low, Medium
Has an ice compartment
Operation noise level: 65dB
Water reservoir capacity: 15.9 gallons
Hose hookup is available
The Honeywell C060PM is great for outdoor use during backyard BBQs, pool parties, and garden hangouts. It is powerful with its high 1540 CFM air flow rate. You can get comfortable, cool and are less than 850 square feet with this unit without any significant inefficiency.
The unit is very durable, as you can expect from Honeywell. The company has thrived for years as the best provider of durable and powerful evaporative coolers. This list is filled with Honeywell products since they lead in performance, durability, and features.
One big advantage of this unit is that it has an ice compartment to add ice to pump even cooler air into hooter environments. This feature sets it aside from our number one pick but falls short due to its airflow capacity.
Pros:
Has an ice compartment
It is powerful for outdoor use and large rooms
There is a triple-sided honeycomb pad for wider airflow
Has a huge water tank
Cons:
It is relatively more expensive than other items on this list
Has an operation noise level above 60dB
3. Hessaire MC18M Portable Evaporative Cooler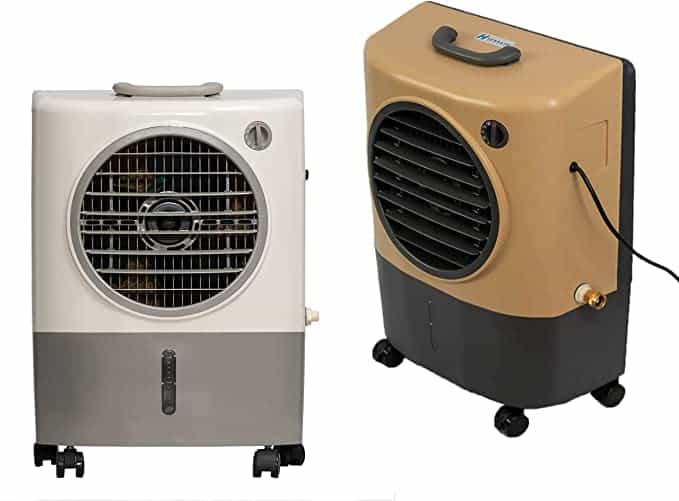 Features:
1300 CFM
Cools up to 500 square feet
85 Watts
Product dimensions: 20 by 10 by 28 inches
2 modes of operation/fan speeds: High and low
Colors: Grey, teal, and Green
3-4 hours of operation
Operation noise level: 53.4 dB
Water reservoir capacity: 4.8 gallons
Hose hookup is available
Hessaire MC18M is a compact evaporative cooler that is suitable for industrial use and residential use too. Its size makes it ideal for small spaces, and it is easily portable with a set of four-wheel, two lockings and two non-locking. There is the option of hooking up a garden hose to continuously fill the water tank since the tank capacity is low.
The big advantage of the Hessaire MC18M is that it is very energy efficient due to a maximum wattage of just 85 W. The cooling area is sufficient at just 500 square feet, and the airflow is high enough to make it ideal for a wide range of use cases.
Pros:
It is energy efficient than most evaporative coolers
Has a respectable operation noise level
Has automatic heat protection and hose hookup
Cons:
Low operational hours
Has only two fan speeds
4. Honeywell C048PM Evaporative Air Cooler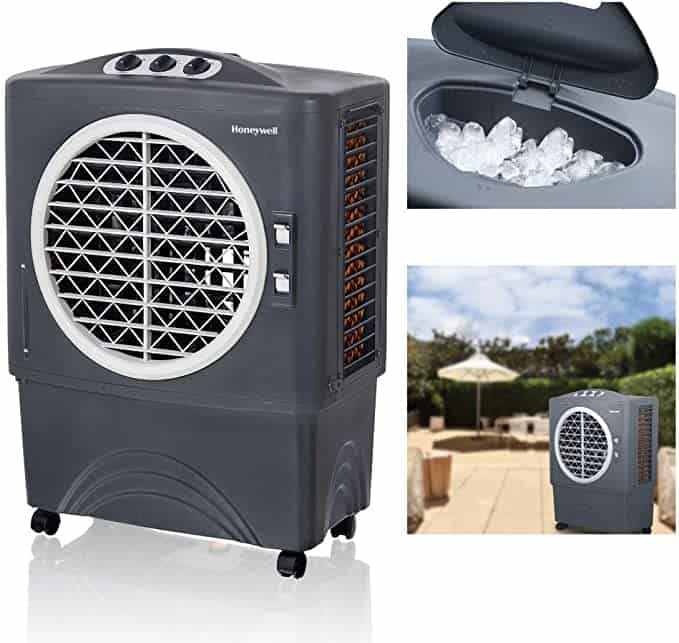 Features:
1062 CFM
Cools up to 650 square feet (recommended for 610 square feet)
Product dimensions: 14.76 by 24.4 by 34.76 inches
3 modes of operation: High, Low, Medium
3-in-1: cooling, humidification, and fan
Has an ice compartment
Operation noise level: 62 dB
Water reservoir capacity: 10.5 gallons
Hose hookup is available
Honeywell C048PM is another special unit from Honeywell that is well built for durability. The airflow capacity is enough for it to be used in large spaces, both indoors and outdoors. It also comes with a triple-sided honeycomb pad for added airflow, aside from other brands' designs.
You will not worry about water running out because the included garden hose hookup and the 10.6-gallon water tank is sufficient for normal use. Additionally, the ice compartment ensures you get the best cooling experience any evaporative cooler can offer.
Pros:
Has an ice compartment
Is compact and light
Has a large water tank
Cn cool large spaces
Cons:
Noise levels are more than 60dB
Does not have a low water alarm or water timer
5. NewAir Portable Evaporative Air Cooler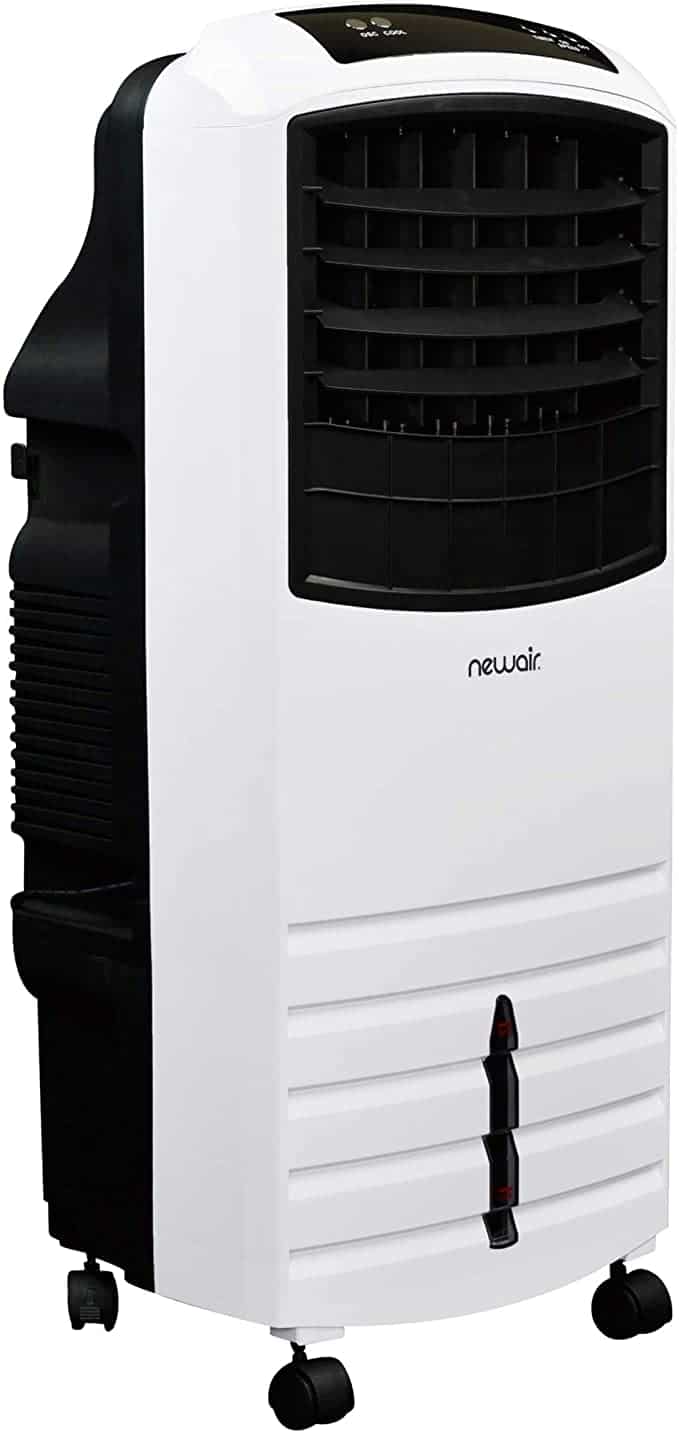 Features:
1000 CFM
Cools up to 300 square feet
200 Watts
Product dimensions: 12 by 15 by 35.5 inches
3 modes of operation: High, Low, Medium
10 hours of operation
Water reservoir capacity: 5.3 gallons
NewAir is another reputable brand that makes air coolers like this one. This portable ventless air conditioner is light at just 23.4 pounds and is compact for easy storage and transportation. The design of this unit is unique since it uses a Tower-like design that is tall and majestic. You will not find a lot of evaporative coolers that are aesthetically unique like this one.
The device is the most feature-packed on our list with remote control, affordable price, an automatic timer, and a fan located on a 'tower'. The airflow is decent for large spaces, and the inclusion of the 3-in-1 support is a huge plus for such a price.
Pros:
Is affordable at around $170
Has a high airflow capacity for large space
Is light and compact
Has an automatic timer
Comes with a remote-control feature
Cons:
Recommended for indoor use only
Has no hose hookup
Lacks an ice compartment
6. Honeywell CO30XE Portable Ventless Air Conditioner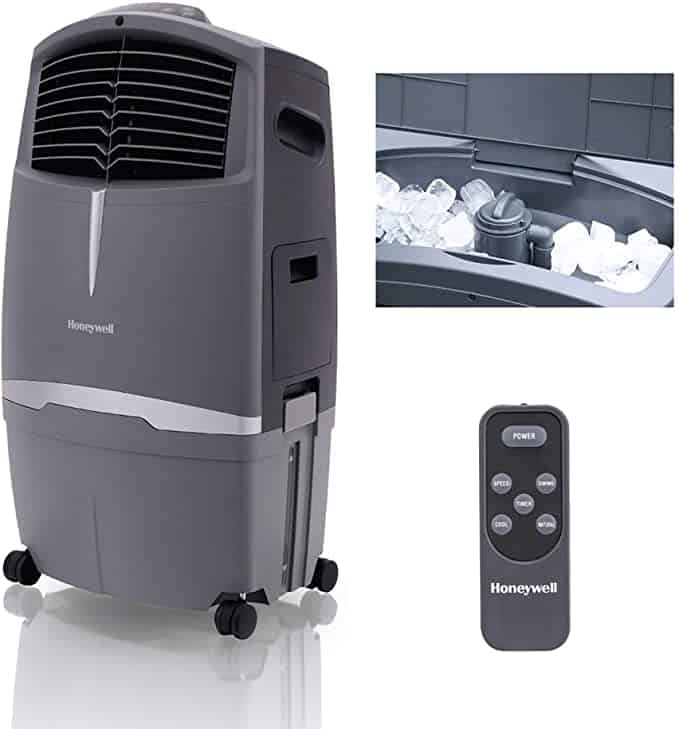 Features:
525 CFM
Cools up to 320 square feet
288 Watts
Product dimensions: 18 by 13.9 by 33.7 inches
3 modes of operation: High, Low, Medium
This unit comes with a detachable water tank that makes operations easier. Moreover, the remote-control capabilities make it stand out in terms of features and convenience. You will not worry about water running out or the unit going off in the middle of the night. There is a timer that can be programmed for up to 7.5 hours for unattended operation.
The three humidity settings are ideal for any day, both indoors and outdoors. Also, you will not have to worry about the durability of this ventless portable air conditioner since it is robust enough to withstand harsh weather.
Pros:
Has an ice compartment
Supports remote control
Is US compliant and outdoor-rated
Great build quality
Cons:
Less energy efficient than other units in its category
Quite expensive for its set of features
7. Honeywell CS10XE Portable Evaporative/Swamp Cooler

Features:
300 CFM
Cools up to 150 square feet
100 Watts
Product dimensions: 15 by 13.5 by 31.5 inches
3 modes of operation: High, Low, Medium
Water reservoir capacity: 2.6 gallons
This sleekly designed unit has a contemporary design that is unique and futuristic. The detachable water tank is great for smooth operations and the remote-control capabilities of the unit makes it ideal for those who prefer conveniency.
The unit is fairly priced for the features it offers which makes it enticing to the budget shopper who wants a small room evaporative cooler. You will not go wrong with this 300 CFM unit so long as you do not want an ice compartment or a large water tank for more hours of use.
Pros:
It is one of the most energy efficient ventless portable air conditioners
Can be controlled remotely
Has a detachable water tank
Cons:
Has low airflow capacity
Can only be used for small spaces