The best smallest portable air conditioners are ideal for small rooms where you may be living temporarily. The initial cost of these small air conditioners is low, but the maintenance can be costly, especially if you plan to use it in a bigger space for long periods.
Small portable air conditioners come with low BTU (British Thermal Unit) ratings (which tells you how powerful the air conditioner is), ranging from 7,000 BTUs to 10,000 BTUs. Any air conditioner rated at 10,000 BTUs or above is not considered a small-room portable air conditioner.
We will take a look at what you should consider before getting yourself a small portable air conditioner. The factors you need to consider will be based on several factors like the size of your space and the maintenance you may be required to.
Our list of the best smallest portable ACs consists of the most popular, budget-friendly, and efficient units in the market today. However, your choice will come down to personal preference and the size of your space. These ACs are great choices, and you will not go wrong with any of them.
Best Smallest Portable Air Conditioner: Quick Summary
What You Should Consider
1. Size
The size of your space is the most important aspect when it comes to choosing portable air conditioners. Unlike mounted air conditioners, portable ones are strained by the size of the room. The portable ACs can use a lot of power if put in a large room that needs more cooling than its rating can handle.
The British Thermal Unit (BTU ASHRAE) per hour will help you decide what small portable AC fits your room size. However, consider that environmental factors such as poor insulation and high room temperatures may require you to get a higher rated AC.
The list below consists of the smallest portable air conditioners rated between 7,000 BTUs and 10,000 BTUs. These ACs are suitable for room sizes between 1,600 cubic feet (200 square feet) and 2,400 cubic feet (300 square feet).
2. Noise level
One advantage of the common window air conditioners is that they are not housed inside the house. On the other hand, portable air conditioners are housed inside the room, which means you will hear the fan noises from the AC. The airflow through the fans is going to be noisy regardless of which unit you get.
Some units have good decibels (dB), which is a key factor in buying a less noisy portable AC. If you are concerned about the noise levels, then looking for portable ACs rated between 40 and 50 dB can help ease your fears. To put that into perspective, a vacuum cleaner or radio produces around 75dB on average.
3. Efficiency
Energy Efficiency Ratio (EER) is another portable air conditioner rating used to indicate how many BTUs the AC uses per one watt of power. Put, the higher the EER, the more power efficient the portable AC. More efficient units are great for saving on energy, especially keeping the AC on throughout the day.
4. Maintenance required
The first maintenance you will need to do for portable ACs is to drain the collected moisture. It is important to note that manually removing the collected water is the standard way to drain it in most regular portable ACs. A bucket comes with the unit that stores the water. It has to be emptied as rare as once a month or as often as every 8 hours.
Some self-evaporative units are advanced enough to evaporate the moisture out of the hose automatically. Other units depend on gravity drain. Gravity drain involves attaching a draining hose to the drain port and using the hose to pour the water into another place (outside or in a bucket).
Another maintenance aspect involves cleaning the AC filters and defrosting the AC to prevent ice build-ups. If you want to reduce the number of maintenances, then getting an AC with automatic maintenance services will be your best choice.
5. Placement
Ensure you have some space near a window where you can install your portable air conditioner. The conditioners come with window kits that direct the AC hose outside. It is recommended you install the AC near a window (depending on the hose length) so that the hot air can be exhausted out of the hose into the outside environment.
Top 8 Smallest Portable Air Conditioners
1. Black and Decker 8000 BTU BPACT08WT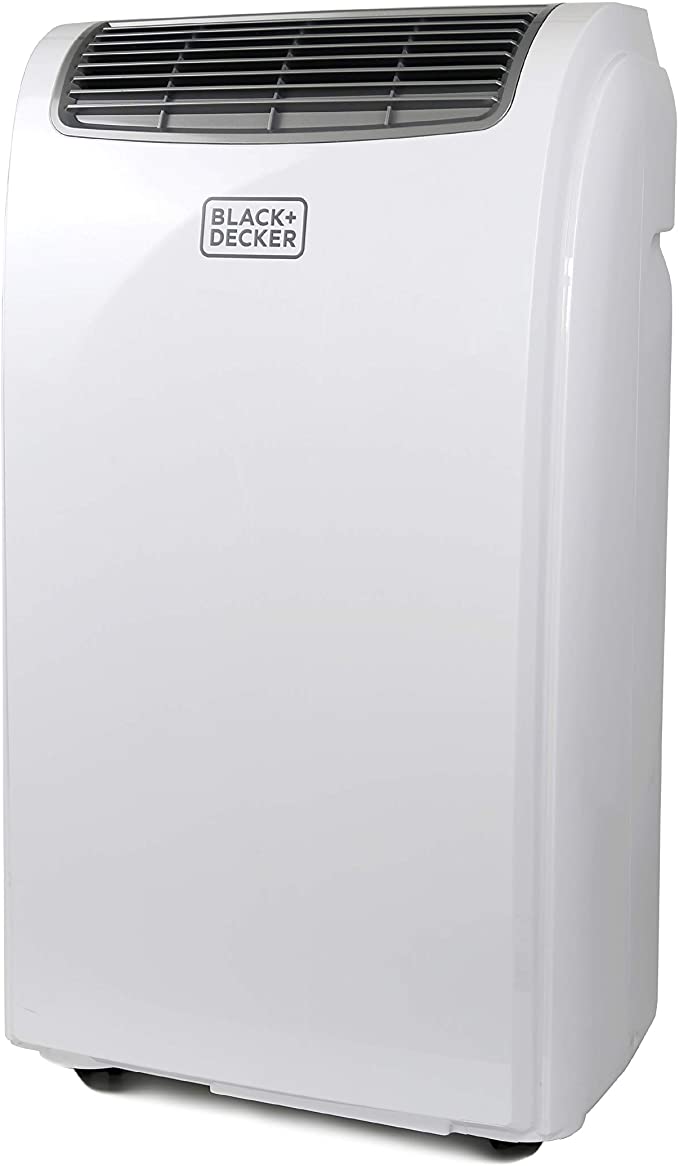 Features:
8,000 BTU AHRAE (4,000 BTU DOE)
Remote control
Cools up to 150 square feet
Operating noise levels: 53 dB
Self-evaporation technology
Color: White
Dimensions: 16.5 by 11.5 by 26 inches
3-in-1 functionality: Cooling, fan, dehumidifying.
Black & Decker is a company that is infamous when it comes to portable air conditioners. The company has a huge portfolio of small portable ACs with various BTU ratings. Their most popular option is this Black & Decker BPACT08WT. The 8,000 BTU ASHRAE model is fit for those who want the smallest portable AC.
It has all the features you would need; a durable build that will last you for years, remote control capabilities for easy handling, quick installation, ease of use, and 3-in-1 functionality that includes a fan, cooling capabilities, and a dehumidifier.
The unit is compact enough to fit in the smallest rooms in your house. The AC can only cool rooms less than 150 square feet – this makes it the most efficiently tuned AC for small rooms below 200 square feet. The unit comes in various variations (7,500 BTU and 8,500 BTU are also available), with the same dimensions as this model.
There is a 24-hour timer that helps reduce energy waste. You will be able to cool your room between 64- and 95-degrees Fahrenheit. The dehumidifier operates between the same temperature limits as the cooling system, whereas the heating system operates between 50- and 77- degrees Fahrenheit.
2. AireMax 10000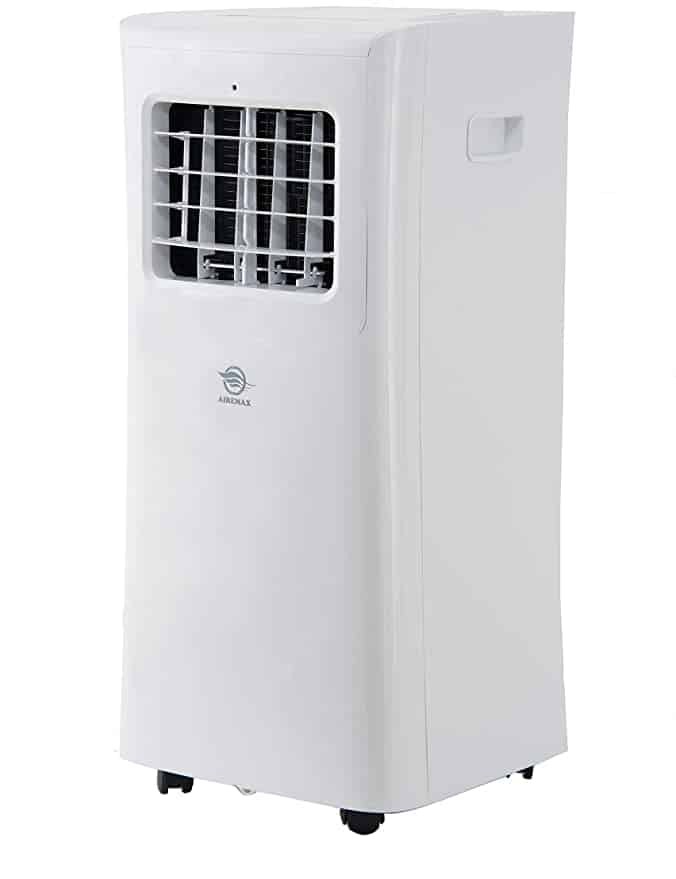 Features:
10,000 BTU AHRAE (5,500 BTU DOE)
Remote control
Two washable filters
Cools up to 300 square feet
Operating noise levels: 60 dB
Color: White
Dimensions: 13 by 13.4 by 28.2 inches
3-in-1 functionality: Cooling, fan, dehumidifying.
Coming in at just 13 by 13.4 by 28.2 inches, the AireMax 10,000 is our top pick when it comes to the size of portable AC units. Very few other units in this list are as small as this in terms of diameter and width. The unit is compact and can fit in the tiniest of places in your bedroom or RV.
The operating noise levels are not bad, but other portable ACs in this list have lower noise levels that make them preferable for a quiet environment. However, the AireMax 10,000 has its advantages when it comes to transportation. The unit includes four rolling casters integrated with side handles to help you push the unit conveniently.
There are dual filters that help catch more debris, hair, and fur. This enables you to do less cleaning maintenance in the dirty filters after some time of use.
3. MIDEA 10000 3-in-1 Portable air conditioner, dehumidifier, and fan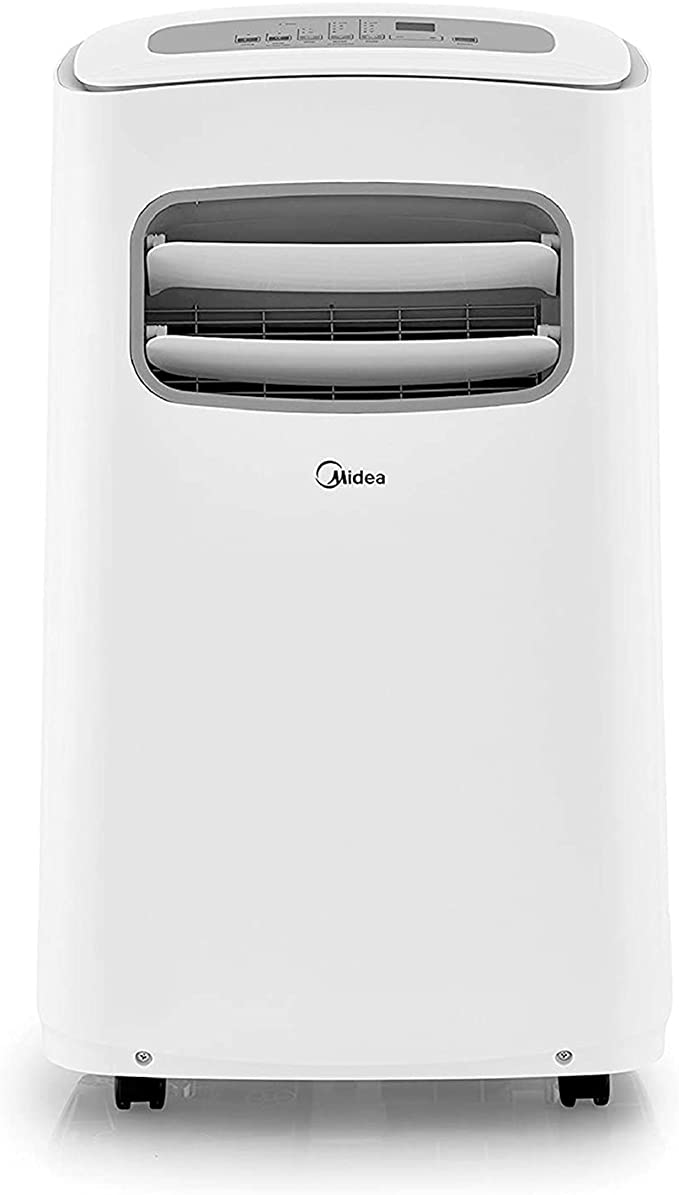 Features:
10,000 BTU AHRAE (5,500 BTU DOE)
Remote control
Cools up to 200 square feet
Works with Alexa
Wi-Fi enabled
Color: White
Dimensions: 17.1 by 13 by 28.3 inches
3-in-1 functionality: Cooling, fan, dehumidifying.
The MEDIA 3-in-1 10,000 BTU portable AC also functions as a dehumidifier and fan. This AC is the most feature-packed small portable air conditioner you will find on the market today. You can control the unit remotely like all the other ACs in this list. However, the MEDIA AC also include smartphone control capabilities and voice controls from Alexa using an Alexa device (bought separately).
Wi-Fi capabilities of this unit ensure you can switch modes and set schedules by pairing the AC to your smartphone, Alexa device, or Google Assistant. Voice controls are more flexible and convenient since you can control the AC from anywhere so long as the devices are connected via Wi-Fi.
4. NINGPU 8000 Portable air conditioner
Features:
8,000 BTU AHRAE (4,000 BTU DOE)
Remote control
Cools up to 200 square feet
Programmable timer
Color: White
Dimensions: 15 by 15 by 34 inches
Self-evaporation technology
3-in-1 functionality: Cooling, fan, dehumidifying.
NINGPU 8,000 is the most affordable small portable air conditioner you can buy today. At just $296, you get an AC that can cool a room under 200 square feet and still has the convenient self-evaporation technology.
Moreover, the unit includes the 3-in-1 features in all of these portable AC at that small price. The downside to having a low price is that the ambient working temperatures are bound to be lower. For this NINGPU unit, the ambient cooling temperatures are between 62.6- and 86- degrees Fahrenheit. The operation noise level is less than 60 dB which means it is not the quietest of portable ACs.
5. Honeywell 8000 BTU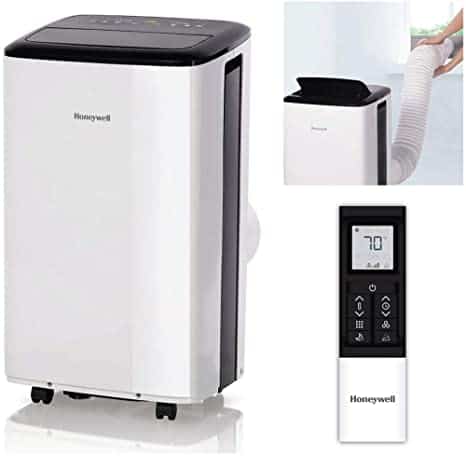 Features:
8,000 BTU AHRAE (4,000 BTU DOE)
Remote control
Cools up to 350 square feet
Thermal overload protection
Wi-Fi and None Wi-Fi options
Dimensions: 16.3 by 13.6 by 28 inches
3-in-1 functionality: Cooling, fan, dehumidifying.
Honeywell 8,000 BTU is the small portable AC to take if you are looking for the most efficient system in the bunch. The unit is capable of servicing a 350 square foot room with just 8,000 BTUs. You will not find another small portable AC that can cover that range with less than 10,000 BTUs.
Additionally, the unit has thermal overload protection – an advanced safety feature that ensures your AC never overheats. The model also comes with dual dust filtration, which helps keep the internal systems clean and reduces high maintenance.
You can get the Honeywell 8,000 with Wi-Fi or without. The Wi-Fi option will cost you extra and be less energy efficient since it is tuned to cool up to 450 square feet. Ensure you do not get wide room coverage if your unit has low BTUs; this will lead to a lot of energy waste and cost you more in the long run.
6. SereneLife 8000 BTU SLPAC8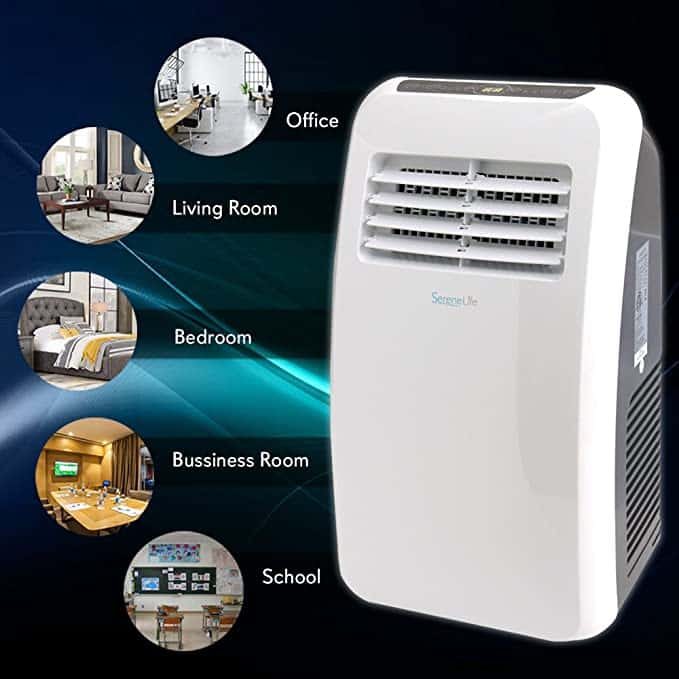 Features:
8,000 BTU AHRAE (4,000 BTU DOE)
Remote control
Cools up to 215 square feet
Operating noise level: 55-57 dB
Color: White
Dimensions: 14.6 by 13.8 by 27.2 inches
3-in-1 functionality: Cooling, fan, dehumidifying.
SereneLife is known for producing high quality and durable ACs. The company has a couple of small portable ACs ranging from 6,000 BTUs to 14,000 BTUs. This unit is an 8,000 BTU system with a 215 square feet coverage and moisture removal of about 1.2 liters per hours.
The AC comes with a remote for remote control and the noise level is acceptable at about 55 to 57 dB in normal conditions. The downside to this AC is that there is no Wi-Fi capabilities and it does not have the automatic self-evaporation system.
7. SereneLife 10,000 BTU SLPAC10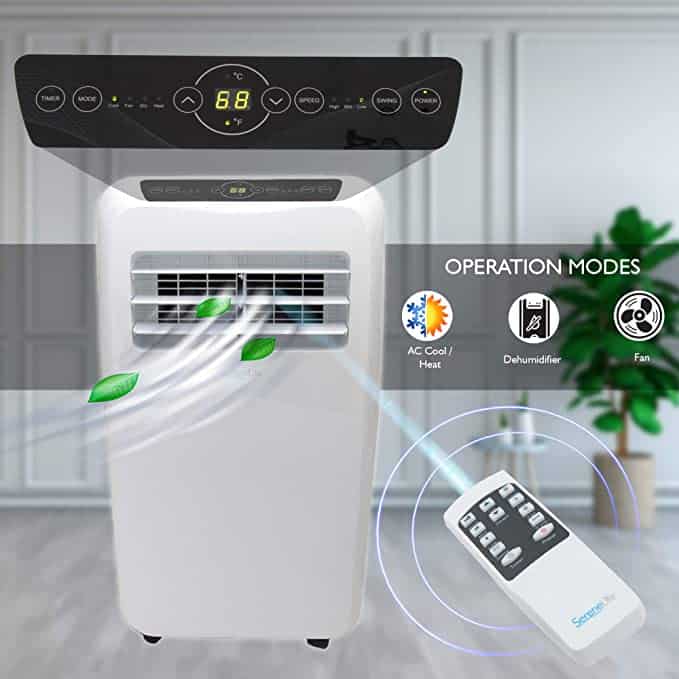 Features:
10,000 BTU AHRAE (5, 500 BTU DOE)
Remote control
Cools up to 400 square feet
Operating noise level: 52-56 dB
Color: White
Dimensions: 17.4 by 13.4 by 32.1 inches
The SereneLife SLPAC10 is aesthetically identical to its younger sibling, the SLPAC08. However, it is larger in size and is the quietest system in this list. The operation noise levels are rated between 52 and 56 dB but the noise can go as low as 45 dB in low power settings. SereneLife is known for make the quietest system which is whey we recommend their units for those who want as little noise as possible.
SLPAC10 has four operating modes which include cooling, heating, fan, and dehumidifier. There is also an automatic swing mode that enables maximum air circulation for more efficiency. The unit is great for any weather and climate with its massive 10,000 BTU rating, 400 square feet coverage, and air flow that is rated at 290 meters cubic per hour.
8. Black and Decker 10,000 BTU BPACT10WT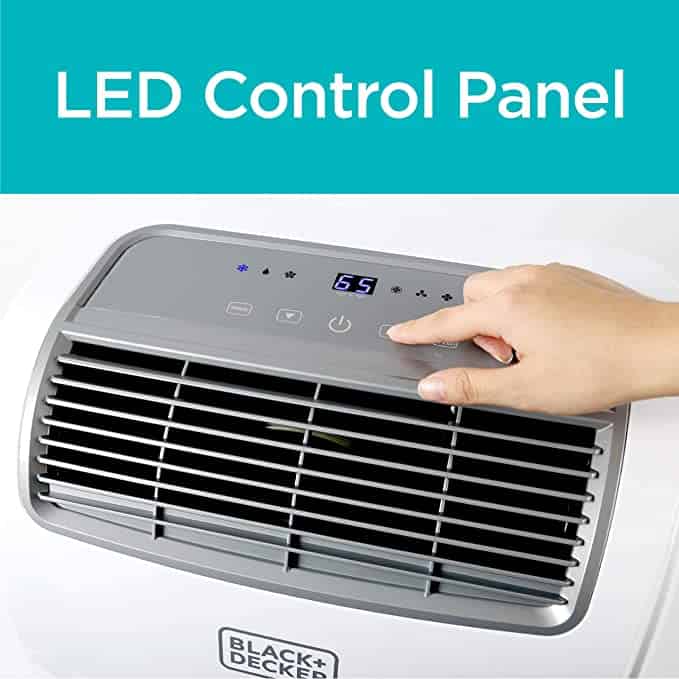 Features:
10,000 BTU AHRAE (5, 500 BTU DOE)
Remote control
Cools up to 250 square feet
Operating noise levels: 53 dB
Self-evaporation technology
Color: White
Dimensions: 16.5 by 11.5 by 26 inches
3-in-1 functionality: Cooling, fan, dehumidifying.
The Black and Decker BPACT10WT is identical to the BPACT08WT in dimensions, colour, and looks. It differs from its younger sibling in terms of BTUs and the room size it can cool. The BPACT10WT is rated at 10,000 BTU, which means it can cool small rooms below 300 square feet. However, it is recommended for rooms of up to 250 square feet for effective cooling.
Like all Black and Decker portable AC units, this one also comes with a window adaptor for easy installation. All you have to do is place the adapter to a sliding window or a double-hung window and connect the unit to the power source.
There are three fan speed levels: high, medium, and low. Moreover, the fan speeds can be auto-adjusted using the settings panel to change the speeds appropriately with zero manual input. The ambient working temperature for cooling, dehumidifying, and heating is similar to the BPACT08WT.
This AC is perfect for other small spaces such as bedrooms, dorms, and RVs. At just 52.9 pounds, you should not have any issues moving this portable AC around. Additionally, you can rest assured that the self-evaporating operation will reduce the amount of maintenance you have to do on the unit.