Don't you want to play the 2,000-year-old mahjong game in the best mahjong sets available today? Mahjong has been played for centuries, and it is older than chess. The game has had various variations throughout the years, but the base rules are still the same.
There are several factors to consider when it comes to picking the best mahjong set. Some of these factors include the material, the design, colors, accessories, and the number of tiles in the set. You may also consider the portability of the set and the size of the tiles.
We will take a look at the game's base rules and how it is played to give an overview of what you are in store for. Moreover, we will take a deeper look at the things you need to consider. Our top picks of the best mahjong set will help you decide which one is best for you and how they differ from each other.
What is Mahjong, And How is it Played?
Mahjong is a popular game involving tiles that originated in China over 2,000 years ago. Like most popular games, there are many variations to it, including American Mahjong. Some rules differ between different variations, but there are basic rules that are applied across the board. Here are a few rules of basic Mahjong:
The basic game consists of four players, but other versions may consist of three players.
136 tiles: 36 characters, 36 bamboos, 16 wind tiles, 12 dragon tiles, and 36 circles (suits). Suits are divided into four sets, each consisting of numbers 1 to 9.
The goal of Mahjong is to get a 'mahjong' – 14 of your tiles into 4 sets (either be three identical tiles or three consecutive numbers in the same suit) and 1 pair (two identical tiles). Remember that a single tile cannot be put in two sets at the same time.
Best Mahjong Set: Quick summary
What to Consider Before Buying a Mahjong Set
The first consideration when it comes to mahjong sets is the type of set you are getting. Other considerations include; portability, tile material, number of tiles, tile size, design, and artwork, and the cost of the entire set.
Type of Mahjong set
The most popular versions of the mahjong game are the Chinese and American Mahjong games. Other types include Japanese, Vietnamese, and Taiwanese sets. The American mahjong sets come with at least 152 tiles, whereas the Chinese versions have 144 tiles.
The American set is more versatile since it has more tiles and includes a set of racks that hold the tiles. This makes it more expensive and preferable by many because you can use its pieces to play the Chinese version of the game. To play Chinese Mahjong with the American set, all you have to do is substitute the dragon tiles with 'fa' and 'Zhong tiles.
American sets are also preferable because they use western characters instead of Chinese characters. Having western characters on the tiles is beneficial for beginners and children because they make the game simpler.
Portability
A set with a good carrying case is more portable than a set without one. Wooden finishes on the mahjong sets are great for aesthetics but can beat up if you carry the group from place to place. A carrying case is not a significant advantage if you keep the set in one place.
Tile Material
Most of the mahjong tiles are made of melamine, acrylic, or other forms of plastic. The top of the tile can be a combination of wood and plastic, but you will mostly find them with entire plastic materials.
Number of Tiles
As seen earlier, different types of mahjong sets come with a different number of tiles. A set with more tiles is more versatile since you can switch between different types of the mahjong game. Moreover, the higher the number of tiles, the more enjoyable the game is due to added flexibility and options. The tiles also have different colors, with green being the most popular since it stands for prosperity in China.
Tile Size, Design, and Artwork
The artwork and general design of the tiles make them more attractive or less attractive than others. You will find that children's mahjong sets and Chinese sets have decorative artwork and more aesthetically pleasing designs.
The size is a huge factor if you look for a compact design that can fit on a small table and be easily carried in a small bag. Bigger sizes are beneficial when it comes to professional and big table games that involve a huge competition.
Cost of the set
Last but not least, the cost. Mahjong sets are relatively inexpensive since most of them cost between $50 and $150. One of the most expensive sets is the Yellow Mountain Imports American Mahjong set which retails for more than $170. You can also find mahjong sets that are as cheap as $30.
Top 10 Mahjong sets
Here are our top 10 picks of the best mahjong set. We have ensured to give you an extensive list that can provide you with a wide range of options. Bear in mind that you will enjoy the game with any of these sets, and none of them will significantly alter your experience. Your choice will boil down to personal preference and a few extra special features.
1. Yellow Mountain Imports American Mahjong set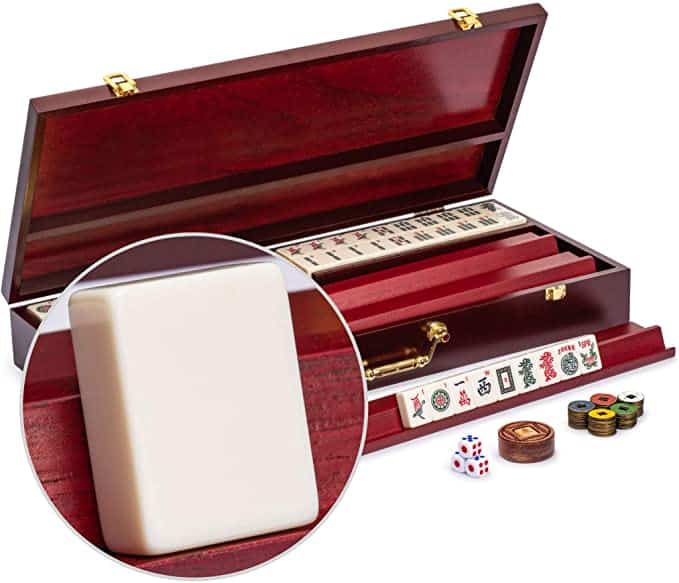 Features:
American set
166 tiles
Vintage Rosewood Veneer case
Four wooden racks
Wind Indicator
Dice and Scoring coins
Our overall best mahjong set is this American set by Yellow Mountain Imports. The set is a 'Classic' since it contains all the elements you would ever need for an American Mahjong game. The number of players for this set is 4 and the 166 tiles ensure you can play American and Chinese Mahjong. The ivory color and brass material design of the set resemble vintage tiles making it unique and elegant.
It comes with a wooden case for portability and protection. Moreover, the tiles have scratch-resistant melamine that ensures long-term durability. The tiles measure 1.18 by 1.86 by 0.51 inches and include 36 bams, 36 racks, 36 dots, 12 dragons, 16 winds, 10 jokers, 16 flowers, and 4 blank spare tiles.
The special accessories include four wooden racks, dice, scoring coins, an English guidebook with illustrations, and a wind indicator.
2. Hello Kitty Mahjong Set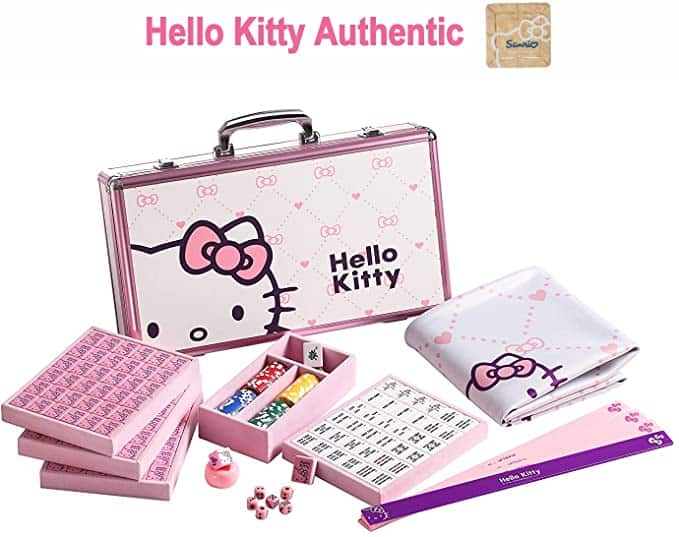 Features:
Chinese set
144 tiles
Pink in color
4 pushers
3 blank mahjong tiles
Playing mat
The Hello Kitty mahjong set is a compact set that is pink and colorfully. It has the adorable Hello Kitty designs from Sanrio, which make it ideal for children and as a gift to loved ones. When closed, the case size is 18 by 10 by 4 inches, and the tile sizes are 1.25 by 1 by 0.75 inches.
The Hello Kitty Mahjong set comes with dice, rulers, a spinner, and a floral rain pink storage case. The Hello Kitty sweet face is adorable to make anyone smile and can be the best present for the holiday season to mahjong lovers. The tile material for this set is a combination of PVC and acrylic, which is commonplace for such sets.
If you love compact mahjong sets that are shiny, cute, and sparkly, then the Hello Kitty Mahjong set by Sanrio is your best pick.
3. Mose Cafolo Majong set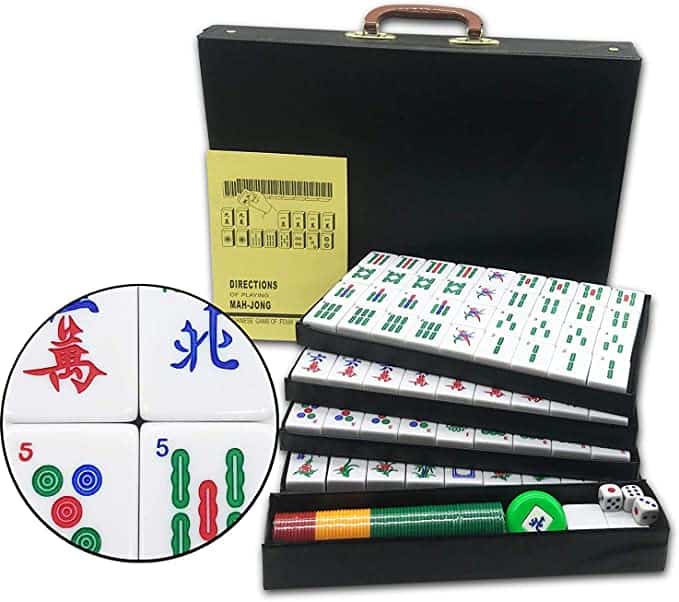 Features:
Chinese set
144 tiles (extra-large)
Melamine tiles
Black carrying travel case
Arabic numerals on the tiles
It weighs about 16 pounds
The Mose Cafolo set is the best Chinese set in the market today. It is tailored for professional Chinese mahjong gaming with its 144 extra-large mahjong tiles. Each tile measures 3.9 cm by 3 cm by 2.5 cm, one of the recommended sizes for professional gaming. The large tiles are great for professional gaming since they are easier to read and handle.
The set also comes with black travel carrying case for portability and protection. Additional accessories include 3 dice, 2 spare tiles, one wind indicator, and a set of colored chips.
The 1444 tiles are engraved with both Arabic and Chinese characters, which makes the game easily understandable.
The tiles include 36 characters, 12 dragons, 8 flowers, 36 circles, 36 bamboos, and 16 winds. The melamine material that is used on the tiles is durable and high-quality. You will play with this set for years before you see any important fades or discolorations.
4. American Mahjong set by Linda Li.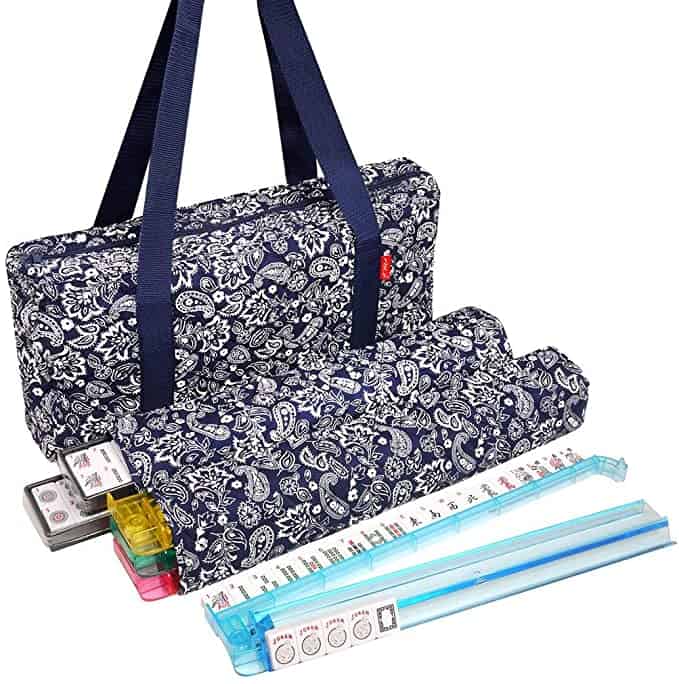 Features:
American set
166 tiles
Premium white tiles
Blue paisley bag
Melamine tiles
4 all-in-one pusher and tile rack combo
The American Mahjong set by Linda Li is the best American Mahjong set in the market today. It includes 'Mah Jongg Primer, American Style' by Michele Frizzell and is finished with colorful 3D graphics that help players learn and master the game.
The tiles are made out of durable melamine materials, ensuring the colors do not fade for years. The 166 tiles measure 30 mm by 23 mm by 13 mm and include 36 dots, 36 cracks, 36 bams, 12 dragons, 16 flowers, 16 winds, ten jokers, and four blank spare tiles. There are three large dice, a bettor, and 100 money chips. The set also includes a four all-in-one tile rack and pusher combo for easy packing and use.
5. Chinese Mahjong set by Hey! Play!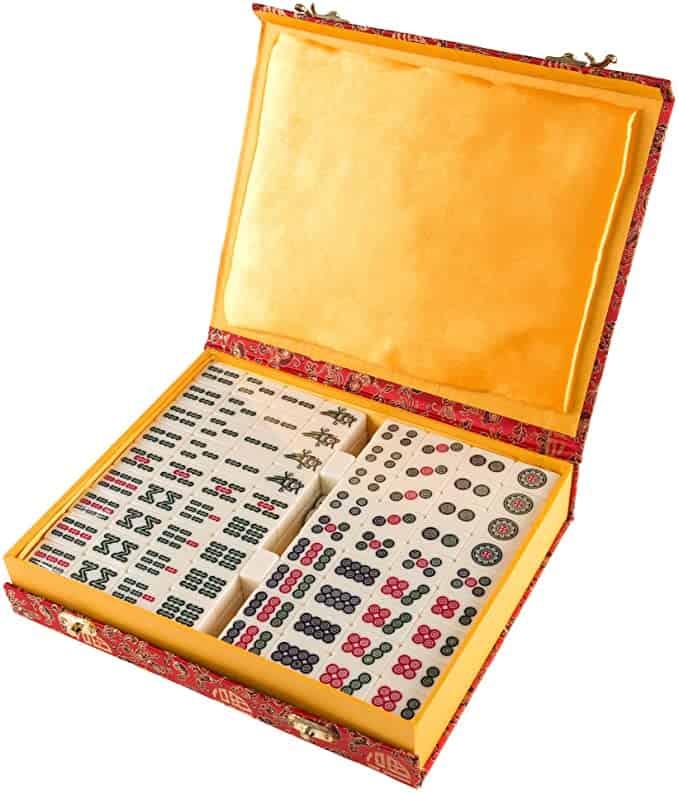 Features:
Chinese set
146 tiles
2 Dice
Ornate storage case
Suitable for all ages
Melamine tiles
This amazing MahjongMahjong set from the brand 'Hey! Play!' is currently the cheapest mahjong game you can get on the market today. It costs around $39.95 and comes in either white, green, or red. The set is designed to be a standard Chinese MahjongMahjong set with 146 tiles fit for players of all ages. There are two dices in the package, and the set comes with an ornate storage case for portability and storage.
The tiles are also made from melamine like most durable mahjong sets meant to last for generations. The 146 tiles include 36 characters, 36 bamboos (Bams), 36 circles, four flowers, four seasons, 12 dragons, 16 winds, and the two extra blank tiles. The tile dimension is 1.25 by 0.75 by 0.5 inches which mean it is not a professional set for pro gamers.
This is the best budget-friendly set for those who want the whole mahjong experience but do not want to spend a lot.
6. Yellow Mountain Imports Professional Chinese Mahjong Set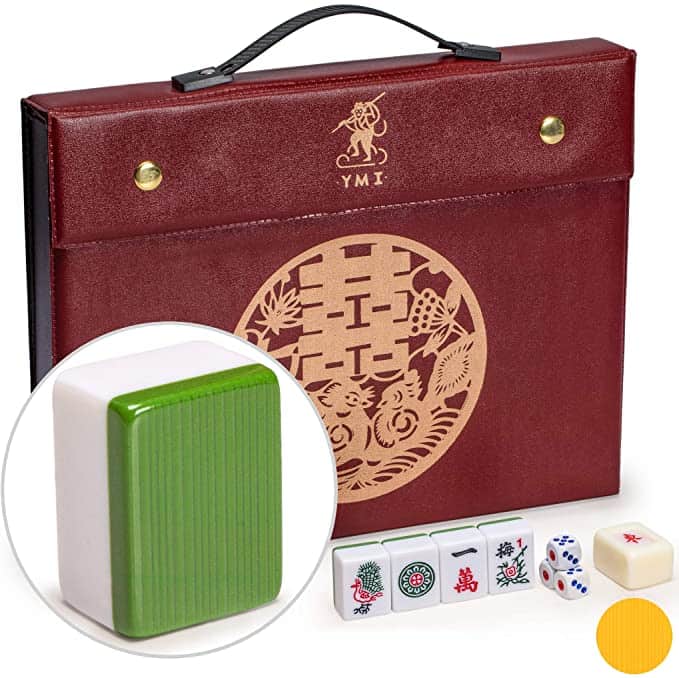 Features:
Professional Chinese set
146 tiles (medium-sized)
Three dice and wind indicator
Red Vinyl storage case
4 pounds
Racks and pushers are not included
The Yellow Mountain Imports Professional Chinese Mahjong set is nicknamed 'Double Happiness' with its green back tiles. The tile size is medium, making it an excellent professional set similar to the large-sized tile sets. The collection is purely Chinese MahjongMahjong which means no joker tiles or Arabic characters on the tiles.
This set resembles the pure and iconography of Chinese Mahjong, from the artwork to the bamboo grain stripes on the melamine tiles. The tiles measure 1.4 by one by 0.7 inches, and they include 36 circles, 36 bamboos, 12 dragons, 16 winds, four flowers, and four seasons with the standard two extra blank tiles.
This set is the perfect fit for those who want to experience the Chinese mahjong game in its purest form, similar to the 2000-year-old set designs. The one downside to this professional set is that there are no racks or pushers in the package.
7. Kai Tai Inc 4 Pushers Complete American Mahjong Set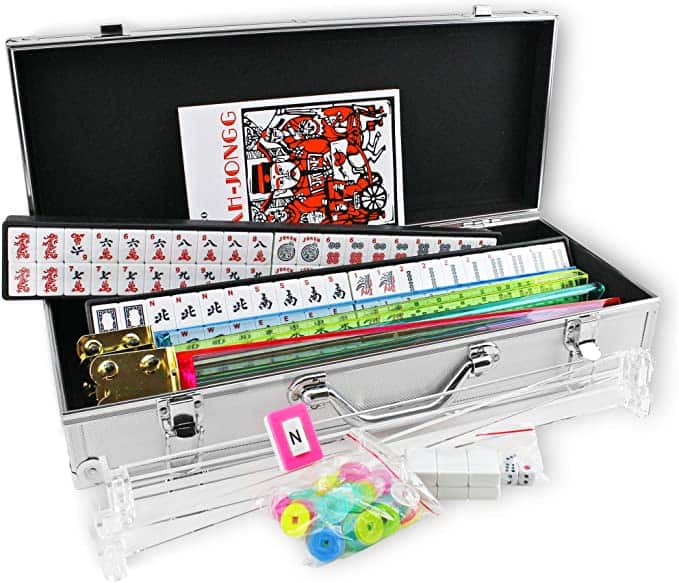 Features:
American set
166 tiles
Aluminum case with latch and handle
Suitable for 2 to 4 player games
Suitable for age 20 and above
Four racks and dice
Wind indicator
This complete American Mahjong set from Kai Tai Inc weighs 11.3 pounds and is designed explicitly for adult gaming only. The set is called 'complete' since it comes with everything you would ever need for any mahjong game; there are 166 tiles engraved with Arabic and Chinese characters, there are four racks in the package, chips, three dices, and a wind indicator.
You will also find a guidebook that is well illustrated in the package. You won't need any other additional accessories to learn how to play all types of MahjongMahjong on this set. Moreover, the collection is beautifully decorated with good color choices that are attractive. The price is also fair.
One con with this set is that the back of the tiles is plain white with no patterns or decorations, which makes it less unique.
8. Yellow Mountain Japanese Riichi Mahjong Set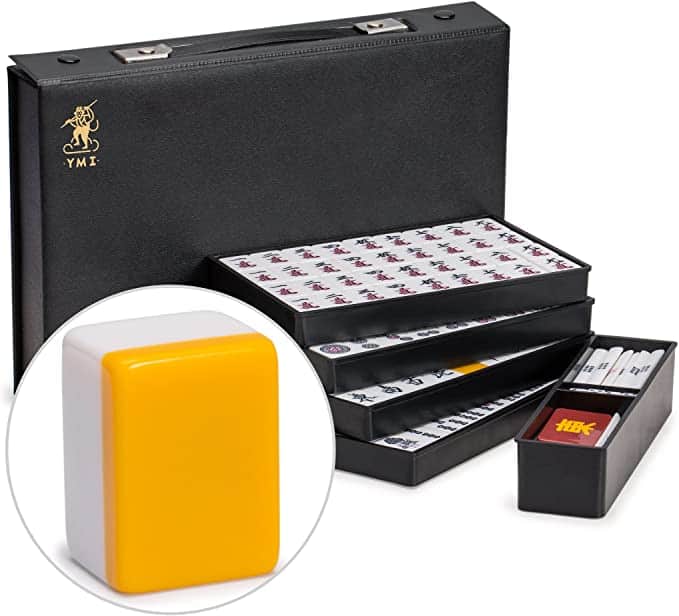 Features:
Japanese Riichi mahjong set
144 tiles
White and yellow tiles
Black vinyl storage case
Set of betting sticks
Four trays and four dices
Yellow Mountain Imports also makes Japanese mahjong sets such as this one to honor Eastern traditions and bring the Japanese experience to the rest of the world. Japanese MahjongMahjong is also called Riichi Mahjong, and it was started in 1924 in the Japanese regions by Saburo Hirayama, a Japanese soldier. Despite its home origin, the game has gained popularity in many areas such as Asia, and the whole of America.
This Japanese set has 144 tiles that include 36 circles, 35 bamboos, 12 dragons, 36 characters, 16 winds, four flowers, and four red fives. The package has four dice and other accessories like four trays for tile storage and betting sticks. There is also an east wind tessera which is used to place the seating arrangement of the players.
The Japanese set weighs 5.5 pounds which is compact and easily portable with the 11.2 by 7.3 by 2 inches black vinyl carrying case.
9. Yellow Mountain Imports American Set Elemental with Aluminum case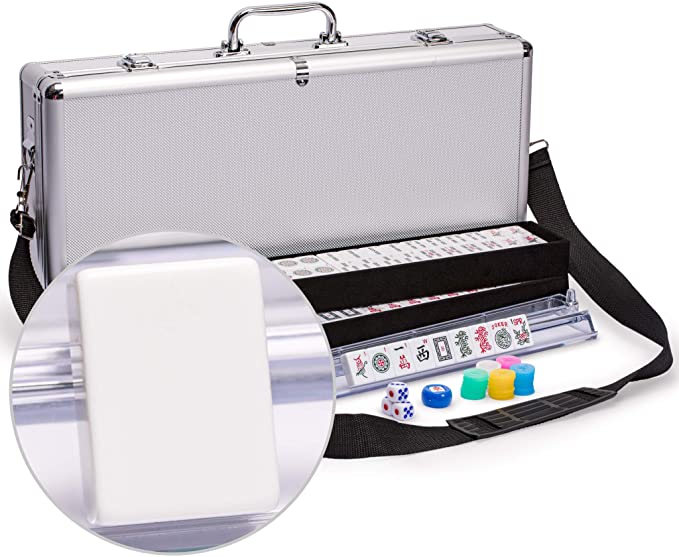 Features:
American set
166 tiles
Aluminum case with latch and handle
Four all-in-one racks and pusher combo
Wright Petterson scoring coins
Melamine tiles
The Yellow Mountain Imports American mahjong set elemental is comparable to the Kai Tai Inc 4 Pushers Mahjong set with its aluminum case and four acrylic racks with swing-out pushers. The excellent addition in this set is the Wright Petterson count pastel scoring coins.
This set includes dice, an acrylic wind indicator, and a definitive guidebook that teaches you the game rules. The aluminum case may seem heavy, but it is compact and lightweight, measuring 19.5 by 10.2 by 3.9 inches.
The tiles are made of melamine, whereas the Wright Patterson Scoring coins are pastel-colored. This set is suitable for the average mahjong gamer who wants a standard American set that is complete at a fair price.
10. Laurence King Animal Mahjong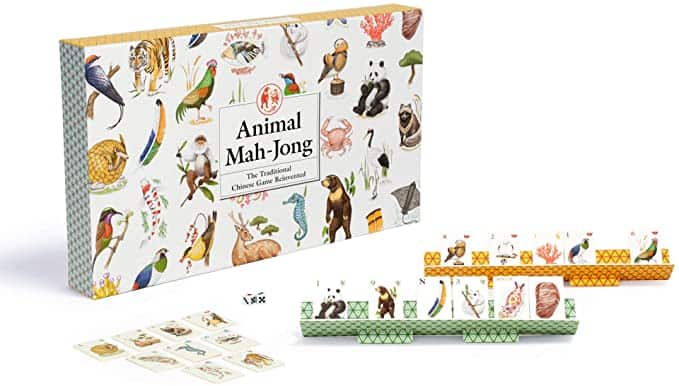 Features:
Contemporary set
144 tiles (paper)
Animal illustration on the game
For kids older than eight years
The Laurence King Animal Mahjong is not your typical mahjong set. This is a contemporary approach set to the classic Chinese mahjong game, which is designed for kids. The collection includes paper tiles instead of plastic ones with animal illustrations rather than the typical Chinese or Arabic characters.
The game's rules are similar to Chinese MahjongMahjong, with a few variations to entice the kids' curiosity. The package is an attractive box with lots of animal graphics that make it shiny and perfect for a gift. The game is easier to learn than traditional MahjongMahjong, and kids older than eight years will enjoy this game for years.