Touted as the birthplace of America, Virginia has a rich history and so is the shopping experience. In 1607, the first colony was established here by the English settlers. The state has played a big role in shaping the history of America as it was involved in the Civil Rights movement and the American Civil War.
It's in the south-eastern part where the Atlantic Ocean connects the state while the Blue Ridge Mountains ascend in the Northwest. Virginia has a fascinating lifestyle from wine and beer trails to outdoor activities; you have lots of activities to do. Shopping in Virginia is also an absolute delight.
Being in proximity to Washington D.C., the state has access to a wide variety of the world's finest brands. Whether you are going for a shopping spree to spruce up the experience of your family or pick up a surprise gift for your loved one, the shopping malls and outlets in the state got a lot to explore. Check out this list of the most favorite shopping malls in Virginia.
Best Shopping Malls in Virginia
Lynnhaven Mall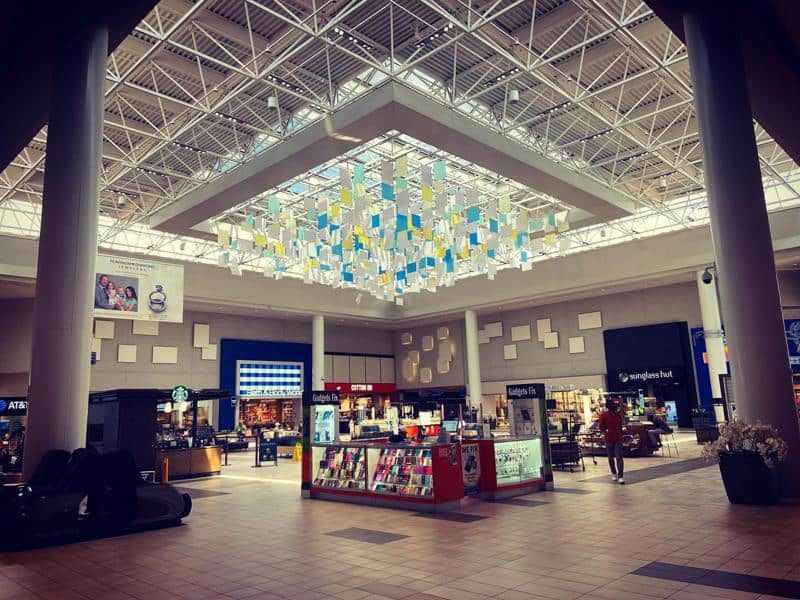 Lynnhaven Mall opened its doors in August 1981. The enclosed super-regional mall located in Virginia Beach, Virginia is perched on a 1,170,000square feet gross leasable area. It is considered the largest mall within the Hampton Roads metropolitan areas in southeastern Virginia. It's also one of the largest shopping malls on Virginia's East Coast.
A recently completed sprawling renovation made this mall the go-to shopping spot for those seeking fascinating shopping experiences at the beach. Lynnhaven brings you Apple Store in Virginia Beach in addition to AMC theatre. It also features tons of dining options.
Get an up-close and candid shopping and dining experience at Lynnhaven Mall. At this mall, expect to sample out casual eateries, indulge with familiar brand-name retailers, an arcade, and a movie theatre.
If you are out for a treat, you will enjoy savoring seasonal eats as well as sipping on festive drinks and beverages while holidaying and shopping at the mall. And as the holiday season approaches, shopping is now easier than you can imagine.
You can explore Curbside Pick Up services where you order ahead and get all your holidays gifts dropped to your car, thanks to the Curbside Pick Up at Lynnhaven Mall, Virginia Beach.
Opens – 11am to 8pm (Sundays 12pm to 6pm)
What's popular – casual eateries, arcade, movie theatre
Fashion Centre at Pentagon City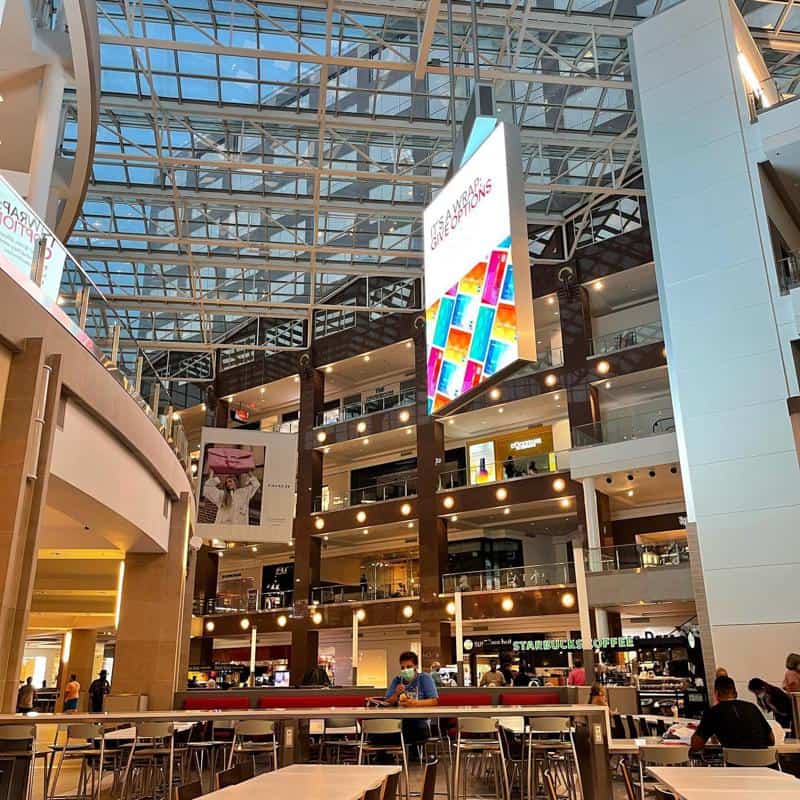 Also referred to as Pentagon City Mall, Fashion Centre at Pentagon City brings you over 140 stores and restaurants with high-end brands like Coach, Nordstrom, Apple, and Michael Kors staging their products and services here.
This shopping mall is situated near Hayes Street and Interstate 395. Its Metro level directly connects to the Pentagon City station within the Washington Metro's Blue and Yellow Lines. The outlet has a complimentary coat as well as package check for the ultra-busy shopper.
Explore your shopping experience within this bright, spacious enclosed mall. You can choose from in-store shopping and in-store pick-up. The Fashion Centre at Pentagon City was opened in 1989. Discover a fun shopping experience at Pentagon City Mall today.
Opens – 10 am to 9 pm Fridays and Saturdays, 11 am to 8 pm Mondays through Wednesdays, 11 am to 8 pm on Thursday, and 11 am to 6 pm on Sundays.
Fair Oaks Mall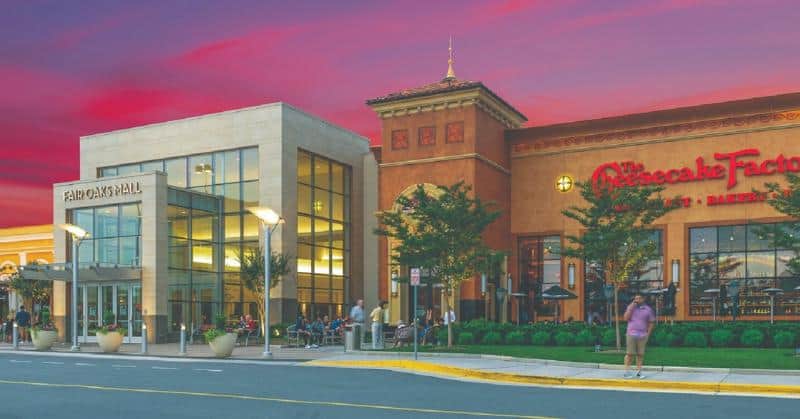 Situated within the Fair Oaks census-designated area of the unincorporated Fairfax County, Virginia, Fair Oaks Mall is your one-stop shopping spot. It is just northwest of Fairfax independent city at the intersection of U.S. Route 50 and Interstate 66. Fair Oaks Mall has a gross leasable area totaling 1,557,000 square feet.
Here, shoppers explore a range of shops including men, teens, women, jewelry, electronics, luggage, foods, entertainment, home décor, and others. You also get the opportunity to attend regular events. This sprawling retail destination features major departments, casual eateries, and specialty shops.
Fair Oaks Mall has over 160 stores and restaurants. Some of the favorite brands include Pandora, Coach, Pottery Barn, J. Screw, and Brio Italian Grills. And because a long day of shopping deserves a delicious dinner, don't miss out on one of the delicious restaurant cuisines right here at the mall. Visit the Dickey's Barbecue Pit or the Cheesecake Factory.
Opens 10 am
Favorites – casual eateries and specialty shops
Potomac Mills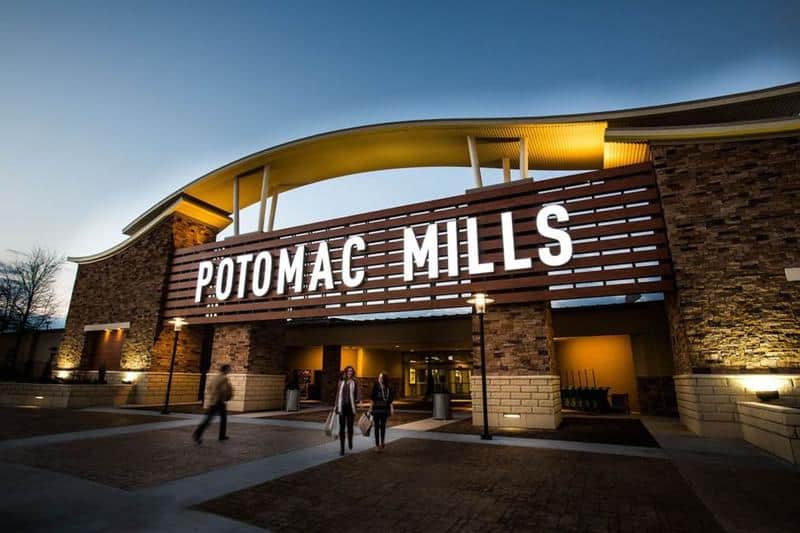 Located in Woodbridge, Virginia, Potomac Mills is the first mall to be developed by the Mills Corporation. It lies within the Washington, D.C. metropolitan area and was acquired by Simon Property Group in 2007. Claiming to be the largest shopping outlet in Virginia, Potomac Mills is Virginia's indoor outlet shopping spot and dining destination.
From NiceClearanceStore to Tommy Bahamas to the Cheesecake Factory and Brooks Brothers' Factory, Potomac Mills has got all your favorite brands waiting for you. Whether it's dining, specialty shops, movies, or shopping deals, you will find them here.
Opens from 10 am to 9 pm Friday – Saturday, 11 am to 8 pm Monday – Thursday, and 11 am to 6 pm Sundays
Shopping choice – in-store shopping and Curbside pickup
Tysons Corner Center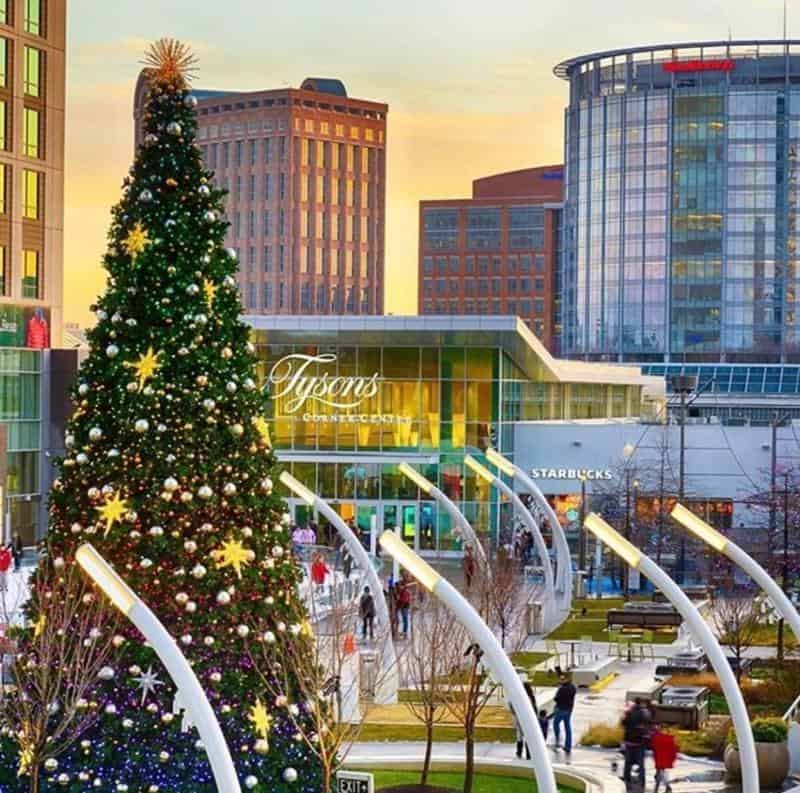 A massive mall housing hundreds of upscale eateries and stores, an elevated outdoor plaza, and a cinema, Tysons Corner Center is a haven for aspiring shoppers in Virginia. Located outside of Washington, D.C., this spot is considered Virginia's premier shopping destination. It features well-known brands like Lenkersdorfer, Sephora, Apple, and Nordstrom.
Tysons Corner Center is also home to big restaurant brands such as The Capital Grille, Barrel & Bushel, Eddie V's, Earl's, and Coastal Flats. This mall houses AMC theatres, VITA Luxury Apartments, and Hyatt Regency Tysons Corner Center.
This Christmas holiday season, Tysons Corner Center proudly invites families for those memorable up-close and personal experiences with Santa featuring its long-lasting tradition of Breakfast with Santa. A complimentary catered breakfast along with child-focused entertainment and other activities make this mall a family favorite. It is a must-attend event at the time of the holiday season.
For the shoppers, you can spruce up your shopping experience with their choices including Curbside pickup, in-store pickup shopping, extended hours, and in-person shopping. Check out their shopping packages to find applicable shopping deals.
Opening hours – Mon-Sat: 10 AM – 9 PM, Sunday: 11 AM – 7 PM
Tysons Galleria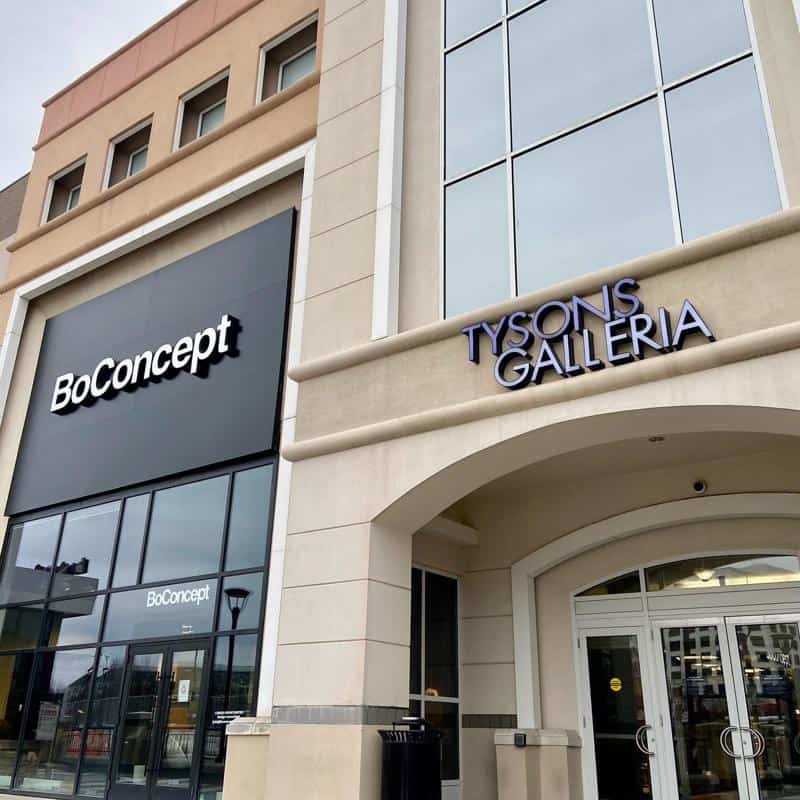 Tysons Galleria is a famous destination for upscale shopping experiences in Washington, DC. It boasts a unique collection of high-end retail stores with over 30 exclusive-to-market designers. Tysons Galleria is a super-regional mall under the ownership of Brookfield Properties Retail Group. It is situated at 2001 International Drive in Tysons, Virginia.
Considered the second-largest mall within Tysons, this three-level mall is famous for its upper-class shopping options. It's found in one of the richest spots of Virginia. Shoppers can indulge in shopping experiences with the Hugo Boss, Cartier, Burberry, Louis Vuitton, Gucci, and Urban Space brands.
Tysons Galleries offers some of the Northern Virginia areas' preferred restaurants and dining choices set alongside a diverse selection of beauty and fashion brands. The mall is conveniently situated near the Ritz-Carton and Capital Beltway in the convenient Tysons Corner. Find a piece of mind shopping at this multi-tiered mall with department stores, high-end boutiques, and dining options. For the best bowling, exceptional events, and epic eats, visit the Bowlero at Tysons Galleria mall.
Enjoy signature blacklight bowling lanes, hi-definition video walls, laneside lounge seating for an entirely exciting game experience. At Bowlero Tysons, you will have the chance to explore the giant arcade and a great menu that features upscale food and beverage choices.
Getting to Tysons Galleria is easy. The Tyson Corner Metro Station is found just one block away and you can reach it via the Silver Line. When at the Silver Line metro exit, walk left onto Tysons Boulevard. Continue walking as you look for Galleria Drive where you take a left onto Galleria Drive. You will see the Neiman Marcus adjoining Tysons Galleria on your right side. Alternatively, you can get Metro Bus 23A departing from the Neiman Marcus east's lower level entrance.
Opening hours – 11 am to 7 pm (sometimes expending to 9 pm). Check the daily opening hours from their website
The Shops at Hilltop
This shopping spot sees itself as Virginia Beach's premier holiday shopping, lifestyle, and dining destination. It is the Center of it All for shoppers visiting Virginia and the locals. This strip mall offers other services such as fitness centers, banks, and beauty salons.
From contemporary to classic apparel or even exquisite gifts, you can find them at the Shops at Hilltop. Experience casual culinary experiences and find your latest fashion trends and decorative home accents for a vibrant shopping experience. There are gorgeous jewelry items, drug stores, groceries, and many more. The Shops at Hilltop is situated just about two miles from the oceanfront of Virginia Beach.
To reach the mall, you will not travel far. Follow 31st Laskin Rd or St west about two miles. You will find the Shops at Hilltop on the right which includes Hilltop East, Hilltop North, and Hilltop West shops. The mall has been serving Virginia Beach residents and tourists for more than 40 years having won the "Best Shopping Center in Virginia Beach" several years.
The mall brings you over 25 restaurants and eateries along with 100 specialty shops as well as boutiques including Starbucks Coffee, Athleta, Bottle Craft, and The Butcher's Son.
The Shops at Hilltop was the Gold winner for the 2021 overall best shopping center within Virginia Beach by COVA Magazine. It is best known for a mix of retail and restaurants, pulsing with energy and style. It is a spot for gathering where families and friends spend time dining, shopping, and relaxing as they soak up the sunshine.
It Opens 9 am to 9 pm but 11 am to 6 pm on Saturdays
Village at Shirlington
In 1944, the Village at Shirlington was opened as a shopping center. It was the first big shopping center to launch within the suburbs of Washington, D.C, and also one of the earliest in the US. At the Village at Shirlington you will love the impressive new AMC Shirlington 7, a newly remodeled theatre that features the latest AMC innovations such as extra-comfy recliners within each theatre and the Coca-Cola Freestyle with more than 100 drink choices to sample out.
The AMC theatre also features the MacGuffins Bar & Lounge, allowing guests above the age of 21 to order beer, cocktails, and wine and take them to the show. This multi-shopping style mall will bring you in close indulgence with the AMC theatre, Indian restaurant, Best Buns Bread Company, Cheesetique, Edge Health and Fitness, and Dudley Sport and Ale, among others.
One of the exciting experiences you can enjoy is the Sip and Stroll Around the Village at Shirlington. You can have your favorite beverages with you as you sip, move and stroll around shopping or exploring what's in store.
As you get around the mall with your alcoholic or non-alcoholic drink you can stop by Aroma, Palette 22, Stellina Pizzeria, Dudley's Sport and Ale, Taco and Pina, Guapo's, Samuel Beckett's, Damn Good Burgers, Copperwood Tavern, Busboys & Poets, and Cheesetique. Relax in their public spaces as you continue to roam with your cocktail.
Dulles Town Center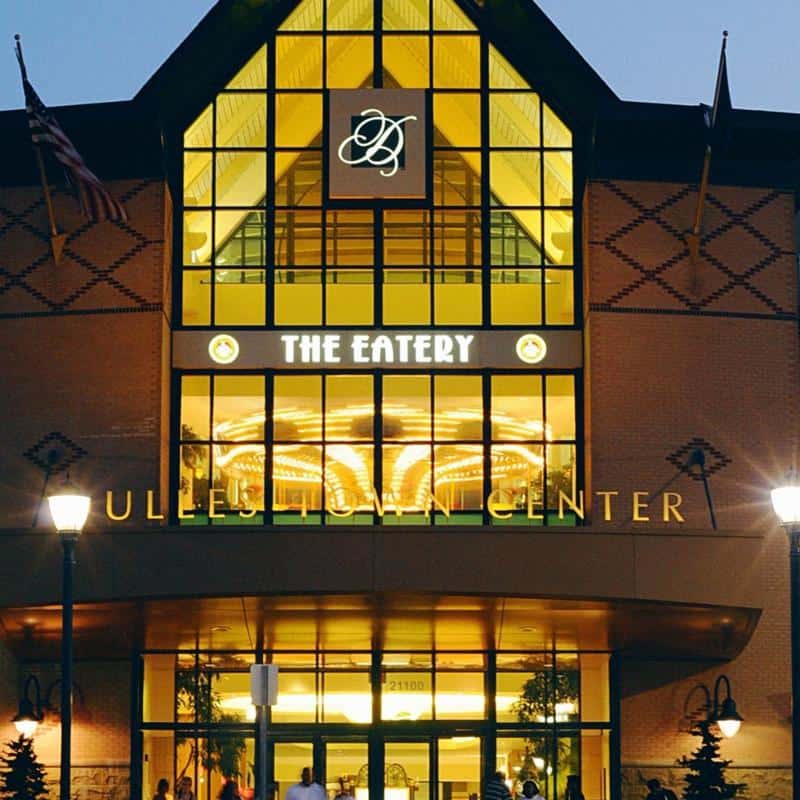 Located five miles on the northern side of the Washington Dulles International Airport, Dulles Town Center is the epicenter for entertainment, shopping, and dining experiences. The sizable indoor shopping spot brings you the big-name retailers as well as famous restaurant brands in addition to a kiddies train and carousel. It is perched in 1,400,000 square feet of gross leasable area (GLA).
Considered Loudoun County's largest shopping and entertainment destination, Dulles Town Center Mall is a two-level super-regional mall with over 185 exclusive shops. You will find brands like Forever 21, Macy's, Ann Taylor, Francesca's, Old Navy, Abercrombie & Fitch, Francesca's, and Bare Minerals. Others include Abercrombie & Fitch, Swarovski, H&M, Caché, and Old Navy.
Besides, this mall also houses more than 40 dining choices including The Cheesecake Factory, "The Eatery" Food Court, and P.F. Chang's China Bistro, among others. The new Regal Cinema features luxury leather recliners for an enhanced theatre experience.
Conclusion
These are some of the famous and favorite shopping and entertainment malls in Virginia. If you are a resident of this state, you may want to visit these spots and see what they offer. For visitors touring Virginia, sampling out the services and products or experiences in these malls spruces up their tour experiences. Remember to check the opening hours including those of individual restaurants.