Are you searching for the best shopping mall in Phoenix, Arizona? You've come to the right place.
Phoenix, in Arizona, is home to the best shopping outlets, upscale malls, shopping districts, boutiques, and more. Thanks to its warm year-round weather, visitors can enjoy cruising down the streets of the city shopping in well-established independent stores, national chain shops, and local retailers.
From antique to luxurious fashion and home-décor to jewelry, shopping spots in Phoenix will meet your needs. Besides the welcoming shopping atmosphere, shopping destinations in Phoenix offer customers competitive deals and discounts that will make them want to shop for days.
That said, here's a list of Phoenix's best and most popular shopping malls.
Best Shopping Destinations in Phoenix, Arizona
1. Baltimore Fashion Park
Location: 2502 E Camelback Rd Phoenix, AZ 85016
Opening Hours: Mon to Sat (10:00 am – 8:00 pm)
Of Stores: 45
Looking for high-end fashion and trendy apparel? Then, visit Baltimore Fashion Park. It's a glamourous shopping destination surrounded by fountains and sweet-smelling flowers. Situated at the center of the city, its outdoor settings allow shoppers to enjoy the fresh air as they walk down the pathways to various designer stores.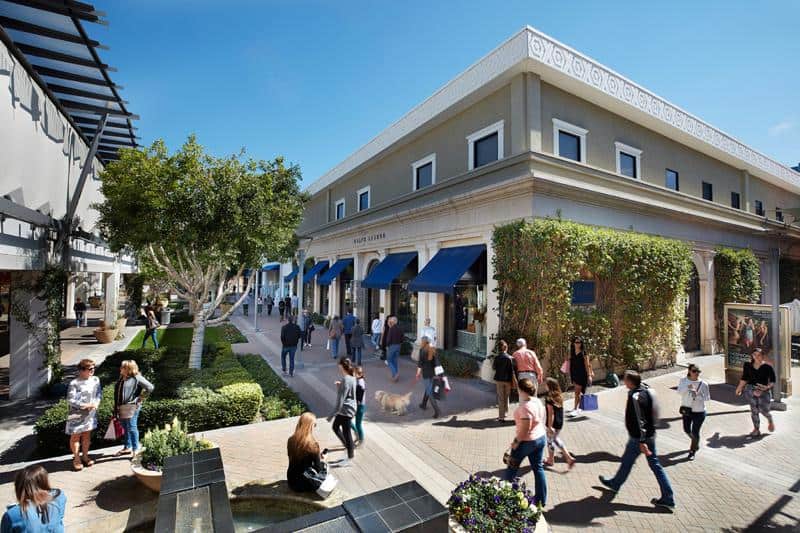 Stores at the mall worth highlighting include:
| | | |
| --- | --- | --- |
| Chico's | Macy's | Ralph Lauren |
| J. Crew | Lululemon Athletica | Sephora |
Baltimore receives thousands of shoppers every month thanks to a great deal and mid-range award-winning dining restaurants. There are also a number of eateries for a quick bite, like Breakfast Club and Pomo Pizza, just to mention a few. After shopping, grab a meal at the following venues:
The Capital Grille
California Pizza Kitchen
Frost A Gelato Shoppe
The Food Kitchen
2. Phoenix Premium Outlets
Location: 4976 Premium Outlet Way, Chandler, AZ 85226, USA
Opening Hours: Mon to Thur (10:00 am – 8:00 pm), Fri to Sat (10:00 am – 9:00 pm), Sun (10:00 am – 7:00pm)
of Stores: 85
Phoenix Premium Outlets was designed with the needs of both local shoppers and visitors in mind. Features stores at this outlet mall include Lacoste, Starbucks, Armani Exchange, Banana Republic, etc. For those looking for something for your loved one, visit Zales Outlet and Helzberg Diamonds.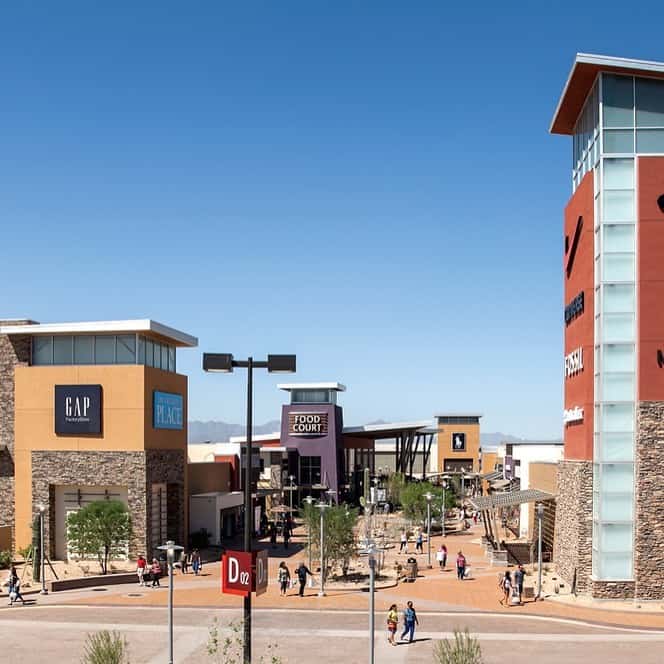 Located a few minutes from Phoenix Sky Harbor International Airport, the mall features stunning mountains views and ample outdoor spaces filled with a shopping aura. For the best shopping experiences, pop by the following stores.
| | | |
| --- | --- | --- |
| Under Armour | Puma | Kate Spade |
| Tommy Hilfiger | Levi's | Coach New York |
Like many outlets, shoppers will enjoy great savings ranging from 25% to 65% at their favorite brands at the center. If you join their VIP Shopper Club, you will enjoy even more savings.
You can also take your buddies for delightful dishes at the restaurants and eateries in the mall, including:
Charley's Philly Steaks
Famous Work
Dairy Queen
Starbucks
Phoenix Premium Outlets also host several events throughout the year.
3. Scottdale Fashion Square
Location:7014 Camelback Rd, Scottsdale, AZ 85251
Opening Hours: Mon to Sat (10:00 am – 9:00 pm), Sun (11:00 am – 6:00 pm)
of Stores: 240 +
Stepping inside Scottsdale Fashion Square for the first time is like entering the land of OZ. There are over 240 shops in this super-regional luxury shopping destination.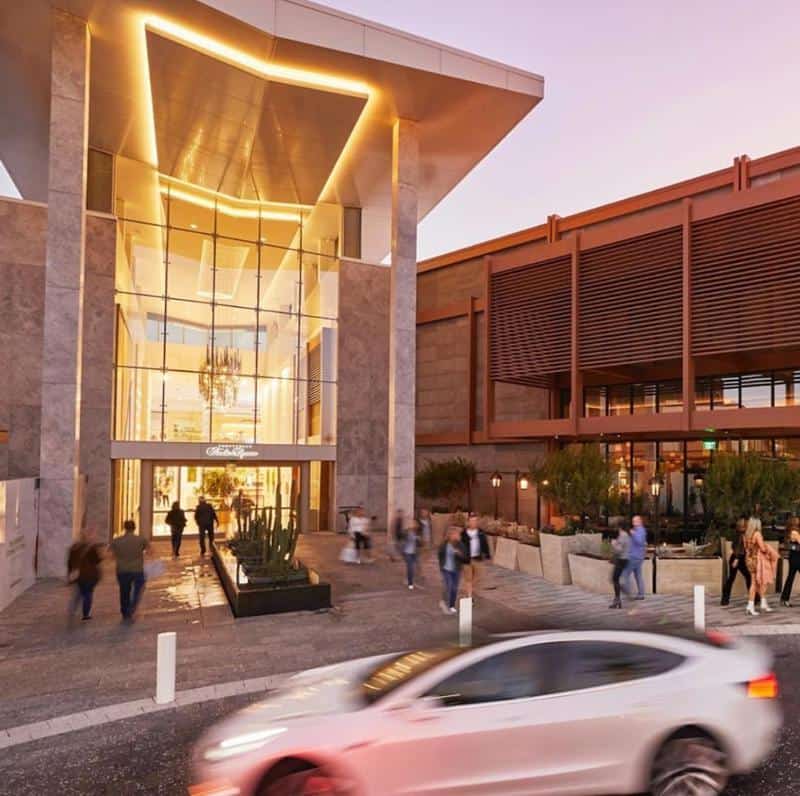 Style seekers will feel at home here because of the vast collection of designer stores, from Gucci to Nordstrom and Neiman Marcus to Bottega Veneta. There are also several mid-range brands like Hugo Boss and Jimmy Cho, to mention a few.
It's arguably the largest mall in Phoenix and the whole of Arizona. It covers nearly 2 million sq. ft of space. Rest assured, you will find everything you are looking for at this mall. Popular stores in the mall include:
| | | |
| --- | --- | --- |
| Abercrombie Kids | Apple | Burberry |
| Dillard's | Dior | Forever 21 |
It will please you to know that Scottsdale is also home to a wide range of dining options. So, if you start feeling famished when shopping, consider visiting the following spot for a bite:
Charley's Philly Steaks
Five Guys
Johnny Rockets
Kona Grill
Mia Pasta
If you're an entertainment junkie, the Harkins Theatres will grant your wish. Buy your ticket and watch your favorite movie.
The best part is, Scottsdale Fashion Square is just 25 minutes away from the city center. Visitors also get to enjoy amazing deals. For example, right now, the center is offering tourist Visitor Saving Pass.
4. Tanger Outlets Phoenix
Location: 6800 N. 95th Avenue, Glendale, AZ 8530
Opening Hours: Sun to Wed (10:00 am–8:00 pm), Thur (Closed), Fri (6:00 am–9:00 pm), Sat (10:00 am–9:00 pm)
of stores: 90+
Happiness, great deals, and a collection of world-class retail stores are a few things Tanger Outlets has to offer you. This stunning work of art allows you to save big on your purchases and shop at some of the most popular in-season brand shops. You're guaranteed to find anything you need here, regardless of your budget.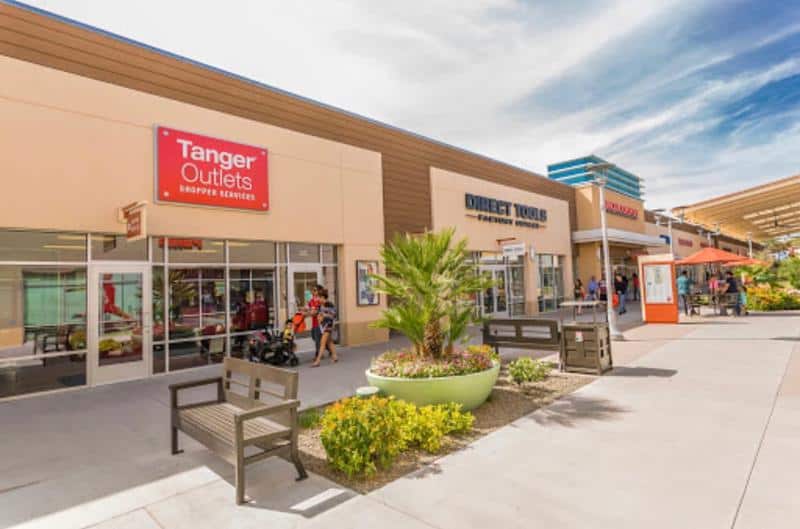 If you're after trendy apparel, jewelry, shoes, and accessories, visit the stores below:
| | | |
| --- | --- | --- |
| Tommy Hilfiger | Polo Ralph Lauren Factory Store | Kay Jewelers |
| Sunglass Hut | Michael Kors | H&M |
If you desire to eat lunch or dinner, stop by the Tanger Outlet Center Food Court for a bite. Best eating venues at the mall include:
Dairy Queen
Nestle Toll House Café
Pepper Palace
Wetzel's Pretzels
Subway
Fried Pie
The mall is pet-friendly and kid-friendly. Also Nursing mothers have access to nursing rooms. Those who want to sit down and browse, there are enough sitting places with charging stations and free Wi-Fi.
When visiting the mall, stop by the Customer Service center to pick up discount coupons and a map of the store's location.
5. Chandler Fashion Center
Location: 3111 West Chandler Blvd, Chandler, AZ 85226
Opening Hours: Mon to Sat (10:00 am – 9:00 pm), Sunday (11:00am–6:00pm)
Of Stores: 180+
Located in Chandler, Arizona, Chandler Fashion Center is perhaps the second largest shopping mall in Phoenix. This premier destination is anchored by upscale stores, like Macy's and Dillard's. It also features a unique design that makes it appear like the letter "A" with the food court located at the tip.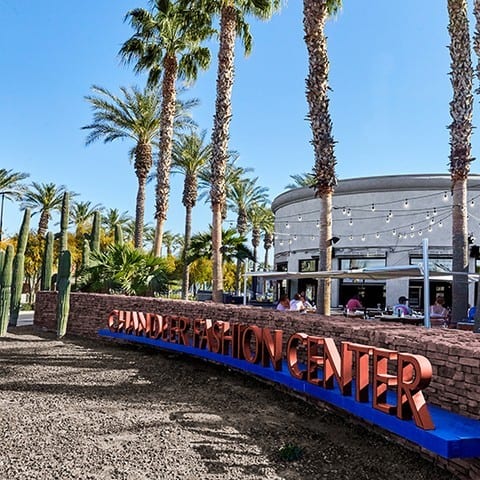 Besides the marble floors and impressive huge skylights, Chandler Fashion Center is home to over 180 stores, including:
| | | |
| --- | --- | --- |
| Coach | Michael Kors | H&M |
| Apple | Lego | Barnes & Noble |
You can spend the whole day shopping at the stores, and still, you won't be done shopping. The stores offer a variety of familiar and unique products that will grab your attention. Let's not forget the amazing deals you get to enjoy.
If you've worked up an appetite after endless shopping, you can head to the food court and grab a meal from one of the restaurants. Some dining spots you can visit include:
Boba Tea Company
Benihana
Buffalo Wild Wings
The Cheesecake Factory
BJ's Restaurant
The free Wi-Fi and Splash pad will keep your children occupied as you shop until you drop. You will also enjoy Valet Services. If you're a visitor in Chandler city, contact the fashion destination first to receive a Visitor Savings, that's worth $450.
6. Desert Sky Mall
Location: 7611 W Thomas Rd Phoenix, AZ 85033
Opening Hours: Mon to Sat (10:00 am–9:00 pm), Sun (11:00 am–6:00 pm)
of Store: 130 +
Sandwiched between 75th Avenue and Thomas Road, Desert Sky Mall is a classy regional full bilingual shopping destination ideal for families. This center is more than just a shopping and entertainment spot, it's a gateway to helping the local community.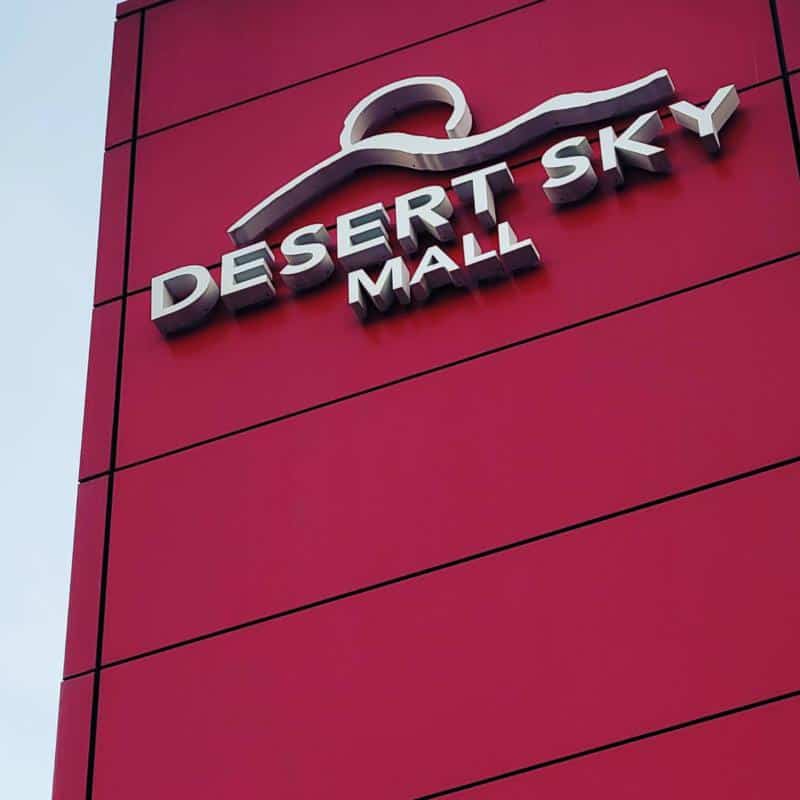 Desert Sky Mall works with local charities and financial support groups to help build a prosperous community. So, when you shop at the mall, a portion of your money goes towards a philanthropic cause.
When it comes to shopping, customers have access to a comprehensive list of stores, restaurants, and services. Reputable brands at the stores include:
| | | |
| --- | --- | --- |
| Claire's | Dillard's Clearance Center | Lids |
| Sunglass Hut | Spencer's | Victoria's Secret |
You can also visit the center to enjoy amazing food at the different restaurants and eateries. Boba Tea Company will serve you word-class refreshing drinks, including Palm Beach, Funky Monkey, and Love Potion. Check out other dining options below:
Café Café
Cinnabon
Flaming Wok
Marcadeo De Los Cielos
San Salvador
If you go there with kids, you can leave them at Pelican Group at the west end of the mall. The arcade and video games there will keep them occupied as you shop.
Furthermore, the center hosts several family events and live music shows, especially during the holidays. Looking for a place to spend your weekend? Stop by Desert Sky Mall for the best experiences.
7. Arizona Mills
Location: 5000 S Arizona Mills Cir, Tempe, AZ 85282
Opening Hours: Mon to Wed (11:00 am–8:00 pm), Thur to Sat (10:00 am–9:00 pm), Sun (11:00 am–6:00 pm)
of Stores: 188
Established in 1997, Arizona Mills Mall, owned and operated by Simon Properties, is a top tourist attraction in the region of Phoenix. It's a climate-controlled indoor shopping mall boasting value stores, specialty shops, departmental stores, eating joints, and entertainment venues.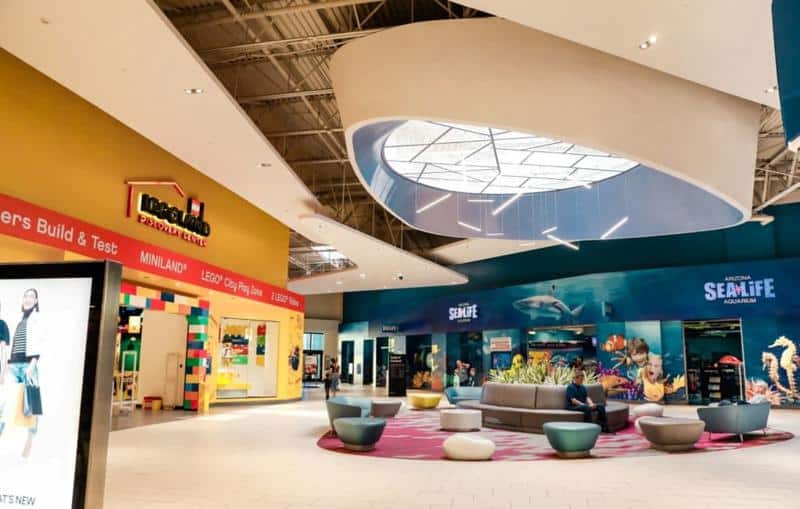 Arizona Mills Mall is conveniently located about ten minutes from Sky Harbor Airport. It offers its services to residents and visitors at Temp and from Chandler, Glendale, Phoenix, and Mesa.
Arizona Mills features approximately 188 stores that will offer you everything from home décor, kids' apparel, sportswear, perfumes, health and beauty products, etc. Big names in the shopping center include the likes of:
| | | |
| --- | --- | --- |
| Adidas | Carter's | Kay Jewelers |
| Aeropostale | Clarks | Vans |
This vibrant and charming mall also provides customers with an expensive food court, featuring casual eateries and world-class restaurants. Grab delicious full meals, snacks, and drinks at the following joints:
Auntie Anne's
Charleys Philly Steaks
Cinnabon
Cuties Lemonade
Johnny Rockets
Starbucks Coffee
Yo-Yo Yogurt
In terms of entertainment, you can catch the latest movie at the Harkins IMAX Theaters or stop by LEGOLAND Discovery. Alternatively, you can chill on a bench inside the mall and use the free Wi-Fi.
Before visiting the center, go through their website to discover discount coupons and see what shops have the best deals.
8. CityScape
Location: 1 E. Washington St., Ste. 300 Phoenix, AZ 85004
Opening Hours: Mon to Thur (7:00 am–11:00 pm), Fri to Sat (7:00 am–12:00 pm), Sun (7:00 am–10:00 pm)
Of Stores: 20+
CityScape is an upscale all-in-one destination located at the center of downtown Phoenix. The mall covers two city blocks, and it hosts several retail stores, residential apartments, dining zones, and entertainment venues.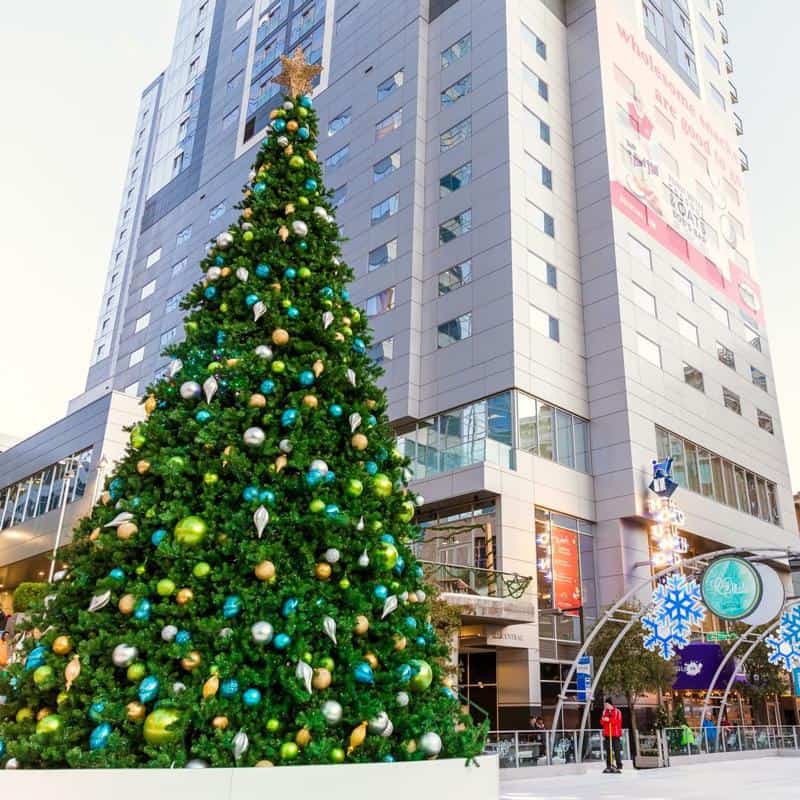 At the moment, the center features independent and local retail stores. If you're looking for designer brands or other brand stores, you're better off with the other malls we've mentioned. Though it's not home to popular brands, this destination still receives thousands of visitors every month. Stores at CityScape include:
CVS Pharmacy
Perry Monge Salon Spa
Urban Outfitters
V's Barbershop
That said, CityScape is the perfect dining venue. It houses several restaurants and bars where you can stop by for a quick bite. These venues include:
Billiards and Bowling
Ahipoki Bowl
Blue Hound Kitchen & Cocktails
Bad Ass Coffee of Hawaii
Chipotle
The Strand Urban Italian
If you wish to stay for the night book, there are plenty of apartments overlooking the city that you can choose from. CityScape also holds many events throughout the year, like CitySkate.
For entertainment, visit Copper Blues. It's an amazing dining spot featuring live bands and much more. If you're more of a bowling fanatic, chances are you will love Billiards & Bowling.
Shopping Malls in Phoenix: FAQs
What is the biggest mall in Phoenix?
Scottsdale Fashion Square is arguably the biggest mall in Phoenix, Arizona. It covers a retail space of about 2 million sq. ft., and it's also one of the largest malls in the US. The mall is home to over 240 stores, restaurants, entertainment venues, and so on. Dillard's, Dior, Nordstrom are a few popular brands you will find here.
What is the best indoor mall In Phoenix?
Scottsdale Fashion Square, Desert Sky Mall, and Chandler Fashion center are the best indoor malls in Phoenix. At these malls, you will find everything you need under one roof, from retail stores to recreations spaces. If you want to shield yourself from the Arizona heat, these malls are your best bet.
What's the best Outlet Mall in Phoenix?
Phoenix Premium Outlet and Tanger Outlets are among the best outlet malls in Phoenix. Not only do they feature nationally renowned brands, but also offer its customer great saving options like discount coupons and special deals.
What's The Best Mall for Bargain Seekers?
Bargain hunters will love Phoenix Premium Outlets. Stores at the mall allow shoppers to enjoy great savings of 25% to 65% on their favorite products. If you decide to join their VIP program, you can enjoy more deals.
Also Read: 8 Best Shopping Malls in San Diego
Conclusion
After visiting the desert gardens, sipping margaritas at the beach, and exploring museums, make an effort of shopping at the best malls in Phoenix. At these shopping destinations, you will find upscale dining venues, entertainment spots, designer stores, independent stores, local retailers, and resting spaces.
Some like CityScape have apartments, where you can stay for the night or week while enjoying a great dining experience and entertainment. Another interesting thing is most stores in these shopping destinations offer visitors discount coupons and deals to help them save money while shopping.
So before leaving Phoenix, visit these indoor and outdoor classy shopping malls.