Acclaimed for its pristine beaches and warm climate, San Diego in California is a city worth visiting. Every year, it attracts thousands, if not millions, of tourists all worldwide.
Located on the coast of the Pacific Ocean, San Diego offers fantastic places to shop. From high-class malls, retail shops, and antique boutiques, you will have an array of malls to select from. Additionally, you can shop for the latest fashion, jewelry, and accessories, while enjoying the mellow Sun and amazing sights. That's because these shopping destinations focus on delivering the best outdoor shopping experience.
You will find great brands that started in San Diego, such as Vuori, Pura Vida, and Intuit. But you're not only limited to those. These malls also feature international brands like Zara, Adidas and Gucci, and more.
Whether your tourist or moving to San Diego, the list below of the top shopping malls in San Diego got you covered. They will not only meet your shopping needs but offer you an exceptional experience. Let's look at them!
8 Best Shopping Malls in San Diego
Westfield UTC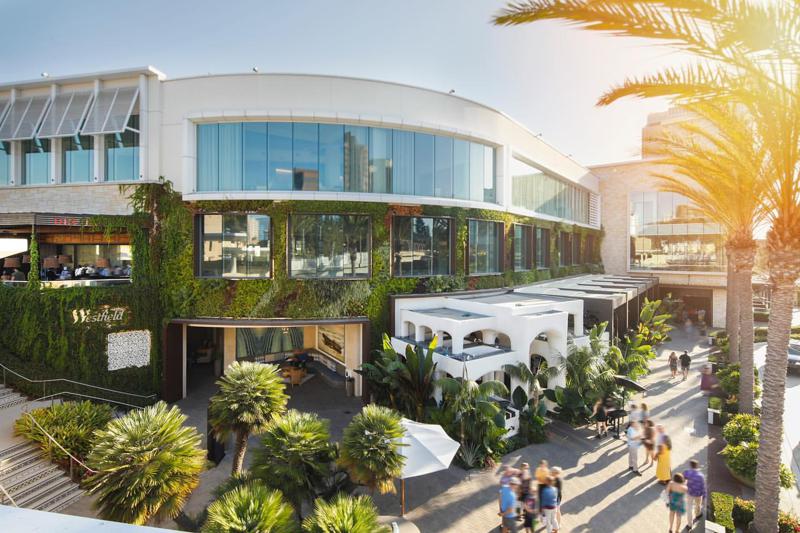 Location: 4545 La Jolla Village Drive, Suite E-25 San Diego, CA 92122-1212
Opening Hours: Mon to Sat (10:00 am–8:00pm), Sun (11:00am -7:00pm)
No. of Stores: 163 Stores
Just east of La Jolla, near the University of California, San Diego Campus, Westfield UTC is a breathtaking open-air shopping mall. Previously known as University Town Centre (UTC), it covers a total retail area of 1,066,842 square feet.
You can shop for groceries, jewelry, books, gifts, and shoes. The retail shops offer luxury, premium, kids, and parents items. Additionally, there are banking services from Wells Fargo, pharmacies, and entertainment spots to enjoy.
Top Brands Stores in the mall include:
| | | |
| --- | --- | --- |
| Pura Vida | Ted Baker | Le Labo |
| Chanel | Skechers | Apple |
| Tiffany and Co. | Zara | Tesla |
There is a selection of deals and offers you can take advantage of in various stores while shopping at the mall. It is a pet-friendly mall with plenty of play space for kids and a beautiful dog park.
You will enjoy curbside pickup from several companies and valet parking. The mall is also wheelchair accessible and offers free charging stations.
At Westfield UTC, you have access to several dining destinations offering Asia, British and Mexican cuisines. Also, there are several fast foods, bakeries, and wine spots. Below are several dining options worth checking out.
Corner Bakery
Craft Pizza
Happy Lemon
Kebab Grill
Parana Empanadas
Fashion Valley Mall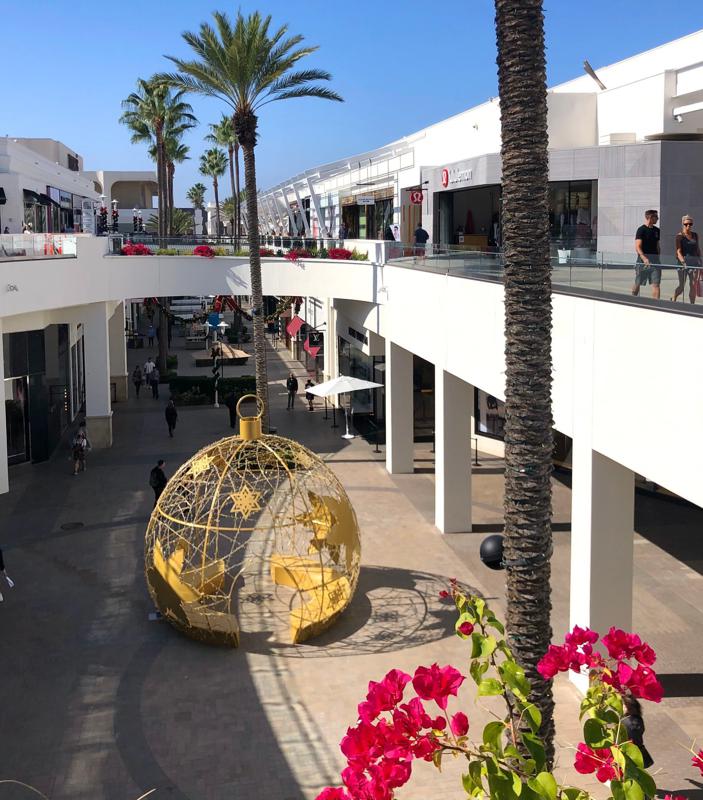 Location: 7007 Friars Rd, San Diego, CA 92108
Opening Hours: Mon to Thur (11:00 am–8:00 pm), Fri to Sat (10:00 am–9:00 pm), Sun (11:00 am–7:00 pm),
No. of Stores: 200+
Another mall worth visiting in San Diego is Fashion Valley Mall. It is the largest shopping complex in San Diego, spreading over 1,720,533 square feet. If you are one for retail therapy, this is the place to go. You can shop till you drop for clothing, electronics, beauty products, and shoes.
It was opened on October 12, 1967, aiming to be the best mall in San Diego. Today, it serves thousands of locals, onetime shoppers, and visitors from Mexico.
The best part is, there are a whopping 18 screens displays at the movie theatre playing during the day. Whether you're there to shop or for entertainment, don't forget to catch your favorite film at the theatre. You can also choose to indulge in the nearby vibrant nightlife at San Diego's Gaslamp Quarter or Little Italy after shopping.
Fashion Valley Mall has a variety of stores selling well-known brands, including Ann Taylor, Apple, Balenciaga, Hugo Boss, and Gucci, among others. If you have an inkling for high-end luxury brands, you will be spoilt for choice.
Other brands available include:
| | | |
| --- | --- | --- |
| Abercrombie & Fitch | Cartier | Forever 21 |
| Ann Taylor | Celine | Gap |
| Bath & Body Works | Fendi | Mont Blanc |
There are also several dining options available for you. You can choose takeout, outdoor dining, curbside pickup, or delivery. Fill yourself up with delicious meals, mouthwatering desserts, and cocktails at the following spots:
Pinkberry
So Sushi
Blanco Tacos + Tequila
Cheesecake Factory, The
Westfield Mission Valley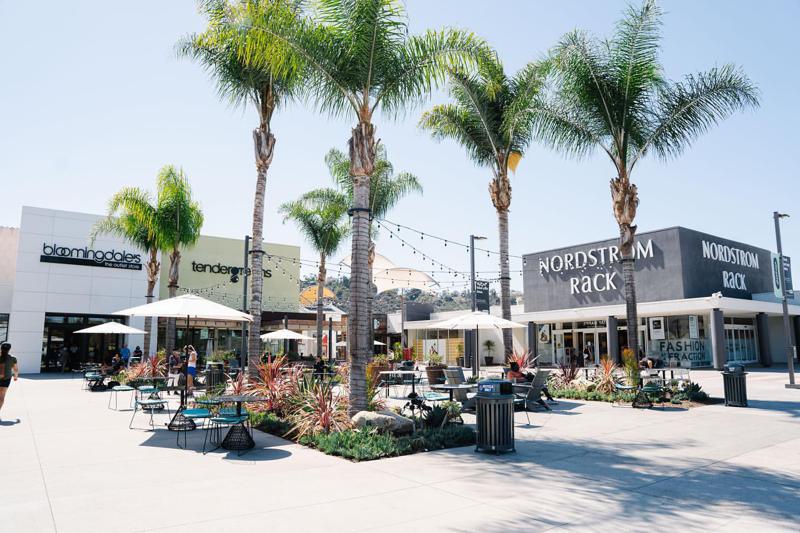 Location: 1640 Camino Del Rio North, San Diego, CA 92108-1506
Opening Hours: Mon to Sat (10:00 am–9:00 pm), Sun (11:00 pm -7:00 pm)
No. of Stores: 100+
Next on our list is one of the best shopping complexes in San Diego: Westfield Mission Valley. It features a power center and a traditional open-air zone.
First opened in 1961, it contains many stores dealing in health & beauty, photography & art, department stores, fashion, and many more. If you are into sports & fitness, you can get your equipment from Marshalls, sporting goods from Sports Fever, and activewear from Nordstrom Rack.
There are some jewelry brands at the mall, such as:
| | | |
| --- | --- | --- |
| Claire's | Vans | Windsor |
| Jared | Kay Jewelers | Tillys |
| Pacsun | Daniel's Jewelers | Zumiez |
Don't leave your family behind because the mall has a comfortable family lounge with a large restroom. Besides that, there are private nursing areas and Smarte Carte strollers. It is also pet-friendly.
Practical services offered at the mall include free Wi-Fi, electric vehicle charging, and Amazon Lockers. Just in case you forgot to change your currency, an international exchange currency service is available at the shopping complex.
From casual dining and kid-friendly restaurants to healthy options and specialty food, you will be spoilt for choice. Some dining spots at the center also offers customer occasional deals and discounts. Grab your food and drinks at the following restaurants:
Cava
Chipotle
Panda Express
Puesto
356 Degrees Korean BBQ
Seaport Village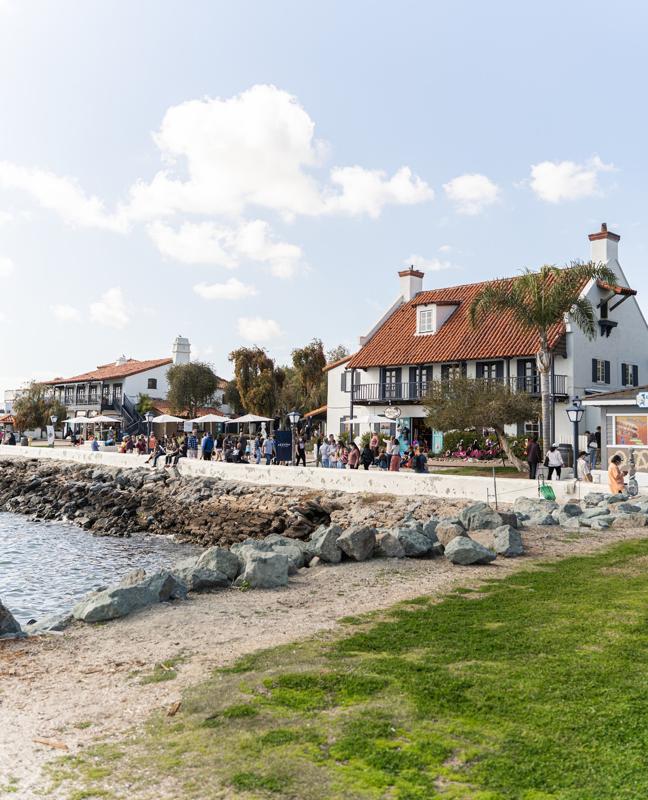 Location: 849 West Harbor Drive, at the intersection of Harbor Drive and Kettner
Opening Hours: Mon to Sun (11:00 am–7:00 pm)
No. of Stores: 70+
Located in downtown San Diego, by the side of San Diego bay, Seaport Village covers 90,000 square feet. The mall offers waterfront shopping, entertainment, and dining services in 13 eateries, 54 unique shops, and 4 fine dining restaurants.
As you walk through the miles of cobblestone pathways and beautiful grounds, you can treat yourself to Bayview dining, fun activities, and lots of shopping options. The shopping complex includes shops such as Del Sol where everything in the store changes color in the Sun, the Kids Opera full of children's accessories, and Sock Harbor, which sells novelty socks.
Other shops in the complex are:
| | | |
| --- | --- | --- |
| Cariloha Bamboo | Gran Havana | Hot Licks |
| Windsong | Geppetto's | Influencer Boutique |
| Magnuts | Crazy Shirts | Introstem |
You also have an array of delicious snacks and dining areas to indulge. They include:
Ben & Jerry's ice cream for smoothies and ice cream
San Diego Burger Company for an array of burgers, veggie and well as non-veggie.
Mike Hess Brewing for award-winning craft beer and food by Quiero Tacos
Seaport Coffee & Fudge Factory for gourmet coffee drinks & homemade fudge.
Don't forget the free live music on Friday, Saturday, and Sunday.
Headquarters at Seaport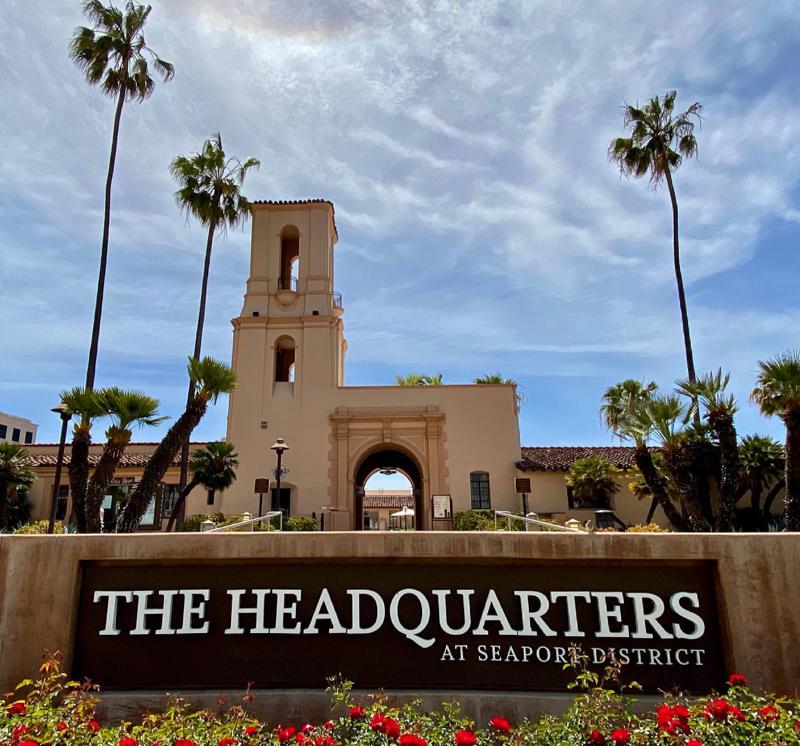 Opening Hours: Mon to Sat (10:00 am–9:00 pm) Sun (10:00 am–8:00 pm)
No. of Stores: 30+
If you have never been to Headquarters at Seaport, you are in for an extensive array of sparkling colors, rows of palm trees, and marvelous landscaping. It's a blend of unique architectural styles, one of San Diego's oldest buildings that previously served as San Diego Police Headquarters.
Located downtown next to San Diego's most luxurious districts, it is an open-air shopping mall with numerous stores and restaurants spread all over the heritage site.
There are a handful of shops where you can buy footwear, apparel, jewelry, perfume, gifts, and much more. A sophisticated salon with offerings such as manicures, pedicures, and a variety of nail enhancements is right there if you would love to treat yourself to some.
Some shops in the complex are:
| | | |
| --- | --- | --- |
| Madison San Diego | Cali Strong | Sunglass Hut |
| Coco Rose | Urban Beach House | Fair World |
Enjoy delicacies from world-class restaurants in the mall such as:
Eddie V's for premium aged steaks and fresh seafood.
Puesto for fresh and organically grown Mexican street food.
Cheesecake Factory for delicious baked goods and its internationally known cheesecake.
Hi Poke for Pacific Style Made seafood.
Music in the Courtyard is free and open to the public. Enjoy live music performance as you relax under the market lights. Well, if you happen to be at the Headquarters every Thursday 4-7 pm.
The headquarter is accessible from 5 major freeways where you can self-park or use their valet parking.
Hazard Center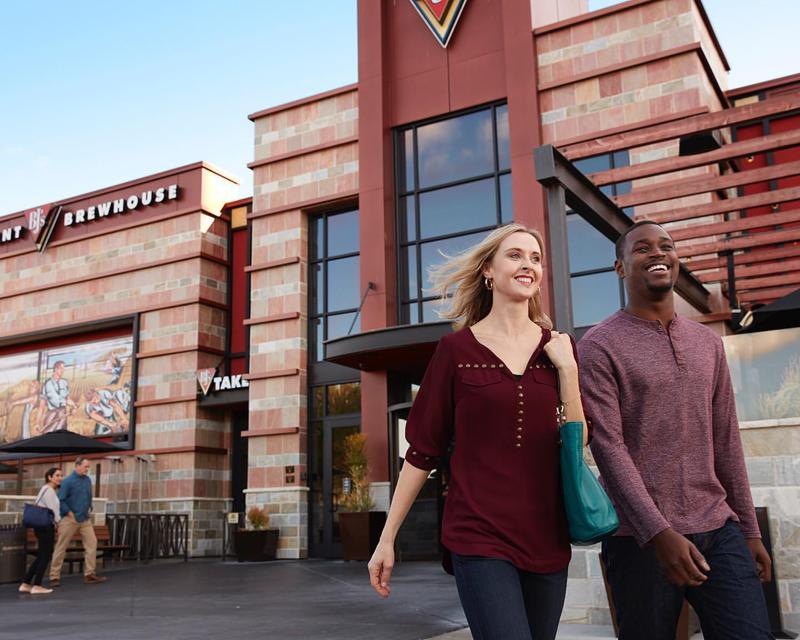 Location: 7510-7610 Hazard Center Drive San Diego, CA 92108
Opening Hours: Open 24 hours daily.
No. of Stores: 23
Following that is another great shopping mall in San Diego called Hazard Center. It has over 200 free parking spaces on the lower level. The name "Hazard" is a family name after Bruce Hazard, the son of Roscoe Hazard, who developed the center.
The mall offers dining, entertainment, health & beauty, toys &games as well as other services. If you are looking for jewelry, you will find what you need at Stuart Benjamin and Company Jewelry Designs. Get your favorite book at Barnes & Noble Booksellers and comprehensive learning materials at Lakeshore Learning Store.
You can get your cleaning done at Apadana cleaners. Dance lessons at Arthur Murray Dance Studio and a therapeutic massage at Massage Envy.
Service shops at the center include:
If you get hungry from all the pampering and servicing, find your way to the following restaurants and satisfy your cravings.
Don't forget to check out the UltraStar Mission Valley Cinemas and catch up with the new movie.
La Plaza La Jolla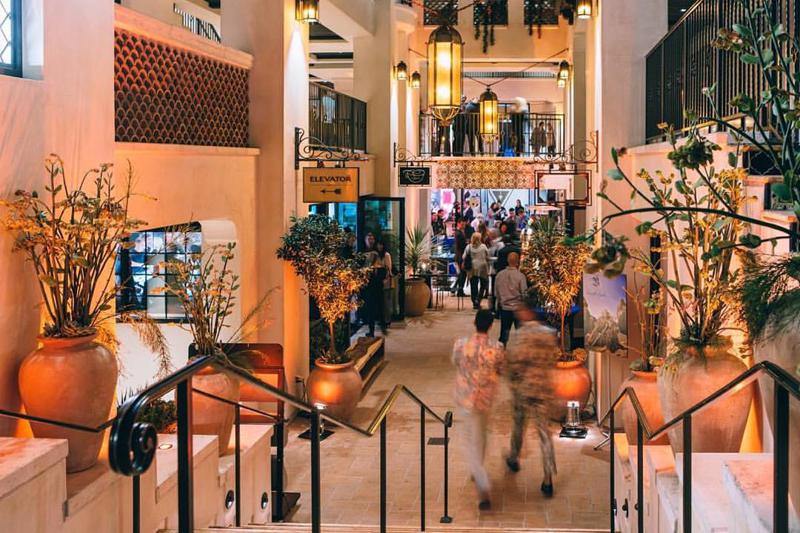 Location: 7863 & 7877 Girard Ave, La Jolla, CA 92037
Opening Hours: Mon to Sun (10:00 am–9:00 pm)
No. of Stores: 10 Stores
Another shopping mall that has to be on this list is La Plaza La Jolla. It is an open-air mall that prides itself in the luxury experience and convenient shopping. Here you will indulge yourself in the local culture and get to enjoy the sunny and warm beachside views.
There is a selection of places to treat your body and shop. They include:
| | |
| --- | --- |
| Browboss Brow & Beauty | Pure Barre |
| The Hydration Room IV and Injection Therapy | Blushtan Organic Spray Tanning |
| Stretch Lab | One | 10 Salon |
Once you are done grab a snack, lunch, or glass of wine at the following spots :
Homemade Pasta and handcrafted pizza at Catania – a coastal Italian restaurant at the top of La Plaza.
Unique wine and locally sourced professionally brewed espresso at Elixir Espresso Wine & Bar
Carlsbad Premium Outlets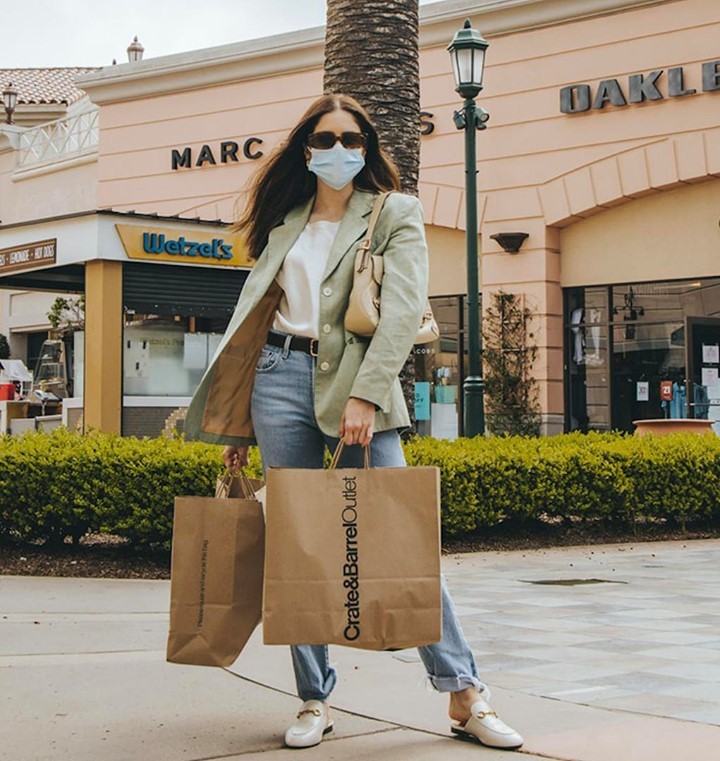 Location: 5620 Paseo Del Norte, Carlsbad, CA 92008,
Opening Hours: Mon to Thur (11:00 am–8:00pm), Fri to Sat (10:00am -8:00pm), Sun (11:00am -7:00pm)
No. of Stores: 85+ Stores
Carlsbad Premium Outlets is a shopping mall in San Diego that has so much to discover and explore in terms of shopping and dining. Here you will get deals on high-end clothing, shoes, jewelry, and electronics. Most stores will ensure you find what you are looking for.
One great thing about this outlet is the wide array of international brand shops to select from. Besides its convenient location, it offers customers a taste of finer things in life through a VIP club.
At the mall, you will discover several luxury brands, including:
| | | |
| --- | --- | --- |
| Adidas | Converse | Levi's |
| Asics | Crocs | Michael Kors |
| Calvin Klein | Lacoste | Tommy Hilfiger |
Once you are done pampering yourself, enjoy a tasty meal and drink at:
Blaze Pizza
Ruby's Diner
Tea Monks
Wetzel's Pretzels
Haagen-Dazs
Mot'to Japanese Grill
Conclusion
Historically, San Diego is known as the "Birthplace of California". It boasts the world-renowned San Diego Zoo, Anza-Borrego Desert State Park, and Seaworld San Diego. Enjoy these sites and more after shopping.
With a population of about 1.4 million, the locals pride themselves on their friendliness and generosity. You will interact and enjoy their helpfulness as you find your way through the city.
Have a fantastic time shopping in San Diego.