Shopping for comfortable, eco-friendly, and fashionable shoes is an absolute nightmare. Let's not forget that most sustainable brands might end up costing you an arm and a leg. But don't worry! We are here to help you.
Today, we will review one of the most popular sustainable footwear in the market: Vivaia shoes. If you love shopping for ethical, comfortable, and stylish shoes, chances are you've heard about Vivaia.
Since 2020, this brand has made waves in the shoe industry. That's because it claims to manufacture sustainable, durable, and luxurious shoes ideal for every occasion. But is this claim really true?
Well, read our comprehensive VIVAIA shoes review to find out.
VIVAIA Overview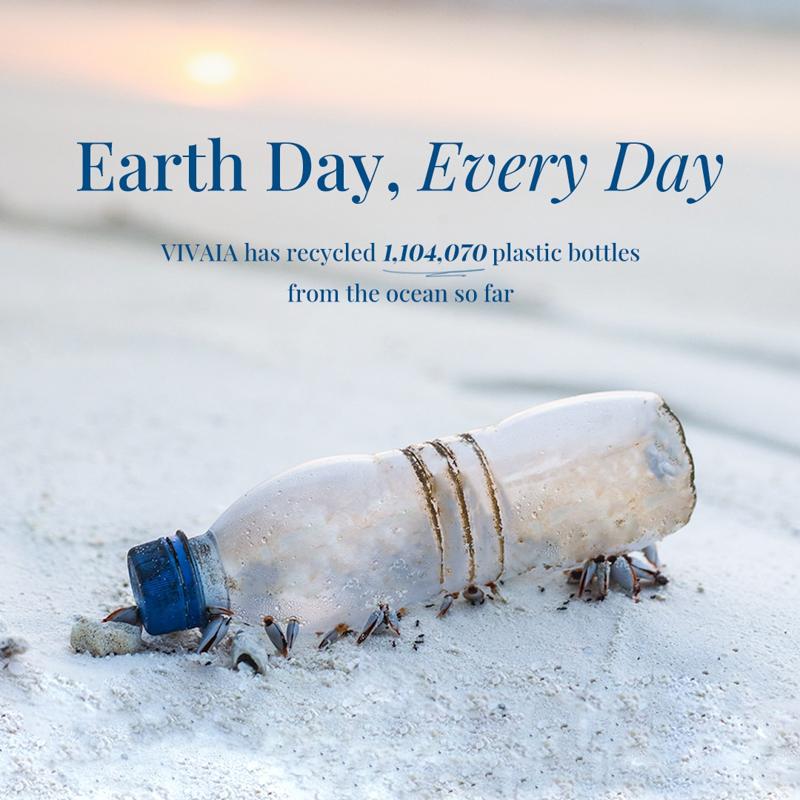 VIVAIA is a newbie in the shoe manufacturing space. The brand was founded in 2020 to provide customers with stylish and sustainable shoes that are eco-friendly, responsible, and well-priced. Since its launch, VIVAIA has delighted its customers with a vast variety of luxurious and fashion-forward footwear with exceptional quality.
The company strives to lead an entirely green operation when making its products. VIVAIA shoes are created using recycled plastic bottles and 3D knit technology. They're based on 3D knitted design that eliminates waste and delivers ultimate comfort and functionality.
By leveraging the power of modern technology, VIVAIA aims to deliver comfortable to wear, incredibly stylish and sustainable, top-notch products that will create a positive impact on both world and the surrounding people.
What Are VIVAIA Shoes?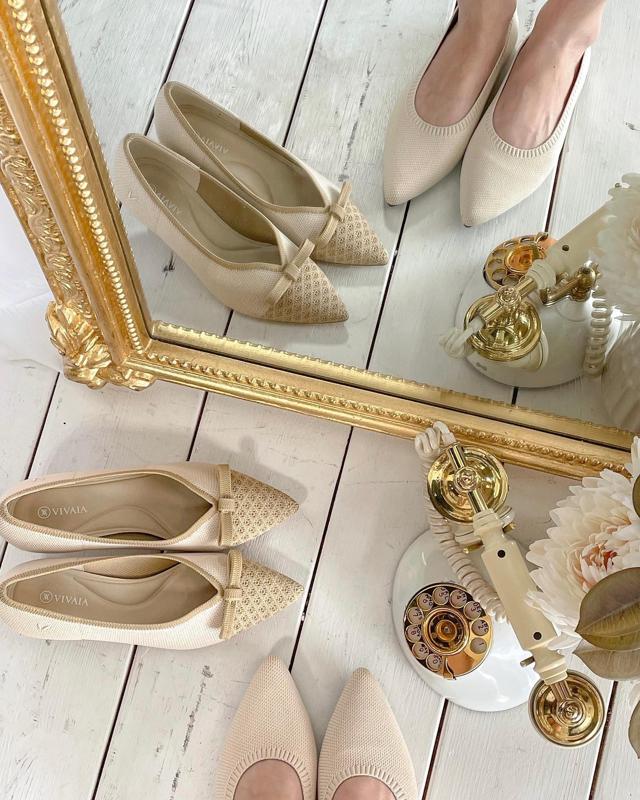 VIVAIA shoes deliver the ultimate blend of comfort and function. They're designed to meet the needs of shoe connoisseurs who love high-quality, sustainable, and eco-friendly footwear. The shoes feature unique 3D knit comfortable fabric made from recycled bottles.
VIVAIA shoes stand out since they come in a wide variety of shoe designs ranging from classic and elegant to unique and trendy. At the brand online store, you can shop for ballet flats, Chelsea boots, loafers, Oxfords, heeled ankle boots, and more! There is a style to fit every occasion.
Besides being simple and elegant, VIVAIA shoes feature a wide array of colors to suit all seasons and tastes. Plus, their look will complement any wardrobe. Based on customer reviews, VIVAIA flats and sandals deliver the comfiest experience. Some loved them for their unique look.
The 3D knitted fabric comfortably adapts to the wearer's foot, and the shoe wraps his or her feet like socks. The shoe's shape will also change as you walk. Another thing, VIVAIA shoes are very breathable, which helps to keep your skin fresh.
Breakdown of VIVAIA Shoes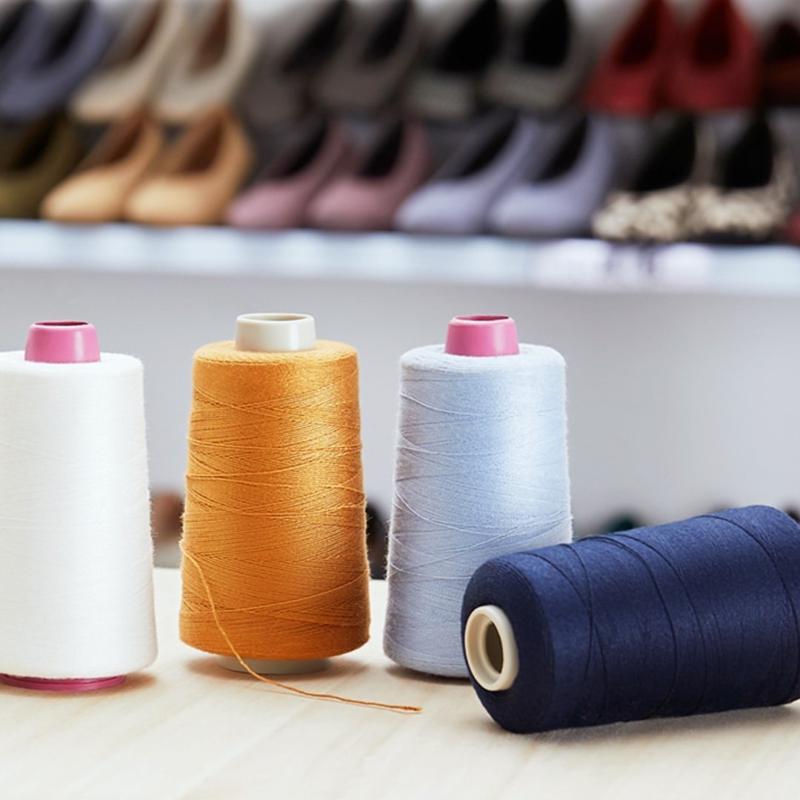 Upper
The upper section of VIVAIA shoes features a 3D knitted fabric designed from recycled plastic bottles or rPET. The company says it sources its plastic materials from reputable vendors and companies that meet their sustainability requirements and recycle plastic bottles from the ocean.
From there, the plastic bottles get cleaned and shredded into tiny pieces, then extruded into threads. Next, the threads are knitted into fabric through a 3D knitting technology, resulting in the required design.
rPET makes a sustainable material since it emits less CO2 than virgin PET. Also, by recycling the bottles, the company helps clean up our oceans and landfills.
However, there's a catch. The recycled material cannot get recycled once again. And even if it's possible, its quality will deteriorate, making it inferior. Another thing, the microplastic used to make VIVAIA proprietary fabric can easily get discharged into the atmosphere when washing the shoes.
Another material used in the upper section of VIVAIA shoes is wool, which helps to insulate the footwear.
Insole
The insole comprises a material made from a blend of PU foam and herbs. The material makes the insole cushiony, breathable, and mold-proof. Also, it has moisture-wicking properties, which help prevent stinky feet in individuals who seat a lot. Besides that, it's super elastic to offer your comfort at every moment.
Outsole
The outsole features a carbon-free rubber material, which makes it elastic, flexible, and shock-resistant. The material is also odor-resistant and fungi-proof. The heels are constructed from ABS, the same materials used to create Legos. What makes this material unique is its ability to melt and reform, but most importantly, companies can recycle it.
Is VIVAIA Shoes Machine-Washable?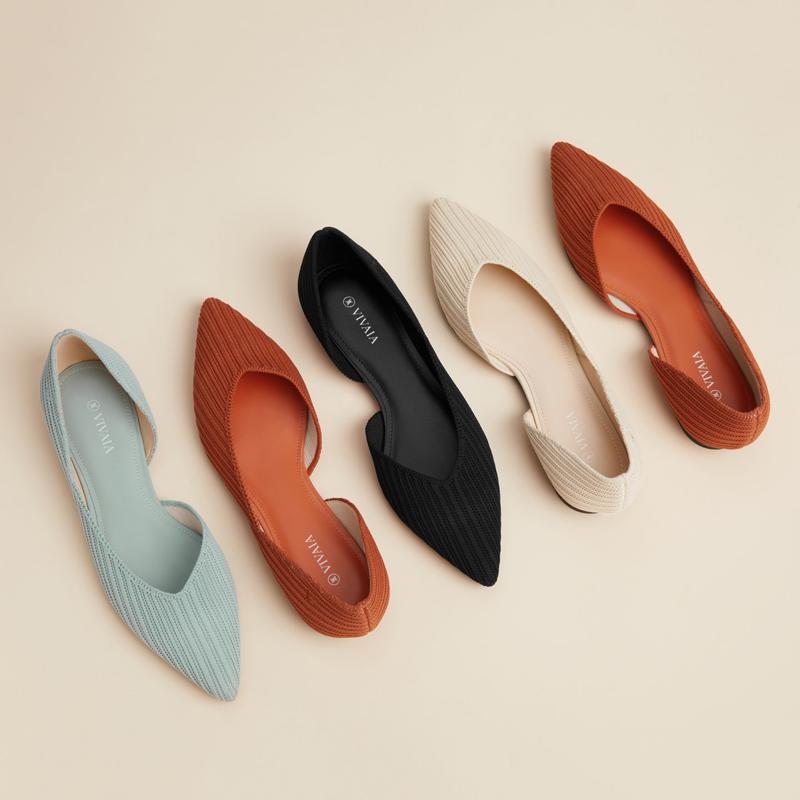 Some VIVAIA shoe collections are machine washable while others are not. Before purchasing your desired VIVAIA footwear, check if its machine is washable. What's even better, at VIVAIA's official website, you'll find recommendations on how to wash your desired pair of shoes, especially machine washable ones like flats. The simple steps for washing flats include:
Remove the insole and place the shoes in a washing pouch.
Next, put them in the washing machine.
Add mild detergent and use cold water. Hot water can alter the shape of your shoes since it's made from recycled plastic fabric.
After that, air dry them (avoid using hot air).
Packaging
VIVAIA packages its shoes in a good-looking box made from 100% recycled cardboard. The packaging also contains information to inspire customers to recycle the box afterward. While that might seem like an insignificant move, it somehow shows the company's commitment to persevere the environment.
VIVAIA does not add any artificial color to the packaging to avoid additional waste that can harm the natural ecosystem.
Price
In terms of price, every pair of VIVAIA's shoes come with its own price. But most shoes cost between $60 to $200. Compared to other sustainable shoes in the market like Rothy's shoes, VIVAIA shoes are well-priced. For instance, flats that cost $125 at Rothy's will go for $76 at VIVAIA. The same applies to other shoe types, like loafers.
While VIVAIA seems to offer competitive prices for its products, pricing is relative and some people might find VIVAIA products expensive. While you can discover cheap flats, sandals, and loafers in the market, chances are they will not offer you the benefits VIVAIA products come with.
And if that's not enough! VIVAIA offers customers several discounts, allowing them to save money. For instance, if you subscribe to their newsletter, you will enjoy $15 off your next purchase.
Besides that, you can enjoy a discount on a specific pair of shoes. For example, if you purchase Round-Toe Chunky Heeled Boots at VIVAIA, you can enjoy a 20% discount. Before making a purchase, it's wise to go through the brand's products catalog to discover impressive deals.
Like most shoe brands, VIVAIA has a referral program. The program allows users to enjoy a 20% for their next order for every friend they refer.
What makes the brand stand out, even more, is its Afterpay option. This means you can pay for the product of your choice in 4 installments made every week without interest.
Shipping
If you make an order worth $99 and above, you will enjoy free shipping. Your order will get processed within 1 to 2 business days, even those made during the weekends and holidays.
The order takes 6 to 13 business days to arrive, but this vary depending on the country. According to some customers, their package arrived earlier than the estimated delivery date.
For orders below $99, customers have to pay $8.99 to cover postage costs. Individuals in selected international countries like QAT, BHR, OMN, RUS, TR, and SAU can enjoy shipping at set rates. Furthermore, VIVAIA offers expedited shipping (3 – 4 business days) at the cost of $15.99.
After making an order, the company will send you a tracking number via email to help you track your package.
Return Policy
If you're not impressed with your VIVAIA product, you can return or exchange it within 30 days from the date you received the item. However, the product must be unused, free from damage, and come with its original tags and packaging. Otherwise, you will incur some fees and chances are you might not receive a refund.
Customers from the U.S, UK, Germany, and Hong Kong can enjoy free returns and exchanges. For individuals in other countries, the company will send a prepaid shipping label once they confirm their return request.
Customer Service
Based on customer reviews, VIVAIA customer support representatives reply quickly to questions and concerns. According to the VIVAIA customer service page, you can contact them for inquiries through LiveChat, Email, or Message. When sending a request via message form or email, you will receive a reply within 24 hours. Besides that, you can contact them by sending a direct message via VIVAIA's social media pages.
What Customers Say About VIVAIA Shoes?
Currently, VIVAIA shoes got 978 reviews on Trustpilot and a 4.5-star rating out of 5. In Amazon, VIVAIA shoes enjoy a 3.8-star rating out of 5. From these ratings, it's clear that customers love the VIVAIA footwear. Most customers enjoy the top-tier nature of sustainable shoes. They love how the shoes deliver super comfortability, breathability, and durability.
One customer said she has bought several pairs of VIVAIA shoes and she enjoys the way they feel on her legs. In fact, she wears them every day and when one pair is dirty, she can easily through it in the washing machine and it will come out great.
Others love the wide selection of colors, and variety VIVAIA provides them. Also, they noted the shoes were luxurious and very functional. Other things customers loved about the brand include:
Fast shipping
Impressive sizing
Tracking options
Quick reply from the customer support team
Sustainable nature of the shoes
But don't just take our word for it. Here are real customer reviews from various review sites:
"I'm usually a 7.5 in heels and 8 in anything flat, so I got these in 8 and they fit perfect for the first wear, then stretched out now they're about a half size too big. They are lovely shoes, good quality, don't rub and I highly recommend them, just be extra careful when choosing your size." – Josette / Amazon.
"When I saw so many good reviews of this brand, I thought it was fake. But I gave it a try.
I got flats. They are amazing. Really pretty and comfortable – I went grocery shop wearing them, to challenge the shoes and it didn't hurt, nor made my feet sweat like other rubber shoes would.
I will get my second pair today and I can't wait to try on the heels, once something I need is available." – Amazon customer from the US.
"I highly recommend shopping with Vivaia. I ordered a pair of shoes a size too small and contacted customer service through email. They were surprisingly very supportive, and helped me the best that they can! They responded very quickly and solved my problem professionally. I'm a happy customer."–Movie Is- The Best from Australia.
"I LOVE Vivaia shoes, I have bought several pairs now and they have all been fabulous, I love that they are made from plastic bottles. They are super comfortable, have had no blisters from day one, and I wear them all day and have thrown them in the machine, came out great. Shipping has always been very quick, and recyclable packaging is another plus. Would definitely recommend these." – Paula Fenton from Australia.
However, VIVAIA shoes are not free from negative reviews. Some customers found the 3D knit fabric not so comfortable. Others didn't like the response time of the brand.
Is VIVAIA A Chinese Company?
VIVAIA's headquarter is in the U.S, but they manufacture their products in Dongguan, China. It's a brand of Shenzhen Starlink Network Technology Company. Although this move has sparked some controversy, the brand has a reasonable explanation.
According to VIVAIA, China has experienced significant growth over the years. Today, the country has the most advanced, high-tech, and ethical companies in the world. Plus, it's the largest producer of textiles and used modern tech in production.
The company says it closely monitors and conducts regular assessments of its companies to ensure fair and healthy working conditions throughout the production process.
Another thing, they only work with companies that meet their standards for quality, employee welfare efficiency, working condition, and environmental impact. According to VIVAIA's regular audits, their participating companies take care of their products and workers.
Also, the company constantly monitors the workers to ensure they're physically and mentally fit to work. It claims to have plans that ensure everyone gets enough rest and fair compensation for their hard work, especially during the holidays.
From this information, it's clear that VIVAIA is a transparent company focused on the well-being of its employees and customers.
Is Vivaia Worth It?
VIVAIA shoes are without a doubt eco-friendly, comfortable, and fashionable, thanks to the advanced technology used to manufacture them. The footwear comfortably conforms to the shape of your foot, delivers maximum breathability, and comes with moisture-wicking ability. In addition, it absorbs shock, prevents damage to your feet.
With so many styles, sizes, and colors to choose from, VIVAIA footwear is a worthy addition to every wardrobe. The footwear comes packaged in a recyclable box free from artificial colors to protect the environment.
Besides detailed design, VIVAIA shoes are machine washable, meaning you can take them for professional polishing. Also, they're priced fairly compared to their counterparts.
If you're interested in sustainable and stylish shoes that won't break your bank, consider getting VIVAIA shoes. Let's not forget, you will enjoy generous discounts and free shipping. So, check out the brand today!
VIVAIA Shoes: FAQs
Do VIVAIA Shoes Smell?
The footwear features a unique insole made of natural herbal and PU foam. As result, the insole is highly breathable, cushiony, and supportive. Additionally, it's mold-free and moisture-wicking. All these impressive features prevent your feet and shoe from smelling whether there's heat or humidity.
What Size Does VIVAIA Come In?
You will enjoy a wide range of shoe sizes at VIVAIA. For instance, VIVAIA flats offered for European customers range from size 35 to 43, size 5 to 13 for U. S customers, size 220 to 275 for Japanese customers and size 2.5 to 8.5 for UK customers.
What Are VIVAIA Shoes Made of?
VIVAIA shoes are constructed from shredded recycled bottles extruded to threads. The threads are later loaded in a high-tech 3D knitting machine loaded with a unique algorithm and VIVAIA secret design method. The end product is a comfortable, eco-friendly, and fashionable shoe ideal for any occasion.
Does VIVAIA Offer Free Shipping?
Yes! VIVAIA offers free shipping for orders above $99. For orders lower than $99, customers have to pay a postal cost of $8.99. Also, customers in Qatar, Bahrain, Saudi Arabia, and Oman have to pay certain rates for shipping.
Normally, the order gets processed within 1 to 2 business days. From there, it takes about 8 to 10 days for the customer to receive the product. But you can opt for expedited shipping, which costs $15.99.
What Is VIVAIA Return Policy?
VIVAIA customers enjoy a 30-day return policy. If you don't like the product, you can return it 30 days from the day you received it. However, you need to ensure you retain the item's original tags and packaging or you will not receive a refund.
The refund or exchange is free for customers in Hongkong, US, UK, and Germany. Individuals from other countries will receive a shipping label from the company once their return request gets confirmed.
Also Read: Real or Fake: How do I know if my Anello Bag is Authentic?