Located in Alameda County in San Francisco, Pleasanton is a gorgeous city bustling with life and culture. From green parks to regional spaces, this suburban heaven offers much in the way of outdoor recreations. Visitors can take part in several outdoor activities, ranging from swimming to hiking and boating to fishing.
Besides that, Pleasanton doesn't fall short in terms of shopping. It's home to large businesses like Macy's, Nordstrom, and Safeway. While strolling down the streets of Pleasanton, you'll encounter stunning shopping malls with some boasting over 150 stores, restaurants, and independent retailers.
At the malls, you can get everything, including apparel, home décor, shoes, jewelry, make-ups, etc. Also, the malls offer shoppers a little extra inform of entertainments spots, events, and top-class dining options.
In this guide, we have highlighted the 5 best shopping malls in Pleasanton. Read on to get a better idea of what these shopping destinations have to offer you.
Best Malls in Pleasanton and Near Pleasanton
1. Stoneridge Shopping Center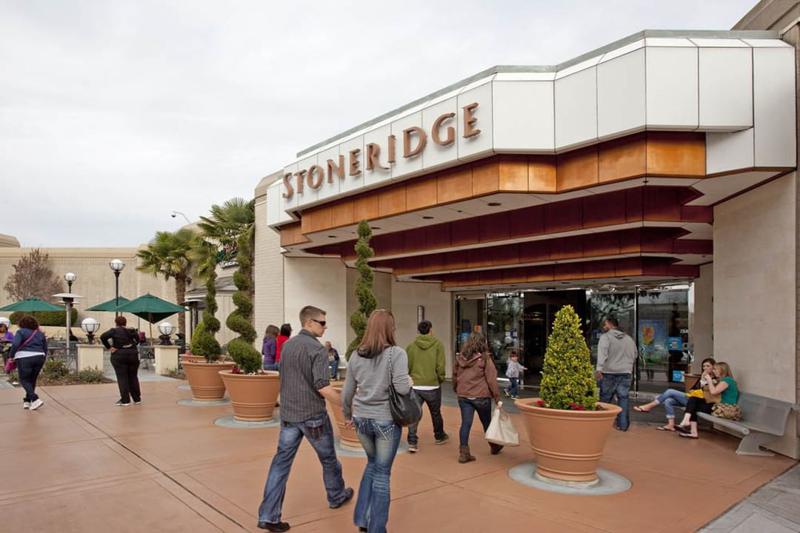 Opening Hours: Mon to Thur (11:00 am – 8:00 pm), Friday to Sat (10:00 am – 9:00 pm), Sun (11:00 am – 7:00 pm)
of Stores: 147
Stoneridge Shopping Center is a two-level upscale indoor mall at the heart of the Tri-Valley area. With over 140 stores, you can shop for anything here, from homeware to electronics, clothes to shoes, and jewelry to accessories.
Established in 1980, this shopping center has evolved into a one-stop destination for shopaholics, tourists, and Pleasanton residents. It covers 1.3 million sq. ft, and it has been anchored by popular departmental stores like Mary's, JC Penny, and Nordstrom. There are also several specialty stores, including:
| | | | |
| --- | --- | --- | --- |
| H&M | J. Crew | Forever 21 | pandora |
| Pottery Barn | Banana Republic | Victoria's Secret | Lululemon |
| Coach | Zara | VANS | Ann Tylor |
You will be spoiled for choice when it comes to restaurants. Stoneridge features a plethora of restaurants that serve mouthwatering, heavenly tasting cuisines. The award-winning Char-roasted Trip-Tip at Buckhorn will leave you begging for more. You can also stop by California Pizza Kitchen and enjoy a variety of inspired dishes. Other restaurants and eateries include:
Go Fish Poke Bar
F. Chang's China Bistro
The Cheese Cake Factory
Cinnabon
MacDonald's
Subway
The mall is spacious and has a good amount of security, both inside and outside the complex. You will also enjoy private parking space and valet parking. However, during the weekends, the center is usually parked. So, you might have a hard time finding a parking spot.
2. Hacienda Crossings Shopping Center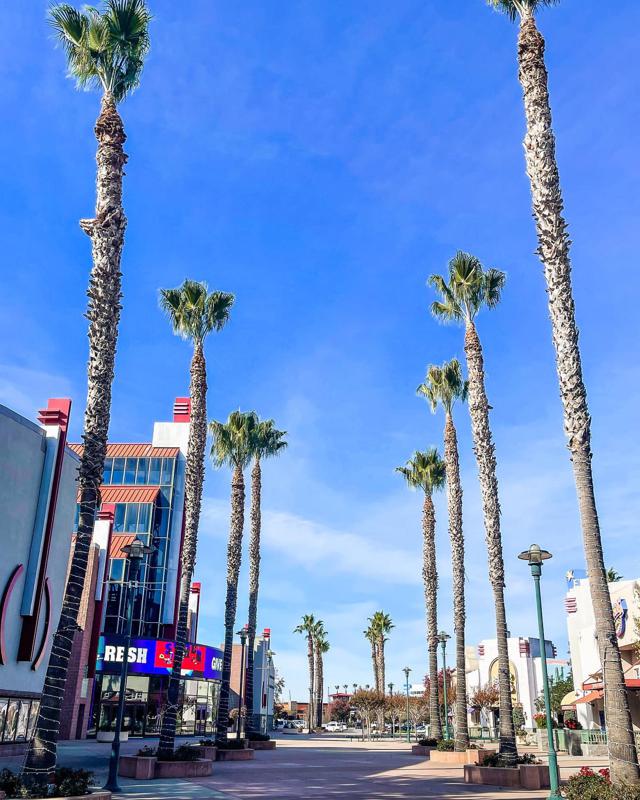 Opening Hours: Mon to Sat: 9:00 am – 9:30 pm, Sun: 10:00 am – 8:00 pm
of Stores: 20+
Hacienda Crossings is a great shopping mall in the tri-valley area, featuring specialty stores, services, and dining options. Whether you want to shop for apparel or shoes, the mall got you covered.
Hacienda crossing was affected with the COVID-19 pandemic like many malls within Pleasanton and its surroundings. As a result, some shops temporarily or permanently closed. At the moment, you can shop at the following stores:
| | | | |
| --- | --- | --- | --- |
| Barnes & Noble | Bed Bath & Beyond | Best Buy | Old Navy |
| Barons | Tillys | T.j. Maxx | Ulta |
Besides offering residents and shoppers a great shopping experience, the mall hosts several restaurants and eateries. While strolling around the complex, you'll enjoy air filled with delicious scents coming from the dining joints. Whether you want a snack, drink, takeaway food, or a sit-down lunch, the following restaurant and eateries will meet your needs.
| | | | |
| --- | --- | --- | --- |
| Applebee's | ColdStone | Ikes | Kanapai Shushi |
| Five Guys | Fuddruckers | Jamba Juice | Kobe Pho & Grill |
| Market Tarven | Sri Thai | World of Beer | Simply Pizza |
Hacienda Crossings doesn't fall short in terms of entertainment. You can take a break from your busy day to catch a movie at Regal or get your nails fixed at Mandara Nail Spa.
3. Pleasanton Gateway Shopping Center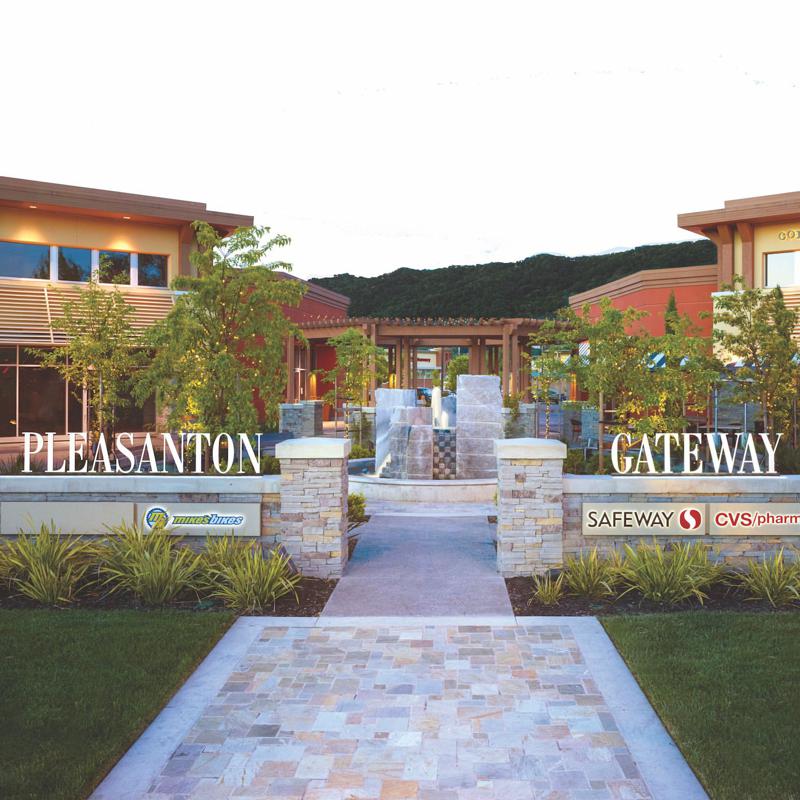 Opening Hours: Mon to Sun (7:00 am – 10:00 pm)
of Stores: 22
Pleasanton Gateway Shopping Center might not be as large as Great Mall, but it features a decent collection of stores that are sure to offer the best shopping experience.
Situated off 1-680 and Bernal Avenue, the shopping center hosts several independent retail stores, providing shoppers with several items. For instance, at CVS Pharmacy, you can get quality prescription drugs, over-the-counter medicine, cosmetics products, and others. For fresh ingredients, Safeway is your spot.
Based on our research, most stores at the mall are service-based. Stop by if you need health and beauty services, banking services, or shipping services. Pleasanton directory includes:
| | | | |
| --- | --- | --- | --- |
| European Wax Center | Great Clips | Jamba | Pleasanton Ridge Dental Group |
| Mikes Bikes | Pure Barre | Saving Cleaners | Sculptology |
| Pure Organic (Nail Salon) | The UPS Store | Wells Fargo | UnionBank |
The establishment is also a great spot to grab lunch or dinner. You will discover several dining spots, including:
Starbucks
Bagel Street
Panda Express
Plucked Chicken and beer
Jamba
The Habit Burger Grill
These spots tend to offer several deals on their meals. One good example is The Habit Burger Grill. At the eatery, you will get to try new variations of burgers at a reduced price. Additionally, shoppers enjoy free parking.
4. Pacific Pearl Shopping Center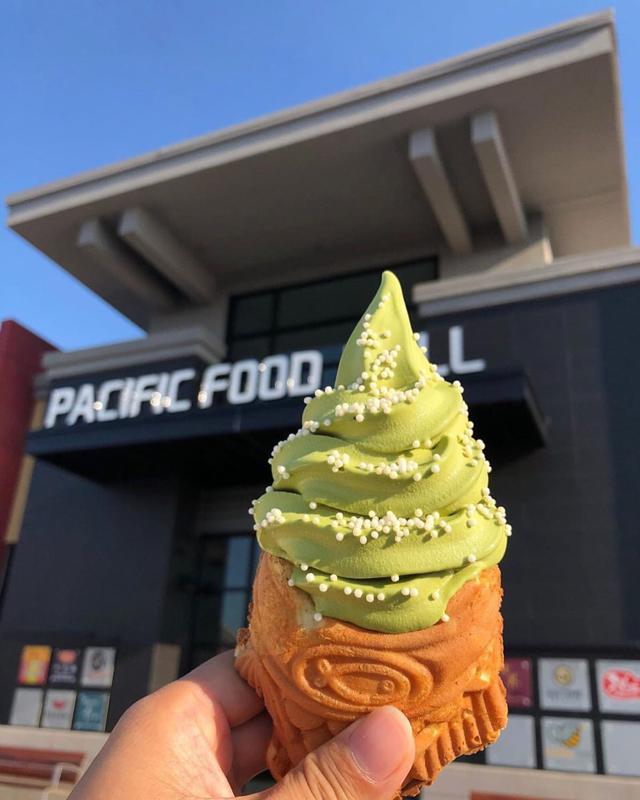 Opening Hours: Open 24 Hours
of Stores: 33
Sandwiched between 99 Ranch Market and Ross Dress for Less, Pacific Pearl is a charming shopping center worth your time and money. What sets it apart from the other mall is the fact that since its establishment, it has brought several Asian Culinary spots to the Tri-Valley Area.
The Mall is anchored by 99 Ranch Supermarket and features a plethora of stores, boutiques, and restaurants. There are several service-based shops focused on health and beauty, Auto Insurance, and tax services. Most of these stores are Asia-owned and operated.
Here are the shops at the center:
| | | |
| --- | --- | --- |
| Pleasant Dental Care | Lern Education | East Bay Vision Center |
| Brilliant Minds Academy | Pure Organic Nail Salon | Transpacific |
We can say Pacific Pearl Shopping Center was designed specifically for dining. The dining experience in this place is on a whole new level. There are selections of Asian Cuisines that will leave your taste glands exploding in flavors. The unique Asian restaurants at the mall include:
Dalian Club House
Fiery Shanghai
Bonchon Chicken
Kura Revolving Sushi Bar
Ramen Gaga
After your luxury shopping, head to Snowflake Desserts and 85° Bakery Café and grab some desserts. The only downside is this destination lacks enough security. There are no security cameras, and there have been several cases of car vandalism.
5. San Francisco Premium Outlets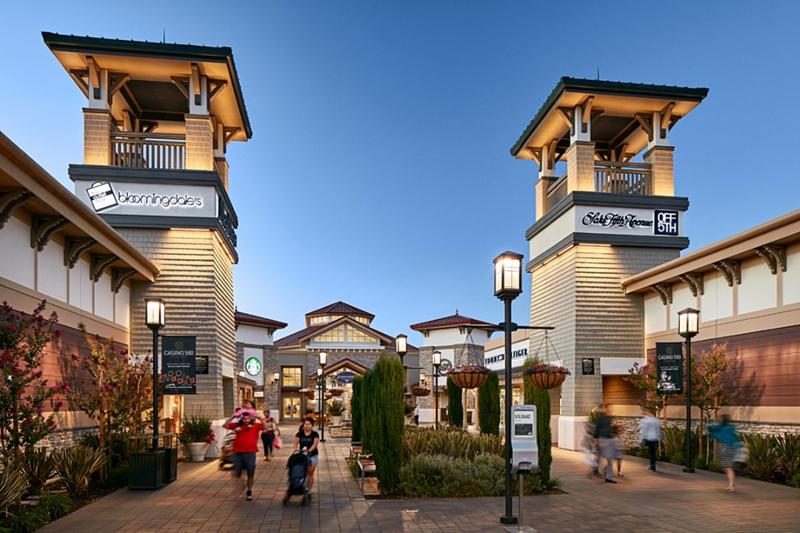 Opening Hours: Mon to Thur (11:00 am–7:00 pm), Friday to Sat (10:00 am- 8:00 pm), Sun (10:00 am -7:00 pm)
of Stores: 190
The next mall on our list is San Francisco Premium Outlets. It's a premier shopping outlet with 190 departmental, independent, and specialty stores. Situated in Livermore, this shopping center is a one-stop shop for designers' clothes, brand-foot wear, cosmetics, eye wear, etc. At the mall, there's everything for everyone, irrespective of your taste or budget.
It receives hundreds of thousands of shoppers each year, not only from Pleasanton but also from other regions. Perhaps the reason for this is the amazing deals and discounts on various products. You can enjoy savings of between 10% to 70% for sports apparel, luxurious clothes, carry-ons, accessories, and so on. Iconic brands and designer names at the stores are as follows:
| | | | |
| --- | --- | --- | --- |
| Abercrombie & Fitch | Adidas | Bottega Veneta | Brooks Brothers |
| Armani | Calvin Klein | Clarks | DKNY |
| Gucci | H&M | Puma | Versace |
What about dining options? Well, you can have a fabulous lunch or dinner or just a snack at the 16 restaurants in the mall. They include:
Amorio
Auntie Anne's and Cinnabon Café
China Max
Chickenow
Chipotle Mexican Grill
Johnny Rockets
Starbucks
Villa Fresh Italian Kitchen
San Francisco Premium Outlets also features a central food court. If you plan to visit the mall, do so during the week. On the weekends and holidays, the mall gets crowded.
That said, you will enjoy ample parking spaces. The mall is truly amazing, and you will have fantastic shopping and dining experience.
Reasons To Shop at Malls Instead of Online
The advancement of technology over the years has made it possible to shop anywhere, anytime. Today, you can order a designer cloth or brand shoe at the comfort of your home via your smartphone. And the product will get delivered to your doorstep. A dream come true, right?
But despite the convenience and flexibility of online shopping, most people still prefer old-school mall shopping. As a fact, nearly 80% of shopping today is made in physical stores located in malls. Why is this?
Well, below we've provided you with reasons people prefer shopping in malls and outlets rather than online.
To Have a Good Feel of The Product
A bed or sofa posted online might look well-built and comfortable. But you can't prove these without actually trying them out. What if the product doesn't meet your expectations once delivered? You'll have to start a tiresome return process.
But at the mall, you can have a good feel of the product you wish to purchase. If it's apparel or shoe, you can put them on to see if it fits. Testing products will help you make an informed purchase.
Advice From Experts
Another reason people enjoy visiting malls is the in-purchase advice they get from store staff. They can help you select a product that will meet your needs. The store staff can also help you locate unique items; you didn't even know. Customer experience is something most online e-commerce sites lack, that is why people prefer shopping in stores at the mall.
Availability of Products
Have you ever tried purchasing something online, then you see an "out of order" notice below the product? Well, you don't have to deal with that at malls.
Because most stores at the mall are bent on delivering the best customer satisfaction, they always have enough stock. When they foresee an increase in demand, the stores ensure they order additional stock in time. So, every time you visit the store, you will always find the item you need.
No Need for Returns
As we said earlier, returning online products is a hassle. But at brick-and-mortar stores, you get to select something that meets your exact needs and test it. There's no need for returns.
Bottom Line
In conclusion, Pleasanton is a haven for avid shoppers and visiting looking for exceptional shopping and dining experience as well as entertainment.
Malls in Pleasanton are conveniently located and easily accessible. You will find everything for you and your family in these malls. They also have ample spaces for kids to play and for customers to rest after a full day of shopping.
Whether you leave close to Pleasanton or want on a vacation in the city, we recommend you stop by these shopping destinations for an all-around experience.
Shopping Malls in Pleasanton: FAQs
Are Dogs Allowed in Pleasanton Malls?
Stoneridge Shopping Center is animal friendly, meaning you can go shopping with your favorite furry friend. But before you go with your pet shopping at Great Mall, Pleasanton Gateway Shopping Center, and San Francisco Premium Outlets, it's wise to ask first.
What's The State of Security in Pleasanton Malls?
At Stoneridge, Great Mall, Pleasanton Gateway, and San Francisco Premium Outlets, you'll enjoy state-of-the-art security. There are security officers located inside and outside of these malls. Stoneridge, for example, has a Security & Police Substation that offers 24-hour security services. Rest assured; you'll have a safe shopping experience at these venues.
However, we can't assure you that your car will be safe at Pacific Perl Shopping center. Over the years, customers have reported cases where their cars have been broken into.
What Makes Shopping in Pleasanton Malls Attractive?
Besides an exceptional shopping experience, most Pleasanton malls are family-friendly. Some feature baby changing stations, children's play areas, family restrooms, resting spots, and charging points. Some also offer free Wi-Fi, ample parking spaces, and wheelchairs.