Nashville or Music City is a popular destination among music lovers. In fact, it's home to several music attractions that honor both the old golden days and the present. The city evokes an artistic vibe through its art-filled galleries, performance stages, and theaters.
Besides music, this continually developing city is that one destination you can find everything at an affordable price tag. Whether you're after vintage items, rare gems, artisanal drinks and sweets, high-end accessories, brand apparel, there is something for everyone here.
Nashville might not rank as the top shopping destination, but once you've stepped into the city, your perception will change. From Lower Broadway to East Nashville, you'll encounter several shopping spots offering homeware, apparel, gifts, and more. If that's not enough, you'll get to drown your taste glands in flavors from award-winning dishes at different dining spots around the town.
Today, we're going to learn about the best shopping malls in Nashville. Without further delay, let's get started.
Top Shopping Destinations In Nashville
1. Opry Mills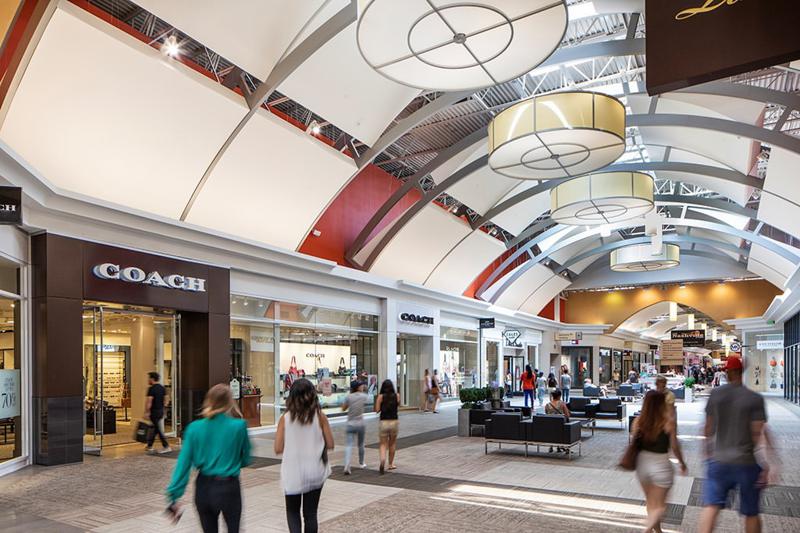 Address: 433 Opry Mills Dr, Nashville, TN 37214
Opening Hours: Mon to Wed: 10:00am–8:00pm, Thur to Sat: 10:00am–8:00pm, Sun: 11:00am–7:00pm
of Stores: 188
If you're after a destination with international and luxury brands, visit Opry Mills. Located in downtown Nashville, Opry Mills is perhaps one of the largest malls in Nashville and Tennessee. It's also a few minutes from Nashville international airport. So, if you've landed and wish to do a quick shopping, this mall should be your first stop.
It houses 188 stores which provides shoppers a variety of products, including apparel for the whole family, sporting products, and jewelry. Here you'll find internationally recognized brands like Forever 21, Under Armour, and LEGO. It also features an impressive list of designer retailers, and we've mentioned a few below.
| | | | |
| --- | --- | --- | --- |
| Coach | Michael Kors | Kate Spade | Adidas |
| H&M | Calvin Klein | Polo Ralph Lauren | Nike |
What about dining? Truthfully, you will be spoilt for choice because of its comprehensive catalog of restaurants and eateries. Have a dining experience like no other at Aquarium Restaurant or sizzling Mexican cuisines at Chuy's Mexican Food. Other amazing spots to grab lunch, dinner, drinks, and desserts include:
Dave & Buster's
Mission BBQ
Rainforest Café
G.I. Friday's
Remaining true to the city's rich music history, Opry Mills holds regular live performances on its entertainment stage. If you're more of a movie person, chances are you will love Regal Imax. One thing though, the mall is always packed, since it's a popular destination for shoppers and travelers from different regions.
2. The Mall at Green Hills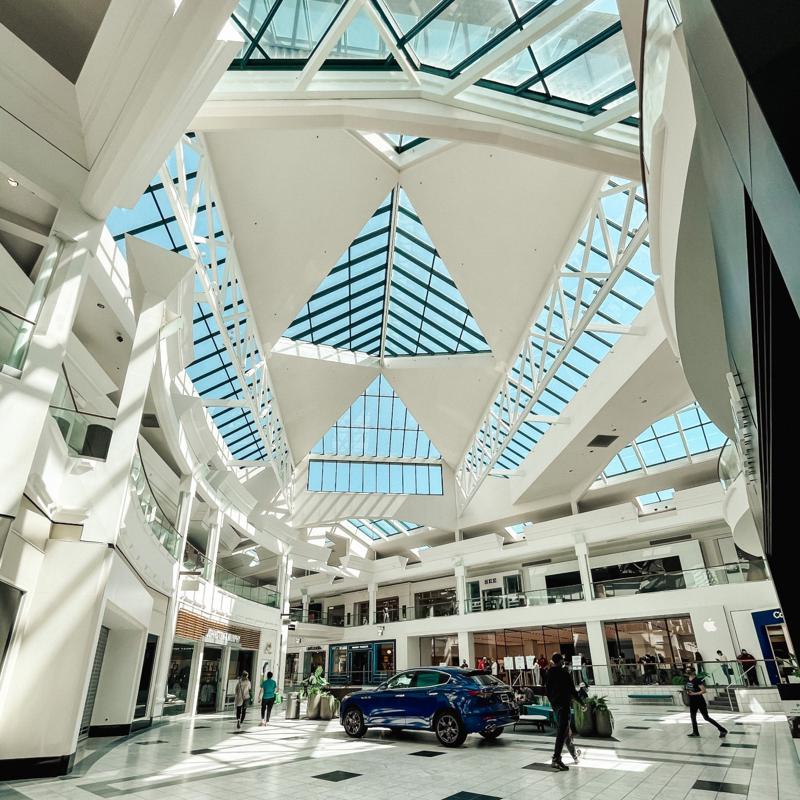 Address: 2126 Abbott Martin Rd Nashville, TN, US 37215
Opening Hours: Mon to Wed: 11:00am–8:00pm, Thu: Closed, Fri to Sat: 9:00am–9:00pm, Sun: 11:00am–7:00pm
of Stores: 100+
Situated in one of the most affluent neighborhoods in the city, The Mall Green Hills is a shopping mecca for avid shoppers and visitors. This magical mall features a design that blends luxury and contemporary looks. The glass roof, the trees, and open spaces give this mall a magical feeling that any shopper will love.
The Mall Green Hills is anchored by international chain stores, such as Macy's Dillard's, and Nordstrom. It also boasts several fashion retailers, independent stores, brands shop, and local retailers. At the mall, you can shop for the latest fashion, original Nashville-inspired accessories, and other items. Popular stores worth visiting include:
| | | | |
| --- | --- | --- | --- |
| Aerie | Ann Taylor | Dillard's | GAP |
| J. Crew | Louis Vuitton | Macy's | Sephora |
| Vans | Zara | Tiffany & Co | Sunglass Hut |
Another reason for stopping by this luxurious destination is the sheer number of dining options. After shopping, you can stop at the following eateries to grab a snack, drink, or full meal.
Nordstrom Ebar
Nordstrom Grill
North Italian
The Cheese Cake Factory
Starbucks
Coco's Italian Market
Most travelers love this shopping destination because they get to shop for everything under one roof. Also, they get to enjoy great deals at their favorite stores and ample parking spaces. What's even interesting, the customer service team at the mall is kind and helpful.
If you're in Nashville and want to shop for the best trendy items, this mall is your ideal spot.
3. Hill Center Green Hills
Address: 4105 Hillsboro Pike, Nashville, TN 37215
Opening Hours: Sun to Fri: 7:00am–10:00pm
of Stores: 24
Founded in 1895, Hill Center Green Hills first started as a grocery store. Over time, it developed into an upscale mixed community center. Today, it's a recognized outdoor mall featuring nationally recognized brands, office spaces, and dining spots.
Its outdoor nature allows shoppers to enjoy the fresh air as they navigate from one retailer to another while shopping. In the mall, you'll find the following stores:
| | | | |
| --- | --- | --- | --- |
| Anthropologie | West Elm | Pottery Barn Kids | Franchesca's Collections |
| Lululemon Athletica | Vineyard Vines | Whole Foods | Hemline |
| Pottery Barn | Ovme Aesthetics | Kendra Scott | H. AUDREY |
One reason most visitors and Nashville residents visit this pet-friendly mall is to visit the high-end boutique owned by Hank Jr's: H. AUDREY. While you're there, don't forget to find yourself a beauty product at the popular The Cosmetic Market.
Dining is another thing this mall completely nailed. You can refuel your energy for shopping by enjoying a mouthwatering meal at one of these restaurants.
California Pizza Kitchen
Pei Wei
Shake Shack
Zoe's Kitchen
The best part is you can explore the mall before even visiting it. Visit their official site and take a virtual tour. Don't forget to shop in the local and regional stores, you will be surprised what you can find there.
4. The Arcade Nashville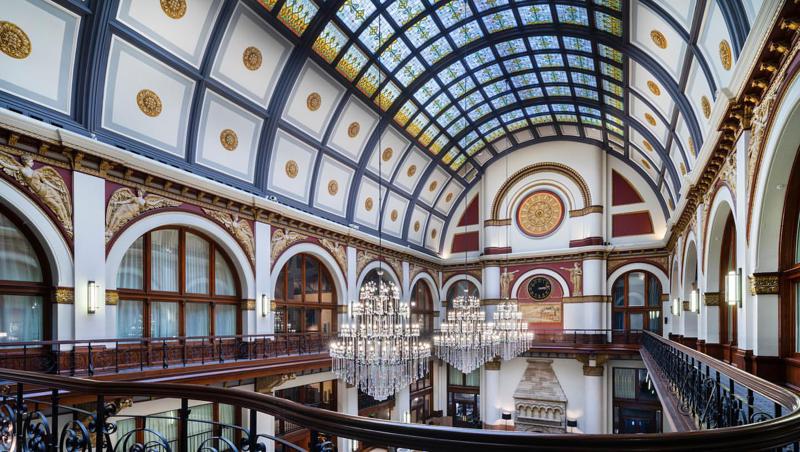 Address: 65 Arcade Nashville, TN 37216
Opening Hours: Mon to Friday: 6:00am–6:00pm, Sat: 8:00am–5:30pm, Sun: Closed
of Stores: 40+
The Arcade Nashville mall might not shine like Opry Mills or The Mall at Green Hills, but it deserves some credit. It is the oldest enclosed shopping destination in Nashville, dating back to the 1900s.
Located in the heart of the Nashville business district, this two-story mall was designed after the famous Galleria Vittorio Emanuele II arcade in Millan, Italy. It's a popular attraction that receives visitors from different regions year-round.
The mall boasts over 40 old-schooled merchants like jewelry stores, barbershops, hair salons, peanut shops, photography studios, and others. The first floor also hosts several dining options and personal service providers. On the upper floor, you will find artist workspaces and galleries. But at the moment, the upper floor is being renovated.
Because of the many retailers that have popped up in the last five years downtown, the Arcade Nashville has turned into one of the best downtown lunchtime spots for residents and tourists alike. Stop by the Arcade Grille and enjoy a nice meal before going home.
It's the perfect venue to get gifts for your artistic-minded family members or friends. On the first Saturday of every month, this shopping destination host an Art Crawl. During this event, artists, art organizations, sponsors, and the community come together to support and bring about awareness for art. This is the perfect time to visit the mall.
The best part is the Arcade Nashville neighbors several interesting spots. After shopping, stop by the Tennessee Performing Arts Center and catch a show. Alternatively, you can stop by Puckett's Grocery and Restaurant for a delightful meal and also entertainment.
5. L&L Market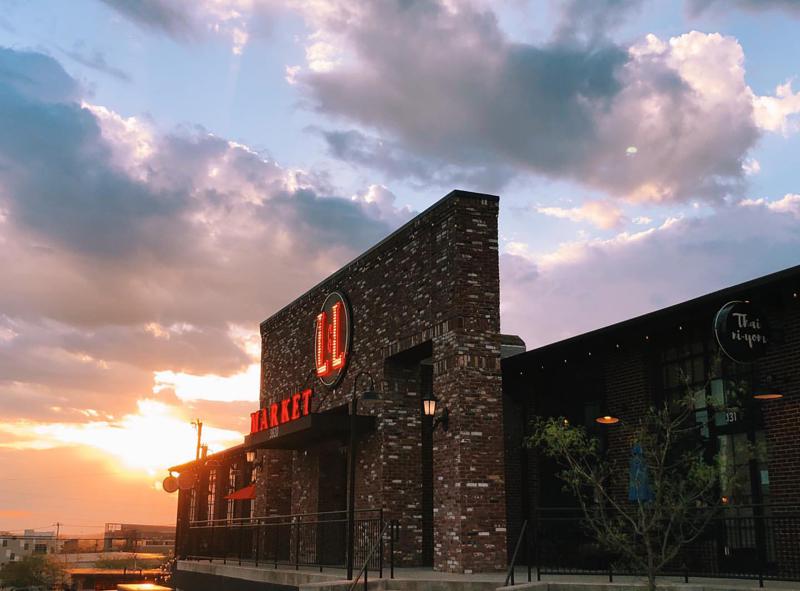 Address: 3820 Charlotte Ave, Nashville, TN 37206
Opening Hours: Always Open
of Stores: 20+
L&L market is not just a shopping center, but also an entertainment, dining, and wellness destination. With over 20 merchants, the stores offer you everything from tasty milkshakes to clothing.
Popular businesses in the mall include:
| | | | |
| --- | --- | --- | --- |
| Living with Landy Boutique | Five Daughters Bakery | Honest Coffee Roasters | Alchemist Salon |
| Katy Thomas Photography | Made in TN | Masaya & Co | City Lash & Beauty |
| Savory Spice | Happily Grey | Imago Dei | The Barefoot Cottage |
It might not feature nationally recognized high-end retailers or brand stores, but don't let that kill your shopping spirit. At the mall, there are many world-class independent and local retailers offering everything from clothing to homeware. While there, make sure you visit the following stores.
Amelia's Flower Shop
The Barefoot Cottage
Daphne
Masaya Company
After shopping, don't forget to stop by the various restaurants and eateries at the mall. Stop by Gracie's Milkshake Bar for satisfying gourmet milkshakes. Alternatively, you can sit at Thai Ni You and enjoy savory Thai cuisines. Other places to grab a snack, meal, or drinks include:
Honest Coffee Roaster for amazing coffee
Marigold Gourmet Popcorn
Brewing CO.
Savory Spice
Taco Chela
Additionally, the building houses many wellness and fitness spots, including Bend and Zen Hot Yoga and CycleBar. Do you want your hair fixed or nails done? Worry not! Alchemist Salon, S+K in Nash, and City Last & Beauty got you covered. Another thing, there are enough parking spots for everyone.
6. Plaza Mariachi Music City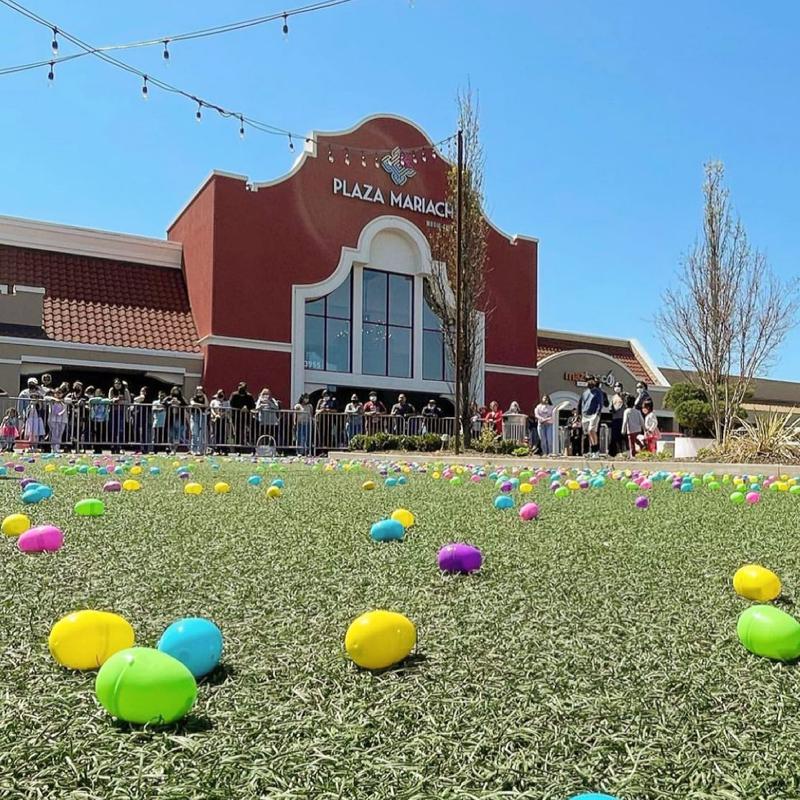 Address: 3955 Nolensville Pike, Nashville, TN 37211
Opening Hours: Mon: Closed, Tue to Thur: 11:00am–9:00pm, Fri to Sat: 11:00am–12:00pm, Sun: 11:00am–8:00pm
of Stores: 35+
Have you ever wanted to dive into Mexican culture but never got the chance? Well, Plaza Mariachi Music City can make your dream come true. Upon entering, you will get transported to the streets of Mexico.
The food, music, and culture will make you feel like a Mexican already. Situated 10 minutes away from Nashville downtown, the mall brings the Mexican vibe through live entertainment, unique cuisines, art, and state-of-the-art services. Learn about Mexican history by visiting various interactive kiosks at the mall.
If you're with your kids, drop them at Tito's Playland Arcade to keep them occupied as you shop. You can also take them to Retrocade, where they can enjoy classic video games from the 80s and 90s.
If you're after trendy apparel, then you're better off shopping at Opry Mills. But if you want unique clothing, homeware, jewelry, and others, Plaza Mariachi Music City is the place to be. Here you'll discover apparel and jewelry from Mexico, Central, and South America.
The destination also has some amazing food choices. For tasty meals, head to the Food Hall. At Taqueria Hidalgo you'll find authentic Mexican cuisines. Other dining options include:
Tres Gauchos–Enjoy award-winning steaks
WIN- You will find heartwarming Bubble Tea
Z-Bar- Grab a cocktail, cold beer, or Michelada
Kouzinas Café – Delicious Mediterranean Gyros
You'll be happy to know you will leave this center entertained. Every week, the mall hosts live music. If you've visited the mall on Saturday Afternoon, make an effort to catch Latin Vibes. Every Friday, Saturday, and Sunday, you'll enjoy live acrobatic performances. If you hang around for a few weeks, you might even leave the center as a pro salsa dancer.
Bottom Line
Nashville in Tennessee is well known for its music scene. What people don't know is that it boasts many amazing malls, outlets, and shopping districts. Some of the mentioned malls like Opry Mills and The Mall at Green Hills, host luxury and popular retailers.
Drown yourself in Nashville Music culture, and get yourself some souvenirs. Don't forget to try out unique dishes and drinks from the city. That's all that we have for today. We hope these shopping destinations will meet your shopping, dining, and entertainment needs. Thank you for stopping by, and best of luck!
FAQs
Which Mall Is the Biggest In Nashville?
Opry Mills tops the list of the biggest mall in Nashville, spanning 1,154,000 square feet. At the moment, there are over 180 popular retailers offering shoppers a variety of products, from home décor to sportswear. It also has a food court, several restaurants, and an array of eateries.
Which Shopping Mall in Nashville Is the Best for Kids and Families?
If you want a place where your kids can have fun, consider stopping at Plaza Mariachi Music City. The center host live events, live performance, and salsa dances. It also has a wide variety of entertainment spots for kids, including the 80s and 90s video games, slides, and more.
Which Mall in Nashville Is Budget-Friendly?
At Opry Mills Outlets, you will enjoy a variety of great deals and discounts on various items at your favorite retail stores.