What comes to your mind when Japan is mentioned? Anime and Manga, right?
Japan has made very many contributions to the world. But perhaps the most important is the establishment of modern Anime in 1956. However, today we won't dive into the history of Japan. Instead, we will focus on anime stores in Houston.
It's no secret, people, both young and old in Houston, Texas, love anime and manga. As a fact, every year, thousands upon thousands of anime products get sold in this stunning city. Also, the anime industry in this region is huge, and most modern anime voice actors come or live in Houston and some regions of Texas. So, it makes sense that there are numerous anime stores in the city.
If you're visiting Houston and wish to purchase quality and authentic anime products, then you've come to the right place. Here we've listed the best anime stores in Houston. Join us as we review each store to help you find the one that will meet your needs.
Top Anime Stores in Houston
1. Bedrock City Comic Company
Location: 6516 Westheimer, Suite D Houston, TX, US 77057
Opening Hours: Mon to Sat: 10:00am–7:00pm, Sun: 12:00am–7:00pm
Bedrock City Comic Company is the ultimate destination for anime and comic book lovers. Opened in 1960, it has grown into Houston's premier comic store. It's known for being well-organized and clean and offers tourists a great shopping experience.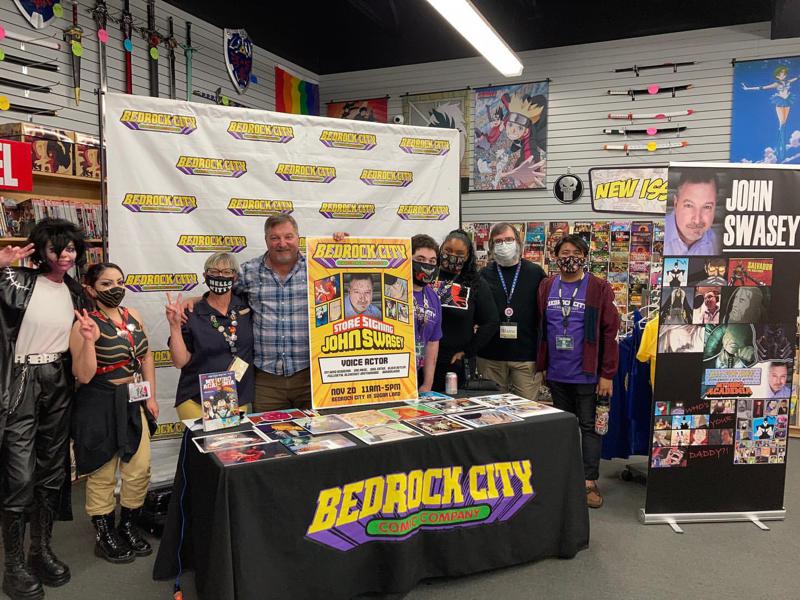 With 6 locations in Houston, the comic store is very accessible to all anime lovers. You will love the store's mind-blowing collection of anime products, including comic books, apparel, action figures, limited edition figurines, etc. All products are well-priced.
Besides that, the stores offer shoppers movie posters, pop culture specialties, and trading cards. They also host signings by industry giants several times a year.
At the stores, you will get to enjoy ample parking space for your bike or car. Also, the Bedrock City staff are kind, helpful, and well-versed in all matter's anime.
2. Japan House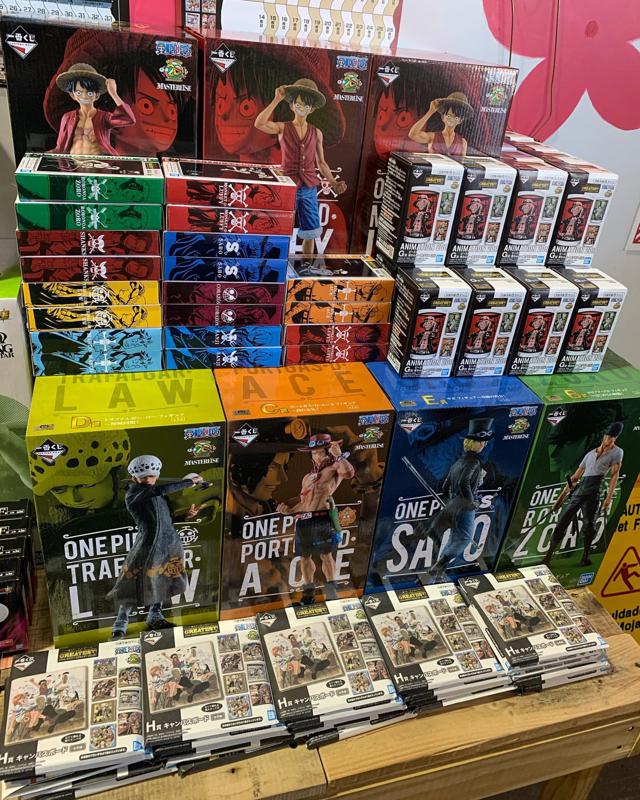 Location: 1801 S Dairy Ashford Rd #121 Houston, TX, US 77077
Opening Hours: Mon to Sun: 10:00am–8:00pm
Located on the Street of South Dairy Ashford Road, Japan House is a great store for anime goods. The shop also sells a wide variety of Japanese goods, such as houseware, beauty products, otaku goods, and more.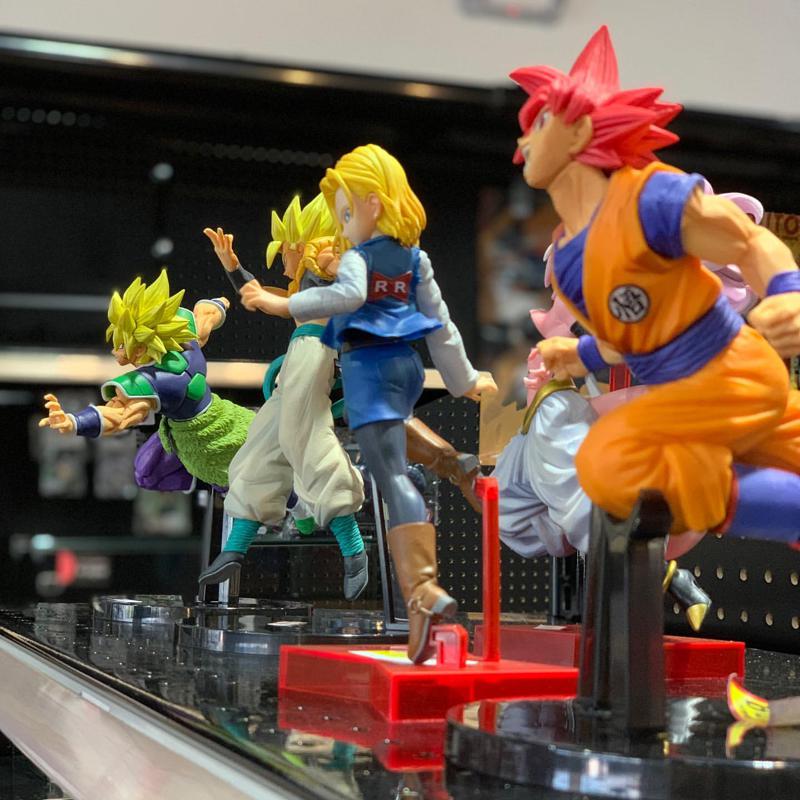 They import their products directly from Japan. That explains why some of their anime figurines and trinkets are expensive. But don't let this kill your spirit. There's everything for everyone, regardless of their budget. The stores boast a comprehensive list of goods of several anime characters, from classical to recent. It's also among the top US anime stores with a huge collection of Gunpla.
But before visiting the stores, it's wise to remember they have several rules. You're not allowed to carry any food, drinks, purses, or backpacks. More importantly, you're not allowed to take photos or videos.
Most customers complained about how the employees kept following them around. It made them feel uncomfortable shopping.
3. Paradise Anime Inc.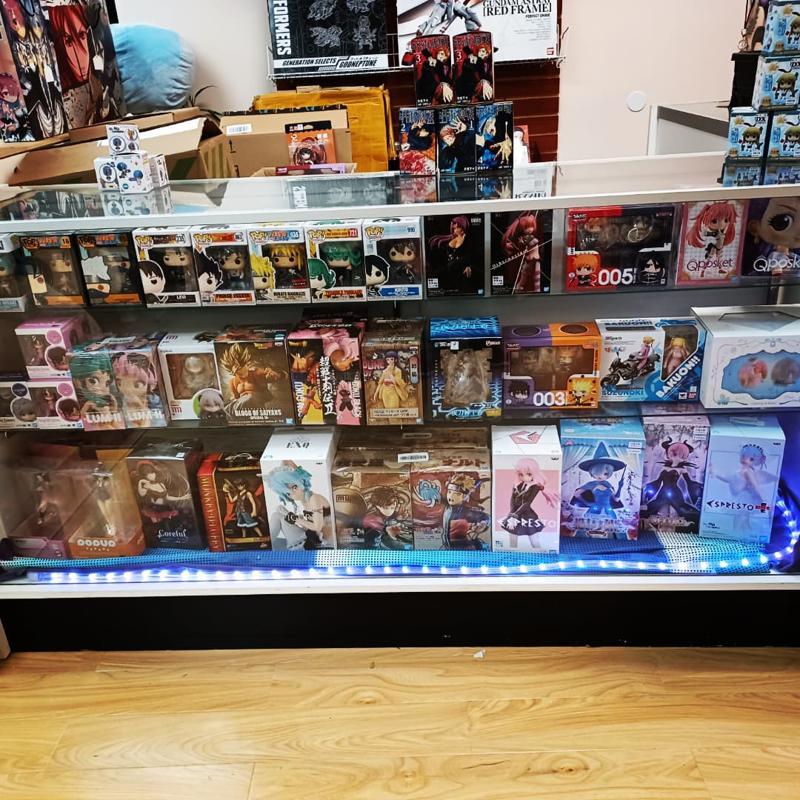 Location: 9110 Jones Road Houston, TX, UUS 77065
Opening Hours: Mon: Closed, Tue to Sat: 11:00am–10:00pm, Sun: 12:30pm–8:00pm
True to its name, Paradise Anime Inc. is perhaps the best anime store in Houston. The store provides shoppers with an endless list of anime products, and they update their inventory frequently. Whether you want anime t-shirts, bags, jerseys, plushies, keychains, or movies, the store got you covered. They even have classical Japanese Kimonos.
It got launched as a retail store in 2006, but it closed down in 2009. Later, it was re-opened, and now it features karaoke rooms and a mini-café for those guys who want to grab a snack after shopping. The store holds many fun activities and events.
According to customers, the owner is kind and loves anime. Also, the products are reasonably priced, and the store is spacious and well-arranged. So, if you're in Houston and looking for a place to shop and chill with your friends or family, Paradise Anime Inc. is your best bet.
4. Misfit Toys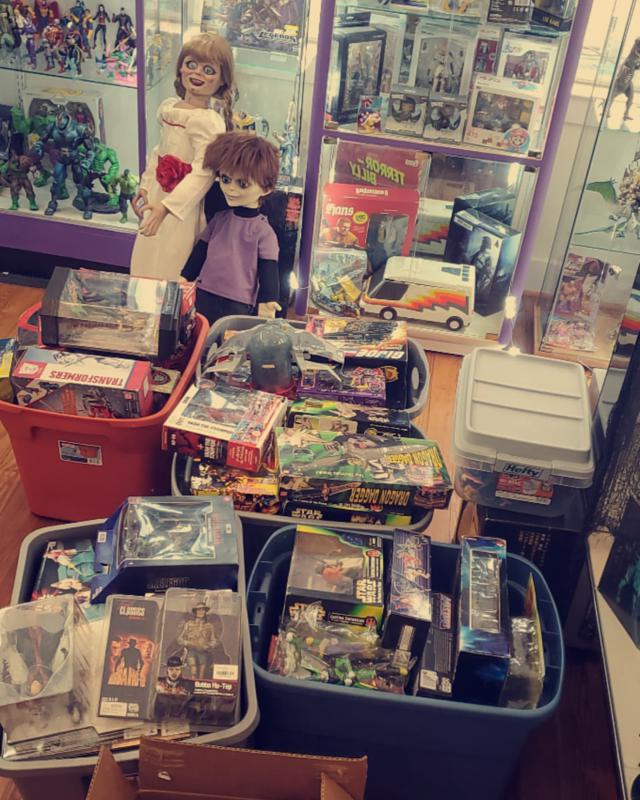 Location: 1802 Yale St. Houston, TX, US 77008
Opening Hours: Mon to Sat: 10:00am–6:00pm, Sun: 11:00am–5:00pm
Misfits Toys is a cute store that has every kind of toy you can think of. If you're after vintage toys or collectibles, chances you will find what you need here. You might even walk away with a hidden gem.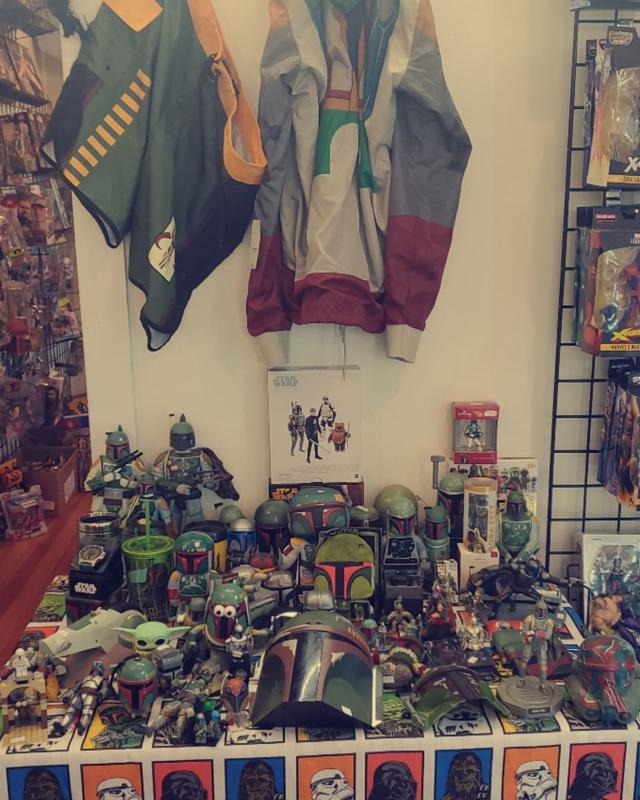 The store buys toys to help customers make a few extra bucks. Once you've entered the stores, you'll remember the fun you had during your childhood. Besides horror and vintage toys, they also have an impressive collection of anime products, such as plushies and action figures.
The pricing is fair, and the employees are very knowledgeable and happy to help you select an anime product. They can even tell you the origin of the various toys at the store.
If you're in the area, don't forget to stop by the store. They regularly update their collection so you can always find what you're looking for. Furthermore, they hold several annual events where people can discuss horror movies, anime films, toys, and more.
5. Moshi Moshi Gifts & Stationery Co.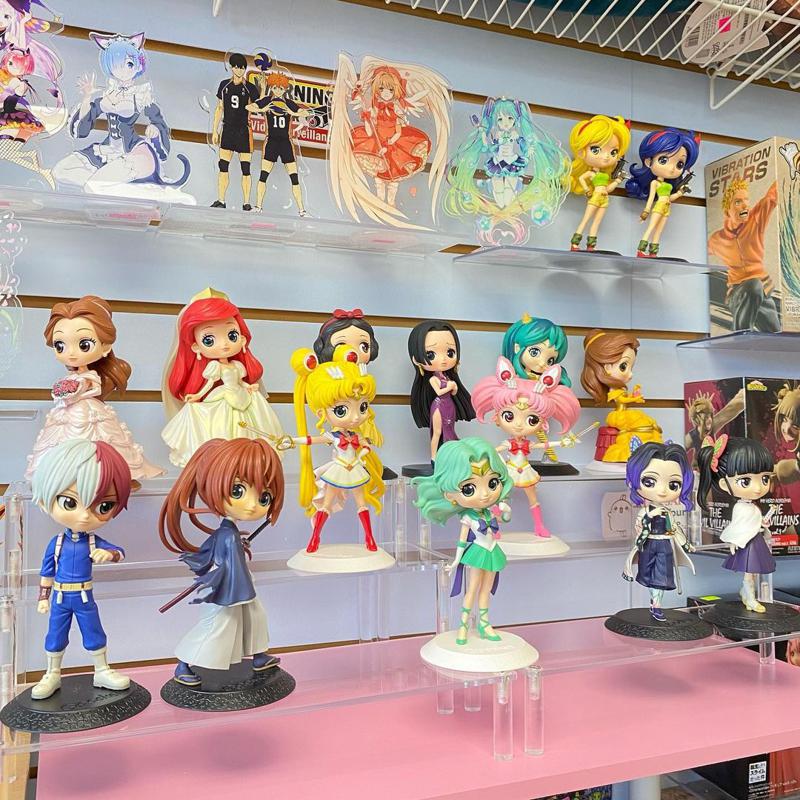 Location: 9188-T Bellaire Blvd Houston, TX, US 77036,
Opening Hours: Mon to Wed: Closed, Thur to Sun: 12:00 pm–6:00 pm
Established in 1995, Moshi Moshi Gifts & Stationery Co. is a one-stop store for anime fans in Houston. At the store, you'll find kawaii gifts, anime figures, lanyards, plushies, keychains, etc. Their inventory is so diverse that you might wish to spend the whole day shopping.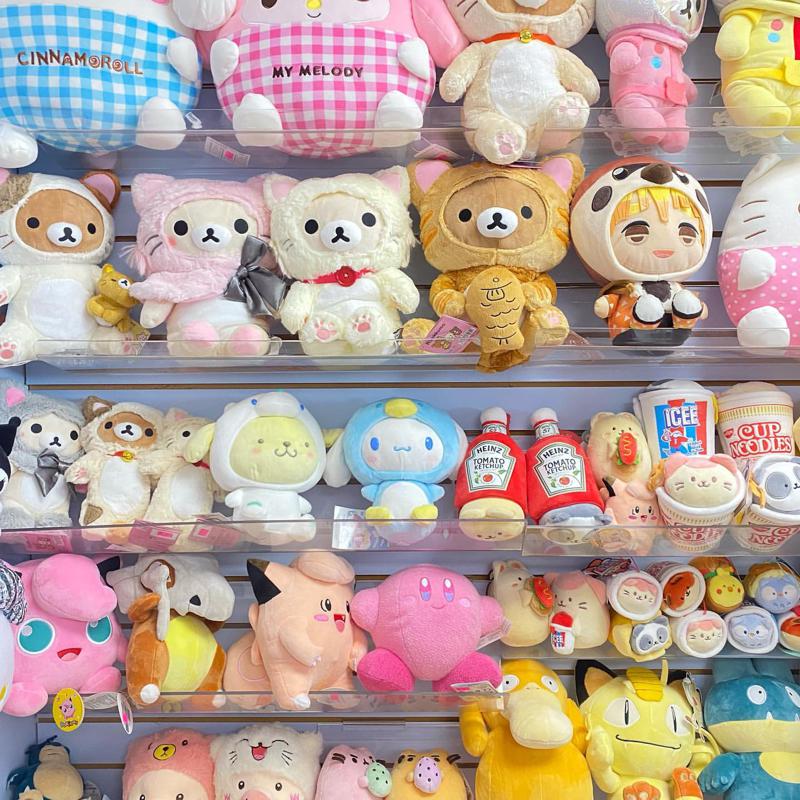 Their anime merchandise quality – particularly plush toys–matches their prices. Whether or not you're on a budget, there's something for you at the Moshi Moshi Gifts store. Just like Paradise Anime Inc., they have friendly employees well-versed in the anime world. They will gladly answer questions you have and address your concerns.
Besides amazing toys, they boast fancy stationery, including erasers, stickers, pencils, washi tapes, pens, etc. You will also discover great series, movies, and even silverware.
What makes this anime store stand out from the rest is its dollar scheme. Every time you spend $10, you get to save $1, which you can later use to purchase products at the shop. Shoppers also get to enjoy private parking spaces.
You can follow Moshi Moshi gift store on Facebook and Instagram to get updates on new items.
6. Third Planet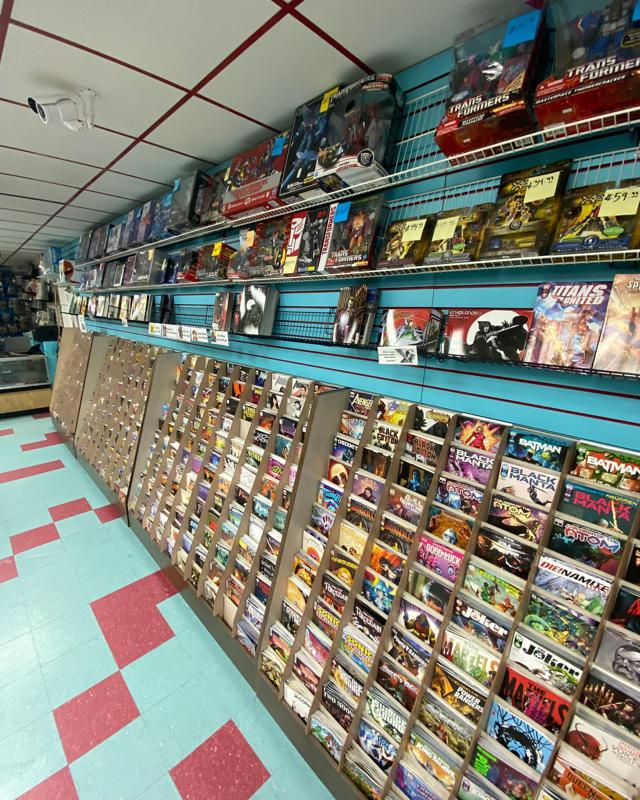 Location: 2718 Southwest Fwy Houston, TX, US 77098
Opening Hours: Mon to Sat: 10:00am–5:00pm, Sun: 12:00pm–6:00pm
With over 45 years of selling comic books, Third Planet is among the most popular fantasy and science-fiction destinations in Houston. The store runs all week, allowing shoppers to have the chance of getting their best comic books, action figures, and other products anytime.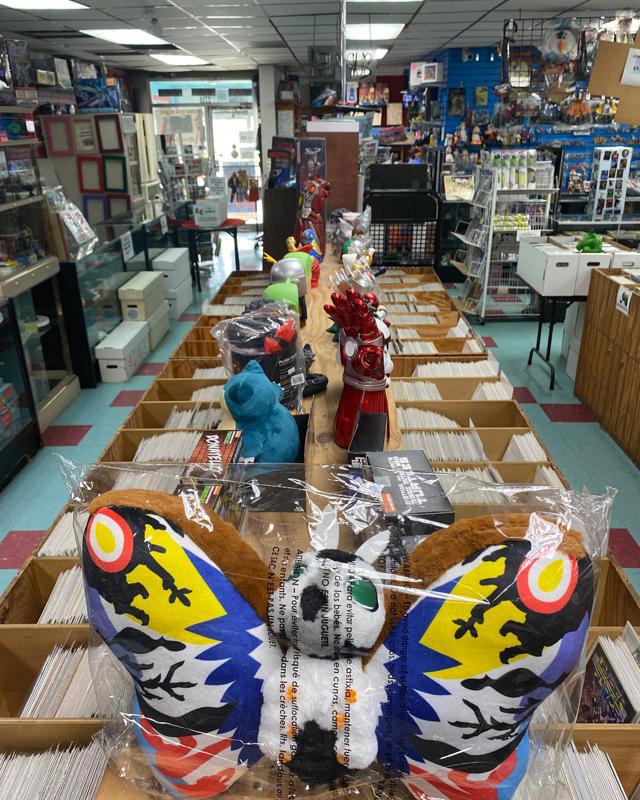 They boast a wide array of merchandise and anime products, including anime comics, limited edition figurines, action figures, and graphic books. The interesting thing is you can pre-order a new product before it hits the market. This way, you'll always be the first one to have the merchandise.
As far as parking goes, you will enjoy private parking for your car. There are also parking spaces for bikes. And if you're after unique items or collectibles, Third Planet will meet your needs. The store has the rarest collection of items that you can't find somewhere else.
However, some customers find the items slightly overpriced. But their customer service is top class. Another thing that amazed us is, Third Planet owns their manga collection. It's truly a home for anime fans and collectors. If you're searching for something for your loved one or kid, don't forget to stop by the store.
7. Big Blue Whale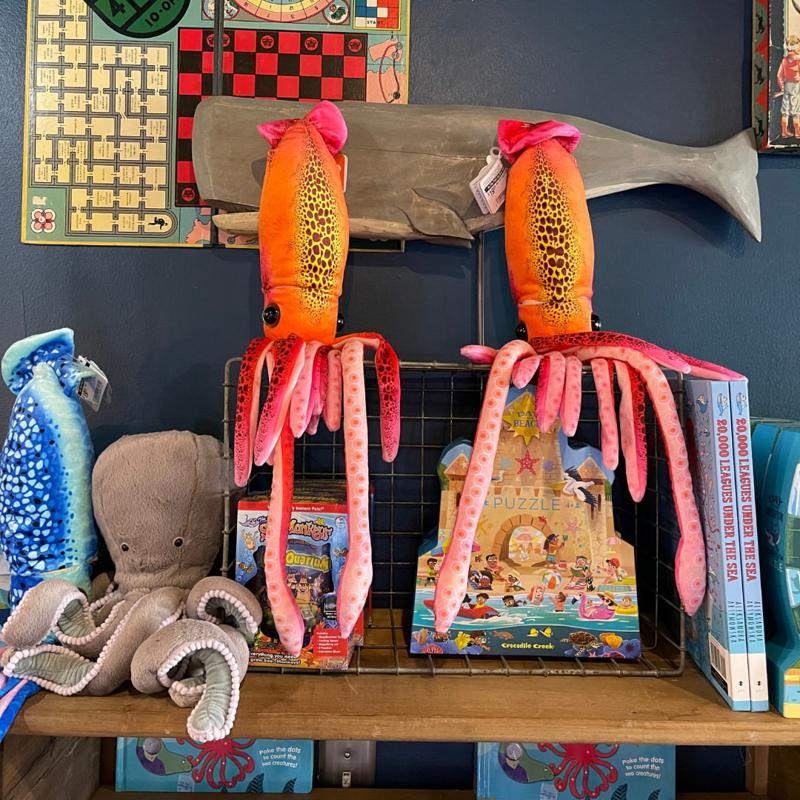 Location: 237 W 19th St Houston, TX, US 77008
Opening Hours: Mon: Closed, Tue to Sat: 10:00am–6:00pm, Sun: 12:00pm–5:00pm
Big Blue Whale is a great store to shop for a toy for yourself, your kids, or your friends. Located in the heart of Houston, the stores feature a wide collection of classic and new toys as well as gifts. There are also several vintage products, handmade toys, etc. In the education section, you will discover cute stationery and awesome books for babies and adults alike.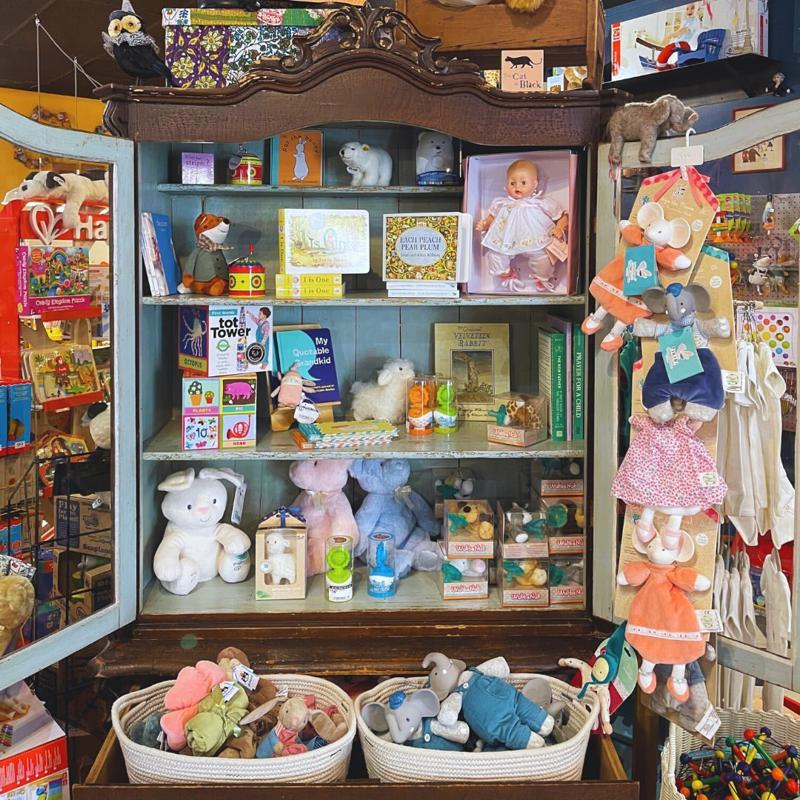 The store also has an excellent selection of anime items and merch ideal for individuals of every age, from kids to teens and even adults. Once you've entered the shop, you might not want to leave. The sweet background music and super nice and helpful staff will charm you.
If you don't have time to visit the store, you can visit their official website and order a toy of your choosing.
8. BoxLunch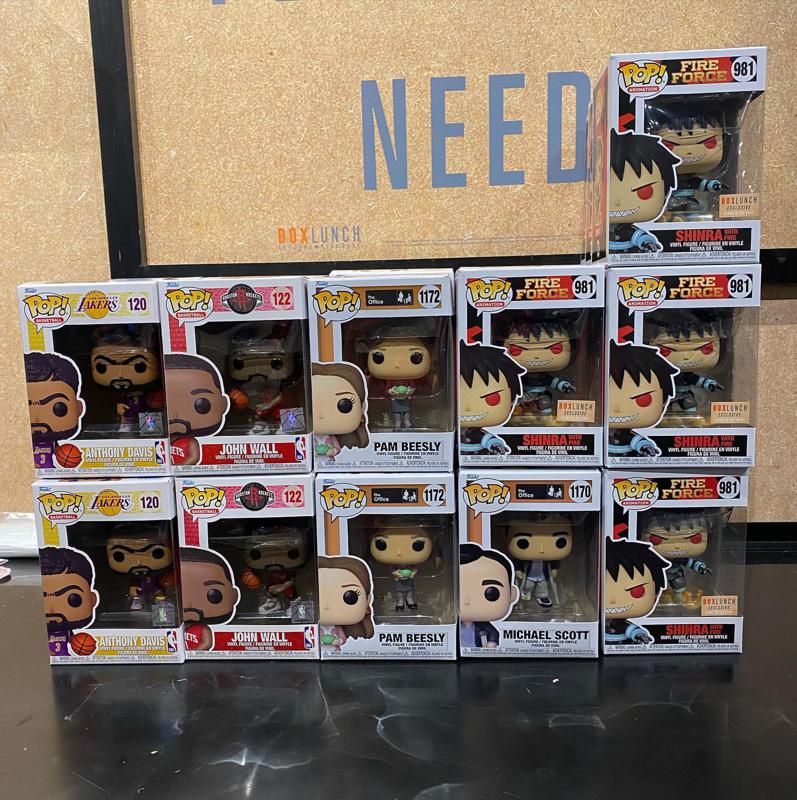 Location: 5145 W. Alabama St. Space #6020 Houston, TX, 77056
Opening Hours: Mon to Sat: 10:00am–9:00pm, Sun 11:00am–7:00pm
BoxLunch at Houston Galleria is another great place to shop for anime items and merch. It's a local chain specialty retailer that takes shopping to a whole new level. The retailer allows shoppers to give back while getting amazing gifts in return.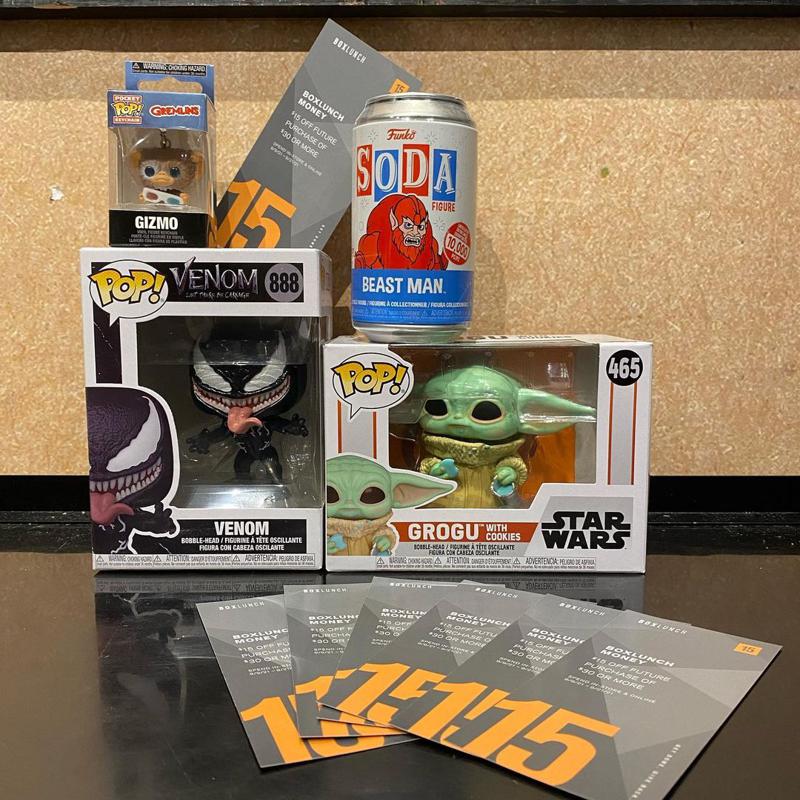 BoxLunch presents you with a large selection of pop culture items and merch. Every time you spend $10 at the store buying an anime-themed gift, apparel, action figure, or accessories, you're helping the store to feed someone who needs a meal. So, you will be spending money for a good cause.
Looking for the best anime gift for yourself or a friend, this store has your back. Here, you'll get Naruto-themed apparel, Lilo & Stitch make-up brush, Avatar earbuds case, Naruto action figure, etc. The stores also offer shoppers great deals and discounts.
9. Hot Topic Store Houston Galleria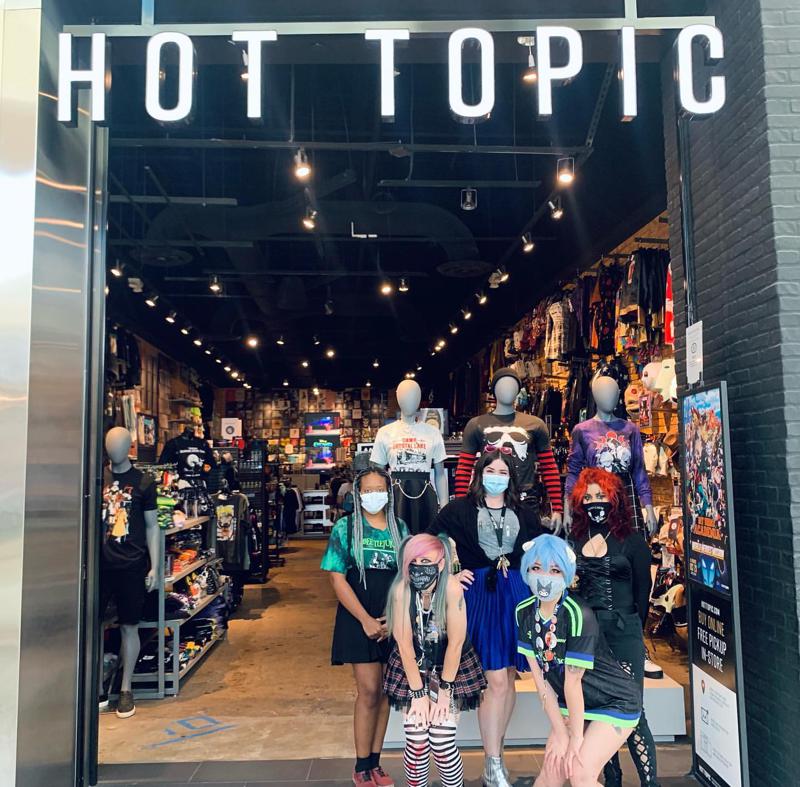 Location: 5135 W. Alabama St. Space #6030 Houston, TX, 77056
Opening Hours: Mon to Sat: 10:00am–9:00pm, Sun: 11:00am–7:00pm
Like BoxLunch, Hot Topic is a local chain specialty store offering the best in music and pop-culture-themed apparel and accessories. The first Hot Topic store was opened in 1989. Since then, the retailer has grown into a country-wide chain store.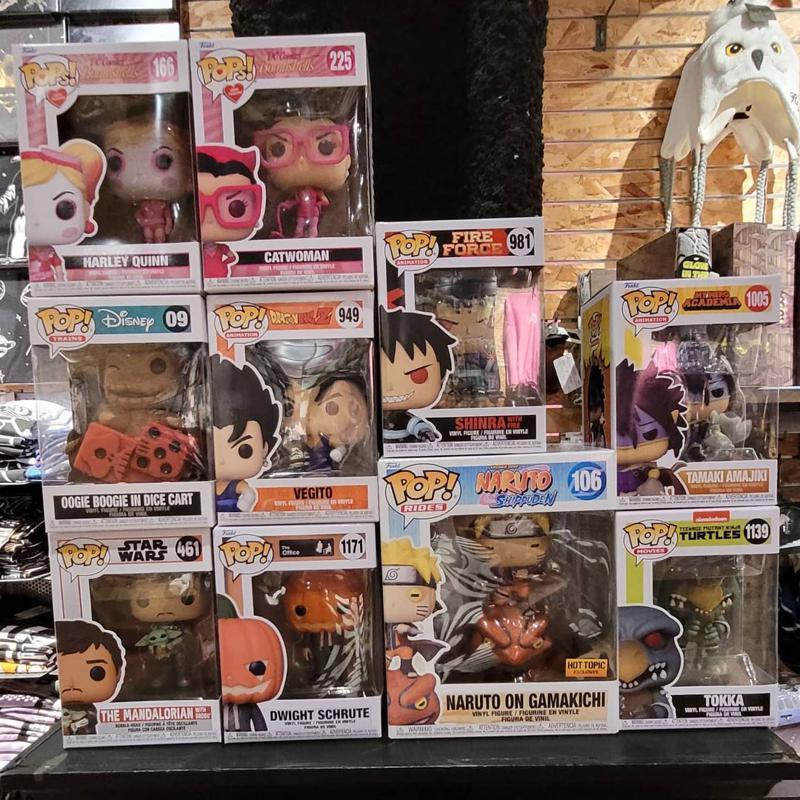 In Houston, you will find the store at Houston Galleria. At this store, you'll find the latest anime -merch from Invader Zim hoodies to Naruto top tanks and more. There is everything for everyone, whether you're a teen or an adult. Select your best Funko figures or anime action figures as you continue to explore the items in the store.
But if you don't want to bump into people in the mall, especially during the holiday. You can make an order online and schedule a curbside pickup.
10. Kinokuniya Katy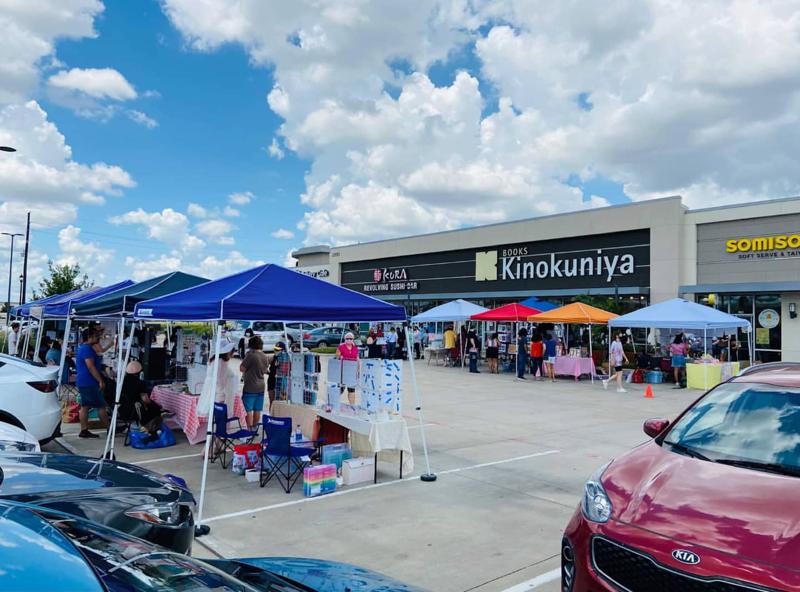 Location: Grand Cir Blvd Katy, TX, US 77450
Opening Hours: Mon to Sun: 11:30 am–8:00 pm
Our list will not be complete without mentioning Kinokuniya Katy. It's perhaps the best Japanese-based bookstore. Based on Katy, this retailer welcomes individuals of all ages and interests to shop.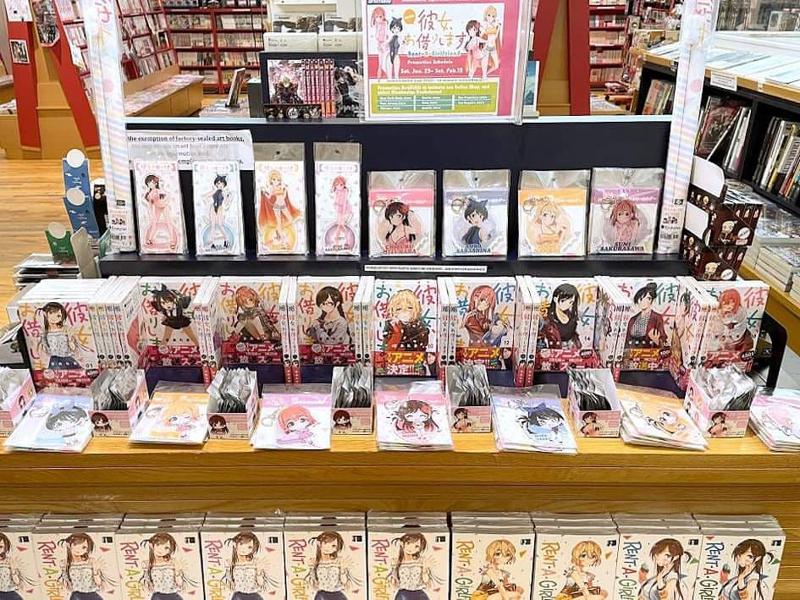 Besides beloved Asian books, the stores boast an impressive selection of anime products, manga, DVDs, and stationery. You'll also find unique products, some locally made and others imported from Japan.
Many customers applauded the store for being clean, though some felt like the books were overpriced. The store can also use more space because when it gets crowded it supper hard to move around. Nevertheless, Kinokuniya Katy sells quality products that will meet all your needs.
Bottom Line
The anime craze in Houston fueled the establishment of amazing anime stores, some of which we've mentioned above. In these stores, shoppers get to enjoy high-quality, well-priced anime and manga products. When you visit the mentioned stores, you can walk away with anime comic books, anime apparel, action figure, limited edition figurines, unique gems, etc.
What's even better, you will receive an exceptional customer experience. Most of the employees at these anime stores are kind and friendly. They will help you select the right anime gift for your friends or kids. They're always ready to address any concerns you might have or answer your questions. If you're in Houston, don't forget to stop by one of these stores.
Anime Stores In Houston: FAQs
Where Can I Buy Anime Figures in Houston?
There are several stores in Houston that sell anime apparel, comic books, plushies, movies, keychains, and more. They include:
Paradise Anime Inc.
Bedrock City Comic Company
Misfits Toys
Moshi Moshi Gifts & Stationery Co.
Third Planet
Which Is the Best Anime Store in Houston, TX?
Houston has many great Anime stores, but perhaps the best is Bedrock City Comic Company.
Which Anime Store in Houston is The Most Budget-Friendly?
If you wish to shop for anime-themed products but strap for cash, stop by Paradise Anime Inc or Bedrock City Comic.