The iPhone displays are generally amazing and crisp but they are small especially when you want to look at your favorite videos or photos. The best iPhone projector has to be able to project the content on your phone on a larger surface without reducing its clarity or quality.
In the case of iPhone projectors, you will want to focus more on small/mini projectors since they are more portable and fit for your usage. Most people who want an iPhone projector will require one that can be easily put in confined spaces and also moved around for convenience. This is an ideal device for presentations at work and sharing memories with loved ones.
Mini projectors are also great for streaming content at home where you do not have a huge screen or enough budget to get a big television. We will take a look at the best iPhone projectors of 2022 with a keen concentration on connectivity, portability, budget-friendliness, battery life, and resolution.
Best iPhone Projectors: Quick Summary
What to consider: An iPhone Projector Buying Guide
1. Seamless iPhone Connectivity and compatibility
Most portable mini projectors will connect to your iPhone via a direct cable connection. This is usually via a HDMI/VGA cable that is connected to the iPhone with the help of a Digital AV or VGA adapter. The adapter is connected to the charging port while the projector's HDMI or VGA cable is attached to the adapter.
It is crucial that you read the projector's product description to ensure you get the right cables for connection.
Other projectors use both wired and wireless connection using Wi-Fi or Apple Airplay. Wireless connection is preferable in case you want a seamless and easier connection. This will give you flexibility when it comes to operation distance and portability.
2. Battery life
Many mini projectors use a built-in rechargeable battery as the power source rather than a power cable that draws power from an outlet. A projector with a huge battery life is better for long watch times and a bigger life span.
You may choose to purchase a mini projector that uses a power cable in case you plan to use it at home or on a fixed station. This is the case for ceiling and tripod mounted projectors that are used in conferences and huge presentation rooms.
3. Portability
Portability is the order of the day when we talk about mini projectors. These small devices are designed to be carried around and placed in small spaces. The downside to this amazing portability is that you lose some features such as resolution, brightness, and battery life. The more portable the projector the less powerful it is.
However, the more portable the projector the less expensive it is. Mini projectors that are popular in the market today will cost you between $58 and $300. This is cost-friendly considering bigger projectors go for $800 plus.
4. Brightness
The brightness of iPhone projectors is measured in ANSI lumens. You should get a mini projector that is rated above 1000 lumens in case you are going to use it in a bright room. However, iPhone projectors are meant to be used in small rooms that are dimly lit or completely dark.
An iPhone projector with as little as 50 ANSI lumens will be sufficient for such a space and won't make images less visible unless you take it to a bright environment.
5. Resolution
The resolution will affect how good or bad the picture quality seems. iPhone projectors have resolutions between 480p and full HD 1080p. Some small projectors feature 4K resolutions but they are more expensive and harder to come by. With such a small screen size, the mini projectors do a good job at providing clarity with the average resolutions.
6. Speakers
iPhone projectors are small which means their built-in speaker systems tend to be less powerful than any home theatre/sound system. The good part is that most projectors have an option for you to connect your own home theatre/speaker system to the unit.
In case you do not have a separate sound system, pick an iPhone projector with a great stereo speaker system or other forms of enhanced audio for a better listening experience.
7. User-friendly controls
User-friendly controls include features like remote control, screen mirroring, and an Android interface. Different projectors include different user-friendly features that make it easy for you to control the device whether remotely or directly.
Top 7 iPhone Projectors 2022
1. AuKing Mini Projector: Best Overall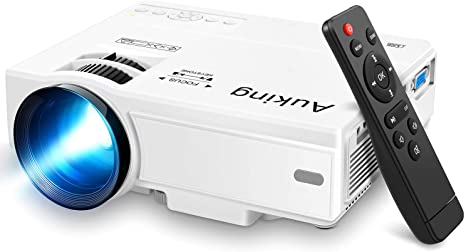 Features:
35-172 inches projection display size
1080p resolution
Multiple device connection
2600 Lumen
Mounting type: Table top
Lamp life: 55,000 hours
Dimensions: 7.7 x 6 x 2.7 inches
The AuKing mini projector is a best seller iPhone and mini projector. It is feature packed with tons of functions at a low price of just $89.99. At 2600 Lumen, you will not have any problem with image brightness and picture quality in your home. Moreover, the built-in speaker has superior stereo sound that brings balance and clarity to the sound.
It comes with a plug and play feature that makes connectivity easier with the ability of connecting to several devices; TV stick, Laptop, DVD player, PS3, Xbox, TV box, PC, and television. This is done through its numerous ports that include a HDMI port, VGA jack, and AV input. It connects to the iPhone using a lightning to HDMI adapter which bought separately.
Pros:
Affordable considering the many features.
Has a contrast ratio of 2000:1
Supports 1080p (native resolution is 800 x 480)
Cons:
Has no built-in rechargeable battery
Lacks wireless connectivity
2. AKASO Mini Projector: Best Value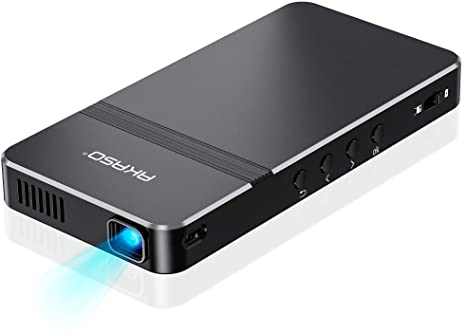 Features:
150 inches projection display size
1080p resolution support (native resolution is 720 by 480)
50 ANSI Lumen
Advanced DLP technology
Wired and wireless connection
Built-in rechargeable battery
Remote control
Mounting type: ceiling mount
Lamp life: 30,000 hours
Compatible with USB, AV, HDMI, and Micro SD
The AKASO mini projector has a built-in battery that lasts about 2 hours without needing to be charged. This is a huge plus since it can be easily carried around unlike the ELEPHAS W13, making it our ideal choice for those looking for the best smallest iPhone projector.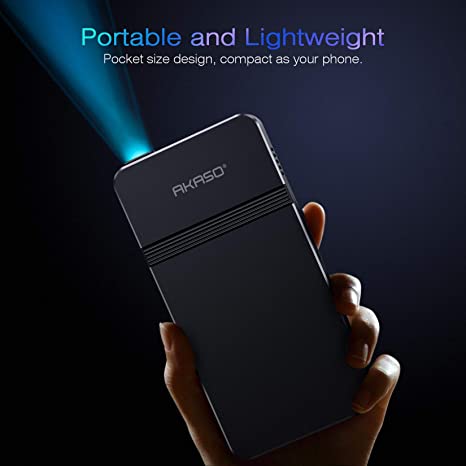 It features advanced DLP technology that is superior to LCD technology thereby providing more accurate and uniform digital image reproduction. Additionally, the projector features both wireless and wired connection for seamless connectivity as you enjoy your entertainment via the stereo speakers
Pros:
Lightweight at just 0.46 pounds and dimensions of 5.51 x 2.71 x 0.62 inches
Has a rechargeable battery
Features advanced DLP technology
Its lightweight and very portable
Cons:
Low projection display size
Cannot be used in a room with any amount of light
3. GooDee Portable Mini Projector: Best For Kids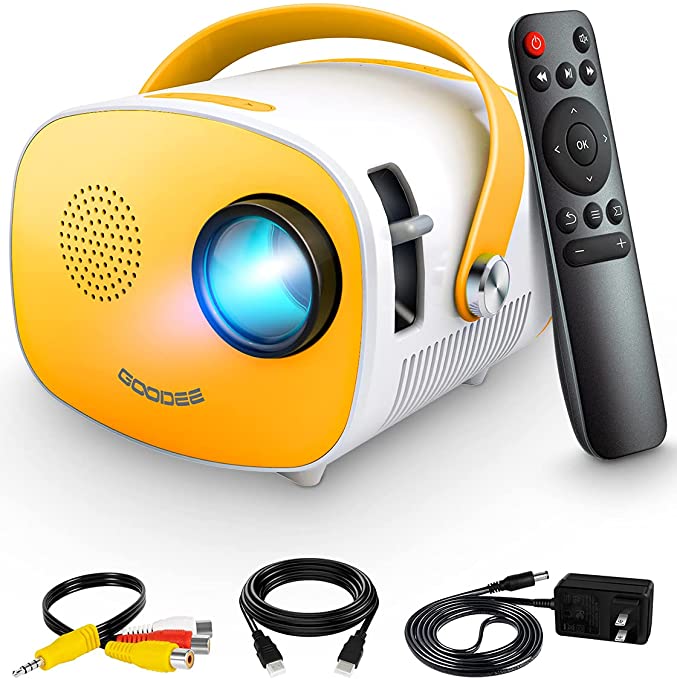 Features:
70 -110 inches projection display size (can reach 180 inches maximum)
1080p resolution (native resolution is 854 x 480)
2500 Lux
Compatible with HDMI, USB, Micro SD, AV, Micro USB, Audio interface (3.5 mm)
Remote control
GooDee is an ultra-portable mini projector that weighs 15.8 oz and measures 5.31 x 4.53 x 4.13 inches. This device is specifically for smartphones but can also support other devices like TV sticks, gaming consoles, Chromecast, PC, and external storage devices.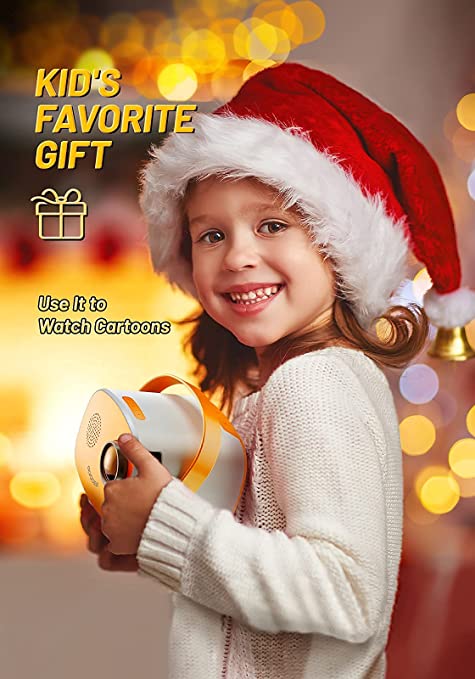 This device does not include a built-in battery but instead uses a power cable for power. There is an included speaker system which is sufficient for small spaces especially for entertaining kids.
Pros:
Ideal for children due to its size and dainty design
Versatile connectivity
Ultra-portable
Cons:
It is specifically made for iPhone and Android smartphones. Other devices may have compatibility issues.
Does not include a built-in rechargeable battery
4. Kodak Ultra Mini Portable Projector: Smallest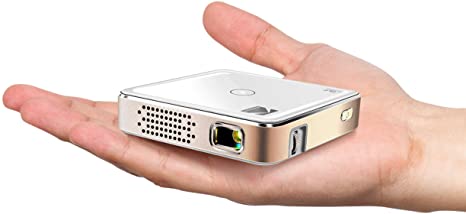 Features:
100 inches projection display size
1080p resolution
Built-in rechargeable battery
60 ANSI Lumen
Advanced DLP technology
Mounting type: Table top and tripod
Connectivity via USB/HDMI/Micro SD cards
The Kodak Ultra-Mini portable projector is the smallest and most portable projector in our list at 150 grams and measuring just 3.1 x 3.1 x 0.79 inches. It is so small that it can fit in the palm of your hands. Despite its small size, the projector still features excellent image projection with its 1080p support (native support is 640 x 360 resolution) and DLP technology.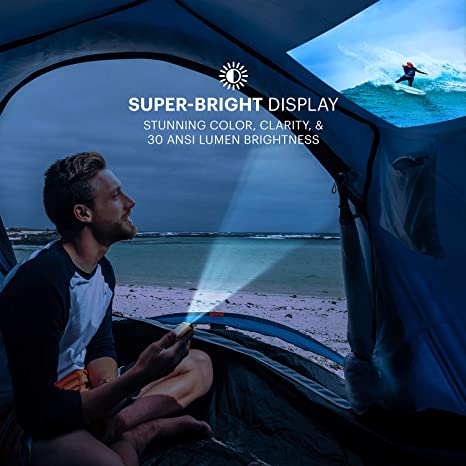 The integrated speaker is not a stereo or HIFI system but is decent for small rooms with little noise interference. The onboard controls are intuitive and easy to use making it an ideal choice for a portable entertainment system. This projector is ideal for those looking to buy a very compact iPhone projector that can be easily carried around and do the job.
Pros:
Play time of up to 2 hours
Uses advanced DLP technology
Compact and very portable
Cons:
Projection display size is smaller than the competition
No wireless connectivity
5. ViewSonic M1 Mini Plus Portable LED Projector With Wi-Fi: Most Feature-packed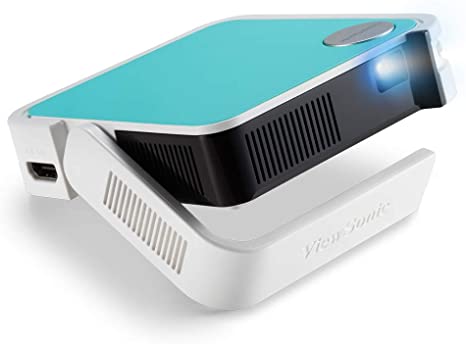 Features:
80 inches projection display size
LED lamp technology
JBL 2W speakers
Wired and wireless connection
Bluetooth enabled
Screen mirroring
Stream Netflix with Dongle
654 x 480p resolution
120 Lumen
Built-in battery
Smart stand
Lamp life: 30,000 hours
The ViewSonic M1 Mini Plus is the most feature packed iPhone projector in our list. This projector includes an 8GB built-in storage and impressive JBL 2W speakers that enhance the audio experience. Despite the low resolution, the iPhone projector is able to reproduce cinematic images using the LED technology in the lamp.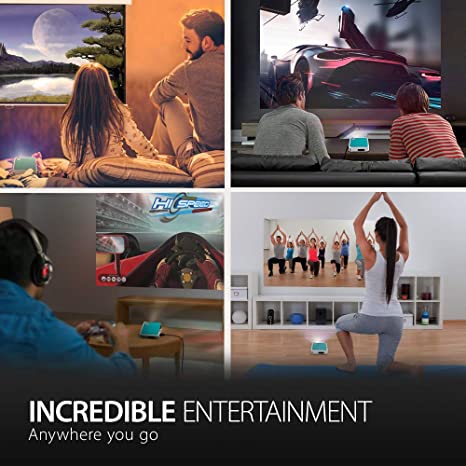 You will not worry about power with this unit since it has a built-in battery that can last up to 1.5 hours. The battery is easily rechargeable via a USB cable from a laptop, power supply, or power bank. Additionally, you get Bluetooth capabilities that is amazing in case you want to listen using a pair of Bluetooth headphones or speakers.
Pros:
Bluetooth capabilities.
Has impressive JBL speakers.
The LED lamp technology provides vivid images.
Has a rechargeable battery
Includes a stand that can be adjusted for various viewing angles
Cons:
Has a low resolution
Projection display size is smaller than the competition
6. Elephas W13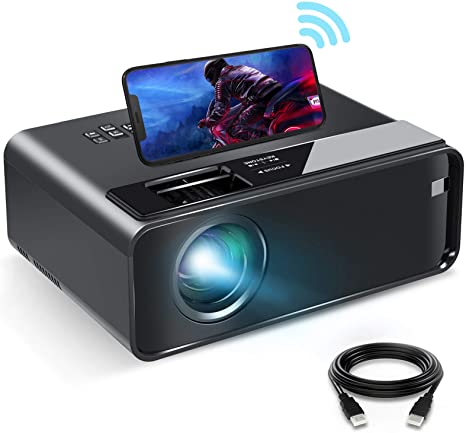 Features:
Supports 30 to 200-inch projection display size
1080p resolution
Compatible with Android/iOS/HDMI/USB/SD/VGA
Wireless and wired connectivity
4600 Lumen
Remote control
Mounting type: Table top, Tripod, Ceiling
Lamp life: 55,000 hours
The ELEPHAS W13 is a movie projector that is specifically designed to act as part of your home theatre system. It includes both wired and wireless connectivity for connecting various devices including Chromecast, TV sticks, external speakers, gaming consoles, laptops, etc.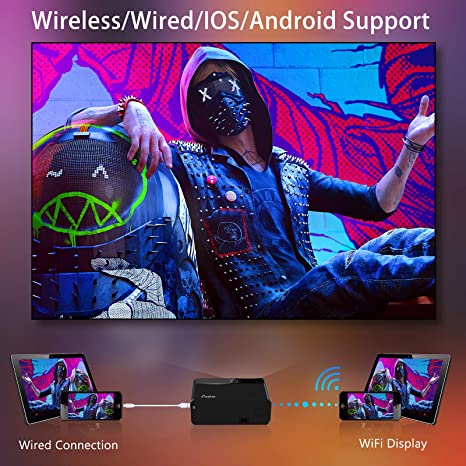 The projector is capable of project an image with maximum resolution at 1920 by 1080 pixels. The great image quality is complimented by the built-in HIFI stereo speaker that provides original audio fidelity that immerses you in your gaming/movie watching experience.
One big upside of the ELEPHAS W13 is that it has both wired and wireless connectivity. You can connect you iPhone via a USB lightning cable connection or through Wi-Fi connection for streaming content and playing games.
Pros:
It has both wired and wireless connectivity options.
Includes a remote control
Has HIFI sound system
Cons:
Does not include a built-in rechargeable battery
A lightning adapter is not included in the purchase package
7. HOMPOW T20 Mini Projector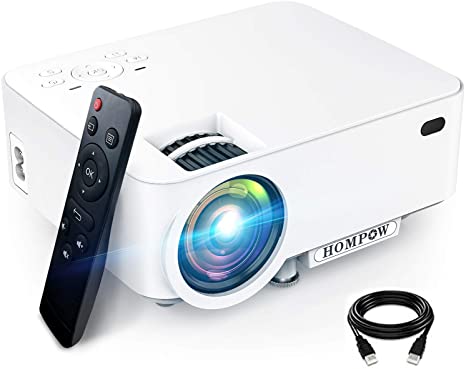 Features:
Recommended for 60-200 inches projection display size
1080p resolution
5500 L
Noise reduction technology
Mounting type: Table top
Lamp life: 50,000 hours
Contrast ratio: 3000:1
The HOMPOW T20 is compatible with almost all multimedia devices including gaming consoles, laptops, PC, DVD players, and TV boxes. It lacks wireless connection via Wi-Fi but you are able to connect to any smartphone via a UUB cable or the lightning adapter for the iPhone.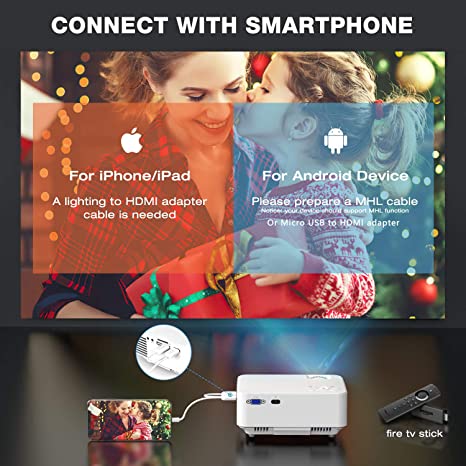 The nig upside of the HOMPOW T20 is the noise reduction feature that tunes the audio of the system to provide a viewing experience that is focused and less distracted. Moreover, the support for 1080p resolution is plus since the images come out clear and crisp in a dark small room.
This projector is ideal for small spaces for you and your family to enjoy some bonding time over a few episodes of your favorite TV show.
Pros:
Crisp images that make for a good viewing experience
The brightness is fairly high for low light conditions
The noise reduction technology produces clean audio
Cons:
Does not include a rechargeable battery
Does not include wireless connection
Best iPhone Projectors: FAQs
1. Can you get a projector for iPhone?
There a re a lot of projectors that can be used to project the content on an iPhone. The above list is curated from several considerations such as connectivity, portability, resolution, and brightness to offer you the best projector for your iPhone.
We recommend you purchase one with wired and wireless connection via Wi-Fi if you want a seamless connection from the projector to your iPhone.
2. What is the best mini projector to use with an iPhone?
The best mini projector for your iPhone will vary depending on your needs. However, on a general basis, you will want a mini projector that is small but yet powerful. This means it has to fit in small spaces in your bag, carrying case, or pockets.
The best mini projector also has to have a good resolution since most mini projectors produce blurry images. Look for one with a resolution of 720p for the best images. Its preferrable if the brightness is 1000 lumens but something between 400-1000 lumens can be sufficient for mini projectors.
Once you have all these considerations, proceed to look for additional features that may be to your liking. Some of the features may be accessories like tripod stands and carrying cases. You will also have to keep in mind the environment in which the projector will be used. Bright environments will need brighter projector than dim environments.
The best mini projector in the market today that can be used with an iPhone include:
3. Can you watch Netflix on a mini projector?
A lot of mini projectors include built-in streaming capabilities that project streaming content of your iPhone to a bigger screen size, this includes Netflix content. For a better Netflix experience, get a mini projector with great audio capabilities and a high resolution (preferably HD or higher).
Mini projectors without built-in streaming features can still stream Netflix via a streaming device like Fire TV stick or Roku.
Note that copyrighted content on Netflix, Hulu, and other similar platforms cannot be screen mirrored or screencast. You may need to download the apps onto the Android capable projectors to view the content. Check in with the projector manual for more details.
4. Can you project iPhone to wall?
The iPhone projectors can project iPhone content to wall. Ensure to get a projector that can project the image that is proportional to your wall. If you need the projection to cover more space then you should get one that is capable of covering at least three-quarters of your viewing angle. The projector description will help you know the right viewing distance and angle.
5. Does iPhone 12 have projector mode?
Like other smartphones, the iPhone 12 can project its content using a projector through a wired connection, or through a wireless connection via Wi-Fi or Bluetooth. Look at the projector description to see how it can connect to your iPhone 12.