No feeling surpasses the joy of finding several fruit snacks tucked underneath your mother's healthy but not-so-sweet lunch. We've all been there, right?
Although an actual fresh apple or mango is much better, kids will always settle for sugary, delicious treats. But what can we say! It's just their nature. And it's not only children! Even adults love to toss one or two fruit snacks into their mouths while watching a movie or relaxing.
The best fruit snacks are those made from natural ingredients and flavorings like fruit concentrates and fruit juice. Besides leaving your taste buds exploding with flavors, these snacks provide you with essential vitamins like vitamin A, C, and E.
But how do you find the best fruit snacks in a market filled with thousands of options? Well, that is where we come in. We have searched and listed the very best products that will leave you and your family satisfied and healthy.
Without delay, let's kick start our guide!
Types of Fruit Snacks
There are two types of fruit snacks: Natural and Artificial Fruit Snacks.
Natural Fruit Snacks
As we said earlier, natural fruit snacks are made from natural, organic ingredients and flavoring. They contain no trace of chemicals that might prove harmful to your health. Also, they have less sugar and more vitamins. Dried mango or pineapple slices are good examples of excellent fruit snacks. The drying gets rid of the excess moisture, but the fruits keep their natural sugar, mineral, and fiber.
However, most fruits snacks in the markets are processed into sweet, chewy candy-like treats. So, it's wise to check the ingredients in the package to ensure they are natural. Some companies use artificial ingredients and flavoring. That brings us to our next sub topic: Artificial Fruit snacks.
Artificial Fruits Snacks
Most snacks advertised as natural often contain no trace of natural ingredients. They usually comprise artificial ingredients, synthetic dyes, added sugar, preservatives, and extra sugars.
The snacks are often extra chewy, too sugary, and tend to stick to your finger or teeth. Sometimes, they even taste like cough drops.
Understanding the difference between natural and artificial fruit snacks will help you find healthy treats for yourself and your kids. That said, let's check out the best fruit snacks in the market.
Best Fruit Snacks
Welch's Fruit Snacks Mixed Fruit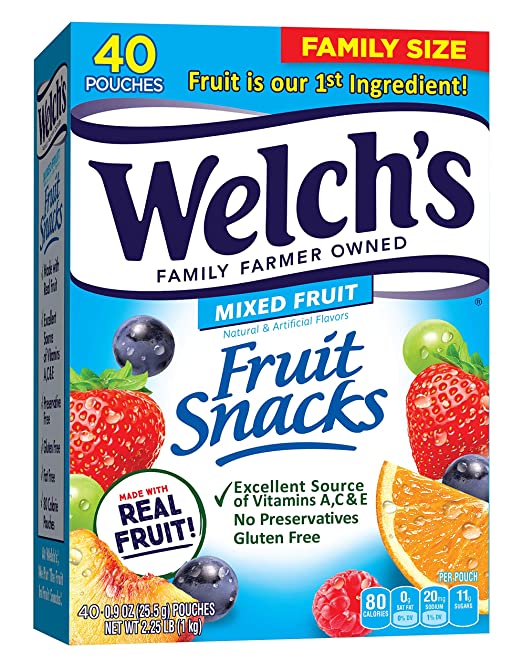 Welch's Food Inc. is the top fruit snacks producer in the US. Their fruit snacks stand out in the market because they contain no preservatives, gluten, or fats. Their iconic products – Welch's Fruit Snack, Mixed Fruit and Welch's Fruit Snacks, Mixed Fruit & Berries – contain natural ingredients and are rich in vitamin A, C, and E.
What's even interesting, they come in a variety of sizes. So, you can purchase a single product to sample the snacks or a month's worth of product to save money. Welch's Fruit Snacks are ideal for school lunches, office, or sporting games.
Customers love the delicious fruity taste of the treats. Some even say they can't stop themselves from completing a whole pouch. However, other customers complained that they received expired products. The snacks were hard, powdery, and had a weird taste. So, when you receive your pack, ensure you check the expiry date if there's one.
Annie's Organic Bunny Fruit Snacks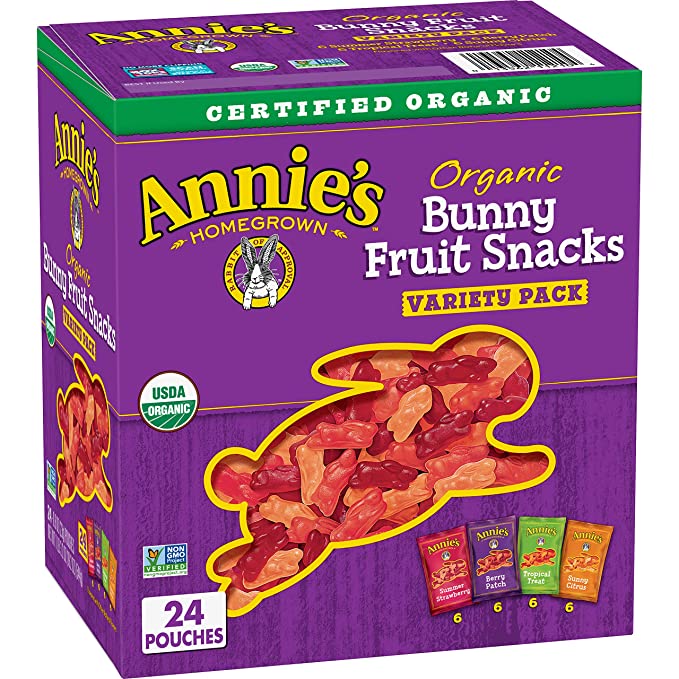 Annie's Homegrown company designs its products with the customer's health in mind. The Annie's Organic Bunny Fruit Snacks are no different.
The bunny-shaped fruit snacks are made from naturally sourced ingredients like fruit juice. So, the snacks are safe for the user. Annie's fruit snacks are free from artificial flavors, preservatives, and high fructose corn syrup. Unlike Welch's Fruit Snacks, these fruit snacks contain no gelatin.
On top of that, the company uses plant-based dyes for color instead of synthetic dyes. When Annie's fruit snack got introduced to the market, only two varieties were available: Tropical Treat and Berry Patch flavors. But today, there are a variety of options to choose from.
Our selection, Annie's Organic Bunny Fruit snacks, stands out for its bright color, tenderness, and lemony flavors. At the first glance, you might think the bunny snacks will hop away once you place them on your bowl. Luckily, they don't. They only leave your mouth beaming with a heavenly taste and overpowering sweetness. However, some customers complained about the price of the snacks. Others said the bunnies are chewy like gummies.
Mott's Medleys Assorted Fruit Snack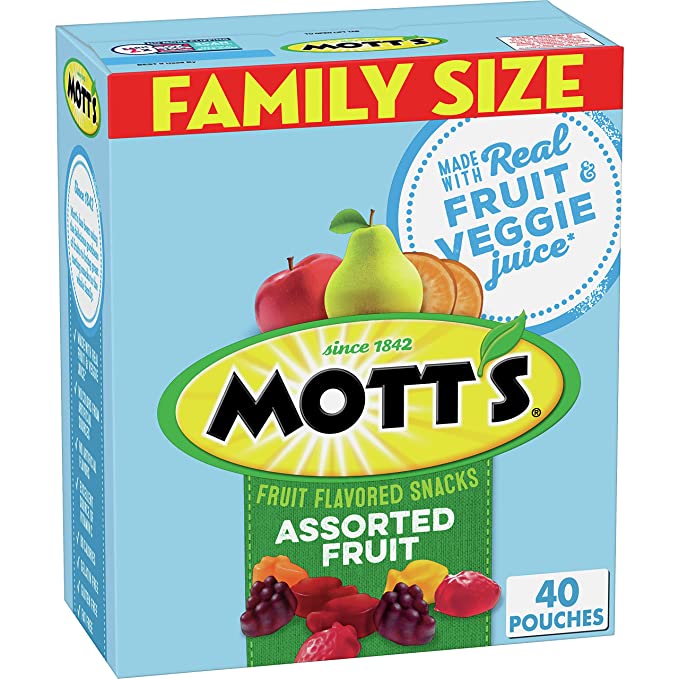 Another amazing fruit snack in the market is Mott's Medleys Assorted Fruit Snack. It's rich in vitamin C and features a blend of fruits that deliver a mouthwatering taste. They have no artificial flavors, synthetic color, or gluten. Weight-conscious individuals will also enjoy it because it's free from fat.
Made from natural juice fruit, these snacks come in a pack of 40 pouches. This might seem affordable, but it would have more sense if the company produced single pouches. This way, customers can sample the product to determine if it satisfies their taste glands before purchasing the whole box. Mott's Medleys Assorted fruit snack is the perfect lunchtime treat for school kids or picnic day.
Dole Fruit Bowls Diced Peaches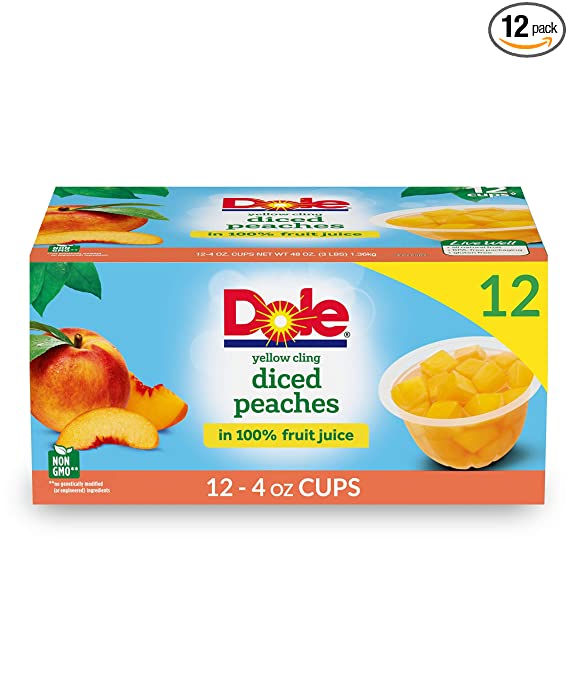 Nothing screams natural as diced peaches stored in a bowl, free from artificial sweeteners and corn syrup. All you get is the pure sweetness of natural fruits.
Dole is a renowned company in the fresh fruits and vegetable market. The company produces high-quality products that bring pure freshness. The diced fruits combined with 100% pure fruit juice deliver a refreshing taste. That's exactly what Dole Fruit Bowls Diced Peaches offer.
Dole diced peaches are gluten-free, fat-free, and rich in vitamin C. They make a healthy addition to your breakfast or lunch. However, the company should put more effort into tightening the seal of the bowls to prevent the juice from licking during transportation.
Bare Baked Crunchy Organic Apple Chips, Fuji & Reds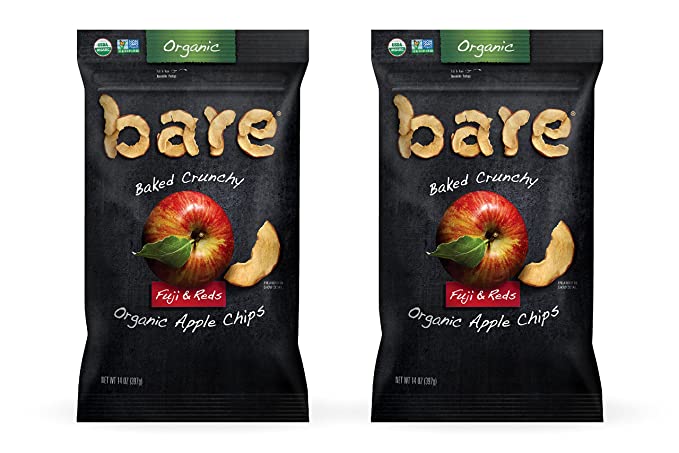 If you want a fruit snack that screams pure greatness, you need Bare Baked Crunchy Organic Apple Chips, Fuji & Reds. Why?
First, it's made from real non-GMO apples that have been sliced and baked. Secondly, they contain no added sugars, preservatives, oil, or gluten. Additionally, the chips are also free from dairy compounds, meaning they're suitable for individuals allergic to milk or eggs.
Bare Baked chips are crunchy and deliver pure sweetness. They have no trace of nuts or cholesterol, but you'll taste a little bit of coconut.
What's even better, the chips come in several varieties. Besides apple chips, you can purchase banana chips, coconut chips, or a blend of different fruits or vegetables. The Apple chips variants include Fujis & Reds, Granny Smith, and Cinnamon.
The only downside to this product is the chips are too thin and crumb easily. Some customers feel like it's overpriced since the bags are not full. Bare should make an effort to fill their bags so customers can see the value of their money.
Best Fruit Snacks for Toddlers
Kids love gobbling sweet snacks all the time. But if your kid has to eat something delicious, ensure it's healthy and won't pose any harm to his health. Below are the best snacks for your toddler.
Bear Real Fruit Snack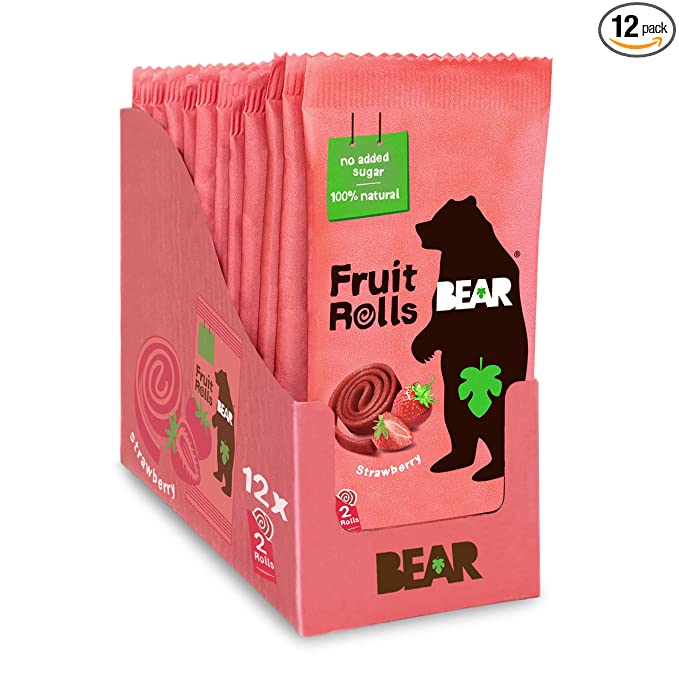 Bears are known as violent and scary animals. But they also have one unique characteristic: Bears love fruits. Bear Real Fruits Snacks is perhaps the best fruit treats for kids.
Parents will be happy to know it contains no added sugar, preservative, gumming agents, or stabilizers. The fruit snack rolls are also gluten-free and made from non-GMO ingredients. Since the snacks contains no traces of nut, kids allergic to nuts can consume them.
Each fruit roll delivers 60 calories and can come in different flavors, including mango, strawberry, or pears.
YumEarth Organic Vegan Fruit Snacks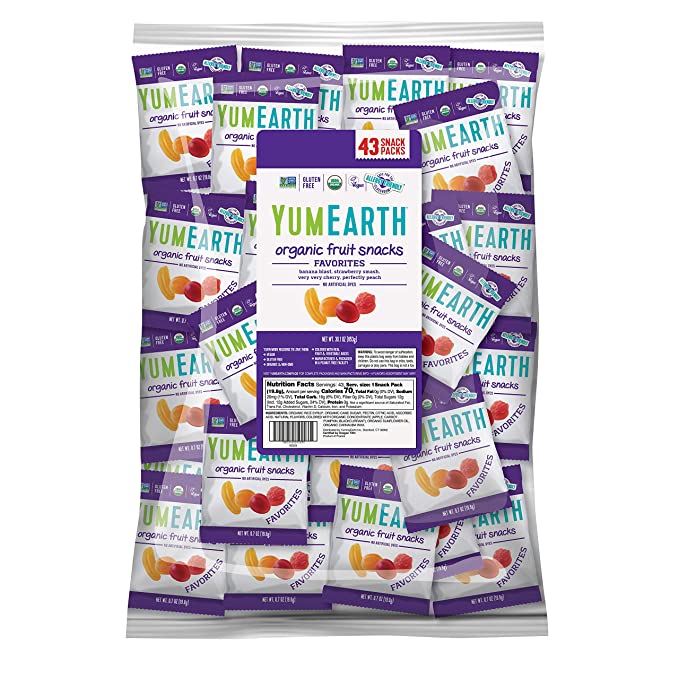 Another great fruit snack for toddlers is YumEarth Organic Vegan Fruit snacks. They're the perfect replacement for candy.
They're moderately sweet and free from the top eight allergens, meaning every toddler can enjoy the treat. Like Bear Real Fruit Snacks, YumEarth Organic Vegan Fruit Snacks are organic and free from gluten, preservatives, synthetic dyes, and high fructose corn syrup. They also come in several flavors.
Although the company claims the treats are organic, some customers claim it tastes like chemicals. Also, before giving the treats to your kid, check the product's expiry date.
Plums Organic Teensy Fruits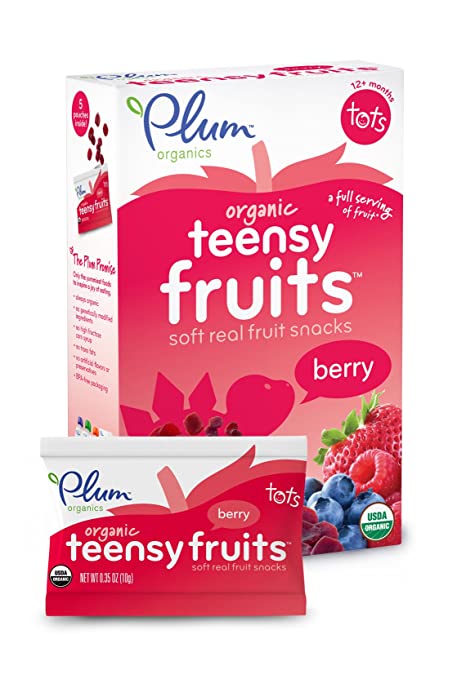 Next time you're online shopping or at Target, grab Plums Organic Teensy Fruits snack for your toddler. This pack of 4 contains delicious treats consisting of 97% real fruits. They're very soft and not so chewy and come in peach and berry flavors.
You don't have to worry about the snacks' sugar levels since it contains no fructose corn syrup. Also, all the ingredients are organic and non-GMO. Your kid will love these treats.
Brothers All-Natural Fruit Crisps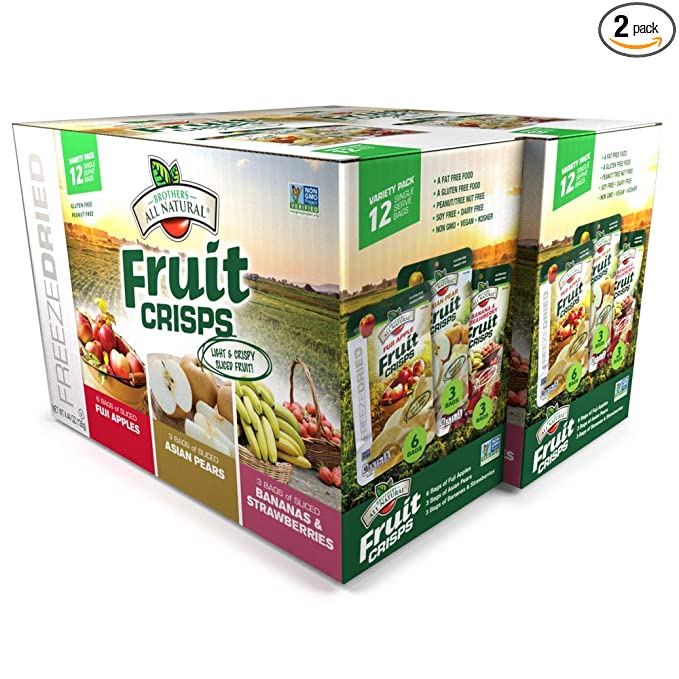 Toddlers with teeth will love Brother All-Natural Fruit Crisps. Made from delicious fruits, the crisps deliver an irresistible taste.
The crips are made by freeze-drying the fruits to remove water. All that's left is crunchy, flavorful crisps free from artificial flavoring and dyes. It's not only great for toddlers but the whole family. The treats can all last for two years if properly stored.
Plums Organics Mighty Snack Bars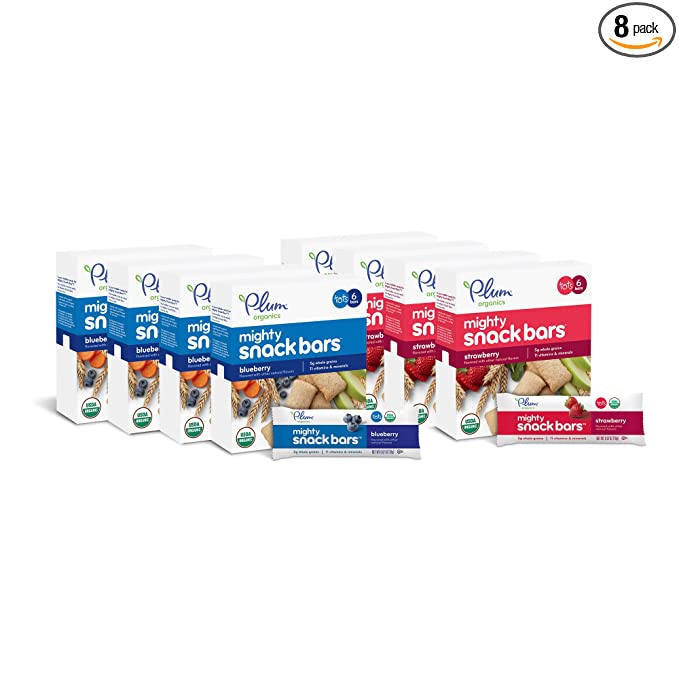 Plums Organic Might Snack Bars are tasty treats featuring a blend of fruits, veggies, and whole grains all baked together. Your baby will benefit from the snack's 11 essential vitamins and minerals. Older kids and adults can also enjoy the snack.
The snack contains no genetically modified ingredients. It's sized perfectly to allow kids to eat on their own. But according to some customers, the snacks are a bit crumbly and messy.
Best Tasting Fruit Snacks
Blue Diamond Almonds & Fruit Bag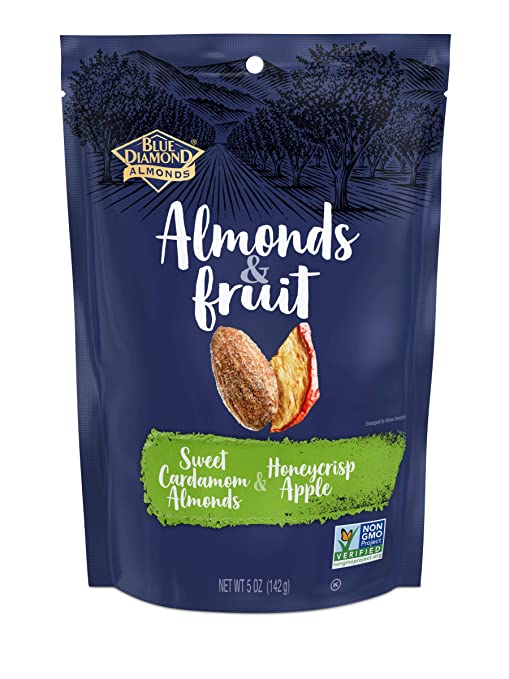 The first tasty treat on this list is Blue Diamond Almonds. The product comes in many varieties, including:
Sea Salt Almonds & Whole Blueberry
Fiery Ghost Pepper Almonds & Tart Cherry
Dark Chocolate Flavored Almonds & Toasted Coconut
Sweet Cardamom Almonds & Honey crisp Apple
Almonds are the ingredients that tie everything together. Another interesting thing, the ingredients are non-GMO and cholesterol-free.
Despite being healthy, many customers say fruit snacks are high in calories. So, it's wise to work it properly into your diet.
Betty Crocker Scooby-Doo Snacks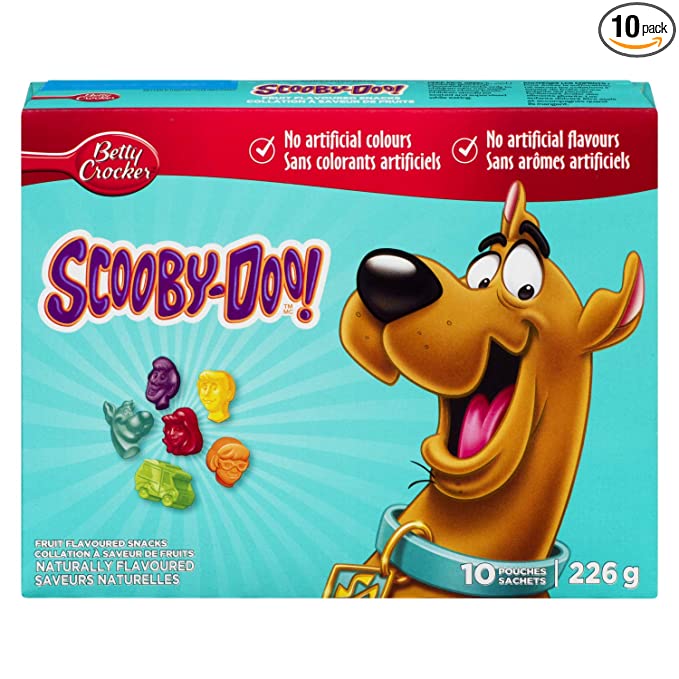 Naturally flavored Betty Crocker Scooby Doo Snack will leave your kid begging for more. Not only are they sweet, but also nutritious. You'll be pleased to know it contains no artificial flavors. Also, it's free-from gluten and an excellent source of vitamin C. However, you should know it has corn syrup, sugar, and a small amount of fat.
That's It Fruit Bars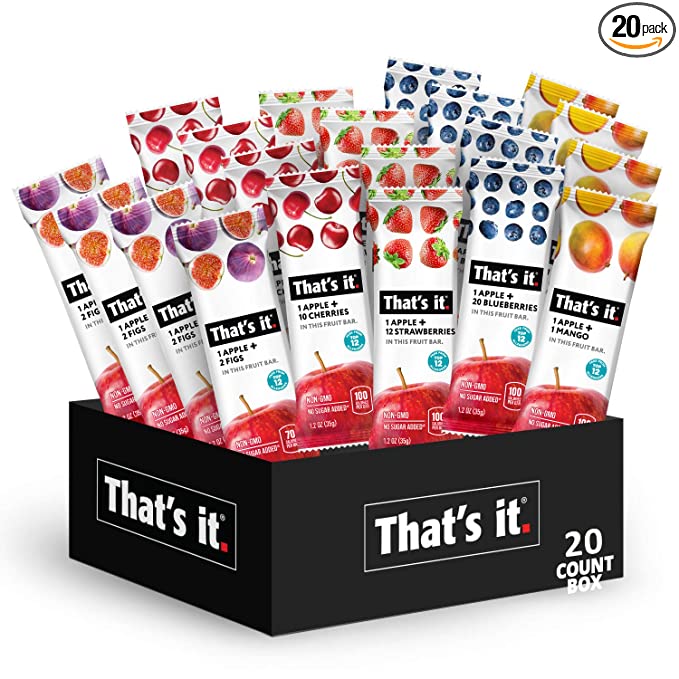 Another tasty fruit snack worth mentioning is That's It Fruit Bar. It's a healthy fruit snack ideal for the whole family. The flavors range from mango to cherries. The best part is, each bar contains ingredients sourced directly from the real fruit. There's no preservative or added sugars, and you don't have to worry about cholesterol.
Athletes, kids, and parents looking for a healthy, delicious on-the-go snack will love these fruit bars. It's the perfect low-carb, gluten-free snack to eat before hitting the gym or when traveling. The only downside is, the bar seems dense and hard, meaning toddlers might have a hard time biting and chewing it.
Sunkist Fruits Snacks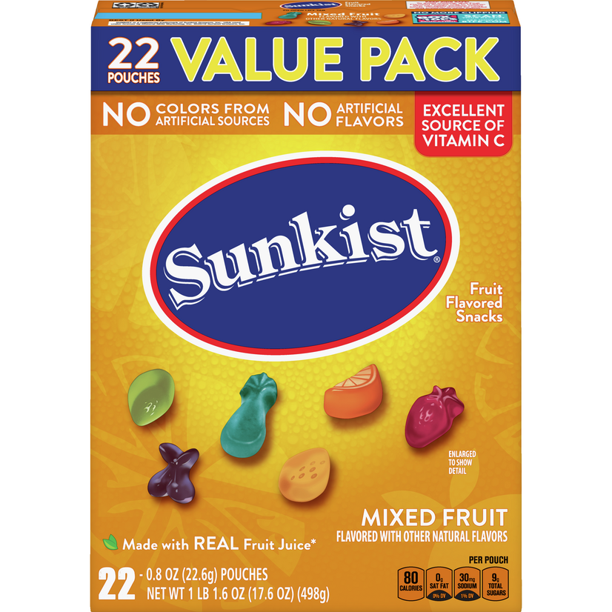 Sunkist Fruits Snacks are tasty treats available in four fruit flavors. Like most snacks we've mentioned, they're gluten-free and contain no artificial flavors. Nevertheless, we noticed that one of its ingredients is corn syrup, meaning it contains added sugars. Thankfully, the other ingredients are all-natural.
Funables Fruit Snacks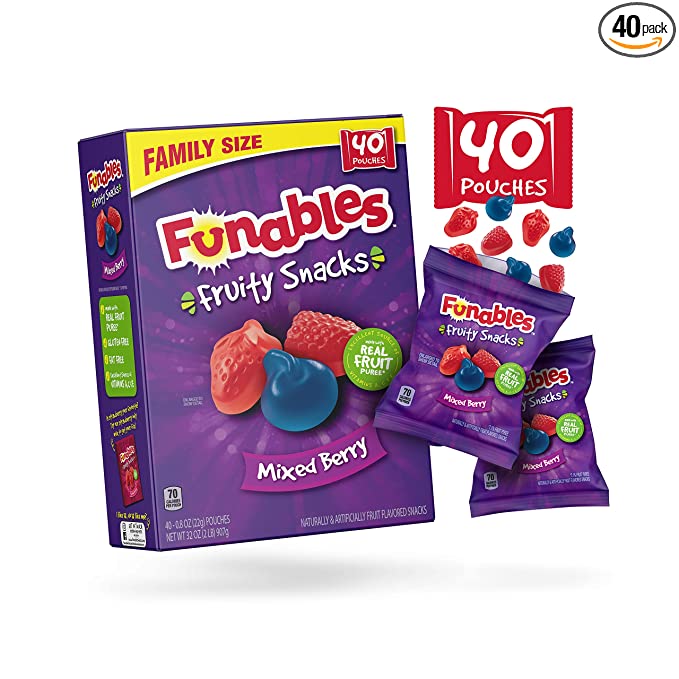 Funables Fruit Snacks were created with the needs of kids in mind. The fruit snacks come in different shapes, from mad scientists to aliens. They are made with real fruit puree, and they're gluten-free. Because of its sweet nature, most customers have gotten addicted to the snacks. Funables make the perfect picnic or pocket snacks.
Best Fruit Snacks of All Time
Teenage Mutant Ninja Turtles Fruit Snacks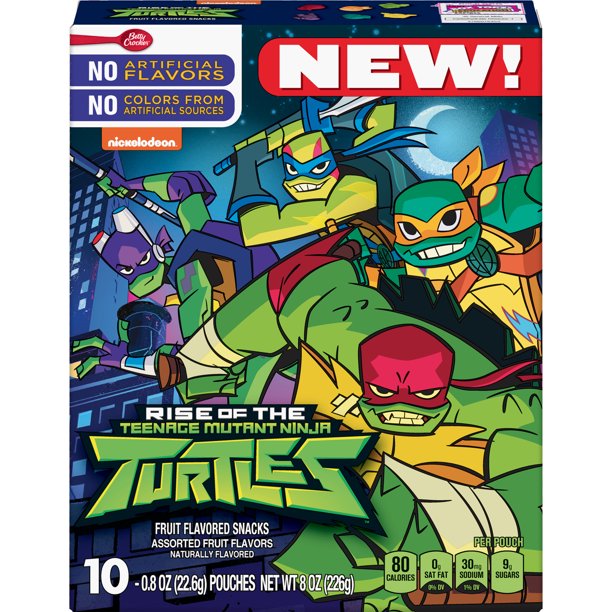 These fruit snacks from Betty Crocker gained huge traction in the 90s. Everyone loved eating the blue, red, green, purple, and orange snacks. Today, the snacks are made from vitamin C and real fruit juice.
CoolCuts
CoolCuts fruit snacks were created to satisfy the demand for healthy, convenient snacks. They were cut carrots packaged with ranch dip.
Shark Bites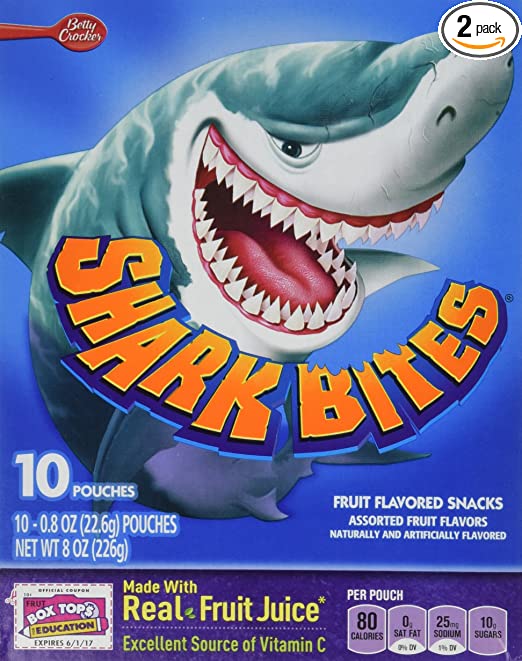 Like Teenage Mutant Ninja Turtles Fruit Snacks, Shark Bites were made by Betty Crocker. They were a major heat in the 90s, and they're still there today.
Airheads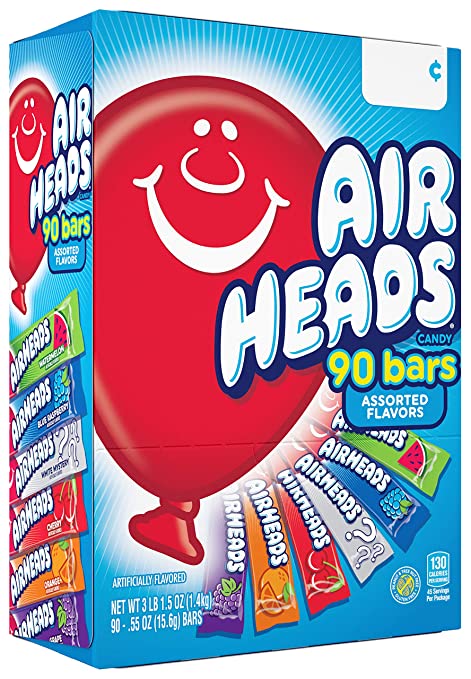 You've probably forgotten about the leathery and chewy taffy Airhead candy. These vaguely fruit-flavored snacks feature several flavors like strawberry-watermelon and blue raspberry.
Yogos Fruit Snacks
These ball-shaped fruit snacks featured a fruity gummy interior coated in a yogurt base. Yogos disappeared from the market in 2010.
Also Read:
Final Thoughts
In conclusion, the fruits snacks list is endless. There are hundreds if not thousands of natural and artificial treats you can choose from. However, if you love your health, select only healthy natural fruit snacks. This way, you will enjoy delicious treats that offer you several essential nutrients. On that note, we hope our list will help you make an informed decision. Best of luck!
Fruit Snacks: FAQs
Are There Any Fruit Snacks That Are Good for You?
Yes! Fruit snacks made from natural ingredients and free from fat and gluten are good for you. They usually contain essential minerals and vitamins like vitamins A, C, and E. Others contain fiber, which can help during digestion.
What Are the Healthiest Fruit Snacks?
The healthiest fruit snacks are those free from additives, synthetic dyes, gluten, and added sugar. The snacks are purely organic, with no GMO ingredients. Examples of healthy fruit snacks in the market today include:
Dole Fruit Bowls Diced Peaches
Bare Baked Crunchy Organic Apple Chips, Fuji & Reds
Brothers All-Natural Fruit Crips
Is It good to Eat Fruit Snacks Every day?
Yes! As long as the fruit snacks are healthy. However, avoid high calories, carbs, and sugar treats.
Will Fruit Snacks Make You Fat?
No! Healthy fruit snack contains no cholesterol, fat, or added chemicals that can harm your health. Also, they have low sodium levels, meaning you can safely incorporate them into your diet.