Are you're looking for the best Japanese snacks? Well, you've come to the right place.
Unlike other snacks in the market, Japanese snacks usually have fascinating stories behind them. Because of that, they're the most sort-out snacks today. Besides having a heavenly taste, they come with unique flavors not found anywhere else. Also, they look cuter than most American snacks.
If you wish to join the hype but don't know where to begin, our guide will help you! Here, we have provided you with an extensive list of the best sweet and savory snacks. Whether you're looking for chocolates, candies, or chips, this list got you covered.
Without further ado, let's begin!
Popular Japanese Snacks
Pocky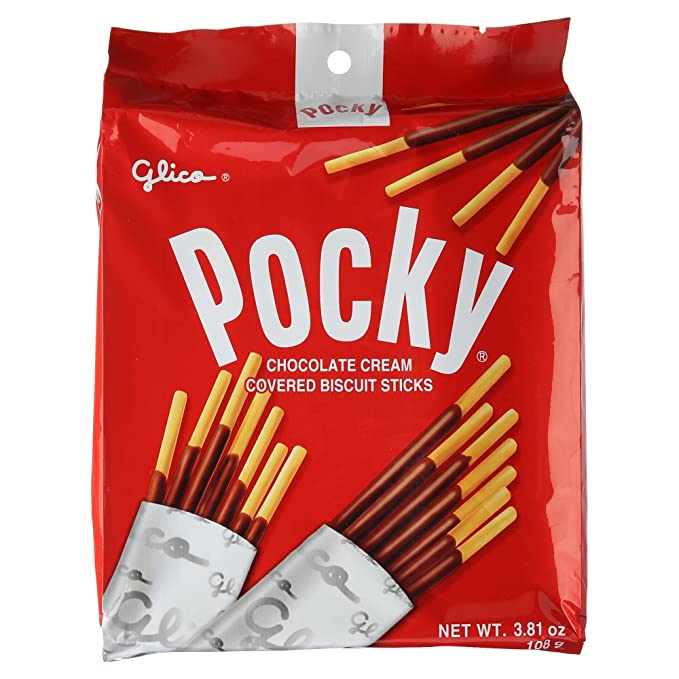 Pocky is one of the top-selling Japanese snacks. Since its launch in the 90s, the snack has grown into one of the favorite treats for most Asians. Many individuals say they get happy memories when eating the chocolate-covered biscuit sticks.
Pocky comes in many flavors, but the strawberry and chocolate flavors are perhaps the most loved. You can try other flavors, including tomato, matcha, cookies & cream, chocolate banana, and others.
Pocky is an addictive snack designed to perfection. Everything is in balance, from the flavoring to the size of the pretzel-like sticks.
What's even interesting, they're well priced. However, if not stored well, the chocolate will melt. Like many snacks, Pocky flavors are seasonal or region-specific. If you like to know the taste of an inside-out Pocky (flavoring inside and biscuit outside), check out another snack called Toppo.
Matcha KitKats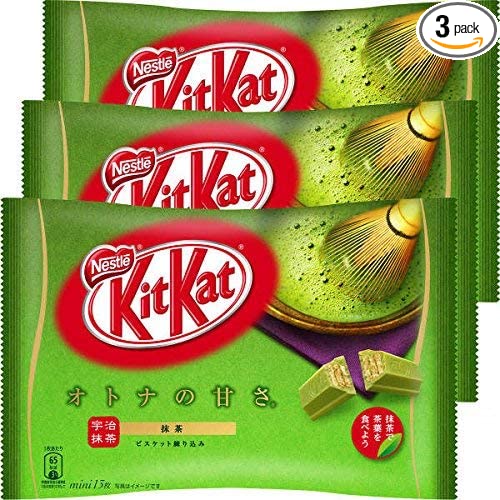 You've probably eaten a Kitkat. If you haven't, then you're missing out on a lot. KitKats are layers of wafer covered with chocolate or any other flavoring. Because of the snacks' delicious natures, you will enjoy consuming the snacks.
While this snack originated overseas, it has gained huge traction in Japan. One variation of Kitkat, the Matcha Kitkat is as much a symbol as a snack in Japan. Instead of chocolate, the wafer is covered in balanced sweet Matcha to pay homage to Japanese food culture.
There are several flavors of Matcha Kitkat but are produced only for a limited time. That makes sense since the best things in life exist for a limited time, then they fade away.
If you are shopping online for KitKats, be sure to grab a Matcha Kitkat for you and your family.
Choco Pie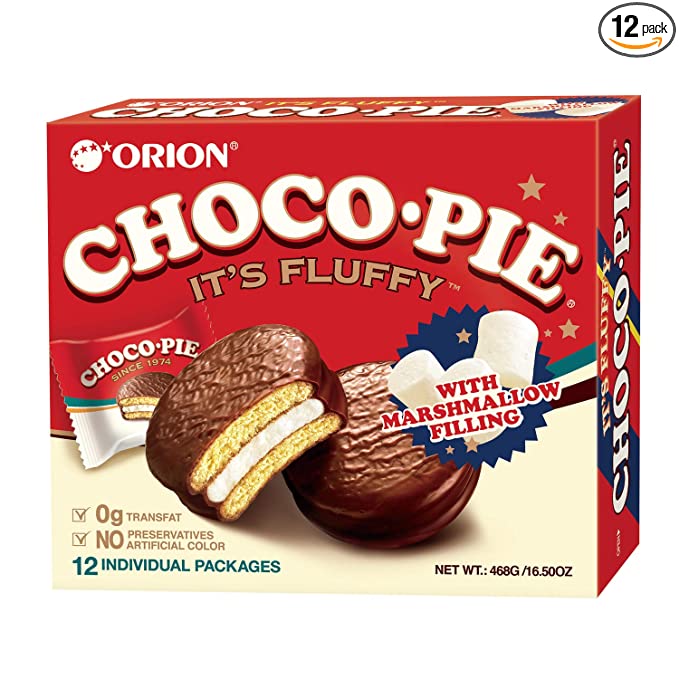 Have you tried marshmallows coated in chocolate before? That's exactly what Choco Pie is. The Choco Pie is a timeless Japanese snack that nails everything from the package to taste. The fresh marshmallow filling covered with chocolate or vanilla will bring a smile to your face.
The crack of the crusty chocolate on the outside will leave you with a satisfying feeling when you take a bite. The Choco Pie is the perfect lunch, afternoon, or picnic treat. And since they're individually packed, you can share them with your friends or family members.
Kinoko No Yama/ Takenono no Sato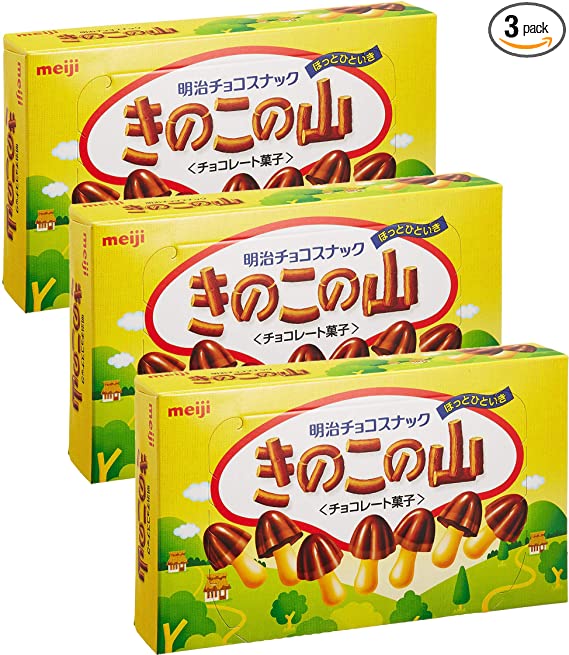 Who knew mushroom-shaped snacks could taste so good? Kinoko No Yama is a chocolate biscuit shaped like a tiny mushroom with a crunchy cracker stem. The mushroom head comprises a layer of dark chocolate on top and a sweet milk chocolate layer underneath.
The chocolate biscuit might not sound so unique, but rest assured, these cute snacks will leave your taste glands filled with heavenly flavors. Besides Kinoko No Yama, check out Takenono no Sato snacks. The package consists of chocolate-covered biscuits. Try to search for seasonal flavors like purple sweet potato and more.
Hi-Chew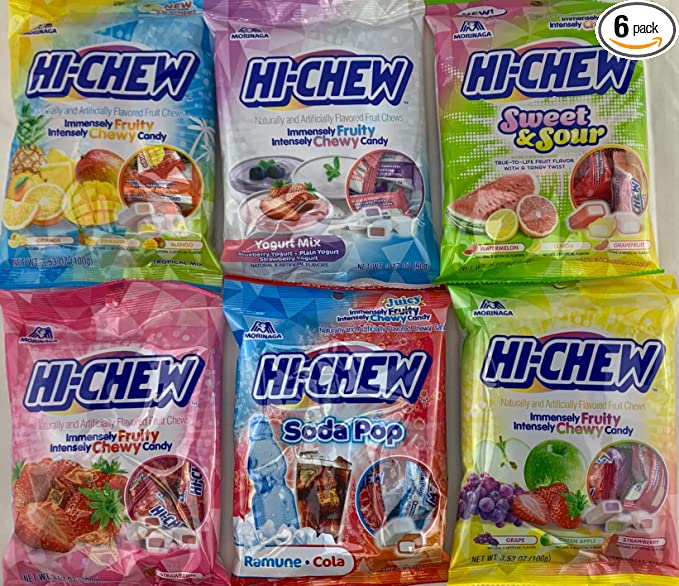 Another Japanese snack worth trying out is Hi-Chew. The snack is popular worldwide, but the Japanese love for this treat is at a whole new level. Hi-Chew is the UK version of Chewits. They're individually packed candies with exceptional taste and are ideal for the office.
The chewing gums are soft and have a bouncy texture that kids and adults will love. If you don't take care, you can easily get addicted to them. Most people love this candy since they get to choose from an extensive list of flavors. The flavors include grape, kiwi, soda pop, tropical, sweet & sour, and others.
Calbee Chips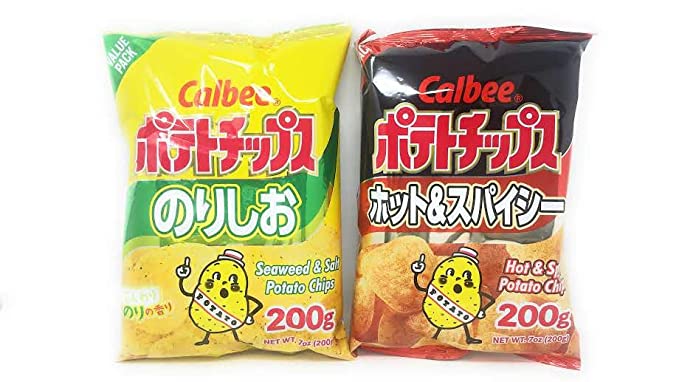 If you love potato chips, grab yourself Calbee Chips. In Japan, there's nothing ordinary about potato chips. Their version of chips features a unique blend of flavors that go so well together. The Calbee Chips are no different.
Compared to Western snacks, these savory snacks from Calbee Japan are crunchy and less greasy and oily. They're available in traditional and modern flavors. The traditional flavors include seaweed (nori), soy sauce, wasabi, consommé punch, plum blossom (ume), etc. Mainstream flavors include pizza, vegetables, curry, and honey butter. Also, try out the snow pea crips – they're solid and a safe selection if you're new to Japanese flavors.
Alfort Mini Chocolate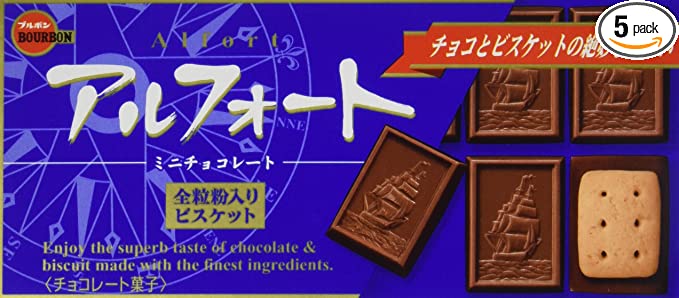 Chocolate lovers will love munching into these tiny cute biscuits with a sailboat image imprinted on them. Alfort Mini Chocolate is a go-to snack for most individuals in Japan. However, it's not that popular in other countries like other Japanese snacks.
The milk chocolate-coated biscuits share some similarities with treats like the Chocolate Scotch Fingers. So, the older generation might love its taste. But we also believe the younger generation will love the snack after tasting it.
Check Alfort Mini Chocolate Price
Shittori Choco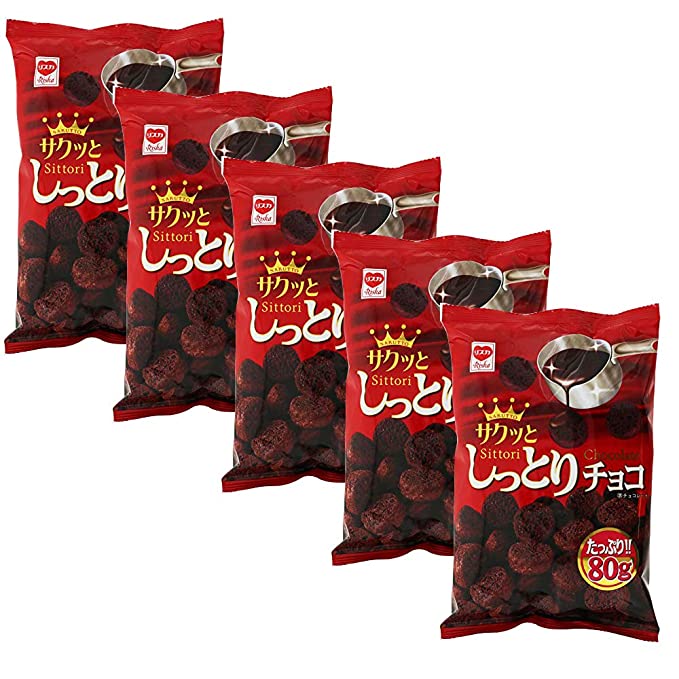 In Japanese, "Shittori" stands for "moist". The Shittori snacks consist of crispy corn puffs softened by a layer of chocolate-base. The sweet chocolate melts in your mouth, leaving you with rich corn flavors. They're great treats to have around the office or house, especially if you want to eat something crunchy but with less sugar.
Based on the ingredients list, they contain no traces of harmful preservatives and flavorings. But beware, they have traces of milk and soy. So, if you're allergic to these ingredients, keep away from Shittori Choco.
Check Out Shittori Choco Price
Kamenda Seika Kaki no Tane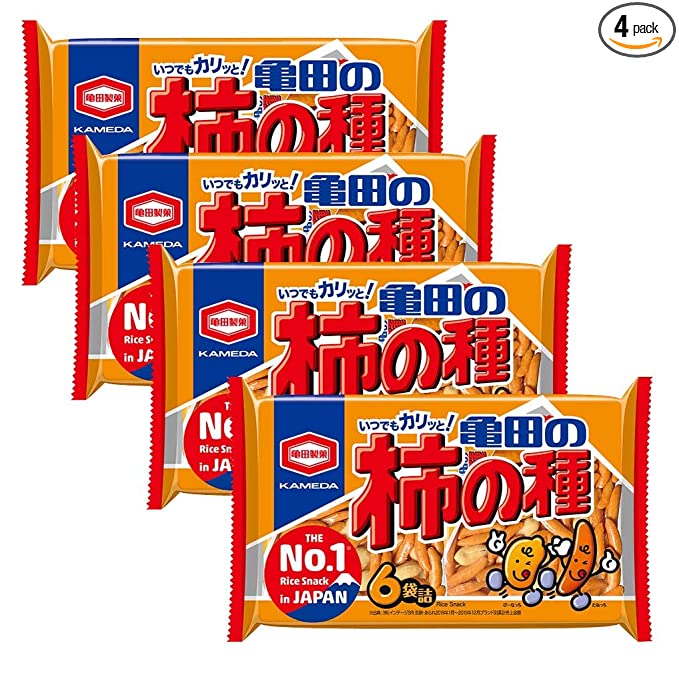 Kameda Seika Kaki no Tane is the best rice cracker in Japan. The snacks derive their name "Kaki no Tane" from their crescent shape. The crackers are covered in soy sauce but exude a sweet rice aroma.
You will enjoy every bite of these hallow and crunchy snacks flavored with peanuts for an enhanced experience. If you love drinking alcohol during your free time, try the Wasabi Kaki no Tane with your drink (the result will amaze you). The snacks are also available in other flavors.
Since they're individually packed, you can easily share them with your family. But keep in mind, the snacks contain traces of common allergens like egg, pork, wheat, peanuts, and chicken.
Check Kamenda Seika Kaki no Tane Price
Caramel Corn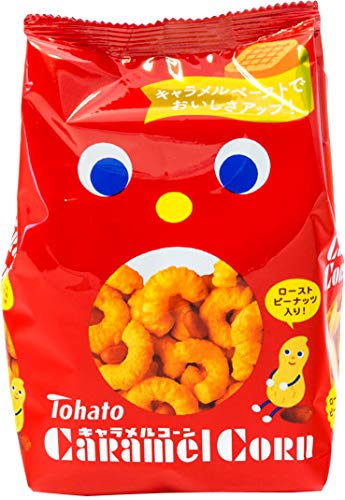 Unlike Caramel Popcorns, Caramel Corn snacks are made from corn puffs flavored with toasted caramel. This timeless Japanese snack has won the hearts of many individuals around the world. The u-shaped, crunchy treats taste like pure sugar and are fluffy, and the peanuts at the bottom of the bag take the whole snack experience a notch higher. Once you've finished the treats, don't forget to lick the blend of corn, peanut, and caramel dust remaining in the bag.
Classic Japanese Snacks
Himemaru Rice Crackers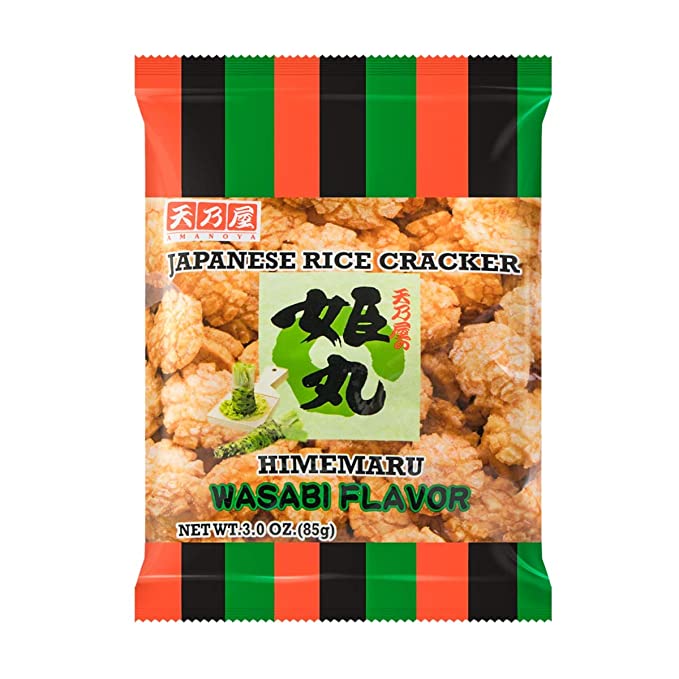 Himemaru is one of those delicious snacks you can't stop yourself from eating until the bag is empty. You will definitely love the tasty and crunchy nature of these deep-fried rice crackers coated with rich soy sauce. To spice up things, pair the rice crackers with your favorite alcohol. But be wary of the high calories.
Check Himemaru Rice Crackers Price
Umaibo Japanese Corn Puffed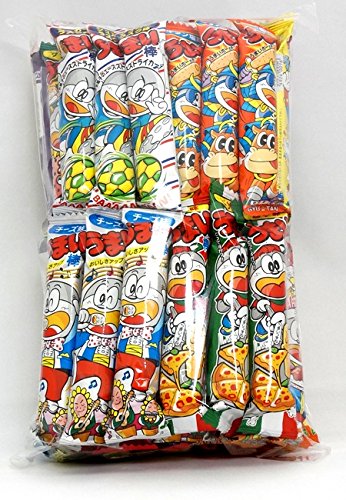 Umaibo Corn snacks is another famous Japanese snack. Packed in a brightly colored package, the snacks deliver unique flavors from cheese to shrimp.
The individually packed treats might appear overpriced, but they're worth the price. One Umaibo Corn snack is enough to satisfy you, but the treat's delicious nature will force you to try another one.
Check Umaibo Japanese Corn Puffed Price
Calbee Jagariko Salad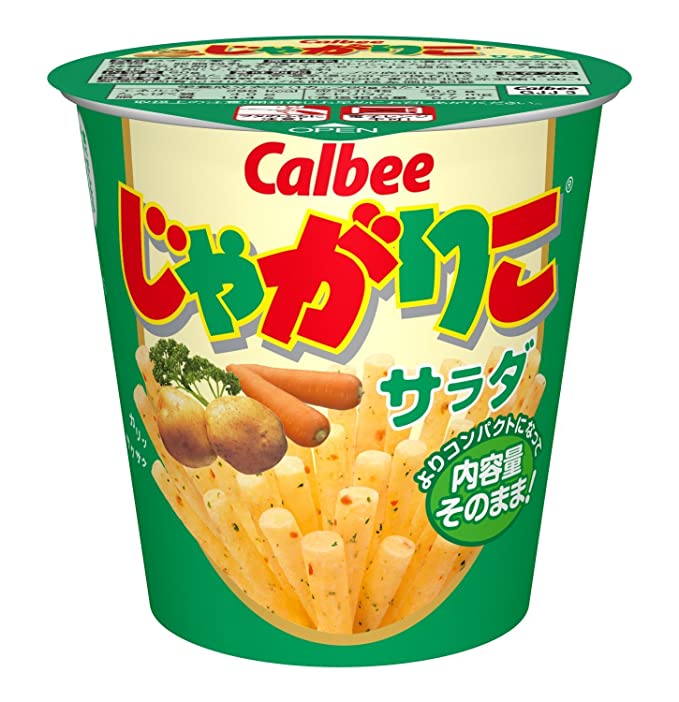 When it comes to potato sticks, nothing compares to Calbee Jagariko. You can either get the buttered or cheese-flavored potato sticks. But perhaps the best and most renowned flavor is the Salad, consisting of parsley and carrots. Unlike other potato sticks, Calbee potato chips are crunchy and crispy on both the outside and inside.
Check Out Calbee Jagariko Salad Price
Glico Pretz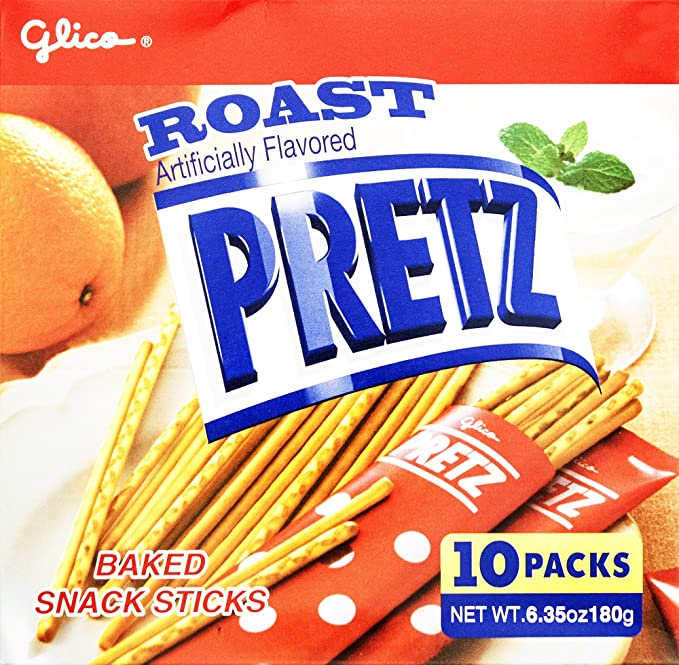 Glico Pretz is the savory variant of pocky minus the sweet coating. It's a tasty, fun biscuit coated with a variety of flavors ranging from tomato to pizza. But over the years, we've seen several seasonal flavors like maple syrup, larb, and others. The snacks come in an array of shapes and styles and deliver a satisfying crunch.
Kokuto Black Sugar Walnuts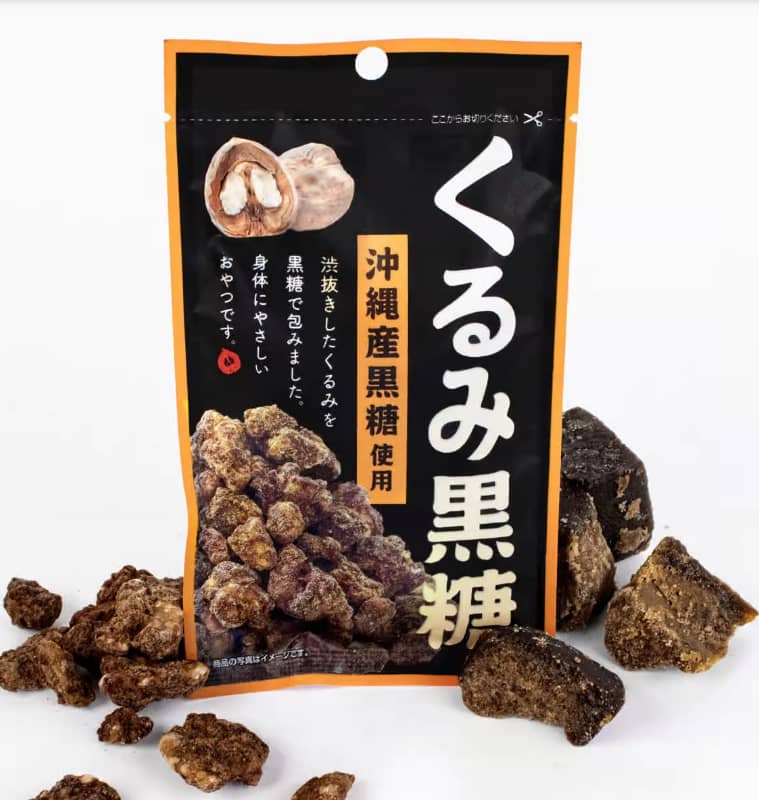 You probably don't know what Kokuta is, right? Well, it's black sugar commonly used in cooking Okinawan food. The manufacturing company makes the snacks by coating Okinawa walnuts with black sugar. The result is a delightful and wholly treat that has grown in popularity worldwide. Kokuto Black Sugar Walnuts is arguably the best Japanese snack on our list.
Check Kokuto Black Sugar Walnuts Price
Best Japanese Sweet Snacks
Meiji Almond Chocolate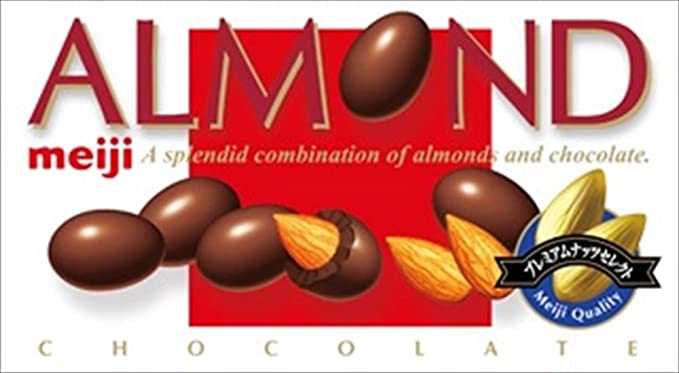 These snacks are exactly as the name suggests. They're almond coated in chocolate, created by Japan's leading chocolate manufacture. Meiji Almond Chocolate snacks are sweet, lighter, and smoother than American chocolate snacks. But don't take our word for it, try them out yourself.
The manufacturer uses only the best Almonds sourced from California. The Almonds, then get roasted, dipped in chocolate, and polished for a shiny look.
Check Out Meiji Almond Chocolate Price
Kaju Gummy Sweets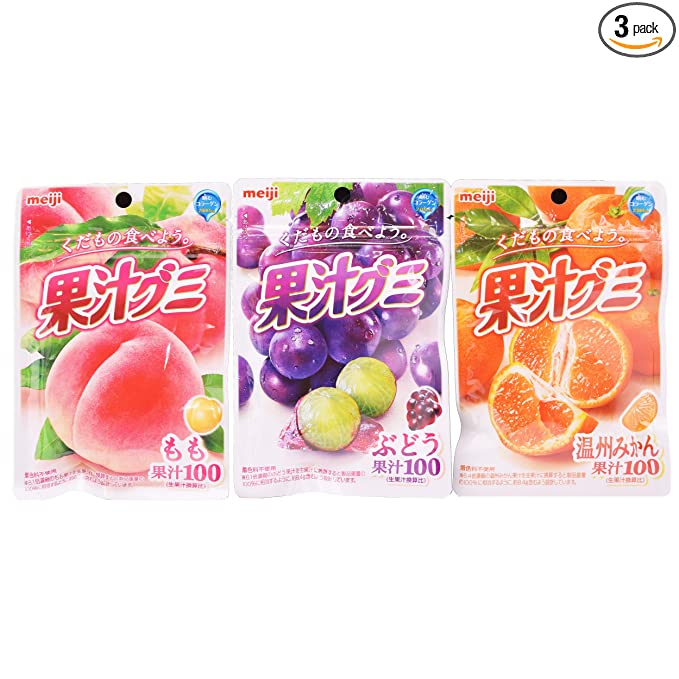 If you have a thing for gummy sweets, you'll love the Kaju Gummy Sweets from Japan. The manufacturers pack different fruit flavors, including orange, grapes, and pineapple in chewy gummies with soft textures. Kaju Gummy Sweets are not overly sweet and well-priced. Also, they contain collagen, a protein responsible for smooth skin.
Check Out Kaju Gummy Sweets Price
Pure Fruits Gummy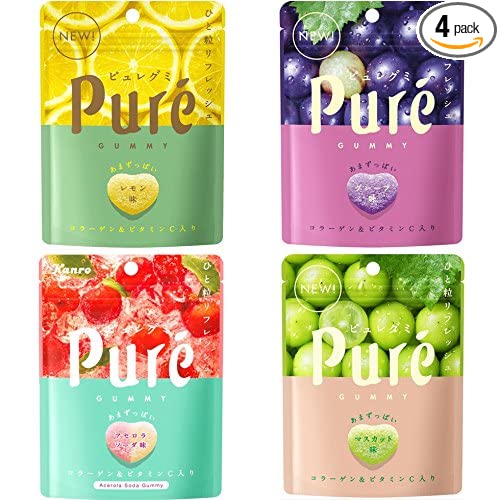 The Pure Fruits Gummies are the ideal snacks after lunch or dinner. The delicious gummies are made from real fruit juice and contain no fat or gluten. You also get to enjoy over six flavors, from grapes to lemon. Pure fruits gummies stand out because they contain collagen and Vitamin C. However, they are not free from allergens. The gummies contain traces of gelatin and milk. So, if you're allergic to these ingredients, avoid these sweet treats.
Bisco Biscuits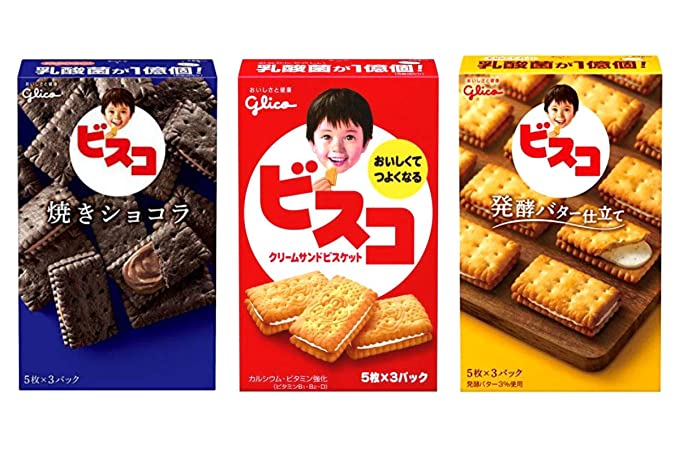 Glico Bisco is one of the timeless sweet Japanese snacks introduced as early as 1933. The snack comprises cream sandwiched between two biscuits, like Oreos. The biscuits are individually wrapped to allow customers to share with their friends or family members. Instead of yeast, this biscuit contains active lactic bacteria. These microbes help in the digestion and the overall health of your stomach. Both children and adults can enjoy these crunchy snacks.
Check Out Bisco Biscuits Price
Galbo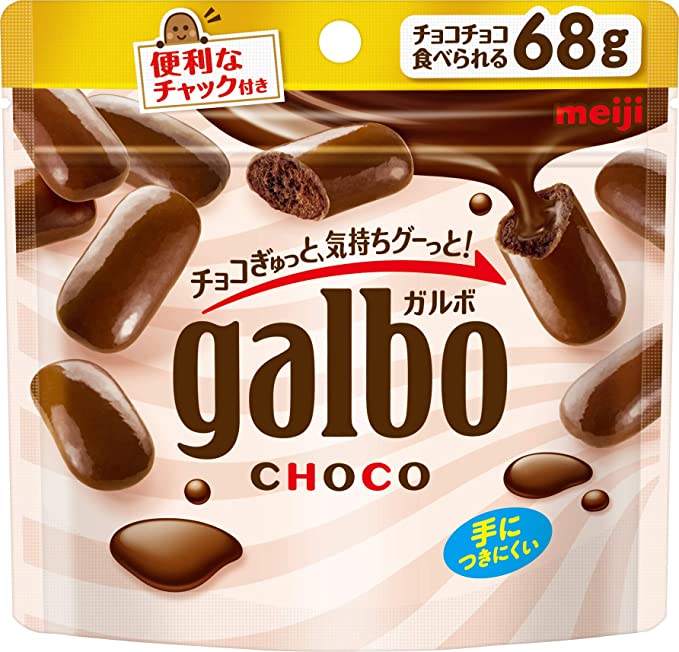 Last, we have Galbo, a sweet treat manufactured by Meiji. These crispy thick cookies are covered in dense aerated chocolate. Galbo treats offer you the perfect balance of taste and texture. They look like oval-shaped tablets and come in distinct luxurious flavors like royal milk, matcha, and strawberry.
Final Thoughts
Japan takes snacks to a whole new level by infusing them with unique flavors that last only for a limited season. Most Japanese snacks are also inspired by traditional, seasonal, and regional ingredients. That explains why they're so popular in Japan and the rest of the world.
Although snack lovers can never run out of new, delicious, and refreshing Japanese treats to sample, the mentioned snacks stand out in the industry. Next time you're in Japan or shopping online, get yourself these tasty treats. Go for those unique textures and flavors you're yet to try.
Also Read:
FAQs
What is Japan's Most Popular Snack?
Japanese snacks stand out in the industry because of their distinctive flavors that can only be found in Japan. The most popular snacks in Japan range from savory chips to chocolate-covered cookies. They will not only quench your cravings, but also provide you with vitamins and other minerals. Popular Japanese snacks include:
Pocky
Choco Pie
Calbee Chips
Shittori Choco
Caramel Corn
What Snacks to Buy in Japan?
There several new and classic snacks you can buy from Japan ranging from candies to delicious chocolates. But the best snacks from Japan include:
Matcha Kitkats
Hi-Chew
Glico Pretz
Calbee Jagariko Salad
Kokuto Black Sugar Walnuts
What are Popular Japanese Candies?
If you have a thing for candies, Japanese candies will satisfy your cravings. The best candies include:
Kaju Gummy Sweets
Pure Fruit Gummies
Fuwarinka Rose Gammies
Premium Hi-Chew
Why Are Japanese Snacks So Good?
Japanese Snacks are so good since manufacturers make them from seasonal, traditional, or regional ingredients. Some snacks feature flavors only limited to a certain season. Also, the Japanese treat snacks as food rather than snacks. As a result, they ensure the treats have a soft texture and delicious flavors that both children and adults can enjoy.
Best Place to Buy Japanese Snacks Online?
You can purchase Japanese snacks from supermarkets. However, few supermarkets stock these snacks. So you're better off buying them from Amazon, Walmart's official website, and others.
Are Japanese Snacks Unhealthy?
Like most snacks, Japanese snacks contain high sugar levels and calories. However, that's not the case for all of them! Some come with natural ingredients like 100% pure fruit juice and organic flavorings. Others also provide you with vitamin C and collagen. Before consuming a snack, make sure you go through its ingredients list to make the snack is free from harmful substances.