Are you in a pickle about bringing snacks on a plane? You're not alone! Most new or infrequent passengers do. With that said, this article will address any concerns you have about the T.S.A. guidelines regarding snacks acceptability.
Bringing your snacks might seem ideal because they'll help you avoid spending too much or eating unhealthy meals. But is it permissible by the Transportation Security Administration (T.S.A.)?
In a nutshell, yes, you can bring your snacks. But some guidelines define what you can and can't carry. The key to avoiding unnecessary conflicts with the T.S.A. at the checkpoint is understanding rules related to the issue.
Can You Take Snacks on a Plane?
Those who travel frequently might be familiar with the 3-1-1 T.S.A. guideline about foods and liquids. The rule allows travelers like you to bring most foods on the plane. However, they have to be mainly solid snacks instead of liquid foods.
Therefore, if you want to cut back on your traveling expenses or try to stay healthy, you can bring your D.I.Y. snacks. All you need to ensure is that they comply with the T.S.A. guidelines.
Note that any snacks bought past the security checkpoint already comply with the rules. Therefore, you don't have to worry about permissibility.
However, it would be best to ensure that your snacks are well packaged to avoid messing up the plane. Additionally, all liquids should be below the 3.4 ounces mark.
Can You Take Snacks Through Airport Security?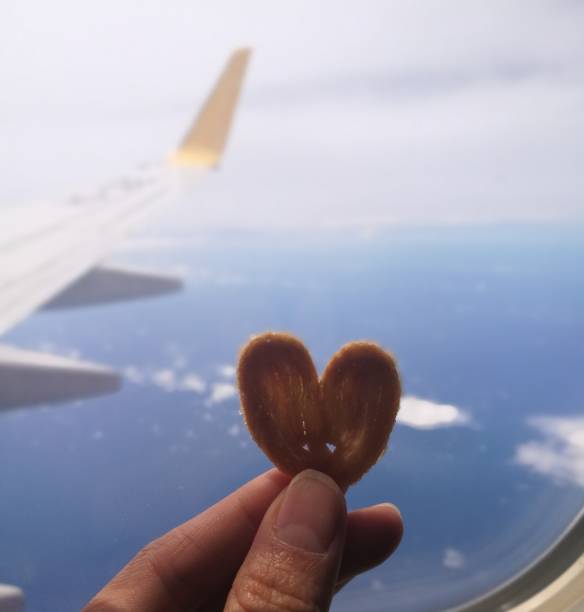 The airport security determines the snacks you bring on a plane. This body has a defined set of guidelines about foods and snacks carried on an aircraft. If you intend to take snacks on a plane, you need to go through security checks. Any snacks that you carry need to comply with their rules.
Therefore, you can take snacks through airport security as long as they adhere to the set guidelines. That means observing the amounts of liquid snacks you bring along with you. At all times, ensure that such liquids are below the 3.4 ounces limit.
Avoid carrying liquid snacks such as sodas, yogurts, hummus, juices, water, peanut, dips, syrups, salad dressing, salsa, ketchup, or cranberry juice. If you have to carry any of these, ensure that they are in a zipped water-proof container. Besides, observe the set amount limit on the items.
Other types of snacks, such as canned foods and alcoholic beverages, will get you in trouble with the T.S.A. For alcohol, you'll be allowed to pass security with amounts below the 140-proof limit.
Airplane Snacks
You can toss these T.S.A. approved snacks for your flight:
Popcorn: They make the perfect snack for your in-flight film session.
Crackers: You could opt for a whole-wheat option which is healthier.
Dried Fruits: They don't crush easily like real fruit, making a good snack.
Almonds: Aside from being protein full, these snacks will leave you feeling full for a while.
Chips
Sandwiches
Pizza and Pies
Pasta
Cakes
Cereal
Candy and Gums
Solid Chocolate and Cheese
Coffee and Tea
What Snacks Can You Not Bring on a Plane?
Even though you can carry snacks on a plane, you should not bring allergenic or smelly ones. This guideline is supposed to protect and maintain the comfort of other passengers on the plane. Besides, you need to avoid carrying snacks that spill.
In short, the foods you are to avoid are:
Allergens such as any peanut snack
Smelly foods like canned fish
Liquids
Can I bring Baby Formula on a Plane?
The answer is yes! Mothers with kids below two years are allowed to carry baby formula. Other baby-related items such as water and juice are also acceptable. You can have them in your items or the carry-on baggage.
Ice packs or gel for keeping the baby items cool are also allowed. These items should be shown to the screening officer for inspection before boarding the plane.
Healthy Meals That You Can Pack for Your Trip
Are you concerned about the plane not having healthy food options? Then here are some ideas of meals you can whip up before leaving your house. They are healthy, easy to pack, and are allowed on a plane.
1. Breakfast Cookies
Blueberry oatmeal cookies make a great breakfast. They won't cause a mess by exploding or getting smashed. As a plus, these cookies are rich in nutrients.
2. Chicken Pea Salad
For your lunch, you could pack this healthy salad. It's a good option for vegans and is dairy-free. The salad doesn't even need to be reheated and is T.S.A. approved!
3. Asian Noodles
They are a healthy vegan option and gluten-free. Give your flight an international switch by trying this Asian-inspired snack. Sesame soba noodles are popular, but you can also try other cold noodle food.
4. Kale Chicken Salad
Another packable healthy meal is this salad. It is still tasty at room temperature and accepted by T.S.A. Separate the dressing before packing to avoid mushy salad. Go for cabbage or kale instead of using arugula or lettuce on your salad. The latter doesn't wilt easily.
How to Pack Your Snack?
Worried about your food leaking even before you board the plane? Here are a few tips to help you out.
Add everything before packing: For snacks such as sandwiches, ensure you add your spread before putting it in a container. Separate the dressing to avoid messes.
Seal properly: Using plastic zip-top bags for your packed sandwich is better than covering them in foil. While going through the scanners at the airport, anything wrapped in foil needs to be removed.
Zip-top bags are affordable and don't retain a lot of moisture. Therefore, they are perfect for carrying food items.
Contain it: opt for sealable plastic containers for foods that can leak moisture. They are lightweight, reusable, and come in different shapes and sizes.
Don't forget to pack a napkin that will help catch crumbs or wipe your mouth after eating!
Traveling with Alcoholic Beverages
According to the T.S.A. guidelines, passengers on a plane can carry alcohol. However, there are several conditions: the bottle should not be opened, taken in a sealed clear bag, and not be over 70% in checked luggage.
A passenger is limited to only one bag of alcohol. Therefore, the bag should seal comfortably without busting the seams. In addition, most airlines prohibit passengers from bringing their alcoholic drinks on board since they serve some.
In addition, make sure you confirm the laws of your intended destination before carrying any alcohol. This is because some countries like Kuwait prohibit entry with the drink.
What Snacks Can You Carry on International Flights?
Generally, there are no limitations on what snacks you might carry on international flights. However, some countries have restrictions on certain snacks and beverages. For instance, Australia has a tight ban prohibiting homemade meals and fresh produce. Therefore, you can't bring either into the country.
To avoid scuffles with foreign airport authorities, it is best to conduct some research before traveling to determine what is acceptable and what's not. Additionally, if you are unsure about a snack's acceptability status in another nation, it is best to leave it at home.
You can also opt to eat in-flight snacks because they are pre-approved, and you won't have a problem with authorities in another state. Besides, if you must carry something, ensure a packaged dry snack such as a protein bar.
Conclusion
Based on the information above, it's clear you can bring your snacks on a plane. However, some restrictions define what snacks you can carry and how they should be packaged. Therefore, it is vital to understand the guidelines regarding snacks' permissibility when traveling. In doing so, you will avoid potential conflicts with the T.S.A. during your travel.
At all times, observe the 3-1-1 rules regarding snacks. Also, ensure that all liquid snacks and beverages do not exceed the 3.4-ounce T.S.A. limit. It would be best if you also refrained from carrying messy and smelly snacks such as tuna to safeguard the comfort of other passengers near you.
FAQ.s
Can You Bring Homemade Snacks on a Plane?
Yes, you can. However, it is important to ensure that they abide by the T.S.A. 3-1-1 regulations about liquid composition. Ensure that all liquid snacks are less than 3.4-ounces in quantity.
Are You Allowed to Bring Your Alcohol with You?
Yes, you may carry alcohol with you as long as it is below the 140-proof limit and less than 3.4-ounces in volume. However, some airlines prohibit passengers from having their own alcoholic drinks on board. Therefore, conduct some research before purchasing that bottle!
Will The T.S.A. Allow You to Carry Protein Powder?
Protein powders are in a way acceptable by the T.S.A. However, you might have to undergo additional screening to ensure that they do not contain prohibited compounds. Most authorities suggest shipping your protein powder separately or not carrying it at all to avoid issues with the law.