The world literary came to a halt in 2020 following the COVID-19 outbreak. The virus that spreads faster than wildfire killed tens of thousands daily while completely changing the lives of survivors. Lockdowns, curfews, and social distancing replaced the normal way of doing things to further tame the virus's spread.
This meant no vacations, no shopping in the best shopping malls in Hamilton, no going to work, much less no physical interaction.
Life would be boring when deprived of all these privileges that initially you may have taken for granted. The good news is that we learned to adjust to the virus and make certain things the new normal.
Nations have lifted travel restrictions and opened their borders. Jobs have resumed, and malls once again reopened their doors. Businesses are gradually picking as people have vowed to observe WHO protocols to combat CORONA and receive the jab.
Whether you are a visitor in Hamilton or spoilt for choice on the best mall to do your shopping in 2021, we will give you a heads-up. We have compiled a bunch of the best malls in Hamilton to shop at.
Best Shopping Malls in Hamilton, Ontario
Jackson Square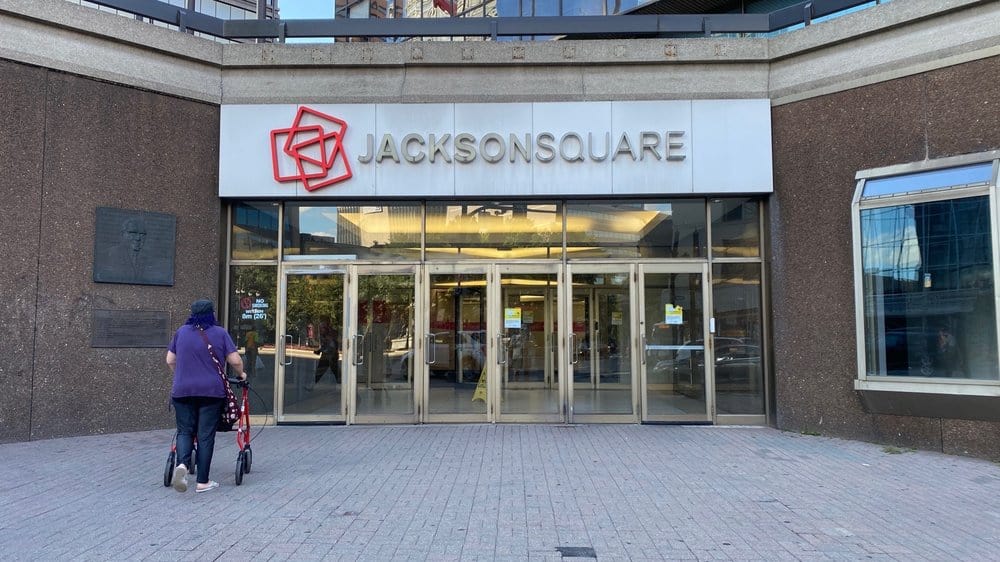 Jackson Square is also known as Lloyd D. Jackson Square, an indoor shopping mall and entertainment center in the downtown core of Hamilton, Ontario. The mall is named after Lloyd Douglas Jackson, who was the city mayor from 1950 to 1962.
The mall has two food courts, namely the Market Court and Food Festival. The Market Court leads to the back-end of Hamilton Farmers' Market. Also, there are a couple of restaurants, 6, screen movie theatres operated by Landmark Cinemas, and many stores.
Jackson Square is equipped with escalators, elevators, a lost and found department, public washrooms, and an underground parking lot to accommodate up to 1300 vehicles. There is also an EV charging station which can be accessed by two entrances and exit, one on Bay Street North and King Street West.
Jackson Square is your one-stop shopping mall when you need to pick something to wear, a bit to eat, send off a package, grab a pair of shoes, or even pick up medication. There is even an international grocery store in here.
It is easy to access the farmers market, the central library, Hamilton city center, and the first Ontario center. Many services are offered here, including coffee, massage therapy, travel agent, chiropractor, tailoring, post office, dry cleaning, and even bars.
Address: 2 King St W, Hamilton, ON L8P 1A1, Canada
Floor area Approximately 390,000 sq ft (36,000 m2)
Owned by First Real Properties Limited, Second Real Properties Limited, Fourth Real Properties Limited
Open daily
CF Lime Ridge Mall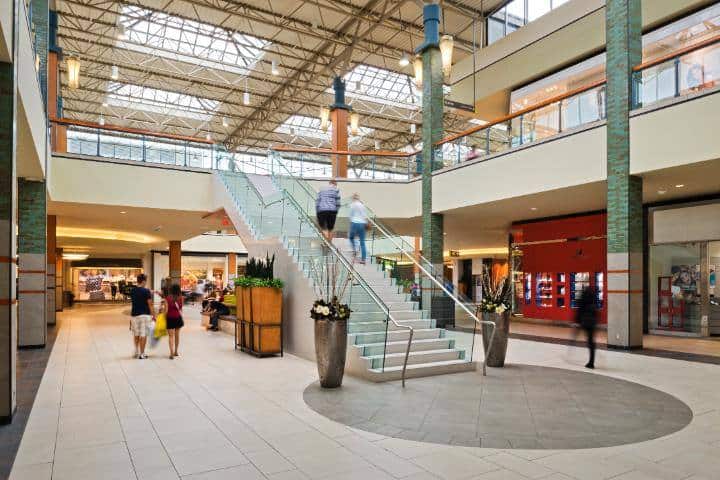 Lime Ridge Mall is a two-level shopping mall that opened in 1981. The mall is the largest complex mall in Hamilton, covering a vast 815,000 sq. Ft. it has more than 213 stores, several department stores, and big box stores like Hudson's Bay, H&M, Aritzia Sephora, American Eagle, and former Sears. Lime Ridge is located on Upper Wentworth Street and is currently one of the best malls in Hamilton.
The Cadillac Fairview-managed mall includes an office building and four floors of office space housing Bell Media radio station. This mall is bigger than you would expect with other mall stores. It even has a Sweet Jesus ice cream store.
The washrooms next food court have been recently renovated and have a place to dispose PPEs and face masks.  The washrooms also have nursing rooms, contactless sinks and are gender-neutral. The place is sure to drive your shopping experience.
The mall is also hyped for its nice staff and a sparkling clean environment. The food court is also not overly crowded, given the vaccine certificate implementation. The mall is simply nice, and it is easy to navigate stores. It also has parking all around this; you don't have to stress finding a parking lot.
Proof of vaccination required
Open daily
Ample parking space
A myriad of events all year long
Eastgate Square Shopping Mall
This is the best mall to pop into whenever you are in Hamilton. Eastgate Square is situated in the heart of Hamilton and has a myriad of restaurants and stores. Here, you are sure to get anything for everyone in the family.
You can access many products and services here, including men, ladies, and children apparel, books and news, sportswear and goods, cards, stationery and gifts, electronics, phones and photography, department stores including Winners and Sears, and much more. The mall is located along NW Corner of Queenston Road and Centennial Pkwy.
The mall is great, and there are many stores and services available. It is nicely decorated and with ample parking space. There is also a great selection of foods to choose from. Talk of customer service: This is one of Hamilton's best malls with friendly customer service ready to assist customers.
Ample parking
Open everyday
Adheres to regulations for preventing the spread of COVID-19
Hamilton Shopping Centre
Hamilton Shopping Center was opened in 2008 as an extraordinary open-air streetscape with a diverse mix of shops. There are various entertainment venues such as Dick's Sporting Goods, JCPenney, DSW, and Bed Bath & Beyond. Restaurants here are uncountable.
Enjoy exciting dining options such as sit-down options lime Ford's Garage and Livery or grab-and-go options like Five Guys Burgers & Fries. Emagine Entertainment Theatre today offer dining and movie since July 2021.
Hamilton Shopping Centre has more than 85 shops and dining options that will suit your style and needs. They are conveniently situated at highway I-69 at Exit 210 and SR 238. They serve the greater Hamilton County area and environs along the I-69 corridor. A day at the Hamilton Shopping Centre is equivalent to a great day of entertainment, shopping, and dining.
Featured stores at the mall include Ultra Beauty, Pies &Pints, Ford's Garage, Books & Brews, JCPenney, among others. The mall is amassed with many amenities, including accessible parking, ATM, in the food court right next to the mall office and restroom, baby changing stations, and bicycle racks.  More amenities include a children's play area, electrical vehicle charging stations, police substation, Simon Mobile App, among others.
More than 85 stores
Open every day
Electric vehicle charging stations
Police substation
The Center on Barton
This is an outdoor shopping mall situated in the Lower City of Hamilton, Ontario, Barton Street East. It has changed names twice. It was formerly known as Centre Mall, then Greater Hamilton Shopping Centre. Center on Barton was in 2008 was rebuilt back to an outdoor shopping store.
The mall delivers just what you need fast every shopping day. It has serviced the Greater Hamilton area for more than 60 years and still continues to deliver all the time. It offers more than 80 stores and services, including restaurants, banks, and fashion. Major tenants here include Canadian Tire, Walmart, Sherwin Williams, Shoppers Drug Mart, and The Brick. Thus, it is purely your one-stop location for virtually anything you want to shop in Hamilton.
The Centre's Food Pavilion in this mall offers a quick bite with up to 7 fast-service eateries to suit the whole family. Even if you pop in late in the evening, you will find stores still open and not busy with pedestrian or vehicle traffic. This shopping center is purely a quick stop with a lot going on. You will also find the LCBO and Metro in the same parking lot.
You will always find it a pleasure to visit this shopping center. You will mix with various types of people. Since its conversion from a mall to an outdoor store, the stores guarantee more individuality and uniqueness you will not find in many malls, and thus you will enjoy shopping here.
Address: 1275 Barton St E, Hamilton, ON L8H 2V4, Canada
Opened every day of the week
Interact with them through social media platforms and website
SmartCentres
Operating 24 hours, SmartCentres is a shopping mall with four shopping malls, SmartCentres Ancaster, SmartCentres Hamilton Southeast, SmartCentres Stoney Creek, and SmartCentres Hamilton South. The main complex was founded in 1989 as a fully integrated REIT (Real Estate Investment Trust).
It boasts of a best-in-class portfolio with up to 168 strategically positioned properties across the country. It owns 34.2 million sq. ft of income-generating retail space. 97.3% of it is already occupied.
SmartCentres owns shopping centres and city centres and is determined to reshape the Canadian urban and urban-suburban landscape.
SmartCentres are uniquely neat and clean. Everything in here looks good, and you are sure to get whatever you need under one roof in each of the four big malls. There are many stores and services, including Mastermind Toys, Light Shop, Dollar Tree Sleep Country, and women's clothing.
Good foods are also available, and you can sample foods from Stacked Pancake and Breakfast, Bones and Biscuits, Dairy Queen, and McDonald's. There are also extensive and big parking spaces.
The malls are busy, but customer care is friendly and will serve you with great compassion.
Operates 24/7
Friendly customer service
Spacious parking
Packed with amenities
Mountain Shopping Plaza
This mall offers over 36 brand name stores. It is situated on the main retail artery of Upper James St. The Walmart Supercentre anchored center is within the heart of an established residential market. The main national retailers here comprise CIBC, Shoppers Drug Mart, Moores, Reitmans, Bulk barn, The Beer Store, Subway, and Tim Horton's.
Need to take care of some business at the bank in Hamilton, Head here as you will meet very helpful and friendly customer care, and you won't even have to wait for long to get the much-needed service.
And, if you are a reveler, here is your best outdoor strip mall. You will find everything from booze, cannabis, Walmart. The plaza is pretty handy, and you will find everything you need, between Snacks and goodies at Bulk Barn to grocery shopping at Walmart. Restaurants like Subway and Tim Horton's will blow your mind. Let's just say, every store in here is great and is always stocked all the time.
Address: 661 Upper James St, Hamilton, ON L9C 5R8, Canada
Open everyday
Reputable stores
Upper James Plaza
The mall overs over five brand name stores, including Food Basics, Simoniz Touchless, Canadian Tire Gas+, Metro Pharmacy, and Canadian Tire. This is one of your best places to spend time with your friends and family shopping as there are all manner of stores for fashion, department, outlets traditional and much more.
Here is where you will find hardware, automotive, and chain grocery shops. It is your go-to place when planning to shop and do a variety of things. If you are a tech shopper, head to the Memory Express store for all your computer needs.
There is great customer care experience, helpful staff, and prices are competitive. However, the only put of is the tight parking lot, especially if you are driving a large vehicle. They should consider broadening it.
Address: 989 Fennell Ave E, Hamilton, ON L8T 1R1, Canada
More than five brand name stores
Compliant with COVID-19 mitigation measures
Tight parking lot
Conclusion
These may not be the only best malls in Hamilton that you can shop, but at least you are assured of finding what you are looking for here. Shopping might be overwhelming, especially when you are not sure where to get a good experience shopping. You also want to ensure the mall has all the amenities you may require and that it prioritizes your safety. This list, therefore, ensures you get it right the first time when shopping in Hamilton.