The Stan Smith Primeknit is a modern update of the classic Stan Smiths footwear. With its mesh composition, the Primeknit's design and material allow far more breathability and flexibility.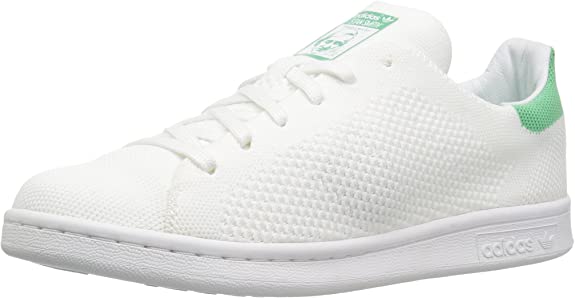 Stan Smith Prime Knit in White with Colored Tab(Available in Korea, 129,000 won and in U.S, USD $110)
Of course, if we're having a new edition of the Stan Smith sneakers, we got to have it in the iconic white! These shoes have got the same crisp, clean style with a contrast heel tab and the iconic off-white rubber sole.
Furthermore, this is a unisex design – it is a fit for both ladies and men. You know what this means? Very cliche, but adorable COUPLE SHOES!
Stan Smith Prime Knit in Vapor Green(Available in U.S, USD$110)
If you're a guy that's into pastel colours, this Vapor Green Stan Smith sneaker will be your new baby. There is no doubt that this pastel green sneaker will complete many outfits, especially if you're going for a look that is more mild and contemporary.
Stan Smith Prime Knit in Tech Steel (Available in U.S, USD$110)
Did you know that the Stan Smith sneakers were originally intended to be a Tennis shoe? It would have been such a waste if this blue Stan Smith footwear was only limited to Tennis players! I don't know about you, but this pair of dark blue sneakers sure looks sleek to me.
Stan Smith Prime Knit in Pink Glow(Available in U.S, USD$120)
This Stan Smith Prime Knit Sneaker is pink all over – from the insoles, to the laces, to the lining. It is pink to every detail. You'll be surprised to know that this Prime Knit collection is intended for men. Boys, don't be afraid to be Pink and fabulous! It is time to add some colour to your shoe collection.
Stan Smith Prime Knit in Core Black (Available in U.S, USD$110)
For those who prefer something more basic and less in-your-face, you'll love this Core Black Prime Knit shoes.
Stan Smith Prime Knit in Black and Green (Available in Japan, 12960 yen)
So many beautiful designs, so little money. This Black and Green Stan Smith shoes come with a different coloured outsole, which is slightly different from the other sneakers we have featured.  With 3 different colours on one pair of sneakers, who's complaining?
Stan Smith Prime Knit in Solid Grey (Available in U.S, USD$120)
This pair is special, because of the added wool yarn provides extra warmth and texture. While this may not be the ideal footwear choice in Sunny Singapore, I would not hesitate to put this on when I travel to cold destinations!
Tips:
Unfortunately, The Stan Smith Primeknit is not sold on the official website anymore. But you can still buy it from Amazon.