Barbie has to be one of the most recognizable toys in the world. Ever since she first made her appearance on the market in 1959, she has been loved. The reason Mattel has found such success with Barbie is the fact they are always keeping up with trends and creating fresh new Barbie toys. Every year Barbie releases new dolls, new sets and new accessories that make thr perfect gift for all age groups.
If you are shopping for a friend or family member who loves Barbie, it can be overwhelming. With some many choices available, we have put together a list of the 15 best Barbie toys on the market plus some exciting new releases.
Top 8 Barbie Sets
Do you know someone with lots of dolls? Let their imagination run wild with a Barbie set, which encourages creative learning and storytelling. The best thing about gift sets? They can be used with existing Barbies or other toys from other lines.
1. The Barbie Dreamhouse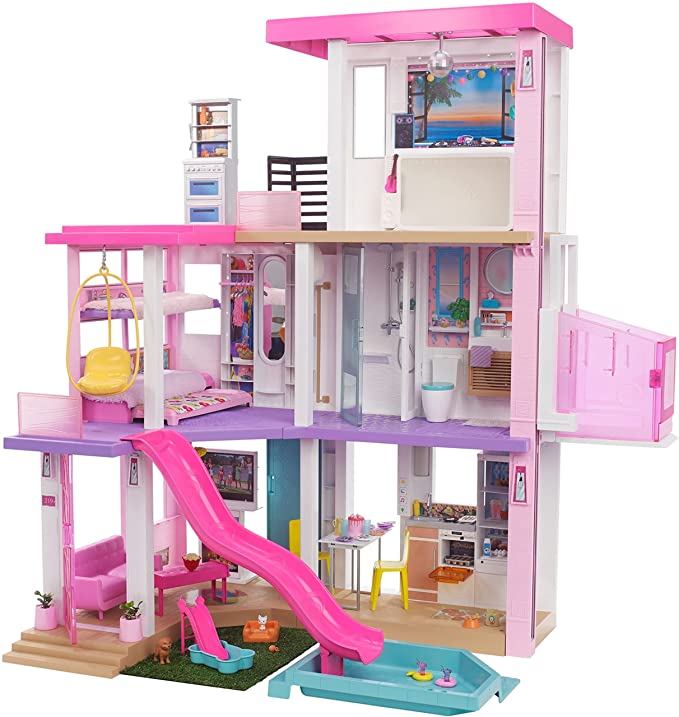 The Barbie Dreamhouse is an iconic product in the line. Every few years this much loved classic gets upgraded. The most recent iteration has three stories, eight rooms and a real swimming pool. The realistic lights and sound will help your child's imagination run wild.
This Barbie Dreamhouse also comes with more than 65 pieces of furniture and accessories to be arranged however you like. The new bit of doll real estate is accessible with a wheelchair lift and the pool can be filled with water to make a splash! This house is compatible with every other Barbie doll, toy, and accessory.
2. Barbie Dream Camper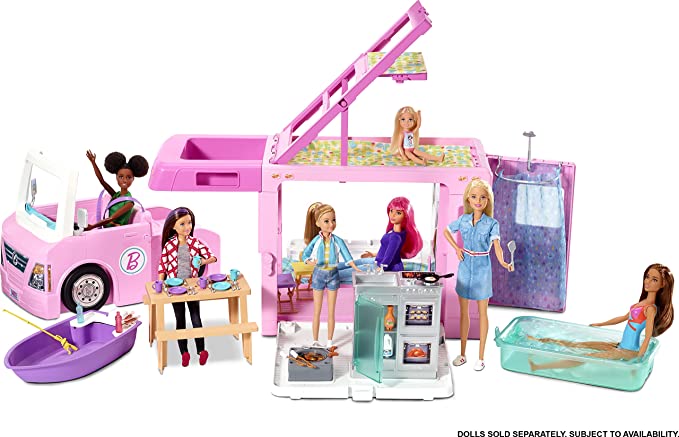 The Barbie camper van is another long lasting favorite that has been updated with a range of modern features. Designed in the signature pink shade, it has wheels that allow it to be moved or can be opened into a 60cm long playset. With a simple push of a button, the side panel of the vehicle opens and the top pops up.
The internal furniture can be moved about to create sleeping and seating areas. Barbie will be camping in luxury with a bathroom, hammocks and a pool that can be filled with water. Accessories include a fire pit, marshmallows and roasting sticks. With over 50 pieces, creative storytelling is easy with the Barbie Dream Camper.
3. Hugs 'N' Horses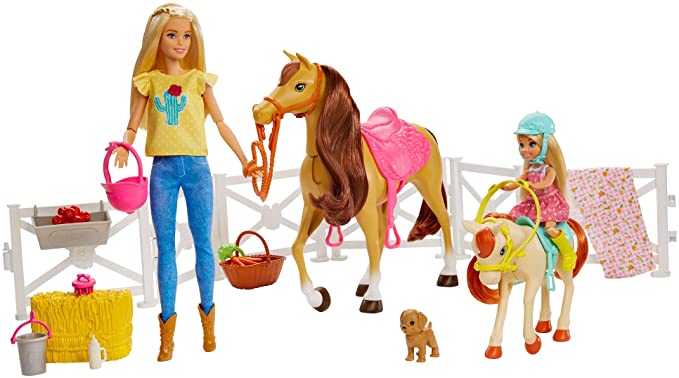 Shopping for a horse fanatic or budding equestrian who also loves Barbie? Look no further than the Hugs N' Horses set. The playset comes with 2 dolls, Barbie and her little sister Chelsea. The set also comes with two horses and over 15 accessories, including a grooming kit, feeding trough and riding accessories.
This is a great set for children who love taking care of animals. This would make a fantastic gift to encourage imaginative play based around horses and horse riding.
4. Barbie Dream Plane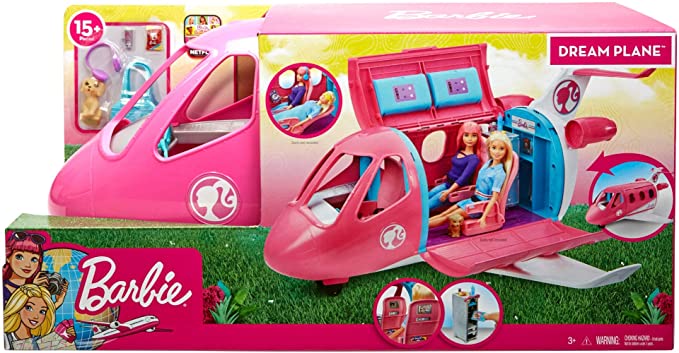 The Barbie Dreamplane set has over 15 accessories that allow you to imagine how Barbie would travel. When closed it can be pushed or pulled along, yet it can quickly open up into create a play space.
It comes with a Barbie dressed in a smart pilot outfit and two seats so your doll can enjoy her. This realistic playset comes with overhead compartments where the suitcase can be explored, a snack cart and 2 trays!
5. Barbie Malibu House Playset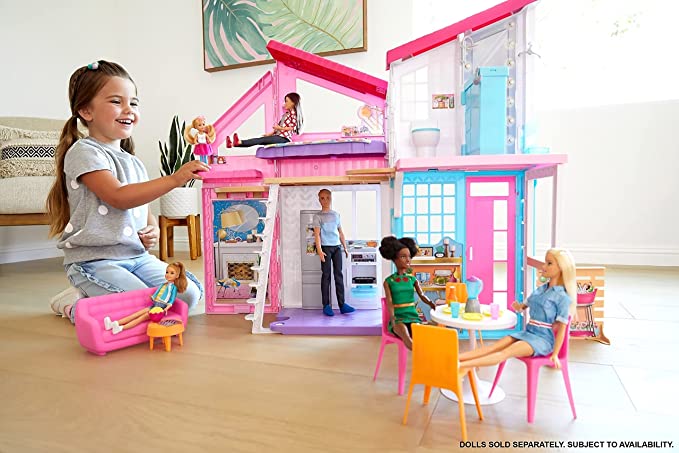 If you're on a budget or have less space, the Barbie Malibu House is a small version of the Dreamhouse. With 2 stories and 6 rooms, this house opens outwards to create a play space up to 2 feet wide.
The set comes with more than 25 accessories including sofas, bathroom items and tables. The ceiling transforms into bunk beds that sleep 4 and the vanity swings open to reveal the spa area. Easy to assemble, it can be neatly folded away when not in use.
6. Barbie: Big City, Big Dreams Transforming Vehicle Playset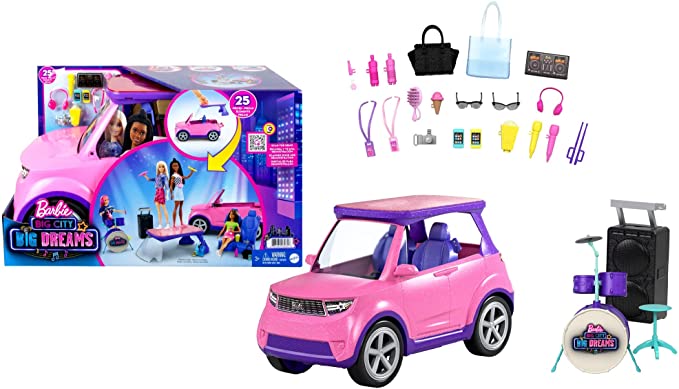 The Big City Big Dreams Barbie play set magically turns into a stage for Barbie and friends to perform upon, with seats, speaker and turntable, microphones, snacks, backstage passes, and iPhone accessories. When children are finished playing, it can all be stored inside the van, which makes it much tidier for parents and easier to store!
Simply remove the roof of the sparkly pink and purple vehicle to set up the stage and remove the seats to create an audience seating area. This set is perfect for the Barbie fan who dreams of stardom one day.
7. Barbie Fast Care Clinic Playset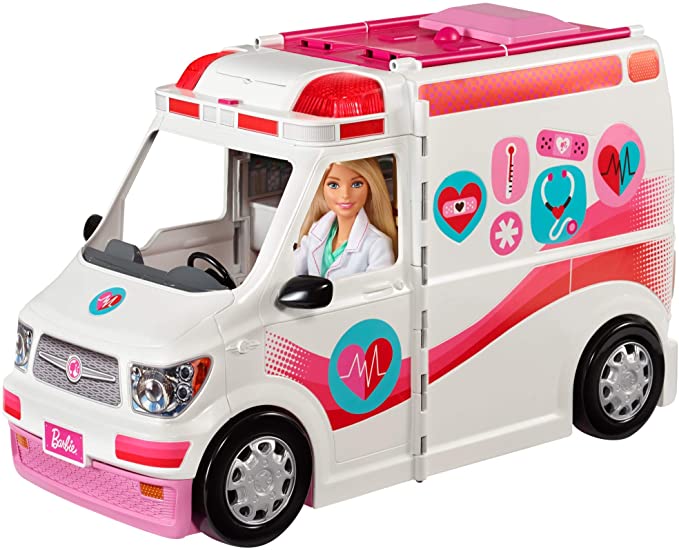 After the last few years, your child may have taken an interest in medicine, or has aspirations of working in the medical field. Dr Barbie is a fantastic role model as she responds to calls and helps people. Encourage an aspiring doctor or make the current pandemic a little less scary with Barbie!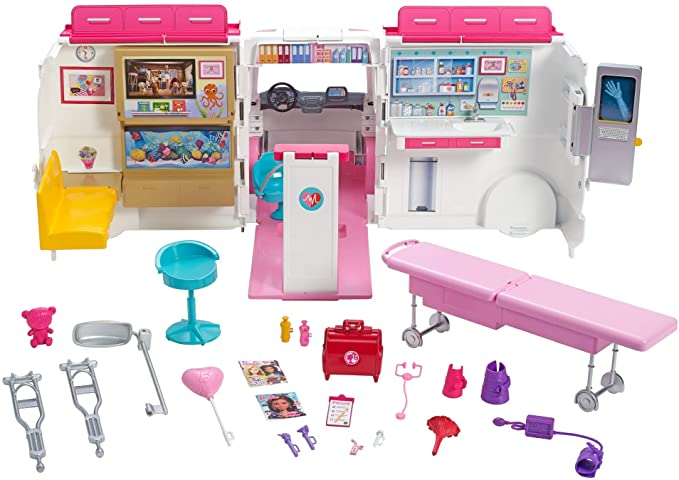 This ambulance has working lights and a siren! Roll up and lift the lever to instantly transform the vehicle into a 2 foot care clinic with check-in station, waiting toom and exam room. The set also comes with a rolling bed and x-ray machine.
8. Barbie FXT26 Dreamtopia Magical Lights Unicorn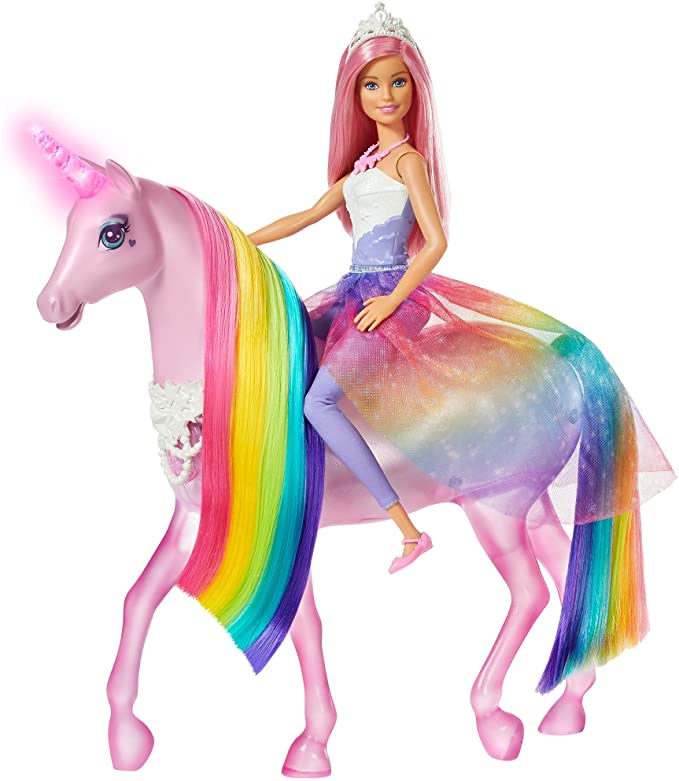 Magic happens when Barbie meets mystical creatures. The bright pink haired Barbie comes with a light-up unicorn that makes sounds when touched. Pet the unicorn's body, tap its horn, or let it eat the included ice cream cone to hear music and see starry, multi-colored lights.
When it's time to sleep, press and hold the unicorn's horn to hear snoozing sound effects and a lullaby along with a special bedtime light show. This is one of the most interactive dolls sets on the market, which is sure to keep kids entertained for hours!
Top 7 Barbie Dolls
Whether you're shopping for an aspiring doctor, a fashionista or a dreamer, Barbie has the doll for them. Here are some of the best and most popular Barbie dolls available on the market now.
1. Barbie Rainbow Sparkle Hair Doll

Barbie Rainbow Sparkle Hair doll is perfect for budding hairdressers who love to experiment with different hairstyles. With her long, rainbow locks, this Barbie doll comes with everything you need to create a range of different looks.
Comb through her long hair or style her locks with hairbands and clips. It's a great tool to master a range of hairstyles, including braids, pigtails and buns. The comb attached to the sparkle gel lets you to style her hair as a bright, sparkly rainbow. The good news for parents, everything washes out with water, so it causes minimal mess!
2. Barbie Color Reveal Doll with 7 Surprises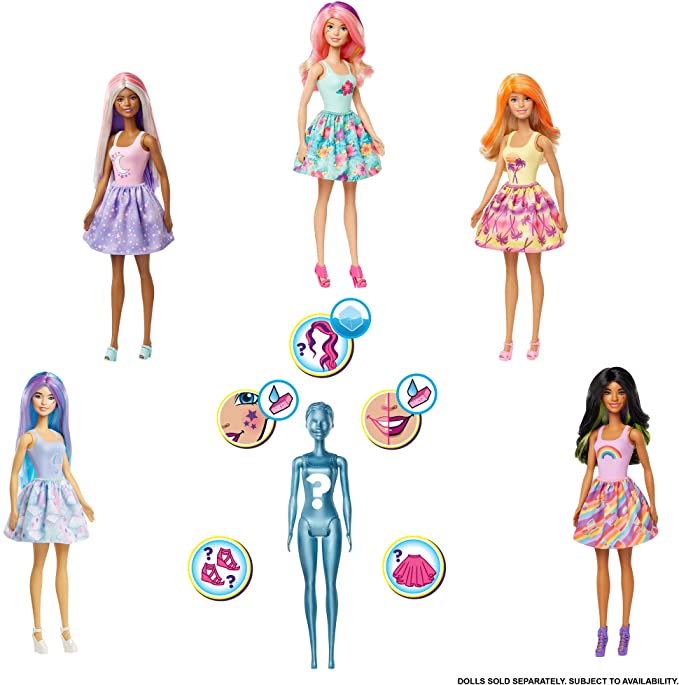 Color reveal and surprise toys are as popular as ever with children. With this Barbie toy, simply dunks the doll into a bath of warm water to reveal her skin tone, eye color, and bodice. The water will turn a magical metallic silver for full effect.
Every doll in this line comes with seven surprises. Some of the dolls have fun skirts and earrings, other hair accessories. This isn't just a doll to play with, it's an experience which makes it a fantastic gift.
3. Barbie Made to Move Doll
If your child is frustrated in how limited a traditional Barbie doll is, the Barbie Made to Move doll has 22 joints, which gives it a more realistic movement. She comes in a yoga outfit, ready to dance, perform and generally move.
This doll doesn't come with shoes or accessories, but she can be dressed up in any look your child wants. Dress this doll up like a soccer star, a ballerina or a yoga master and bend them anyway they want.
4. Barbie Rainbow Lights Mermaid Doll

The Barbie rainbow lights mermaid doll is like no other on the market because her tail lights up with stunning rainbow colors. Simply touch a button on her necklace to change the lighting pattern. The brightly colored costume is super cute, plus she can be dipped into water.
Her rainbow fins, pink-streaked hair and princess tiara makes her the perfect gift for the mermaid fans in your life. You can also buy a merman version of this doll, which bends at the waist so he can swim.
5. Barbie Loves The Ocean Beach-Themed Doll

Play out the perfect beach day with this sustainable Barbie. The fabric of her cute floral outfit and sunglasses are made from recycled plastics. This 90% recyclable Barbie isn't just a great plaything, it also teaches kids how about sustainability and recycling.
She comes in three varieties, all available in the Fsc-Certified recyclable packaging. Choose from a classic blonde Barbie, as a redhead or as a dark-skinned lady.
6. Barbie Extra Doll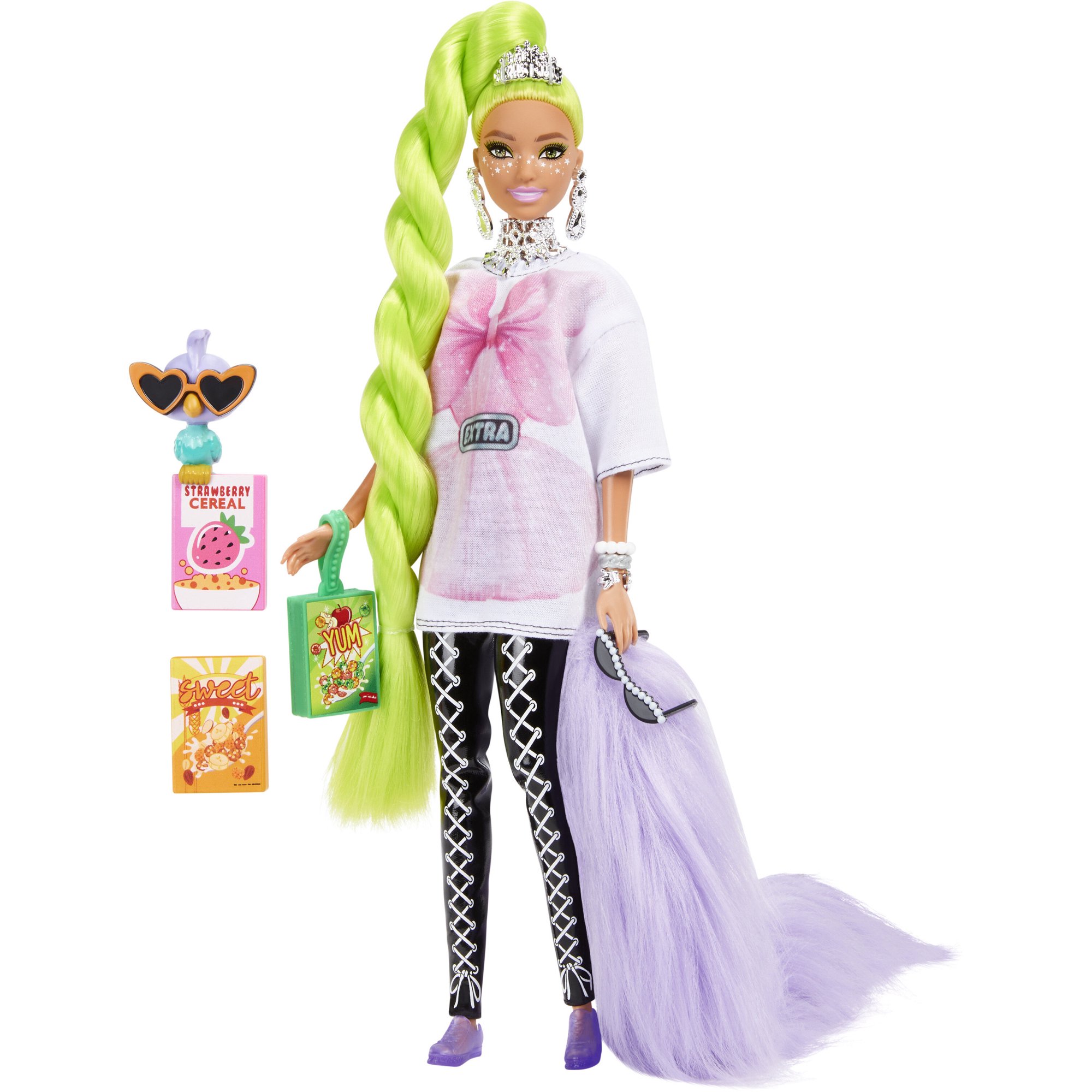 This glamorous barbie comes with rockstar make up and long neon-green hair twisted into a ponytail. She is confidently dressed in an oversized graphic dress, laced leggings and a furry boa. She comes with a cereal box purse and detailed sunglasses.
This Barbie has a pet parrot in matching sunglasses with his own cereal box. She is the perfect Barbie for those little fashionistas in your life.
7. Barbie Signature 2021 Holiday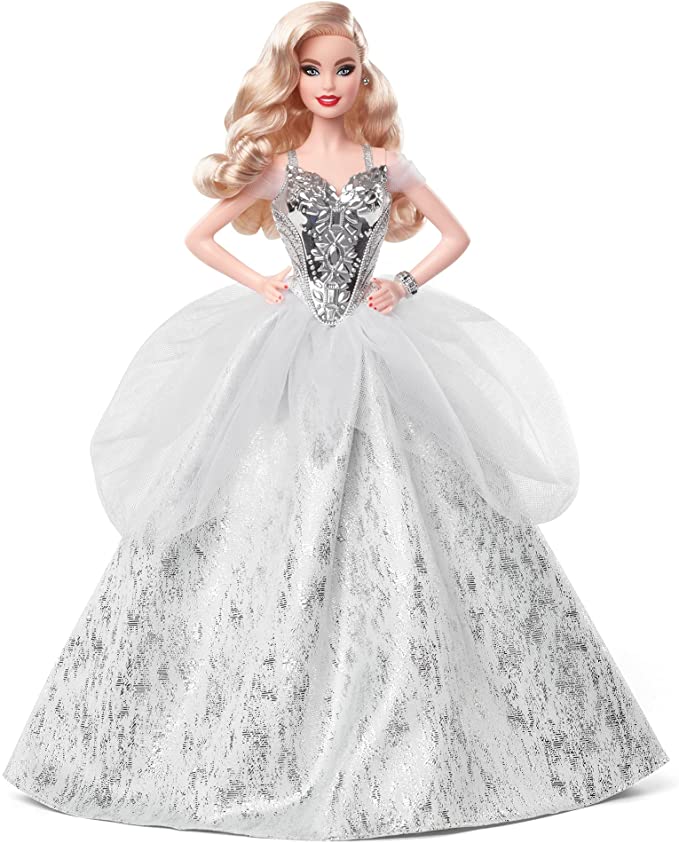 This year's holiday Barbie dolls is suitably sparkly for the holiday season. This seasonal Barbie wears a gorgeous silver, floor-length gown that sparkles from every angle. Available with light or dark skin, she can also have black or blonde hair.
This Barbie isn't just for kids who want to play, they are also great for collectors as the doll comes in an attractive box.
New Barbie Dolls for 2022
Barbie is also evolving and releasing new versions of their iconic doll. Whether it's a new look, new line or new outfit, she is always updating her look. Here are 5 new and exciting Barbie dolls to expect in 2022.
1. Queen Elizabeth II Doll
Barbie honors The Platinum Jubilee of Queen Elizabeth II in 2022. June 2022. 70 years after coming to the throne, she gets a signature doll designed after her. This doll will depict her at her current age, with her iconic gray hairstyle.
The longest-reigning monarch in British history will wear Queen Alexandra's tiara and the blue ribbon she wears for formal celebrations.
2. 1961 Brownette Bubble Cut Barbie Doll Reproduction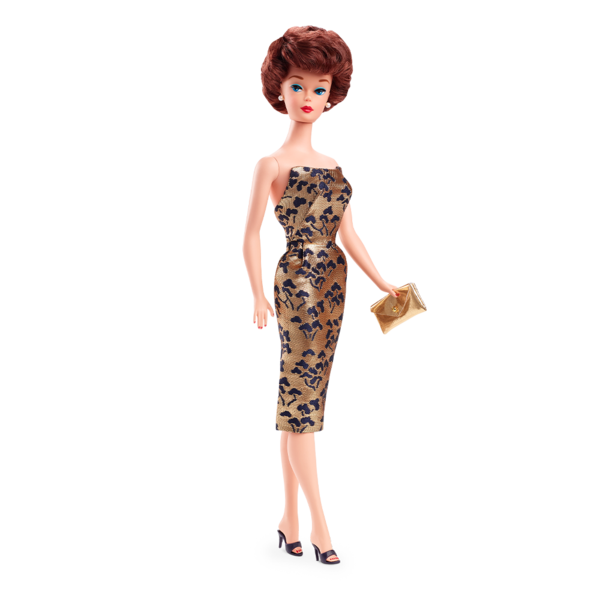 In 1961, Mattel debuted the Bubble Cut Barbie doll, featuring a chic brunette hairstyle that would become a collectors favorite over the following years. The anniversary of Bubble Cut Barbie is celebrated with a reproduction of the coveted doll, dressed in the classic 1960s hairstyle.
Perhaps more for adults or collectors, this doll comes with a stand and Certificate of Authenticity. The reproduction of her elegant navy and gold sheath dress alongside the era-appropriate makeup and dainty pearl earrings.
3. Ballet Wishes Brunette Barbie doll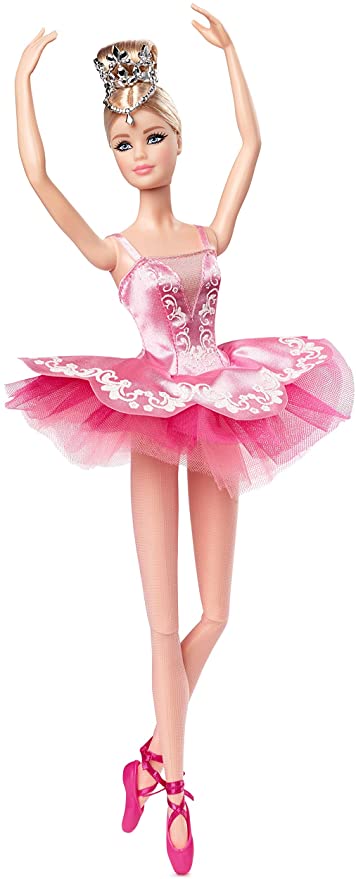 Perfect for the ballet fan in your life with the Ballet Wishes Barbie doll. She is recital-ready with her ballerina-ready costume. This purple and blue pastel look will put a smile on any Barbie fan's face, with ballet shoes and pink ballet tights.
This doll stands because she has flexible joints that allow her to pose like a ballet star. This collectable ballet Barbie has an athletic body that flexes at the shoulder, elbow, wrist, hip, and knees. She also comes with a doll stand and Certificate of Authenticity.
4. Barbie Signature Ida B Wells doll
Barbie's World Famous Women collection pays tribute to successful women throughout history. The aim is to highlight women throughout history who were not afraid to take risks and overcome obstacles. Previous dolls have included Frida Kahlo and other women whose actions have enabled generations of girls to follow their dreams.
In 2022, they will be adding Ida B Wells to this line. She was an innovative African American journalist, feminist and leader of the African American civil rights movement. She will be wearing her iconic hairstyle and a deep blue, era-appropriate outfit.
5.
Barbie Birthday Wishes Doll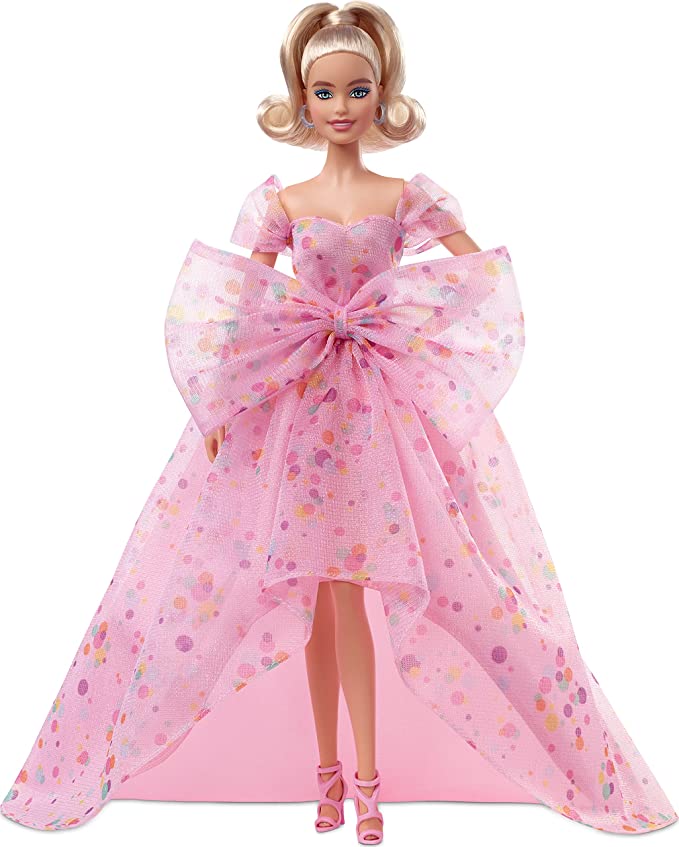 Barbie Birthday Wishes doll is the perfect birthday gift for a doll lover. She is dressed ready for her birthday party in a stunning floor-length, pink tulle gown with polka dots. She wears a cute little 60s inspired hairstyle.
The reason it's so good as a birthday gift is because the packaging features a space to write a personalized message. Write your birthday wishes and gift a stunning Barbie in a gorgeous dress!
Best Barbie Toys: FAQs
What is the most popular Barbie doll right now?
The 2021 bestselling Barbie doll at many retails the Barbie Color Reveal series because it's not just a doll, it's a whole experience. Kids love the experience and the mystery of this range, and the good news is Barbie is always adding new dolls to this line! The second most popular is the Barbie Dreamtopia Rainbow Magic Mermaid Doll, because who doesn't love a bright rainbow colored mermaid?
Barbie gifts sets will always be best sellers as every kid wants a Dreamhouse or a camper van for their Barbie collection. These versatile sets can be used by any Barbie or even dolls made by other manufacturers. The Barbie Fast Care Clinic was the most popular Barbie set this year, perhaps due to the global pandemic.
How much do Barbie' dolls cost?
The price of a new Barbie doll can vary from $6 to over $1000! It depends whether you're looking for a basic doll to play with or a stunning collector's piece that should be treated like an investment.
What age is Barbie suitable for?
Generally, Barbie dolls are recommended for those over 3 but it depends on the child you are shopping for. The concern about the choking hazard of some small parts that come as part of Barbie sets or as accessories. Every Barbie product page on most retail websites and toy boxes will have the recommended age clearly marked.