I know – this sounds weird but… I'm telling you that we are in a time and age where it is now possible to replace our sponge foundation applicators with… a transparent plastic puff!
Now, we all know that this little silicone-jelly looking ~thing~ hardly looks like anything we'd use to apply makeup with. But I'm going to be direct to throw this out there – the Heme Baby Q transparent makeup puff is everything that a normal sponge foundation puff isn't. And here's why.
8 Reasons Switch to Heme Baby Q Transparent Makeup Puff
1. It does not absorb ANY foundation at all.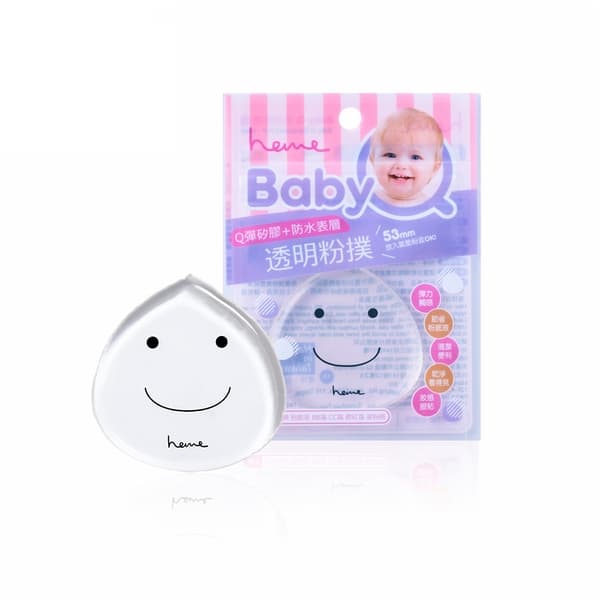 Raise your hands if you've ever felt annoyed at the fact that sponge applicators absorb way too much product each time you put them on. You end up pumping extra liquid foundation / dipping additional times into the powder foundation just because the sponge's absorption is at play here. These little bits add up to a whole lot of extra foundation wasted – especially if you're the kind that needs to have on a full-coverage face every day.
Now, because the transparent puff is made of plastic, it is not going to absorb any foundation at all. So you can go ahead and fully cover your face with the amount needed – nothing wasted at all! In the long run, it's going to save you that bit of moolah you've always spent on refilling your foundation – and you can thank us later.
2. It blends your makeup just as well (or even better) than a usual foundation puff.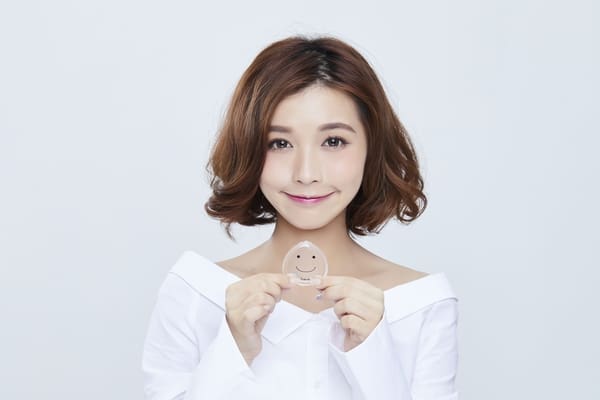 As far as foundation goes, we all want that celebrity airbrushed, flawless look. Tons of beauty gurus swear by the legendary BeautyBlender – and guess what? The Baby Q puff is able to give you the same finish!
The Baby Q puff is cool to the touch, very much like a damp BeautyBlender. Simply dot on your liquid foundation onto your face, or dip it into your BB cushion, and start dabbing the puff all over your face.
You're going to end up with foundation that is evenly spread and a lightweight finish. Coverage is buildable, so should you feel like a radiant sheen is not enough for you – go ahead and repeat the steps with more foundation. Best part about the puff? You don't have to wet it before using it.
3. It works just as well with liquids/creams as with powders.
For the ladies who are still into compact powders, fret not, for the Baby Q puff works amazingly well with powders as well. All you have to do is to replace the usual sponge puff with the Baby Q one, and use it as how you would use a sponge puff. Powders glide on smoothly for a sleek finish.
4. It's special teardrop shape allows you to reach into every nook and cranny of your face.
These corners include the curve beside your nostrils, the length of your nose, and the tender eye socket area. Usual foundation puffs (especially the rectangular ones) are unable to blend your makeup properly in these areas because they are not designed to reach into these little corners.
Use the pointed tip of the Baby Q puff to get into these tricky corners!
5. It is extremely gentle on the skin.
More than being cool to the touch, the Baby Q puff is also very malleable and soft. This means that when apply your foundation the puff is not going to tug on your skin – you don't have to pull or drag your sponge across your face to blend the makeup out like traditional sponges do. Simply dab the puff all over your face and let it work its magic for you.
6. It fits perfectly into most foundation cases.
Thinking of replacing your sponge for the Baby Q transparent puff and bring it on the go? No problem – the size of the puff is specially created to fit into most foundation cases so you can simply switch out the sponge puff for the Baby Q one.
7. It's easy to clean + bacteria-free.
YES to bacteria-free sponges! A huge problem with makeup sponges is that we can never really clean it entirely – once foundation is being absorbed, it's really hard to get it out of the sponge no matter how many times you wash it.
Plus, since sponges will absorb liquids, you're never sure if you got rid of all the sponge cleaners / soap that you used to clean the sponges. Not letting them air-dry fully as well because storing them back into your foundation cases also makes these sponges breeding grounds for bacteria.
And what does that mean? It means that you have to frequently change sponges, which are effectively additional expenses.
The Baby Q puff doesn't have any of these problem. Simply put them to the wash after using, and dry them out completely with a towel after. It doesn't absorb any foundation so all you are cleaning is just the surface of the puff. Plus it literally takes seconds to dry because of its plastic body!
8. It's Eco-friendly and has amazing longevity
Last but not least, don't think that just because the puff is made of plastic it's detrimental to the earth. The silicone of choice is environmentally-friendly and is able to naturally decompose.
The Baby Q puff also have a life span of – wait for it – 10 years! You literally don't have to change your foundation applicator for a whole decade – how cost effective is that?!