Starbucks Collectors, get your wallets ready. Your favourite coffee brand in the world has launched 2 new series of mugs & tumblers you would love to collect. The good news is, they come in a series of iconic attractions that represent each region in Japan & Korea. The bad news is, you'll want to collect the entire collection because owning just one of them is incomplete. Check out the full collection below:
Starbucks Japan Geography Series 
It has been 20 years since Starbucks launched in Japan! To celebrate the joyous occasion, they've launched special geography series in 13 regions including Osaka, Kobe, Tokyo, Yokohama and others.
Each set of stainless steel tumblers, bottle, mug and city cards represents the unique attractions of each region. In Yokohama, the set features surfers and seagulls, whereas in Okinawa, a lady in kimono playing the Shamisen. With a set of 4 pcs representing each of the 13 region, you will need to collect all 52 pieces to complete the attraction!
[mk_image_slideshow images="31390,31391,31392,31393,31394,31395,31396,31397,31398,31399,31400,31401,31402″ direction="horizontal" image_width="600″ image_height="400″ animation_speed="700″ slideshow_speed="7000″ direction_nav="true" pagination="true"]
The challenge though, is that you can't get them all in one Starbucks store. You'll have to visit each region to purchase the region's specific geography series. You can find out the exact location to buy them here. Want to know the easier way out? Check out how we're getting travellers to help us buy them from the various regions in Japan!
Starbucks Korea City Mugs & Tumblers!
Just launched yesterday (18 Oct), the collection launched in Starbucks Korea also has a city theme series featuring major cities like Seoul, Busan, Jeju & Gyeongju. Seoul's tower, Busan's laid back beaches and Jeju's scenic greenery are some of the illustrations found on this series of demi mugs and tumblers.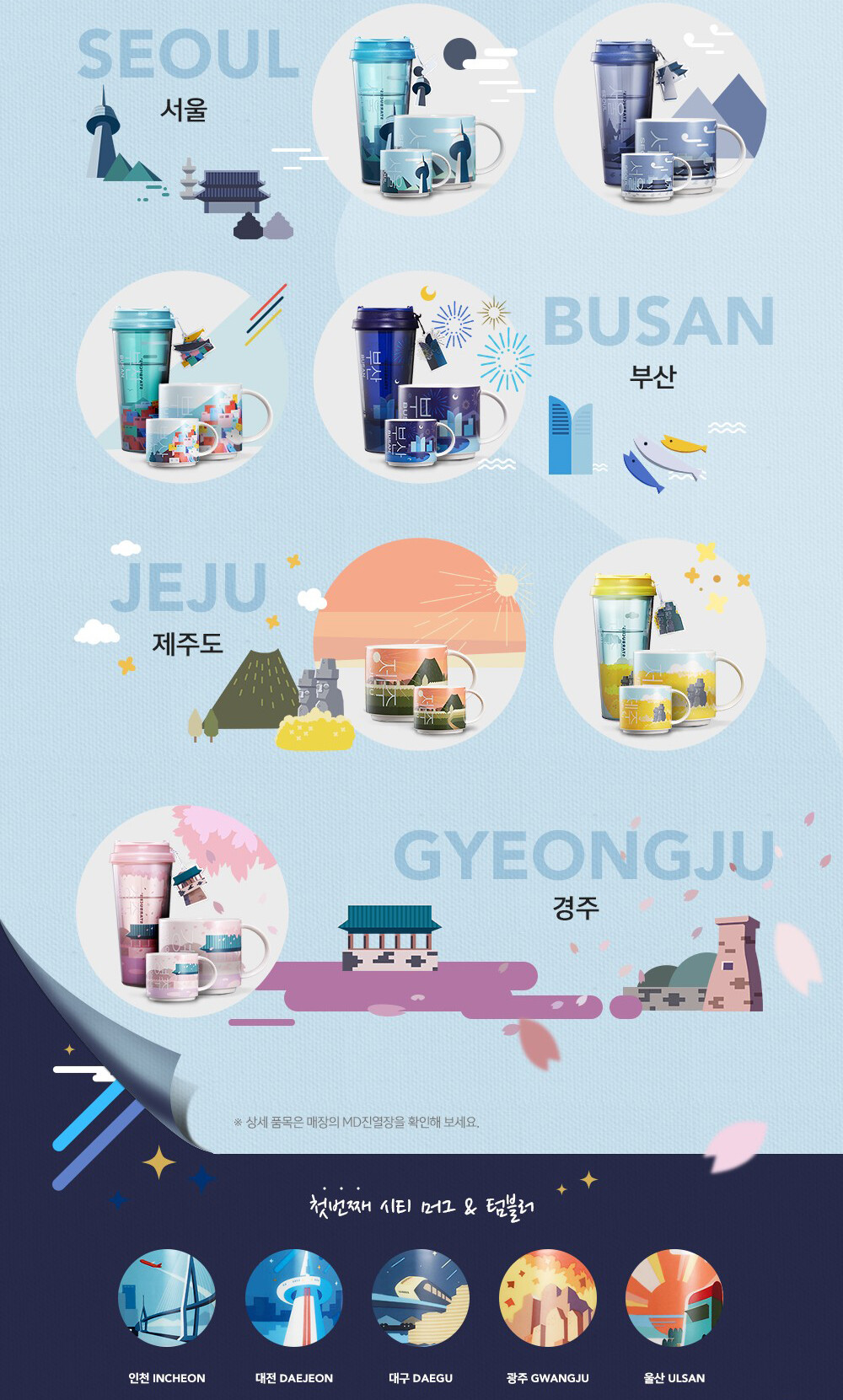 Fortunately, we don't have to travel all over Korea just to collect this series. The city mugs and tumblers can be found at all Starbucks stores regardless of designs!
P.S Christmas collection coming soon!
Want a fuss-free method to collect them all? Ask a traveller who's in Korea right now to help you buy them!
---
1) Click on "+" to copy others' requests on this page. Travellers who are going to Japan or Korea will be notified of your request
2) Travellers will offer to help you buy (make sure you check your email/app notification!)
3) You can choose to accept traveller's offer if it matches your requirements, or decline
4) Place a secured deposit, it will be held with Airfrov until traveller returns
5) Collect the item at our office, or opt for courier delivery to your place!
Photos from Starbucks Japan & Starbucks Korea 
Comments
comments