For all you snackers out there who's looking for something more than just your usual salted potato chips, here's a list of some new snacks from around the world! And at the end of it all, you can order some of them through our Airfrov travellers!
USA:
1. Twinkies Ghostbuster Edition
Image: Foodbeast
To celebrate the upcoming Ghostbuster movie, Twinkies released a special edition flavour that's filled with a neon gooey green middle. They might look like slime, but this Zesty Key Lime Slime Twinkies are a refreshing and yummy change that we hope won't get busted anytime soon.
2. Ghirardelli Dark Chocolate Spicy Caramel Squares
Image: Ghirardelli
Imagine your regular semi-sweet chocolate square, but packed with some extra oomph! These spicy spiced chocolate squares lend a subtle fiery punch that lingers at the back of your mouth, creating a sweet yet savoury treat that'll leave you sweating for more.
3. Mentos Chocolate Caramel
Image: Mentos
This classic combination of caramel and chocolate just became a lot more portable with Mentos' new creation. Think sweet orange spheres that melt away to reveal a sweeter milky surprise. Trust us when we say that just one will not be enough.  
4. Reese's Pieces Peanut Butter Cups
Image: Reese's
It might be difficult to tell what's new from the name (hint: it's in the pieces), but fans of Reese's will be able to get double the chocolate peanut butter flavour in every bite. The classic peanut butter cup now comes studded with mini Reese's pieces, so it's double on flavour on all fronts!
Japan:
5. Coca Cola Sleep Water
Image: Coca Cola Japan
This famous beverage brand might be notorious for inducing sugar-rushes with its carbonated drink, but they just released Sleep Water in Japan which claims to help lull you into a deep slumber. This peach-flavoured drink comes filled with L-Theanine, a chemical that can decrease anxiety and stress levels, allowing to fall asleep with a peace of mind.
6. Pablo x Lotte Chocopie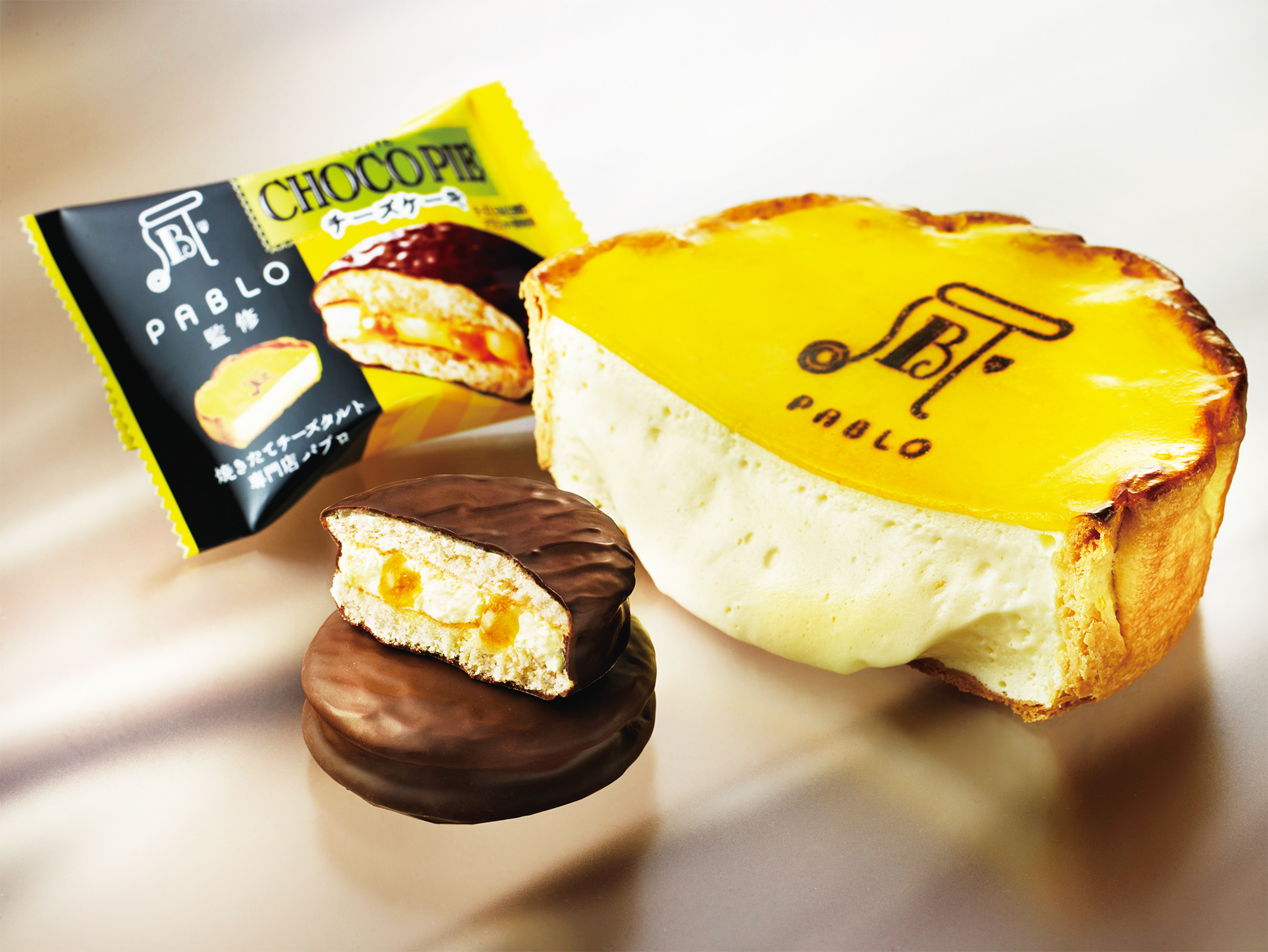 Image: Pablo
These ooey gooey cheese tarts are all the rage recently, and they just made it even more portable and accessible with the chocopie version. Now you can enjoy the cheesy decadence of the dish with a luscious chocolate exterior.
Join other Airfrov users who are requesting for it here!
7. Calbee Beef and Foie Gras Potato Chips
Image: Narinari
It is a common knowledge that potato chips are regarded as cheap junk food. But what happens when you infuse them with seemingly gourmet flavours? Calbee has recently released potato chips flavoured with beef and real foie gras flakes. Talk about fancy junk food.
8. Ritz Wasabi & Cheddar / Tarako & Cream Cheese
Image: Japantoday
The names of this new line of biscuits might sound off putting and weird, but the taste were surprisingly well received by reviews online. This unique blend of east-meets-west flavour is the perfect filling for the salty crackers of Ritz, with the mild horseradish kick from the wasabi and the fresh burst of seafood from the tarako (fish roe).
S.Korea:
9. Starbucks Pudding
This famous coffee chain is known for serving up refreshing caffeinated drinks. But in Korea, they have started selling custard pudding served in adorable mini-sized Starbucks cup. Boasting two flavours, vanilla and cocoa, now that's one more reason to visit this renowned coffee chain.
Join other Airfrov users who are requesting for it here!
10. Banana Chocopie
Image: Koreajoongangdaily
Essentially deconstructing the flavours of a banana split, this banana flavoured chocopie comes with a banana flavoured marshmallow middle and coated with a layer of chocolate. Fans of this classic pairing has a new way of satisfying their craving with this new snack.
Join other Airfrov users who are requesting for it here!

Hong Kong:
11. KFC Flavoured Nail Polishes
Image: Adweek
This last item/snack falls in somewhat of a grey area. We are all familiar with KFC's addictive and sinful fried chicken, but what if the flavours are extrapolated and made into a line of edible nail polishes? You could technically eat it, and it would technically taste like your favourite snack. But is it actually a snack? Well we'll leave you to be the judge.
Is your tummy rumbling in excitement? You can certainly taste the international range of snacks, all without having to travel all. Simply put up a request like what other Airfrov users did, and let returning travellers purchase them for you!
Comments
comments